Here are the fixes that the Surface 3 and Surface Pro 3 updates contain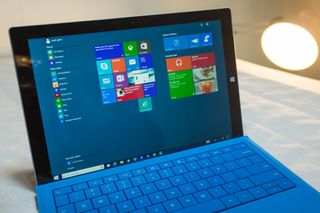 Microsoft recently began pushing out firmware updates to both the Surface 3 and Surface Pro 3, but until now it was not clear what was addressed by this update. These updates appear to bring quite a number of changes along with them, but it doesn't appear as though the update is going off without a hitch. There are a number of users who have complained (opens in new tab) of the updates causing their machine to BSOD.
Some of the fixes included in the Surface 3 update are:
Wireless Network Controller and Bluetooth driver update (v15.68.9037.59) improves access point compatibility and throughput on 5GHz.
Surface Digitizer Integration driver update (v1.0.1.1) improves pen pairing feature with newest surface pen.
Surface Pen Pairing driver update (v1.0.1.1) improves pen pairing feature with newest surface pen.
Audio Device driver update (v604.10135.7777.2109) improves audio quality with some applications.
I2S Audio Codec driver update (v6.2.9600.527) improves audio quality with some applications.
As for the Surface Pro 3, you'll notice:
Surface Pro Embedded Controller Firmware update (v38.9.50.0) improves system start-up reliability.
Surface Pro UEFI update (v3.11.1150.0) adds pen support in UEFI menus and improved support for 3rd party onscreen keyboards.
Surface Fingerprint Sensor driver update (v2.2.10.6) improves accuracy.
Wireless Network Controller and Bluetooth driver update (v15.68.9037.59) improves access point compatibility and throughput on 5GHz.
HD Graphics Family driver update 4331 (v20.19.15.4331) improves color calibration and system stability.
Of course, these are just a few of the changes. If you own either of these tablets, you'll want to hit the links below to see everything that has been changed with the firmware update.
Source: Microsoft (Surface 3) (opens in new tab), (Surface Pro 3) (opens in new tab)
Windows Central Newsletter
Get the best of Windows Central in in your inbox, every day!
Jared started off writing about mobile phones back when BlackBerry ruled the market, and Windows Mobile was kinda cool. Now, with a family, mortgage and other responsibilities he has no choice but to look for the best deals, and he's here to share them with you.
Nice bunch of updates for the pro 3. Will get installed as soon as I have internet back xD

Be great if ATT would push their firmware for the 950.

This doesn't have anything to do with Windows Phone...

Actually it does. The common thread is MS who's $hit hardware requires updates left and right.

So, please humor us, tell us whose "AMAZING" hardware does NOT require updates. I am very interested to know. If you say apple, wrong, if you say any PC manufacturer, WRONG, if you say google/android, WRONG! So almighty great one. please....divulge this AMAZING deveice that never needs updates.

Ok, true, most hardware needs some fixin...the difference is the number of fixins necessary and the ongoing problems. Say, for example, the 1520's display, the now ****** camera with win 10 on the same phone. The 950, which I own, has a disappointing camera and the video is infuriating. This article provides details about the surface. By the way, how long have these, or the other products I noted been out? The point is the number of open issues at a time and the inability to solve issues with updates is a real problem. Maybe it doesn't matter to you because you can't afford any of the devices mentioned so you make due with a loaned 520, I really don't care, but to act like the current shenanigans are to be expected, your myopic view is clouding your judgement. This my cretin, unlearned friend is the difference between Apple and MS.

You mean this "Apple" who's updates completely wreck older, claimed to be supported, devices?

I'll install when I'm done modifying my 3D printer (need internet for info while doing it). I just wish they'd give us an update that makes it sleep properly. I mean, it's only been, what? A year and a half?

If your surface is not sleeping properly you probably have hyper-v turned on. I have had one for over a year also and it always sleeps perfectly. Battery will last over a week on sleep

Yes, Hyper-V is on. Is there no way to sleep with it on??

What exactly do u feel that is updates? Audio and graphics fixes?

And it updates to apply those fixes... Posted via the Windows Central App for Android

Had to factory reset my SP3 as the update failed to install. :(
In process now...
Will see if it will go back to previous build or the latest build. If previous, I'll try installing again.

And just found out, SP3 uses American Megatrends BIOS. During resetting, it gave me access to the bios access screen which we usually see on regular colors. I had a choice to change/customize buttons on keyboard.

Caution on this update. Many including myself are experiencing massive problems restarting (or not able to), random wake from sleep, login issues, etc.

I'll count myself lucky that my SP3 hasn't experienced this... Posted with the Nexus 6, Nexus 5, or Surface Pro 3

I had that before this update.... its a battery thing.

My Surface 3 is showing the blue windows logo during the UEFI boot up screen... I always liked the Surface logo there better :(

Yup, myself included. What a cluster.

Damn I'm again part of the unlucky ones... 2nd surface, hopefully I don't need a third one....
I get a Bitlocker issue this time and have to enter the key each time I start the tablet..yiha

Still waiting for new driver updates on the Surface Pro 1, haven't seen any firmware/driver update in forever on that thing.

Because its their product, and I see no reason to invest in their new product if they don't bother providing adequate support for their older PC products. Only a moron buys a PC from an OEM that then tells you to **** off when you need new drivers. That is why Sony and HP are already on my blacklist. And we all know how well crap support went for Sony forcing them to sell off VAIO alltogether.

Name one PC device manufacturer that provides support for a device 4+ years old...

The original Surface Pro was released less than 3 years ago, so get your facts straight first. [February 2013 (US)
May 2013 (UK)] And a decent OEM should provide support for as long as the manufacturer of the components used provides support. e.g. if Intel has newer drivers for the hardware used in PC/tablet then the OEM should make those drivers available.

I agree, it's a valid complaint. Pretty sure MS promised 4 years of support for the original Surface devices. So they should still be releasing updates for them Posted via the Windows Central App for Android

Ok fine, I'll rephrase that, name a PC device manufacturer that provides support for 3 or close to three year old devices.

Lol Posted via the Windows Central App for Nexus 5x

I'm assuming/hoping that Dell does cos I have one. :)

I'll bite. Lenovo. Look up the X230 tablets' release date. Then look up when its firmware was last updated.

Wasn't a firmware update released in the summer for Surface Pro 1? Hopefully another is coming soon!

Is something still broken? I would expect that three years old device is fixed. If it is not, there is a good chance that your problem is beyond software fixing.

Intel has released new generic drivers for the hardware in SP1, so MS should do the same, if Intel thought it was worth updating.

Many people seem to have big issues with these updates, though personally I don't. I'd like to see a poll here to get a rough estimate of how many SP3 users are affected and how many are not.

I'm very close to selling mine if I even can. No improvement what ever! I bought a high end legacy device and this is what one gets: forced into being a beta tester. I want a computer I can trust for work. I want a computer that keeps me and my boss happy. I want a computer that works. Period!

Go with Toshiba, Dell, or Lenovo.

What model and what problems do you have. Surface 3, 3 pro and 4 pro works amazing.

My SP3 hung after the update was installed and it rebooted to commit the firmware. It's been at ~60% for an hour. I hope it's not bricked when I hard shut it down or I'll have to do a factory reset.

Updated two Surface 3 128GB LTE, both are fine.

three days later and I see some of the stuff people complain about as well :-( I want a firmware rollback

Audio fixes? Perfect. Random speaker pop is the only thing I don't like about my surface three.

Yeah, that was a problem for me too.

I have a clicking noise in surface pro 3 via headphones whenever there is no audio playing Posted via the Windows Central App for Android

I had that in my first unit, it was a hardware issue, support sent me an other one without that problem.

Like Gatanui, I had that problem as well. Lived with it for a year hoping for a software update. Never happened. They exchanged my unit without a problem as I had complete protection.

Looks like they dropped the Surface brand too. I no longer see the Surface logo when booting up my Surface 3 after the firmware update.. The Windows logo took its place.

Mine is doing the same thing. I doubt that was intentional, that is the default logo for any Windows device.

I still see the logo. I'm using an LTE S3.

Surface brand on my S3 shows up for me after the update. Windows logo appears after.

Does anyone know where I can buy a Surface 3 that doesn't cost me an arm and a leg.

500 bucks are not an arm or a leg of yours.

I think it's over priced for what it is as well. Posted via the Windows Central App for Android

You will think it's priced exactly right after you buy it and use it for a while.

Agree -- Amazing device that works with touch, keyboard, precision keypad and pen!

not until they upgraded it to Win 10. User experience has been horrible but up until now only things have changed

Yes it is, plus the 4 is out now and it's not even 3 pro it's just the 3.

You know 3 isn't inherently worse. There is no Surface 4, just a Pro 4. Surface 3 was announced much later than Pro 3 so it is going to be the latest iteration of "Surface" until there's a 4 non-Pro. For the price of an iPad and many Android tablets, I think the Surface 3 is great value for what it offers.

If 500 USD is an arm and a leg, your total body must be around just 2000 USD. Value yourself better, man! You are cheaper than a mail bride! 8-P :-)

And clearly you don't understand what figure of speech is, do I have to direct you to episodes of Family Guy to learn this...and please tell me you also know what sarcasm is LOL

$500 seems like a good price considering all the accessories you can buy, expandable memory, full os how many tablets for that price, the new dell is $350 for an 8in

Really important kinda bullshit stuff. Lock screen aka picture password still flawed, you still barely have about 3 seconds to plug in power when battery warnings come up and it still can't be turned on right after battery dies (wait 10 minutes), word crashes, edge crashes and still can't do YouTube right, mail client still doesn't sync well and it takes forever to download even small images...... It's an update alright. An MS update! Nothing!

I know exactly what you mean especially about downloading attachments in W10 mail app. Also, when using a pen when clicking tapping the onscreen keyboard button, it always brings up pen input; there isn't a clear way to make keyboard appear by default. And Pen input (TIP) is half-baked. It isn't reliable. Under Windows 7/8, it worked so well I could write entire paragraphs. Windows 10, I can't even write one perfect sentence.

I got stuck at around 95% for about an hour until i force shutdown the whole thing. Havent notice anyproblem yet

No problems with my update

About those updates for pairing with the latest pen...I have an S3 with the new Pen. As previously mentioned, the Surface app update that included button customization didn't bring those features to the S3/SP3. I would have thought that this update would help with that. However, the Pen section on my Surface app still only includes the sensitivity setttings, not button customization. Anyone else see something different?


I started getting buttom customization with this update.

Are you sure about that? The Surface app would need to get updated which is where the button customizations get done unless there's another way.

The Surface app doesn't require an update for this because the necessary update already arrived a few weeks ago, the change are new Surface Pen Settings drivers.

If you don't mind, please explain how one can change the pen's top button click to open the OneNote office application rather than the OneNote store app on a Surface 3.

You do it in the Surface app. Keep in mind that I have a Surface Pro 3, though. All I can say is that I got the options to change the button actions with the latest firmware update, without any updates to the app itself.

Thanks for the reply, but the only pen adjustment in the Surface app on my S3 is sensitivity. Not sure how button actions appear in the Surface app w/o the app being updated.

The necessary app update arrived weeks ago but the Surface Pen Settings driver needs to support changing the button actions. Maybe the driver was only updated for Surface Pro 3 devices and not for Surface 3?

Could be the SP3 did and the S3 didn't.

I was looking for this last night and didn't find much, I wonder if anyone here knows. What are the specs of SP3's sounds chip, the headphones jack output, whether there's an amp, etc. Where can one find these more detail information?

My fingerprint scanner wasn't working for the last two builds. It's fixed now.

This update made my pro 3 randomly restart all the time.

I did not have any issues and noticed a huge improvement with blutetooth and wifi extender. b4 my mouse would take quite ahile to connect. Same with wifi. For now it is very fast.

Yay! I'm glad it improved your Surface!

My update worked without issue. All working okay except when I select Settings > System > About I get a freeze. Odd one!

I've been having this problem for over a month now. Every time I click on About in settings the app crashes. I must restart my SP3 twice to be able to see the About screen in Settings. Haven't updated yet to the new firmware so I'm sure it's something else.

Okay, thank you for the info. Just random that I chose About in settings after the update! Just tries again and it just sticks on the selection and nothing further happens, so not crashing currently - everything else is working for the update so you should be good. Edit - and a few minutes later system goes slow and clicking on the Start Button does nothing,so right click to restart. Still happening though now delayed lol

I'm really hoping this fixes my issues on my S3...after every update, no matter how small, the Wi-Fi would die, and randomly come back on after a random amount of time. Fingers crossed! Posted via the Windows Central App for Android

Haven't got around to updating my sp3 as I've been in surfacebook and surface pro 4 world. But just reading above comments, you guys have faulty h/w or need to do a fresh OS install. Or at least a refresh then os install. My sp3 had a mic issue, could not hear me over skype, that was fixed by a swap out.

chrome his been stable after the update! Fans are no longer activated that much

Can't set my default storage to my SD card.
:-(

About bleeping time, I was getting tired of typing in Visual Studio, only to have my graphics driver force me to pause my typing as it crashes.

Better AVOID INSTALLING this update for those who haven't. It did screw up my machine and some others too...

My entire time using a stable Windows license, I have never had issues with updates...UNTIL NOW!!! Do not download and install this update. My computer keeps restarting, battery is drained, shutdown doesn't properly shutdown, and I have lost some work in the process. Very irritating. Much of this seems to happen everytime I put my computer to sleep.

Some people on Microsoft Answers say reverting their Surface Pen Settings driver (under the HID category in Device Manager) fixed their issues, I suggest you try that out.

mine too, my surface pro 3 is full of issue after this firmware.

I hope it really fixes the display driver has stopped error... I could do any work due to That

My thoughts on this update (so far) : (Surface Pro 3 with Surf Pro 4 Windows Hello Keyboard) ​Video Driver seems to have been fixed finally Improved reliability of the touch id sensor of the keyboard as after the previous update was not always kicking in waking up from sleep mode. The keyboard was working but the sosnor or was not picking up any fingerprint os was throwing a fingerprint not recognized error. Now seems to work as it should. Battery life around 6/8 hours so in line with expectation (25% screen luminosity) bluetooth off. General overall of the system seems to run smoothly Connection with the Microsoft AV Adapter seems a bit better Issue so far : The photo livetitle stopped working, i know many workaround but i am just too lazy at the moment to play with it. It is still an hard task to write in this forum as the cursor jump around and that's why i write so little :)

Ok updated my 3 Pro and it went well. Still see the Surface text during the UEFI boot. The updated SP Pen 4 tweaking I can not adjust the functionality of the buttons.

Huh... The picture seems to be of a preview build...

I was one of the guys having a lot of troubles after installing this update. After installation the device wouldn't restart when selected but would only shut down, turning my SP3 back on was only possible bij holding volume up and the powerbutton simultaneously. Also, mij startmenu was broken, clicking the windows logo or hitting the windows button didn't do anything. The other thin was that I couldn't change any pensettings in the surface app. Since I updated my Surface Pro 3 from windows 8.1 to win 10 I decided to do a fresh install of Windows 10 by creating installation media on an USB-stick. This worked wonderfully well. After installing the updates performance is now flawless. Save a bunch of space as well as I couldn't get rid of the windows.old directory before :)

Got the new Firmware-Update on my Surface 3. Now the sound crackles when I am changing the volume. very annoying. anybody with the same issue? Also, the Surface App do not find my surface pen.

I've had a Surface 3 since launch day. After this firmware update it seems to be running better than ever. I notice a quicker response to touch.

Same issues here:
1. battery drain;
2. blue death screen when inactive;
3. "Restart" button doesn't work. Uninstalling the last drivers fix the first second problem. Microsoft support suggested me to roll back to 8.1 and then upgrading again. It seems very boring. Do you think it could help for real? Posted via the Windows Central App for Android

I'd love to roll back my pen drivers... But the firmware update bricked this new surface 3 LTE. Way to go ms. Second update that has killed this machine since august. First one had bug that wouldn't update if you had an SD card in. Two days to figure that you. Now bsod on boot and full restore. MS you're the best. I mean I put faith in a Band2, 830, and this tablet. All sadly disappointing.

Wait... So I can use the new surface pen on my SP3?
Windows Central Newsletter
Thank you for signing up to Windows Central. You will receive a verification email shortly.
There was a problem. Please refresh the page and try again.