Here are the known issues in Windows 10 Mobile build 10586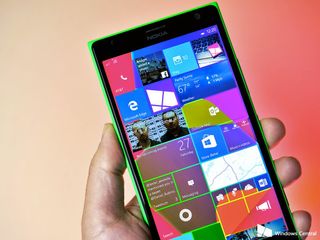 Microsoft has just pushed out a new build of Windows 10 Mobile to Windows Insiders today, coming in at build number 10586. The new build brings a number of bug fixes to the table, but of course, there are some known issues lingering around. Here's the breakdown of the known issues in the latest build.
After we released Build 10581 to Windows Insiders in the Fast ring, we discovered a bug in the build that will cause the filesystem to become partially corrupted after doing a factory reset. For those of you who did a factory reset of your phone, you most likely did not notice this issue on Build 10581. Due to this bug however, upgrading to Build 10586 will cause your phone to go into a reboot loop after the upgrade completes – rebooting at the Windows or operator logo. To recover your phone, you can use the hardware key combination to reset your phone which will then put it at the OOBE experience on Build 10586. We highly recommend that you make sure you do a backup your phone before upgrading to Build 10586 due to this bug. Additionally, you can also recover your phone by using the Windows Device Recovery Tool to go back to Windows Phone 8.1 and then upgrade to Build 10586.
Deploying Silverlight apps through Visual Studio to your phone still won't work in this build. This issue will be fixed with the release of Visual Studio 2015 Update 1 on Nov. 30th. You can deploy UWP apps to your phone without any issues.
There is a known issue where the tile for Insider Hub still remains under All apps but doesn't open. Insider Hub isn't included in this build. There isn't a way to get it back unfortunately. However, it'll return in a future flight! In the meantime, use Insider Hub on the PC as a workaround.
And there you have it. As noted, make sure to do a backup of your phone before upgrading to the latest build in case you run into the reboot loop issue.
Source: Microsoft
Windows Central Newsletter
Get the best of Windows Central in in your inbox, every day!
Dan Thorp-Lancaster is the former Editor-in-Chief of Windows Central. He began working with Windows Central, Android Central, and iMore as a news writer in 2014 and is obsessed with tech of all sorts. You can follow Dan on Twitter @DthorpL and Instagram @heyitsdtl.
That's it? Not bad. I wonder if I should upgrade my Lumia 925 (AT&T) now. Anyone think that's a terrible idea at this point? It's my daily driver.

Well, always remember that bugs such as "You can't phone or send sms" weren't mentioned in the "known issues"...

I got a 640 like my daily driver running smooth. Love it. Build 10581

I dont know whats wrong in my cell, When i installed this build, its just restarts, I had to do hard reset from volum and lock butten, then it is working...................

So... you're saying you didn't read the incredibly-short list of known issues, before commenting? Your issue is literally the first one listed.

Hows the SD card support, are things all clear there? I have 640xl but I depend on SD card a lot.

Got it installed on Lumia Icon with no issues.......silky smooth, no issues yet.

This is good news, installing on my Icon now:).

It's actually totally fine. I've been using the previous build (10581) on my Lumia 640 since the day it was released. It is my only phone, btw. I barely had any issues. ​With the polish even better in this build, now is the best time to jump onto the Insider train. :)

What about the battry life?

I'm thinking about updating my Lumia 822, also daily driver

Build 10581 is great on the 822, so this build should be no exception.
You can also set the UI scaling all the way down.

No issues on the 820 since 581 for me.

I've been using it on my daily driver since the very beginning...come on in...the water is fine lol

Hey Jonathan what do u think about the performance of this update on a 512mb ram device #L625...should I go for it or should I wait till the RTM

This is the RTM build. It is running ok so far. I do have a lot of errors on apps both on my l1520 and l640 but only lumia and system apps. Still think it sucks with those errors

I have a friend with L625 running 581, seems as smooth as my L640 on 581, I'd say on par with 8.1

Hey sandeep i had already running my L625 with 10586 build it's going smooth but cortana is not available.

I have a 730 with 10581. Use as daily driver with no problems. Smooth Experience

I got mine (730) updated just this morning. one thing i noticed is that there is problem signing up my microsoft account or Outlook account (that uses my Microsoft account). In the same way, i cannot sync my contacts in my phone. How's your experience? are you having the same problem?

Yap! Same problem in my Lumia 620 n actually outlook mail not showing my main Hotmail account :( this is bugs bcs I reset my phone after I uploaded build 581

Hey the issue u have been experiencing has it been solved or .....

I had that exact problem on 581 had to backup then hard reset.. then restore.. fixed the issue. Maybe there is some other fix.. dunno.

I'm having the same problem on my 730 man, did you got yours fixed?

Hey I am getting the exact issue with my Lumia 640. I just upgraded to Windows 10 couple days ago, and can't access my Hotmail email, only Gmail and Yahoo mail show up. Plus all my contacts lost sync. I am going to give it a couple more days, and if anything else happens i am going back to Windows 8.1.

Me too.. I am using 730 as my daily driver.. Didnt encounter any issues during the update.. I didnt have to reset my phone .. Also there is no problem with outlook

So did u have problem signing in to microsoft

go for it.
the 10581 build was good, except for a few kinks which are fixed on 586

How's the battery life on the last build?

just as good as it was on 8.1

I get a a day and half, with medium usage, connect to internet all the time. using lumia 1520

I can't say that. The very first day I bought my Lumia 640XL I installed Windows 10 on it. With build 10581 my device stand a day with super heavy usage, games, video, internet browsing, mail, WhatsApp... No complains. Now let's try 10586

when you open whatsapp in your window 10 phone build 10586...screen dispaly loading. Did you observe that ??? Do you have any solution for this

Battery is great on my 640 ... But I leave tap to wake off .. dunno how much difference it makes on battery.. just sometimes screen is too sensitive and will wake in my pocket .. I get FULL day easy on 640 build 581 (5am to 11pm)

Daniël, what do you recommend us to do? Your message got me scared as hell. I'm using a 1520 as my daily driver.

If anyone has tried this build with a 930, let me know how it goes pls...? As in battery wise and performance in general...cause the 930 isn't exactly known to have great battery life ...prefer that it doesn't get any worse...:)

Using it (10581) on my Icon as a daily driver. It's been pretty solid, decent battery life as well. I'm able to get through a full day with moderate usage with no problem. Motion data won't update so no health app. Also "hey Cortana" is pretty limited.

On a 930 on 10581. It's the first build I haven't rolled back to 8.1 from within a week due to instability and I'm not noticing any difference beyond maybe actually lasting a little longer.

I installed it yesterday... I wasn't insider till now, as this is supposed to be a shiping version. Can't judge on the battery life as i've been playing and installing things non stop, but just to let you know, I think it works perfectly fine for a daily driver, some apps still need to be updated, and the store could get a little optimized, but overall a good experience. I like it :)

With moderate usage on a Lumia Icon it gets me through the day no problem. Not quite 8.1 battery life.......the benefits far outweigh a small hit in battery life. 10 is 1,000,000x's better than 8.1........its not even close.

i have had groove crash 2 times and messages 1 time and thats less than 1 day later, i also have 16 app updates on the windows stop that show as fails, i cant recomend this build 86 over 81 for these reasons. and thats on a lumia 930. Ill do a fresh install from no resore save tomorrow and see if it solves my problems but to be fail a restore mode that doesnt restore correctly is a pretty terrible restore mode, and its been terrible for most of my windows mobile life. Stil to built 81 dont go to 86 as 81 is very reliable in comparison.

I am using 581 without any issue, it's my only phone so daily driver. It's great in 640

I've been running it on my Lumia 925 daily driver for the last two builds now. It presently isn't all that bad, but can be a little frustrating sometimes when it bogs down or has some crashes. The camera being slow has been the worst part so far. I'm hoping this build will clear that up, however. If you'd like, I can report back how it works after I finish updating.

Please, please, please report back, This is the last thing keeping me from having it on my daily and off my test device. Would be appreciated.

Ha yes my 925 is daily diver to. been testing it my 1520 saw video of running on 1320 same specs was pretty good and that on 10581

I've been using the all the Insider Builds on my daily driver 920 and had no serious issues. The last few builds have been really nice. I think you can go ahead and install this one.

Build 10581 on my 930 has been very good. It's my daily driver too. The first few hours I had high battery drain but left it connected to the internet and charging overnight and since then as good as 8.1.

tried to upgrade 10586 over 10581 that was installed from 8.1 and never been reset. now my 920 is half bricked. first, it has stuck with NOKIA on the screen, i went through the button combination to hard reset, it rebooted, showed NOKIA, then gears and the progress bar for some seconds, then a sad smile :( and turned off. and now i cant hard reset it because instead of showing exclamation it just reboots. exxxxxactly the same i got trying to uograde to 10586 from 10166. well i just wanted to warn everyone with the 920: do not upgrade if your phone is daily and you got no PC to use the recovery tool. be careful, good luck.

i got the same problem in my 820 isn't there any solution

Sure there is. Your problem and the solution are the very first in the list of this tiny article.

my lumia 820 got exactly the same problem. Please help me if u find any solution.it will be the great help for me. Please ....Please ...... Please......

Are you able to finally read the article? Windows Phone Recovery Tool is the ultimate solution to the brick-like cases. Insiders to participate the Preview Program are supposed to be geeks or at least advanced users to deal with betatesting issues, I wonder why you decided to mess with it if you didn't even learn how to recover your device if something goes wrong before it goes wrong. After you recover 8.1 with the Tool, I humbly advice you to stay with 8.1 until the "gold" 10 is out. Just for your device's safety.

I also got a sad face when I tried to hard reset after my phone went in to a reboot loop. I used Windows Device Recovery Tool (the renamed Windows Phone Recovery Tool) http://www.microsoft.com/en-us/mobile/support/faq/?action=singleTopic&topic=FA144103 to recover my phone. After many updates and another hard reset I finally have windows phone 10 back. Lumia 820

I've had the last build on my 925 since its been out. I find for the most part very good and certainly good enough for a DD. I'm upgrading to this build as we speak. Good luck.

I've been using Insider builds on my 925 (Vodafone Australia) for some time and build 10581 was pretty much rock solid for me. Different people see different things on similar hardware but, based on my own experience, I wouldn't hesitate to recommend using the current Insider build on a daily driver. One thing to consider is that Insider builds have seemed to work better after a hard reset so you'll possibly get better results if you're prepared to do that. Given that this is basically the RTM build though, that probably shouldn't be necessary. I didn't reset after upgrading to build 10581, but that was right after rolling back to WP 8.1.

i have been an insider on my daily driver since the build 10131 or something i dont remember and i can asure you this is safe now. its polished a lot actually you can't see bugs anymore like not being able to cal... and battery is good :D just hop over here with us :D

This is being done on a 635 (10581) while my Daily Driver 640 loads the new build.
For me this build is as reliable as 8.1 was. I get an occasional crash, but then again i got those on 8.1 so...
I takes a little getting used to but we're real close now. So go for it.

the 10581 build works great on my 925 so yeah, this one should be even better

Go for it! :) I've been using previous builds on my Lumia 535 for the last few months and it's been very smooth and very rarely do I notice a big that is actually very noticeable (really I rarely see any bugs). So I'd say go for it :D

Hi,Have you installed 10586 build to Lumia 535. If so, hows is it? No bugs? Can i go ahead and update. This is my only phone and its my daily driver.. Please suggest!

Hello vijay Have you installed windows 10 preivew version in you lumia 535.if you had, did you face any issue . Beocz i m thinking for upgrade my windows 8.1 to windows 10.

dude I've been using 10581 on my 925 for around 3 weeks now and it's almost flawless! I say go for the 10586

GO Ahead with a HURAAAHHH!!! your 925 seem superb if you are still on WP 8.1

I've run multiple previous builds on my 925. Some were pretty bad, but the last two that came out before today were good enough for me (still, small things would not always go right, but it was good enough compared to the extras on W10M). This build must be even more polished, so I'm guessing you would be fine running it

Got it on my 925. I really love it! Runs super super fluid as good as 8.1 or even better. Ive gone directly from 8.1 and didn't do a reset! After an hour it downloaded all updates and became super stable. I love the look and feel of W10! The only bug I noticed so far is that I cant set quit hours in Cortana there's no fields or picker to select times! Then we u press back ot crashes.

Thanks all. I may hold off for one more given Nadjib's comment. I use the quiet hours on a schedule and wouldn't want to lose that at all. Although I wouldn't expect an OS update would be necessary to fix it.

Guys I need help here .. after upgrading from 8.1 to this build ( the first time to try W10 build) on my lumia 1520. There were 3 problems 1. When u press and hold on bluetooth in the action center it just takes u to the home screen. 2- in the camera when you take a picture and try to open it from the pic circle on the left corner it doesn't take u to the gallary nor open the pic 3. there is no option to stop navigation key from vibrating when u press them .. I checked extra but there is no touch option.
I did a hardrest and the 1st two were fixed except the 3rd one

1. Well this is how it's made now, just like with wifi, long press to enter menu, so nothing can be done. 2.Never had this problem on my 735, so maybe someone else could help 3. Search for Touch options and you will find it.

Relating to the Camera issue, I had this on build 10581 since the beginning but it now works correctly on this build - it may be that the new build needs a bug fix that 10581 has recently received.

Make sure you get all the updates from the Store. The Touch settings will appear under Extras.

In the settings menu, go to "Extras". Then, select the "touch" option. It should bring you to the old Nokia Touch settings where you can disable vibration from the navigation keys.

Windows 10 phone build has lots of issues. Test phone -> 930 1) Gyrosopce issue, you can check it out by installing a Mininons game and try and play the game its un usable.
2) Issue with install and upgrades, Reboot loop
3) Installation issue Blue screen of death.
4) Deep linking of mail boxes aint working the same way as the old Windows8
5) Issue with the skype camera very squshy
6) Nokia Drive (here drive+) uninstall and re-installing did not work.
7) on the messaging App the microphone to dicate is now removed.
8) Swipe keyboard is gone not ready for primetime yet i belive.

im haveing simular issues on my 930 with build 86 stick with 81 is my sugestion.

7 - the microphone is there, keyboard settings, dictation button 8 - swipe is also available, keyboard settings, language

I've been on build 10581 on my L1020 as a daily driver w/o any major issues. 10586 doesn't seem to be as huge as to upgrade yet and risk stability or encounter upgrade issues.

Build 10581 worked pretty well on my TMoUS L925. I did not do a reset, and the upgrade to Build 10586 went smoothly. Overall feels a little more responsive. Mobile Hotspot now causes my phone to reboot, which I view as a minor set back because before the connection from another device would only last a few seconds.

I'm in India and I'm using Lumia 925. I've upgraded my phone 10 hours ago and it is working absolutely great. So I guess you can upgrade your phone as well.

Awesome! No dealbreaker bugs. The holdouts in the program will have little reason to not upgrade now. :D

If there is no insider hub in this update how will I update to future build.
I don't have a pc

insider hub has nothing to do with the update.

Insider Hub is not the same as the Windows Insider app. Insider Hub is just an app for discussion about the program. Has various tasks to perform that MS wants people to try out, etc.

Yeah seems like its safe for us who never played with insider settings till thud update. My m8 still running the official att 8.1.2 update is going in!

"To recover your phone, you can use the hardware key combination to reset your phone which will then put it at the OOBE experience on Build 10586." That key combo is...?

https://www.windowsphone.com/en-us/how-to/wp8/settings-and-personalization/reset-my-phone

Thank you so much!! You saved my day!!

If you've owned any of the devices without removeable battery and had a problem, Pressing and holding Power, Volume UP and DOWN all at once for a few seconds (15?) will reset the device...so far each Microsoft HW device has or uses a combination that is similar. Surface is the same and I just recently learned from MS Store techs that the Xbox One also has a key combo ;)

From a powered-off state, push the power button to begin power-up. As soon as you see the Microsoft logo press the Up Volume. You should see an Exclamation Point. Press the following in order: Volume UP, Volume Down, Power, Volume Down. This starts the factory reset.

To reset an unresponsive phone If your phone is unresponsive and you can't reach Settings Settings icon, you may be able to reset your phone using the hardware buttons. On Lumia phones (and some others), do the following to reset your phone: 1.Press and hold the Volume down Volume down button and Power Power button buttons at the same time until you feel a vibration (about 10–15 seconds). 2.When you feel the vibration, release the buttons, and then immediately press and hold the Volume down Volume down button button until you see a large exclamation mark. 3.Once the exclamation mark appears, press the following four buttons in this order: Volume up Volume up button, Volume down Volume down button, Power Power button, Volume down Volume down button . Your phone should now reset and restart itself. (It might take a while for the reset to finish.).

This is the RTM build and it still has bugs. LOL

Like every other RTM of every other OS? Shocking I say. Shocking!

There is no RTM ... Windows as a service.. It will be fixed in next update...

What version are the 950's running? They are being delivered today. Hopefully with working software .. Posted via the Windows Central App for Android

They're using this version, 10586

So it's running the Technical Preview? Does that sound like a good idea? And yes I use an Android phone but I'm getting the 950xl. Posted via the Windows Central App for Android

Well, this Build. Not this version of this Build.

They have build 10586. But since that's a fresh install and not an upgrade, the known issue of hanging on upgrade from build 10581 doesn't apply.

This again? So Windows is immune to being buggy because irs considered as a service. Technically there is still an RTM, RC, Beta, etc. Also there is thing still a called final release build, same thing as before only that we got constant upgrades like instead of traditional yearly or 4 year OS upgrades.

The 950 also got firmware

I hope we will got the firmware for older devices soon later this year or early next year.

If you have a Lumia you have new firmware. It is called Lumia Windows 10. No more color names, apparently. Lumia Earwax probably didn't go over too well in the focus groups, and not having another E color handy they went with Windows 10.

Well I didn't the new Lumia firmware which I'm waiting for. I still got the Demim.

Firmware is not w10 think of firmware as I don't know maybe more like the bios

They could use... I don't know... Emerald?

Android has recently been trying to keep up with software exploits that keep being found and Apple, well see link: http://www.bing.com/news/apiclick.aspx?ref=BDIGeneric&aid=5021FF6D1971DE... So on this basis every OS is not truely finished and is continuously receiving updates and fixes.

Just like every piece of software in the universe :)

But not "the most advanced operative system in the world" remember? That made a lot of people laugh

Bugs that only apply to insiders and/or need updated PC software.

Yeah! Haha! Lol! They must be total dumbasses to put out a build as final release when PEOPLE THAT USED THE BETA might run into issues! /s *sigh*

If you actually take the time to look there are three bugs, none of which will be visible to ordinary consumers. One is a very specific bugs concerned with upgrading from one preview to another, normal consumers don't have to worry about that. The second is a developer issue that is actually to do with a separate piece of software, consumers needn't be concerned. The third is a problem with the insider hub, an app normal consumers won't even know exists. So to all intents and purposes there are no known issues in the RTM build for consumers, only for insiders and that's what we're for. Think before commenting, it's quite liberating.

Common sense is appreciated. Posted from this here device.

A little caution regarding "normal" consumers. Consumers using the Insider Previews can't be lumped into "normal" as the OS has not been released to existing customers/devices. The big one is updating from a previous build. This can cause the device to go into an install loop that can generally only be taken care of by donwgrading and reinstalling. This occurs if you routinely factory reset your phone on the previous build. As this was generally noted as a "must do" step when installing builds by various sites, including this one, many "normal" consumers may have done this on 10581, thereby triggering this bug. Fortunately for me, 10581 was the first build I didn't have to reset following install. Previous builds necessitated it due to huge battery drain, overheating, and diappearing apps and tiles. I haven't had time to run this latest build through its paces yet. But so far, appears to be smooth, no heating while on t he charger, faster and more complete charging and apps nicely responsive. I am one of those "normal" consumers on the Fast Track Preview who threw caution to the wind and put the Preview on my daily driver from July. So you can send your thank you notes for all the ridiculous bugs and issues and resets I endured and reported to Feedback in the process. You are welcome LOL

@Mark Richey: considering you're responding to a thread that pointed out that this build is on the 950, yes, "normal" consumers are normal consumers. That was the whole point. Someone commented that they were upset a build released to consumers still had known bugs. Crownshaw was just pointing out that the known bugs won't affect normal users. So no, you're not one of the "normal" consumers. The normal consumers being referred to are actual consumers who are not part of the Insider program.

Yeah, base on this bug. I don't believe this is the RTM, most likely just another RC build.

@aXross: why couldn't this bug be released to manufacturers? how would it affect them?

Wait is this an RTM build already? Those bugs are quire big but also not much a visible bugs to many I guess. Developer bug is invisible to users though, it will still annoy few developers who rely on it, I hope they will just switch to new UWP.

again, how are those bugs big? the first is completely unrelated to RTM. the second one isn't a bug with the OS, its that software is missing on the other side (that will be fixed in 11 days) and is related to a form of distribution that MS doesn't want to encourage in the first place. the last bug is actually *because* its RTM. they did this last time too... Insider Hub wasn't included in the RTM builds.

No where does it say this is the RTM build. Also, even if it was, the bugs they mentioned don't really apply to general customers they are mostly Insider Preview upgrade bugs.

This is the build shipping in the 950. This is as close to what we used to think of RTM as you can get.

its 3 bugs? 2 For insiders who come from insider builds and one for developers.
so they do not affect the customer in no way. so its bugs yea like all operating systems still has bugs go to the android security xD
but the point is its usuable as a daily driver for all those who just come to this build with the big update and just w8ed for it didnt try it. we the ones who try it only get the bugs and see em and only we will se 2 of these bugs right now. no one else cares about hub/the upgrade since they all run windows 8,1 and none of the mare devs lolz :3 so it's bugfree for customers.
(since 2 bugs only for insiders and 1 wont be seen again since the build 10581 will be erradicated xD)

Well, let's see. iOS 9.0.0 released 09/16/15 iOS 9.0.1 released 09/23/15 iOS 9.0.2 released 09/30/15 So after Apple released their major 9.0.0 software, they had to release two updates a few days later to fix problems. From Forbes Magazine: It's time to call it: iOS 9 has had a rough start. Despite its impressive new features, the platform has needed two dedicated bug patches in as many weeks. But not only have these patches failed to fix all the problems, it turns out they are introducing a whole host of new ones along the way…

i think Microsoft doing good job so far. You can't compare between IOS and Windows Mobile. Microsoft is developing OS that support Universal Apps. That's mean apps can running on Phone,Tablet, and PC. Perhaps server too. As we know Windows Phone has lot of kinds of hardware that they have to support. Start from low end , middle end , and High end, and off course different manufacture. And it's take more time to implement all. It's totally different with IOS. Apple only focus to phone OS itself. They don't have to think about universal apps and different manufactur.

really? its taken nearly 12 months to start seeing skype build in from its anounced date, we have only just this week found out linked emails is back soon. We still have failed apps upgrades in the store and we have had this issue in every single build. those with 30gig storeage space are having it removed and left with 5 gig. Theres no 100g or 200 gig onedrive option cause microsoft want you all to pay 5.99, and this latest build 86 is less reliable on my 930 than previous build 81 was, Tell me 12-14 months and still they havent solved alot of issues, do you keep a straight face when you say microsoft is doing well? Things taking too long, things not geting fixed, things prioritised over more impotant things eg flash light over linked in box, no gestures thats still missing and nothing about a apple pay working version. I dont see anything good from microsoft this last 2 weeks. If anythign im fighting a personal battle over the onedrive changes, personally i think they are slaping all their loyal fanbase squarely in the face and i dont know if i can accept that anymore, This slow lazy build, 86 also makes me feel less incouraged about microsoft. Windows desktop 10 the best os on a desktop, windows phone with 8.1 the best phone os ever 10 ig good but not great when it works but there is to many missing features from 8.1 and well releasing 86 just hurt my impressions even if it is a insider. Oh well. I wonder how long their fanbase will deal with these kind of issues before they give up on windows, i dont think its far away now.

Ios 9 is still better Posted via the Windows Central App for Android

These bugs only affects Insiders. Same as RTM PC.

12-14 months and still updates now 16 show up failed in the store, that just is not good enough even for a insider version, especially now that they want to release their 950s and only a week after letting their userbase know that their mostly 30gig storage on onedroive is being removed. Microsoft are really making large steps backwards from their surface book anouncment. Doesnt look like they learned anything in the last 4 years.

I would love to know what causes that

They should polish the user interface more. Windows Phone 8.1 was better in some aspects at this point. Just saying. Also the 'Extra's' entry in settings should be intergrade with main settings. It's more convenient that way. Sorry for bad english

When comparing 8.1 beside 10, you can see how drastically nicer 10 looks. While I agree the 'Extras' section should be integrated into the Main Settings... those Extra settings are meant for the Phone manufacturer, not Microsoft (unless it's a Lumia).

Unfortunately to say, Microsoft choose to rush it and will update it later. Windows 10 rushed to have way more unpolished areas both UI and functionality. Heck even simple opening windows animation is still missing on Universal Apps. Good thing to say, average users didn't mind it and some even ignore it. This makes Windows 10 perceived not being rushed despot it is.

how is it unpolished? and can animations ever be 'missing'? is it a requirement? how does 8.1 look better than this? when i had to reset a few times in the past, i couldn't stand 8.1. it *feels* like an old OS. using 10 now makes me wonder how i even put up with 8.1. I had the same experience between 8 and 8.1. Are you sure you just don't like change?

Windows 10 mobile is better than Wp8.1, debate closed!

when it stops crshing on my groove app and my message app on a 930. when i get windows gestures back, when they bring back intergration with facebook and placeholders, when they return to me the 30 gig of space i got for buying my lumia 930, when they add a pivoting function to grove and intergrate options closer and smoohter together then i might agree with you but right now all the great things windows 10 has still doesnt come close to the natural reliable and great experience i had on windows 8.1 denium, but i agree it got alot of great features but its just not the smooth reliable 8.1 denim way. Lets face it any company that turns around and blames users for using unlimited storage in a unlimited way and then penalising ever single windows user for that and to do it just 2 weeks before they release their 950s, thats not a smart company, it really isnt. I know 4 people that will not be buying the 950 or 950xl and they were 5 including me all because microsft decideed that that 30gig storeg i got when i spent 500 pounds on my 930 and windows 8 was going to be taken away and replaced with again they said 5gig a amount that was more than enough for us all. Any company that thinks 5gig is a decent amount of free storage when people by their devices doesnt belong in the 21st centry, maybe thats why their mobile business has stagnated, people just dont trust microsoft anymore.

unfortunatly i think your right. We dont have the social intergration of 8.1, we still miss somehtign as great as gestures, our music app doesnt have the old piviting function and microsoft are removing the 30 gig storage, 15 gig from the 500 pounds i spent on my 930 and windows 8 lol. I do feel 10 has alot of great new featurs but i think it misses the fluency of the ui of 8.1 the intergration. I love its look, its also now runing as fast as if not a little faster than 8.1 and great battery life but gestures and linked inbox should have been there months ago just like built in skype. Changeing onedrive policys and basicly taking spoace away from their lotyal customer base is a step to far for alot of angry people, im personall on the edge not quite over but its a personal battle for me as i thin desktop 10 and windows phones are just way better than the competition, im just not sure i wana do business with microsoft anymore even if their products are superior. 30gig to 5 kinda still hurts me.

first article split in 2?

idk, I feel like every build they do separate articles...lol ;p

Smash those left buttons!

That's a known bug. Deal with it. Lol

No. New features at this time is not viable. Wait for the next big updates like the november one for pcs

Why don't you go and check it out by yourself from the "What's new" article

Its been a months they feature locked the OS. At this rate we have to have a long wait for Redstone. Though I bet it will be just not that significant update based on pace of development.

Why the fuck do people keep thinking there will be new features.
We have told you all for a while now this was fit and finish.
This whole thing is really just get 10 at the core here and the universal app platform in place that's all the update has ever been

Some people like to read and educate themselves, whilst others just have thoughts freely floating around their brain which then come out in comments lol. IDK, but I've heard knowledge is power?

knowledge isnt power, look at microsoft screwing over onedrive users and still people praise them? Thats knowledge but no power.

No its like a bad girlfriend she drives you crazy but the sex is great.

So... Soft reset or hard reset for that 1st bug?

I hard resetted with Build 10581 and wasn't planning to hard reset for this Build (I wanted to see how well the update would go if I didn't hard reset) and it seems like that's a good idea. I'm going to try updating and see what happens, and I'll rollback if I need to.

Hard reset if you get the boot loop. Everything went fine on my 1020

Had to do a Hard Reset from Build 10581

Now can we get the new windows central app

Not yet... I think Dan is waiting to get hands-on with Lumia 950 and review the app using it ... ;)

This! Anytime before Christmas would be great!!

Hopefully it doesn't cost anything....

Why object to paying for an app you use everyday?

i dont mind paying for a app when its something like a game, or apps like plex, netflix kodi remote. I dont pay for any website or app that is a website. I love the website but no one else charges fro a app of their website and thats the only reason i dont pay. But i guess some dont mind.

Lots of sites charge hell some charge you to even read there site

Its free on Android Posted via the Windows Central App for Android

I hope it costs $99 just so you don't get it.

.99 will break your budget?

What if we already own the current windows central app? Best app I've ever purchased and I use it all day. I'd buy the new one though.

also been using build 10581 as a daily driver on a Lumia 830, and minus some minor issues it was fine for day to day use. will be updating to 10586 without hesitation

Do you by any chance experience screen flickering (1s fade to black)? I've been troubled by that problem on my Lumia 830 and even with the latest build it's still there. Quite annoying to be honest.

Same issue here, despite a lot of attempts to fix it (hard resets, changing settings for system apps like "Touch", "Display", "Glance", etc).

I didn't hard reset on 10581, will I get this 1st bug?

Backup anyway. Who knows.

The way I read this is that everyone on 10581 is going to have to do a hard reset.

Well it clearly says if you hard reset on 581 not everyone did

It says if you did a hard reset then you most likely have not seen this bug. nowhere does it say that if you didn't that you won't be affected. Downloading now we will see. I did not hard reset in 10581. I rolled back to 8.1 and then went to 10581. I hope you are correct.

Read the line above that again

"After we released Build 10581 to Windows Insiders in the Fast ring, we discovered a bug in the build that will cause the filesystem to become partially corrupted after doing a factory reset." So, if you did a factory reset with 10581 installed, the filesystem became partially corrupted. However, it's not noticeable until trying to upgrade to 10586. If you did *not* do a factory reset with 10581 installed, you'll be fine. So this definitely does not affect everyone on 10581. Since factory resets are common amongst insiders moving to new builds though, this may affect a decent amount of people.

Thank yOu, I've successfuly updated!

Finally!! This is hopefully the build I've been waiting for. Thinking I might finally take the plunge and upgrade from 8.1 as a daily driver on my Lumia 830.

no it's not. don't try. the build you are waiting for is imaginary. unless you leave this os

If i read this correctly then everyone on 10581 is going to have to do a hard reset aftere the install. Imsuspect this is why we didnt get it right away.

Hard reset has become a norm these days.. Thanks to windows insiders program.. :p

xD actually i did run the 10581 on upgraded version didnt do a hard reset(happy about that) and the phone did run a lot faster and was bug free something i didn't expect from last upgraded versions of the build thats pretty good :D

Lol! Actually this has been a norm even on WP, but at least most if the time you don't need to. I hope Microsoft will fix this issue internally in Windows messing up after upgrade. This thing is old and still persist.

Wrong. I highly doube most people did a hard reset AFTER the install. Most people probably did it BEFORE the install maybe. I usually do a hard reset after the install, but I'm glad I didn't this time hehehe. :)

I usually didn't do the hard reset after install a new build...but I did on 10581! Oh well, never mind!!

Nah, a lot of people do hard resets after upgrading. Even Daniel recommended it at one point if I recall (if not him, a different writer, but an article on this site definitely suggested it, at least for earlier builds).

To clarify, no. Everyone on 10581 who did a factory reset *after* upgrading to 10581 will be affected by the bug. If you *didn't* do a factory reset *after* 10581, you're fine. You can go straight from 10581 to 10586.

Can you get quiet hours to turn on automatically during a "busy" calendar appointment in this build, does anyone know?

Can anyone please confirm if both Glance and Double Tap work on this build? Lumia 830 here. I read somewhere earlier in the forums that someone with a new 950 could not get Double Tap to work. Fix the basic little things MS! Geesh.​

Weird both Glance and Double Tap to Wake work perfectly fine on my 920 current build.

Up until now it has been impossible to update Glance, fingers crossed this fixes it. (although, I am not holding my breath...)

I`m just downloading now on my L830, but it worked on .....581 on my L830 and I can't see why it shouldn't work on this build :-)

Glance on W10 is a mere shadow of Glance on WP8.1. It is so incredibly lame compared to WP8.1. As is everything else in W10.

This sucks:(. I don't want to do another backup. Comeon:(((

Huh? Why WOULDN"T you do a backup before doing any upgrade? That's just silly. Plus they aren't forcing you to backup your files. You can go ahead and upgrade without backing up if you really wanted to.

Yeah, especially when it takes basically no time whatsoever!!

Yeah, right. Tell that to a nine year old;).

Cause takes to much and i don't like restoring. Restoring always has issues! Always, since the first day of operating systems. As for backup, i had to cause i have had all the problems they mentioned with the 581. So i had also the loop restart after the ugrade.

Seriously? That's computing 101 =/

I'm on 10581 , left the program for now , not going to update because I will get into the rebooting issue and I don't want to reset my phone now , waiting for the next one

The issue will probably remain with future builds since your filesystem is already corrupted, but who knows

That sounds uncomforting.

What hprvez said is kind of true. You have corrupted files. So i don't think they will adress this problem. So you will need to escape from corrupted files, to do that,well you need to hardreset again. And yes, sucks

Am confused. Are they saying if we update from 10581 to 10586 we will get a boot loop or only if we hard reset after installing 10581? I didn't hard reset after 10581.

If you didn't hard reset AFTER installing 10581, then you're fine.

Just upgrade and you know.

if you had done a hard reset at build 10581 then better go back to windows 8.1 and then to the new build.
if you didnt do a hard reset and tried the build on an upgraded version then you are good to go to the new build 10586 directly from the upgraded one.

Or just do the hard reset after the upgrade when it is in the boot loop. Less time and a cleaner end state as all the 8.1 stuff will be gone.

Did you perform the hard reset during the boot loop situation? Did it work as planned after the hard reset?

I wonder how soon insider hub will return? My 1520 is working really nice on 10581. Maybe I'll just wait for the next build. Hopefully it won't be too long.

you'd really hold back simply for insider hub?

Question to anyone biting the bullet on a L830. Is the camera as fast as Proper Denim? That's my one major block on finally takin this on my daily driver.

Any one have tried this build and tell us what to do

Ok so the first issue is only for insiders and none else so the second and third ones again only for insiders and developers thats really great for microsoft since it dealt with the basic bad problems of sensors and the sd card thing:D
i am pretty happy :D and pretty happy that i didnt hard reset my phone at 10581 so i wont have the bug loop :D.

I can't understand why peope in the "insider" program think that it should be perfect. No software in the world is immune from bugs. If you get one, report it and wait for the fix or you can always use Android. That OS is always perfect!

yeah... with this build i think I'm ready to break my phone and buy a new Android phone as fast as i can. there is no hope for this god forsaken os

how could you like previous windows OSes and not this one?

we dont think it should be perfect but 12-14 months after release the bugs that have existeed back then should at least be gone or better and well some arent. Also with the 950 ciooming out soon i expected builds to get more reliable aND NOT GO BACKWARDS. eVEN THOGUH 86 IS STILL A DAILY DRIVER IT HAS CRASHED 3 APPS OF MINE COMPARED TO NONE ON 81 BUILD AND ITS ONLY DAY ONE AND THE APP STORE SHOWS 16 APP UPGRADE FAILS AGAIN A OLD ISSUE THEY STILL HAVENT FIXED. wE STILL HAVENT GOT GESTURS BACK AND I THOUGHT WE WERE AND SKTPE WAS VERY LATE TO THE WINDOWS 10 PARTY SO IN=SIDER OR NOT MICROSOFT IS WORKING INCREDIBLY SLOWLY IN MY EYES, I REALLY THINK SINCE THEY DOWNSIZEDD A FEW YEARS AGO YOU CAN FEEL JUST Haw slower they are at doing things even to this very day. Oh the onedrive situation dosnt do them any favors either.

If upgrading to W10 for the first time from 8.1, is it best to remove my SD card first then add it back after upgrading? Or does it matter? I don't have any apps installed on it, just photos. Lumia 830. Thanks.

It doesn't matter. Your photos will be intact.

Has anyone yet experienced the reboot loop?

Yes! Dealing with it now. Tried the "Button Combo" but after 30 seconds with the gears, I get the : ( and it boot loops again. Now the combo doesn't bring up the "!". Windows Device Recovery doesn't recognize my phone now either. I'm kinda stuck!! Lumia 735 (Verizon), I DID do a hard reset after 10581, like all the other builds. This is my first issue as an insider!

Did this get resolved yet for you? I did the hard reset on 10581 also so I'm hestitate to update to 10586.

I know I did a hard reset on 10581. Therefore I will simply backup, revert back to 8.1 via Windows Device Recovery Tool, disable all updates, install Windows Inside and upgrade to W10M 10586, then restore backup. Reverting back to 8.1 only takes 5min (provided the rom has been downloaded in the past).

No, I hesitate to use the term, but I think my 735 is bricked. When I hold the vol down button to bring up the "!" The phone just vibrates (about once per sec.). When I stop holding Vol. Dn. It continues with boot, gears, sad face ":-(", and off.

I did do a hard reset also on 581 just to fix the folder issue on the Start Screen of my Lumia 635. The recovery tools (Windows or Nokia) does not recognize my phone in build 581. I thought MS already fix the looping issue in the Stop Resart App and the push update a few months back!!! But I guess it came back again! I will pass on this build and wait for the next one.

Press Power button once. Now press and hold Volume Down until you see exclamation mark on the screen.
Next press this keys in sequence: Volume Up -> Volume Down -> Power button ->Volume Down. After that your device will reset to factory settings.

Update 11/20 - I found the Nokia Software Updater for Retail 4.3.2, It resolved the problem & I am installing 8.1 now. WDRT wouldn't recognize my phone but Nokia has come through as usual. http://nokia-software-updater.en.lo4d.com/download

Still not fixed the backup when using mobile data.

Stay at windows8.1 until RTM

Am just installing this on my 820. No major issues with 581 :-)

What about Cortana's live tile? It still doesn't work until you open Cortana. Not even it's circles animate. Just a dead tile. I have not yet installed build 10586. Hence the question.

are you talking about from a clean install? if so, its because you need to actually setup Cortana. Otherwise, the problem you're experiencing seems to be not as widespread as I don't know anyone who's encountered that issue.

I have always only upgraded and never hard reset. I had already set up Cortana when I had installed the mobile preview for the first time. Maybe a hard reset shall fix it. This dead tile problem is being carried on since the first build.

so it never shows up each time you upgraded, but once you click on it, everything works fine? what if you click the magnifying glass, does that make the tile work? and when you click on the tile the first time, she doesn't ask you to set her up or anything? and yes, i'm referring to cortana as a her. =P

Nope. It doesn't show up each time I upgrade. When I open Cortana and then exit, the tile works fine. But after some time I see it dead again. Then again the same steps. There's no magnifying glass icon for Cortana on my phone. It's completely available in my region with almost every functionality its western counterparts have. No, it does not ask for setup every time I upgrade. Upgrade simply means keeping all the files and settings intact. This applies to Cortana also. It even doesn't forget my name or my interests or my location. And for the Cortana's addressing issue, you're not alone who addresses it as "her" ;)

Has previewing pictures been fixed on the 1520? Most of the time it takes a long time to preview a picture after being taken. Says finalizing.... I do have an SD card.

What about blinking screen in 830 and others? Is not included in the whats been fixed nor on this whats still broken...

OH my Gawd guys. Stop with the RTM. THERE IS NO MORE RTM. Daniel has stated this many times in these threads the strategy has changed to Windows as a Service. The most stable builds will be pushed. If you wanna test new features, jump on the insider train and expect issues.

You know what? For all intents and purposes, the build that is made available for OEMs and/or carriers to push to their subscribers is an RTM, okay? It's term with a meaning that legitimately has gone through a slight change over time as technology changes. Most of us understand this and we're okay with the nuance. Sheesh.

Whatever build MS sends to HTC, Samsung, Acer, etc. is literally the RTM build.

Yes, there is. What you're referring to is a combination of marketing and semantics.

What you are saying makes no sense, just because the update model is windows as a svc, does not mean there isn't a RTM. You do understand that RTM means release to manufacturer, right? Meaning they are releasing that specific build to OEMs. So yes, there are most definitely RTMs...

OH my Gawd. stop saying it will get better. it's almost a year since this nightmare started. i think we are way down the road to say wait it will get better. it is what it is. and it will always be like this. don't try to make yourself feel better

Just as there was RTM on PC, there's RTM on W10M. However, since i don't know when anyone other than Microsoft is releasing W10M, I have no idea if the build they used will be the same build they release to manufacturers. There will always be a build that is the more 'official' one that users who aren't part of the insider program will get.

All that matters to me at this point is SD card functionality. It was the only reson I had to get rid of 10581. On a 640, SD functionality is pretty much required for all practical purposes.

SD rd worked in 581 just couldn't change it

Update Advisor is still broken. Shame, was a useful tool after an update to clear clutter.

Hopefully this fixes some annoying issues in 581 not mentioned. Not a deal breaker, but annoying. MAPS: The overlay compass, location, & mapview goes missing when actually navigating, but not when finding an address. If you switch back and forth between settings and navigating, it comes back eventually. Audio (especially Groove): continues to play even after I close the app using the taskview (hold down the back button). Need to start the app back up and pause the audio to stop it from playing. Happens in virtually all audio playing apps. Stuck apps that need updating but erroring out - Motion Data, etc. Cortana and quiet hours LockScreen notifications not showing up or showing up way later.

Download 'stop the music'. Clears it from your volume drop down too though

The update bug is horrible..I have 9 updates that failed. Reboots do nothing. I was hoping this update fixed it..

How to hard reset with combination key? I have forgotten the sequence. Anyone pls help....

Hold volume down, power and camera. When phone vibrates, release power, but continue holding volume down and camera til the exclamation mark appears on the screen.

What exactly does that hard reset do? I'm familiar with the one where you just hold volume down and power, but how's this one different and how does it fix the reboot loop?

That combo is a factory reset not a cold boot

IIRC it's volume up and power key. Look it up.

Hey Cortana still doesn't work with the Lumia 930, at least it doesn't in the UK.

It doesn't work on the 1520 either...so at least you know you are not alone mate ☺

How come I didn't get the boot loop? That was an easy update. Running great on my 920 daily driver until my 950xl arrives.

You didn't factory reset on the last build is why

But actually, I did. My update process has been to update, reset then restore backup and it's worked great so far. This time, though, straight update and all is good.

Hilarious. The RTM build is hosed. Nicely done. I'm glad I'm only testing this piece of garbage on a 635 and 640. I'm leaving my 1020 on the MUCH BETTER WP8.1.

same here with 640xl. I'm done with windows mobile. hope someone release android port for my #### phone

how is this hosed? do you even understand those bugs? bro, do you even computer?

I've been in IT since probably before you were born, pjhenry1216. I've done the whole Netware and MCSE thing, I've installed, configured, managed countless PCs and networks in addition to custom-building my own. I've been with Microsoft's mobile environment since the Compaq iPaq 3630. I know what I like and I know what I hate. I hate Windows 10 and Windows 10 Mobile.

Ok, but nothing you said relates to anything you said previously. You said this build was hosed based on this article. *what* about it is hosed. You can throw around meaningless statements all you want. That still means nothing. Other than possibly trying to convey that you're an old man and hate change. It's common in old age. In fact they've made jokes about old age and new IT. So, I understand. It's ok.

Just wanted to comment that 10581 is the first build I haven't reverted on my Lumia 920. Battery life is better, bit still no where near as good as the latest 8.1 for me. I do use my phone heavily for work, so that's probably why. Still gets really warm, glance screen and access point apps still not working or integrated in. That said, it's stable for the most part, apps and Windows 10 features work so I'm sticking around now. As always, good habit to backup before you do any OS upgrade. Or you can roll the dice, haha.

Wait so I did a rest back during the previous build to get everything working fine. Does the first bug mean that now if I update to the new build, it'll corrupt my phone?

Nope it means your file system is already corrupted

Ugh and I suppose even if I waited for the next build, it's still already corrupted?

all excited to use the new .11 build on my 1520 and i update and it gets stuck in the boot loop from 10586.... thats cool... not like i have anything to do with my primary phone or anything

Don't complain that told you exactly what would happen and you jumped in

just as a matter of clarification, *technically* the boot loop was caused by 10581...

What about the glance on lumia 925? It had issues with 10581, it just wouldn't work in my phone.

Wtf... I upgrade my 1520 from the 581 without any hard reset but it still continuosly restarts. Then I go to Windows Device Recovery Tool but the software keep updating then fail then try again then fail... Arghhhhhhhhhh!

Did you factory reset while on 581

Nope. But I don't mind recover and do it again but the recover tool is kidding me!!!!!!!!!!! Update: Now I'm using hard reset by pressing buttons, hope it works! The tool is still downloading like 1GB during the update to 3.1.4. Doesn't make any sense at all -_-

makes me wonder why 2 builds from final they were messing with the file system.... :/

Remember that bug that wouldn't update from one build to the next and you had to go back to 8.1? Well, I imagine they had to fix something in there and something else came up as a result... it happens.

...which was fixed a few builds back. From what I can glean this is actual format of the file system, not a bug fix that would come inline with the build process. I could be way off, but that is my reading here, and these types of things should have been done a few sprint's ago. I go back to my statement, they are making some serious low-level changes at quite a late stage. Of course I know 'these things happen', i used to work there. I'm just a bit surprised that we're dealing with FS format stuff at this stage still.

bugs don't just magically go away at a low level... if they found a bug and the fix required something low level, then they had to fix it. and yes, maybe they introduced a new bug. if you've written software, i'm surprised you're surprised. mature software processes can help decrease bugs of that nature this late in the game, but its not unheard of to occur.

Is the option "3G only" on sim settings under Mobile+Sim appeared ! Anyone, please let me know !

Not available in this build

my guess is no. that would be phone specific. usually that's a function on phones that have 3G and 4G radios on separate chips.

Tried updating from 81. No hard reset. Totally bricked the phone. Downloading the 8.1 image, and will try it that way. I thought I was safe. No way to hard reset the 1020, using the 3 finger method. Goes right back to a loop.

You can hard reset a 1020 via buttons using the instructions posted above in these comments.

So I'm on 8.1 with my Lumia 1520.3. Would I have any bugs updating to this build? I had an older build in here a while ago but reverted back to 8.1 because it was too buggy.

Gah, why couldn't you put the words "hard resetters beware" in your title?! Continuous reboot NOT a little glitch.

So if i optout of the insider preview program now will i be able to get the updates at the same time as ppl on wm8.1?

It depends on the brand and model of your phone.

So far so good on 640xl not had to reset and things are going well

"Use insider hub on the PC as a workaround." Too bad for me, I guess.. I don't have one.

to be fair, they removed it from the insider builds on the PC when they got close to RTM (and to anyone who tries to say RTM doesn't exist, its still the best term we have to describe the build that is released to manufacturer and the build that gets released to the general public).

print emails nope......... print photos , now gone.....

Nokia lumia 930. Updated and no issues at all. Flawless

Where do I get that wallpaper / background?

Let me know bro if you have an answer on that. Thnx...

my 640XL got caught in the rebooting loop after the upgrade. I used the following method to do a hard reset - http://www.hardreset.info/devices/microsoft/microsoft-lumia-640-xl/

L640 runs smoothly since 10581 on my L640 and still rocking on the latest build. Side topic.... Where I can download the wallpaper on the picture shown. Appreciate if anyone can help me...

How is the battery life... Will it lasts for 2 days like it do in 8.1

can someone search through messages as was the case with wp8.1?

Cortana working ? So much for RTM if it's still got bugs...

So, my fears are true. The slowness in 1020 will remain. Well. Bye bye 10. I go back to 8. Battery better, faster, more reliable....

sort of expected, its old hardware.

Got the reboot loop on my 1520. Not the first time I had to factory wipe and probably won't be the last

Lumia camera for 1020???????

That would be mentioned in the article...

My 1520 got stuck in the reboot loop. Her eis the fix: Hold the Power and Vol Down button at the same time, once it vibrates release the pwer button but keep the Vol Down held untill you see the exclamation mark. Next press Vol Up, then Vol Down, the Power, and finally Vol Down. The phone will reset to OOBE.

Just updated my 830 ... No reboot... Quick and clean.

Is a factory reset needed after updating to this build from 8.1??

How is the battery life on Lumia 640??

You'll need to wait a day or two before you get any reliable results.

This is hilarious. After installing the update and having to do a hard reset, the list of apps that refuse to update on both my 635 and 640: HERE Drive+, motion data, MixRadio, Lumia Help&Tips, Transfer my Data, Lumia Selfie, Extras & Info, HERE Maps, Device Help, Network services, Lumia Storyteller and Rate Your Device. This is the WORST I've ever seen of this problem. W10 sucks.

i still only have issues with motion data but i'm on an Icon. however, some of the apps you mentioned were discontinued so that may be an issue.

So why do the "discontinued" apps show up as a result of "check for updates"? And why would apps that are supposedly part of "Settings" (e.g., Extras & Info, Network Services, Rate Your Device and Motion Data) also coming up with errors updating? Why does Microsoft Photos plug-in show up EVERY TIME I check for updates? It installs every time, too. I hate Windows 10.

Ok, it was just a suggestion, but if you want a possible reason why that suggestion could be legit, its possible that the pre-installed app isn't fully compatible with w10m. the update is still available to 8.1 however, so there *is* an updated app as the pre-installed app isn't necessarily the latest. So, while it was installed with the reset, it can't be installed properly through the store. Hence the issue you are seeing. I don't see your error messages, I can't troubleshoot your phone. You should know how if you know as much as you think you do. These are experimental builds. MS never said it would be a smooth ride and its ridiculous to assume there will be one. Maybe MS isn't referring to this as RTM because they're only releasing it to their own phones. A different build could still go out to different carriers. Maybe they'll fix bugs that affect old phones once they fix all the bugs that affect both new and old phones. Moreover, none of this is optimized to the hardware. Unlike some of the stuff you ranted about earlier, phones generally have OSes that are optimized for that piece of hardware. They don't work well in the PC model of just installing generic OSes on them. Moreover, they may even need to release firmware updates for various pieces of hardware. So bugs you're seeing now aren't necessarily bugs they're worried about because they may know the issue and figure it'll be fixed with an optimized release or firmware update. Maybe the apps just were corrupted during the upgrade. I can't troubleshoot all your problems. Try uninstalling and reinstalling. Motion data is just a carry over from a reset. It's not even available in the w10m store, but in the 8.1 store. As far as i know, they only ever really worked on hiding w10 apps from 8.1, not vice versa since the amount of apps that aren't compatible with w10m is quite small. Since your reset installs pre-installed apps, that's why its showing up and it won't go away until they optimize the upgrades to remove it. Honestly, I wish they gave the ability to uninstall settings-apps, but its a small issue for me. It affects nothing. It doesn't affect usability in anyway. It's a minor annoyance at best. If that's a sign of a broken OS to you, that's ridiculous. There are other arguable points as to why this may not be a great OS, but that? that isn't one of them.

Hw is performance on l520..anyone tried???

I've been running W10 mobile since the beginning on my 1520 daily driver. Love it!

Can anyone tell me how to stop getting the phantom Motion Data update in the Store that just doesn't download? Still happens in this build too (I didn't hard reset). Would a hard reset fix it? Otherwise, really enjoying this build.

What about Astoria project??? This build include it ?

No, that project is on hold, this was reported just few days ago.

Crazy how many in the program clearly don't follow tech at all

My Lumia 1520 just update without issues.... No looping reboots. All I'm wondering is why Microsoft won't bring interactive live tiles to windows 10 mobile. This is something they showed 1.5 years ago.......

Still I didn't understand the frist issue properly. :|

Here's a decision tree before upgrading to 10586: 1) Is your phone currently running 10581? No) Proceed to install as you will not be affected by the bug. Yes) Proceed to step 2 2) After you upgraded your phone to 10581, did you perform a hard reset? No) proceed to install as you will not be affected by the bug. Yes) You will encounter the bug. In fact, you technically already encountered it. Your filesystem is corrupt. You should just downgrade to 8.1 and then upgrade directly to 10586. Technically you could try upgrading and then resetting, but results have been hit or miss there.

If you don't understand you should not be using beta software.

i'm completely dead in the water. I was one of the unlucky ones to go from 10581 to 10586 on my HTC One M8 and got stuck on the restart loop bug. I have tried the hardware buttons reset instructions, nothing. I have tried the Windows Device Recovery tool, and still can't get it too boot or even go back to 8.1 I'm out of options here guys, can anyone help?

This makes me nervous about updating my device.

when i try to recover using the Windows Device Recovery tool all i get is a lightning bolt sign on the screen and that's it. i dont know what else to do i can't get the phone back up

And the hardware button reset didn't work at all??

ok gave the WDR tool another shot and this time it finally worked, and im now restoring back to 8.1. i had to simultaneously press the + and - volume keys *before* you feel the phone vibrate not during the vibration.

Lumia 928 updated with absolutely no problem's or reboots from build 10581 which has been great also, and this was with no hard reset originally from 8.1 going to 10581 .

Still can't change action button for rotation lock to something else. Sweet mother of jesus this must be a hard thing to fix!!!!!!!!!!!!!!!!!!!!!!!!!!!!!!!!!!!!!!1

I was able to change mine. Did you look under System -> Notifications and Actions ? Quick actions can be changed there. Hope this helps.

restart after you change it. that worked for me.

After a factory reset on Windows 10 Mobile, why the Equalizer and the Motion data disappears? I think, it's a step backwards..

Motion data was never part of 8/8.1 it was a separate application. So, it wasn't *removed*. The functionality provided by motion data is there under "Motion" under "Privacy." Honestly, try typing "motion" into the settings search box next time.Equalizer was also an add-in. Unfortunately, it wasn't built in to the OS as far as I know.

1020 updated just now. 920 almost there. Super smooth update

Those known issues don't bother me one bit. :D

Guys how is it on Lumia 635?

My 830 runs pretty warm to hot and it's slower now. Now sure how better this is.

Any word on the Band being able to connect for replying and voice actions? How about the treasure tag app, is that available yet?

My band works fine I have noticed though I don't get notifications on my band for about 30 mins after pairing

Upgraded a Lumia 830 from 10581 to 10586, then performed a hard reset. Everything has worked great so far. Only fail is I tried to send a .gif through text, and that still crashes the messaging app. Other than that, amazing experience, smooth update. Some of you have terrible luck.

Well things were working so good on 10581 that I figured I would jump right on 10586. Now important things are broken. Notifications (text/call) no longer work on the Band 2, Truecaller no longer works, Missed call notifications going to my PC don't work.... Arrrgggghhhh.

That's why I am skipping this build

You may have just experienced a bad upgrade. Try resetting it and see if it fixes it.

Are they still not working on the band after waiting a while

Motion data still won't update from the store after upgrading.

It never will. Motion data is an app that was installed on top of the OS (as in, its not part of the OS). Since you can't easily uninstall "settings" apps, there's an upgrade available, but not for W10M, because "Motion" is now baked into the app making the "Motion data" settings app useless.

I have a problem with updating software as in the picture. There are many Error in appication updae. http://postimg.org/image/4k9aoww91/ Does anybody have this problem? Any solution? Thanks,

Just updated my 1520 RMS-937 unlocked from 10581. No problem whatsoever... Smooth update rounded up in about 30 minutes. No hard or soft reset needed. Phone works smoothly as ever... Go for it guys!

Latest build 10586 downloading get stuck at 94%. I have tried many times but everytime it stucks at 94%. Does anyone facing the same issue?

Yeah me too...downloading stuck at 28%....

I'm using 930 running 8.1 Update 2, then upgraded to 10581. I did not do hard reset while on 10581 as the performance and experience is good enough for me as a daily driver, comparable if not better than 8.1 Update 2. Now I just downloaded and upgraded to 10586.11 and did not encounter boot loop issue. This build is even better. Loving it.

Guys my phone is running windows 8.1 I really wnna jump in to this build but will I face the first bug pointed out in the article???

Maybe yes. But don't try it on your daily drivers.

No, if you read what the bug is, you won't encounter it. The bug was present in 10581. If they're on 8.1, they're clearly not on 10581.

No. You won't encounter the first bug. It's not even a maybe. A suggested workaround to the bug is to literally revert back to 8.1 and then do the upgrade. So you're already in the workaround state.

Call/sms filter is still missing

Something as feature-phone simple as call and SMS blocking isn't included? Urgh, *that's* not good.

Its there since wp8.1. Its been the fact that most ppl couldn't find it.

Hey is it possible to share more than 100 photos at a time on WM10. Because it is not possible on WP8.1.. Please somebody check it out.

Updated, but now I have a million nokia and system apps that are failing to update. Maybe I'll go back to 8.1, get everything like Lumia Camera updated, and then upgrade again.

some of the apps were discontinued for w10m or some were discontinued completely. you're better off just uninstalling some of them.

This is an amazingly short list, with only the first being critical to the average user. We all knew with the release of the new Lumia devices occuring as we speak and orders actually arriving in people's hands now, we all knew there had to be a build that was stable enough and polished enough to bring an expected performance out of the box. Gabe Aul has already hinted that another build is imminent to fix the update bug. Bring it on!

there's no way to fix the update bug as far as i know. 10581 had the bug, not 10586. If you hard reset on 10581, you already corrupted your filesystem. maybe they can release a tool that can repair the filesystem? or maybe they're changing the installation method so it can fix the filesystem as it installs? i dunno.

I think it will be smooth enough to be a daily driver like the last few updates, however cons of having a budget phone with 8GB internal storage is after downloading the update there's not enough remaining memory to install it. -_-

Awww. They broke the lock screen now, takes ages to unlock, and that too with resuming on top of it. Glance disappeared somewhere, back after restart though, on my lumia 1020.

Installed this build on my 1520.2...upgrade from 8.1...Very pleased with this build overall....all apps work fine, No lagging on start screen, apps open and close fast...phone is fast overall. only issues are: 1. "Hey Cortana" does not work (yes it's turned on)...training gives me "Sorry I didn't catch that"...microphones working fine....when in Cortana I can speak and Cortana recognized what I am saying....don't know if this is a bug in this build or what. 2. Wallet is non-functional....not showing payment cards or AT&T Account for payment and no way to add them....just offers apps from the store. 3. No "Visual Voicemail", don't know if it's because this build is not from AT&T or if this is a feature not in Win 10. Anyone else having these issues? Any thoughts would be appreciated. Thanks.

Can I do a factory reset on latest build 10586???

Yes you can. If you did factory reset on 10581 then the upgrade process itself will get your phone stuck in reboot loop, the solution is to factory reset using hardware keys.

Here's a new build enjoy, oh we just realised running it may brick your device..... It's run like a government operation!

And you wonder why they only have 1.7% of the market.

If u update from 105xx, it works fine. But if u update from 8.1, a hard reset seem mandatory.

I have 22 items in the store, that keeps petering out. All of my Lumia items are not there.

I just want to know...how it's running on low end devices like Lumia 520,525. And also how third party app are running like WhatsApp. Bcoz in build 10536 WhatsApp was not running well.

On 520 it's a bit slow. If you use the store the phone sometimes hangs and then you have to press volume down and power keys to restore it.

My update stuck at 23% coz i went outside i bring my fone wid me so lose my wifi connectioin and when i returned the haws for about 1hr now. Its still 23% tsk

Is here drive available in store. Saw a wp central post a couple of weeks ago but didn't see post that it was solved.

Can someone tell me if IT is okay to factory reset after upgrading from 10581?

on 10586 for half a day now. Battery life is better than 10581, definitely a step forward. Overall OS experience is good, but not 100% yet. I am still unable to assign ringtone to specific contacts. Battery Saver still not showing % on live tile and no time since last charge. Burst mode in camera is not there. If this is what they plan to put inside the 950/950XL, it won't do first batch of buyers any good. But they don't have a choice, first shipment is going out soon.

The phones are already delivered for some people, however I noticed that 950 build is 10586.0 and my 930 downloaded 10586.11, small difference but I would assume the build on 950 is much more stable.

It has to be. Can't be less unstable than the one we just got.

Fixed the "Sorry I didn't catch that" problem training cortana....changed Regional format in Time and Language from "match phone language" to "United states" and training was still there from 8.1 and it works fine! Also...Visual Voicemail is there....just looks different and didn't notice it. Now if I can figure out the other issue....why Wallet no longer shows my payment card and my AT&T account for payment. UPDATE: Wallet works much differently in Win 10 Mobile......when you buy an app from the store it accesses your microsoft account and you choose payment from payment method there. So no issues at all!

Nokia Lumia Icon - Reset to 8.1 using Windows Device Recovery Tool. Did not restore a backup. Still heats up so much I have to set it in the freezer to keep it cool while doing any updates or lots of app installs. Let it do all the updates then updated to Windows 10. Reset the phone so that it would just be Windows 10. Let it get all the app updates, except Lumia programs and more (Beamer, Help & Tips, HERE Maps, Cinemagraph, HERE Drive+, Device Hub, Storyteller, Creative Studio, Verizon's Voice Mail, Motion Data) seem to not update. They are all sitting in the queue with errors. Still missing texts. Everything before yesterday even though I have it set to "Any Time". Contacts loads very slowly. Usually looks empty for a while. I tap on "Filter contact list" and it took a long time for anything to pop up. Haven't got all my apps reinstalled by any means, but letting it sit overnight to see if anything changes while it catches up. Curious if the battery drain is any better. It was still bad in the last build. Tough to take too many pictures without it dying fast. I like Windows 10, but the one thing that they should never mess with is the restoration of data. I want my text messages back on my phone. It's one thing to find them in Outlook.com, but they need to be restored to the phone. VERY disappointed in the last build that never got them all back. We shall see how this goes.

Try a hard reset. If you update from 105xx, then you'll be fine. In your case, a hard reset will make your phone stable and a lot faster. Afraid of losing data, try to manually back them up to one drive or pc.

No workie. Did a HR, still have apps that won't update.

Its good,first time updated my l730..

i cant get my windows recovery tool to install. Any help please!!!!!!!!!!!!!!!!!

Hey Cortana not working on my Lumia icon

Jon writes one article. Dan splits it into two. Three articles with the same info.

Can't update messaging+skype
And it dosen't work !.
What the hell

Can't find taken screenshot. Screenshot folder is empty.

Lumia 640XL 10581 perfect, barely any issues

Lumia 640xl and lumia 830 works here perfect with build 10586.11

What about screenshot on your L830. Is it visible in photo album?

640xl is running like w8.1??or its still like 10581?and how about scrolling start screen up an down??how about camera and photo app???

MS Band 1 doesn't work with this build either. It disconnects right after it syncs coz it cant register the process in the background.

Succesfully updated from Build1081 without any issues on my Lumia930..

Does your phone records very low sound when recording video?

I just want to know...how it's running on low end devices like Lumia 520,525. And also how third party app are running like WhatsApp. Bcoz in build 10536 WhatsApp was not running well.

The new build 10586 is running buttery smooth on my Nokia Lumia 630. I don't know about Lumia 520, but the 512MB RAM of Lumia 630 is not a limiting aspect, and i am able to use it as my daily driver. No issues thus far and really enjoying Windows 10..:) Third Party apps like WhatsApp, Zomato, Windows Central, 9gag, all work with good performance, they did lag in earlier builds, but now they work smoothly and do not crash. Although at some point, if you overuse the device, apps are gonna crash regardless of the OS...;) In all 9/10 for windows 10 build 10586...!

Updated my L920 from build 10581. Got caught with boot loop issue. Hard reset helped. 15 Windows core app not upgrading at all with error code 0x803F8006.

I got same error code for about 10 core apps.

Same happened to my Lumia 730 as well apps core are not updating

Exact same issue on my 640xl with 13 apps that's wouldn't update even after a hard reset, reverted back to 8.1 and awaiting my 950xl from MS

Guess the issue has been resolved. I updated all of them a few hours back.

i think it is the time to change the name of windows mobile 10 to known bug.... or known issue.... or nightmare... bugland... project lag universe... never ending dreams os.. let's make a vote... share your ideal names

No, you're not. You're pathetic...

Because Android is perfect, oh wait.....they are constantly updating the OS due to exploits to take over the phone.....and Apple are perfect......oh wait: http://www.bing.com/news/apiclick.aspx?ref=BDIGeneric&aid=5021FF6D1971DE... No OS is perfect, especially after major updates!

I have a problem with the camera app, my Lumia 930 records very low sound.

what still doesn't work for me (lumia 1520): - insert pictures in word, excel.. - copy/paste bettween apps (worked fine in 8.1) - info button on bing web-page A system with theese (ok - minor) issues is not ready for general release, sorry

Exactly! If these basic things doesn't work well then it's really a incomplete OS.

I tested insert picture in Word on L920. Works fine I copied content from Word and Pasted into Powerpoint. When I tapped to add text the keyboard came up, but not the clipboard icon. I tapped in the text area again and I got a quick menu that offered me a past option and it worked. I guess I'm not sure what the bing info button is.

Successfully updated both my 1520 (main driver) and 925 to 10586 from 10581 very smoothly. So far, love 10586 even more than 10581! Good job Microsoft!

Been on 10581 and updated to 10586. No issues. Lumia 830.

How smooth is it? Had a lot of hick ups on earlier build.

What about screenshot on your L830? Is it visible in photo album?

Jep just took a screenshot of our comments. Hitting info on the picture even tells me it's sitting nicely on the SD card.

Microsoft Edge isn't yet better than IE in my Lumia 520. When forcefully quitting an app and the all apps list background becomes too much bright. Groove Music app tile is blank. The lock screen takes more time to unlock compared to WP 8.1

Does the phone hang after coming back from store?

What about if Widows 8.1 users will update their phone to Windows 10 build 10586, will they get a reboot loop??

Nope they won't get a reboot loop.

Im on build 10581 and updating to 586 needs 700+ mb of space even if i have 1.14gb free space on my internal memory. Someone experienced this?

I have, I freed up space and it started downloading again. Just playing the waiting game now

so we cannot upgrade unless we go back to 8.1 ?

Yes you can. I did, on three devices.

What they forgot to mention is that the device hub is STILL broken.

Is anyone else stuck on 60% for the download - using L640

Took me all night to upgrade and it is buggy as hell even after a restart. (Lumia 625) I personally think they should postponed all builds until RTM to prevent us from cursing them. Then again that's what the insider program is for.:(

My store still keeps downloading photo app plugin everytime I open it

Microsoft needs to fix this nonsense of hash value error for the windows recovery tool, this is bloody ridiculous

Why is it each new build is worse than prior build. This one is being called "RTM" but more things are broken in this build than the last three builds combined. Mobile hotspot is broken as it has been in the prior three builds. In addition, after upgrading to this build and performing a hard reset, I now have 22 apps that won't update: 1. Glance screen, 2. Lumina Help + Tips, 3. MixRadio, 4. Extras & Info, 5. Call + SMS Filter, 6. HERE Maps, 7. Device Hub, 8. HERE Transit, 9. Lumia Cinemagraph, 10. Nokia Account, 11. HERE City Lens, 12. The Weather Channel, 13. Display, 14. Access point, 15. Lumia Panorama, 16. Lumia Camera, 17. HERE Drive+, 18. Audio, 19. PhotoBeamer, 20. Network Services, 21. Rate your device, 22. Luma Creative Studio.

Same here, I've got 13 apps not updating which updated fine on the previous version! Why???

The update worked fine and fast for me. Im relieved. On my Lumia 920 I had to do a lot on the previous build. I am happ to see they fixed the keyboard issue when going into messaging.

When i had reset my 630 (581build) the brightness is not working ,it's on high mode..

Updated my 930. Had two phone apps (Rate your device and Network Services) that did not want to update, but eventually they did. The upgrade was totally smooth and all settings were kept, also the start screen was the same as before. I really love the new Outlook email - I use the phone for business too and it is better than 8.1. Issues I have is that new pictures are not immediately uploaded to OneDrive as in 8.1. Don't know why there is a delay here. Also the Photos app takes a looooooong time to index everything. Will be testing the new Camera app to see if the algorithms are better than with Lumia Camera - from a first picture taken I think the pics come out sharper and nicer. Till now the impression is that it is fast and snappy. I already like it better than WP8.1.

Updated on Lumia 735 here with no problems at all.

I've been using 10581 for the day it released on my l640xl...i love win10 mobile very very much, but the truth is today that I rolled back to w8.1 (to do a clean install on the new 10586)I remember how fast and smooth my phone can be..w10 make my phone slower and a bit crappy,but still I am going to install w10 and hope that it's going to be better in time..

BELIEVE me, it won't get better. Microsoft completely abandoned the idea of an operating system that works smoothly regardless of your hardware. WP7 and WP8 were fantastic and smooth no matter what device you had. W10 is horrible to begin with from a user experience and design aspect, but it's ridiculously slow and unresponsive on my 635 and 640.

Error : Notifications & Actions
Quik Actions
Choose Your quick actions Rotation Lock can't Replace !? Lumia 920 .. Please Help Me

I'm on 920 as well. I have no issues. Sorry, I couldn't replicate.

Error : Notifications & Actions
Quik Actions
Choose Your quick actions Rotation Lock can't Replace !? Lumia 920 .. Please Help Me

When will Microsoft release Windows 10 mobile for public... I can't wait ... And I don't dare to install insider built !!!.... Uhhhhh :/

Some apps are being not avaiable for my devices ( lumia 920 ) like Line, Opera Mini, and Here apps........

Well they broke the navigationbar!!! It can no longer be swiped away dafuq!

They didn't brake shit. This is an Insider release for testing various things. Hold your complains till RTM release. Posted via the Windows Central App for Android

A lot of other small annoyances and keyboard lag. If it is this bad on my L950xl I will return it and go in shame to Android. ( did reset on my l640 and l1510 but runs luke shit)

Go Android, this way you will be sure you will have lag in official releases also, not only in beta's. Posted via the Windows Central App for Android

Liar, liar pants on fire!

Broken notification of messaging app after update build 10586

Here is a link for Hard Reset: http://www.hard-reset.com/nokia-lumia-930-hard-reset.html . Doesn't need to be connected with pc, you can skip the USB cable part. Just press Power button till shuts down and vibrates then follow the key combination as in link. Posted via the Windows Central App for Android

What a shit bomb of a build. It's slower than 81, and I have 25 items that error out in the store when trying to download. I even started with a hard reset and no restore. The damn thing still does it. Way to go Aul. Two steps back and NO steps forward.

Love it do not need to upgrade my 635 anymore..awesome job MS

If only the backup was a real backup.

What a shitbomb this is. Aul is something else. Two steps back, and NO steps forward. Uneffingbelievable!

Umm. I am on 581 and didn't do any hard reset before.. Will m phone get issues with the upgrade?

I have noticed store freeze and crash.
Does anyone else has?

I have noticed store freeze and crash. Does anyone else has?

The ui still has some inconsistencies. Like glitches, when you trough apps list, open one then go back to list, it changes the background shade. Some menus are not yet uniform.etc.

Just got the new build . Lumia 930 . Am i the only one who don't have any option for alarm sounds ???

I have 1520 and Hey Cortana is not work do othe have this issues

Works well on my Icon with two exceptions. Double tap to wake and Hey Cortana aren't working yet. Does anyone have any inside info regarding these two features?

Updated my lumia 1520..no reboot loop andno issues at all..didnt do hard reset..

I'm seriously considering installing on my daily Lumia 535 dual.
however, windows device recovery tool has failed to install on my laptop. keeps showing an error code.
I know I only need the recovery tool if something goes wrong. should i take this risk? I have about 4GB of data on my plan. :)

Updated in L730. Can not update network services, truecaller, rate your device. And where is hey cortana. Consumed too much memory. Only 2 gb left. Before installation it was 4 gb consumed (WP 8.1).

Ok everyone. I am facing call issues with the new update. Cant hear ringer and even voice. Looks like the mic isnt working. Does anyone else has come across the issue too?
Lumia 1020, Vodafone IN

my phone is still fast on this update but i now have the ocasional app crsh. Grove has crashed 2 times and messages 1 time. thats not anywhwere near as good as the previous build was as my 930 didnt crash at all and this is day 1 of 86 build. Add that to the fact i had to go to windows 8.1 first as i got the looping bug. Even after all this i still have 16 failed apps showing up all the time in the app store. Id say im shocked that this is happening but its been happening the whole time i have been on insider. If anything the build 2 builds ago was geting better but quickly it got bad again. i mean a app store that failes to download 16 apop updates. Im guessing the updates are fake too and there is no update but i have no way to tell. This is very disapointing on the eave of windows mobile 950 and 950xl, add this to the onedrive changes to all users and well im not very happy with microsoft right now. I really cant advise people to use this latest build stick with the last pone ads youll get lots and lost more relaiability from it. The downloading apps update failer was hapening to me 2 days ago on other build for some reason and its still there on this build, it doesnt seem to get in the way of anything but its anoying when you wana check for updates or install a new app only to have to cancel 16 of them that will only apear again in the futrure. All i can say is at this stage it should be sorted on my 930 and it isnt, im very disapointed in microsoft and windows 10 mobile in this build. Tomorrow im gona do a completely fresh install without using a restore pack but hell i should not need to go to that extent, thats the one thing i could never get working right in window 8.1 was the restore and here in 10 it might be a eaqually big issue, ill know more tomorrow.

Lock screen takes more time. Can not update and uninstall truecaller.

What a shit stain of a build.

What a shiite stain of a build.

I haven't seen it mentioned in added features lists so, for those who don't know already, you can now change your default search engine in Edge browser ☺

I have upgraded my 920 (dialy driver) and it works flawlessly. I have updated it many times before, but had to reset it back to 8.1. The main issue being flickering UI, on all the last 4 attempts. Since I upgraded this morning looking at the many comments in the forum, its been pretty smooth. My upgrade took less than an hour (probably due to an issue listed below). Being a working day, could only use it for a couple of hours Good: Install was breeze OS is Fast, so far no "Loading..." Everything to seem to work fine Animations are faster and more pronounced Cortana feels new :) Single hand use though nice and the menu is closer to thumb, it halves the screen size and the menu scrolls take a few secs(10+) to kick in. Dismissing individual alerts and group seperately. Edge browser is great. Websites load way faster than on the old IE. Less gap between the home screen tiles ( have not put them in 4 columns yet) NO app crashes so far. Don't like: Missing Linked Inbox ( I saw it was pulled for stability purposes) The Hamburger Menu. The scroll left Menu was so perfect Though initially loved it, Not so sure about the rounded contact icons on the people hub, feels like it leaves a lot of unnecessary gap between icons. Dark Theme that carried over from win 8.1 doesnot seem to work in all cases. Could not find that setting to change under win 10 mob yet. Websites still think I am on an Android device and suggest apps from google store (HATE!!!) Transperancy of tiles mostly works (but may be it is an App's problem) Issues: Very high Battery consumption during install (be sure to have your phone on charger), Mine went down to 10% from 100%. Downlading app upgrades is stuck. Says, "sorry something went wrong on our side, pls try later". So, all in all, it feels like it is ready to be put on a daily driver.

they havent fixed any of the minor issues like transitions from notifications or quick quick toggles! feels the same as previous build on 1020 minus Lumia camera whick wouldnt update and had to be uninstalled!

Agree! Need that toggle for the quick set buttons in the notification area.

I have just updated this version (build 10586.11) for my Lumia 640 from the build 10581. I did not meet the issues related to loop boot. But the new OS on my phone have taken a long time to recogine my SD card. Now it is great! This build is better than the last build.

Battery life is really horrible this build.

http://m.youtube.com/watch?v=zvKU_2w-s7E On Lumia 1020 windows 10 nice but 10586

I'm on 10581... update 10586 downloaded but i won't install it may be my L1520 stop working till hard reset any good suggestions

I was also facing the problem. But updated all of them a few hours ago. Try now.. I guess the issue has been resolved.

I've updated the last inside build on my Lumia 920 without the need of hard reset. For sure it's even faster and smooth. The apps don't randomly crash like before. Let's see the battery life. I hope it's improved even though the last build was ok.

Updated my 1520.3 last night from 10581 to 10586, had to do the hardware button hard reset because my handset did get caught up in the reset loop (Known Bug #1). After that, everything went smooth. I don't see any huge or noticeable changes from 10581 to 10586, the most major is the ability to select which storage to use for certain things. Although I actually really do like 10586 (and even 10581), I'm honestly pretty surprise this is what the 950/950XL are being shipped out with.

My Lumia 920 has no problem upgrading from 10581 to 10586. No reboot loop. But my 1520 has reboot loop. Solved by hard reset (volume up, down, power, volume down button combo). 920 has no SD card, 1520 has one. Probably the bug has something to do with it.

Has anyone else ran into this error: "Can't attach. We're having trouble attaching files right now. Try again in a little while." I get this when attempting to attach a file to a SMS message. The error dialog box opens as soon as I select the Photo or Video option under the paper clip in a message thread. I can attach and send images if I go through the Photos app and use the Share option. Any insight on how to fix would be greatly appreciated. Thanks,
​Jay

Guys I am using l720 previously when I installed 10581 my phone gets stuck at any point than I would have to soft reset it. Now I am back to 8.1 so any one can tell me can I install 10586 on my l720 (512mb) ram thank you

So I did a hard reset on the previous build, but when I upgraded it went smooth. Does that mean the bug wont cause any issues for me moving forward?

I just decided to put my Nokia Lumia 630 in insider programme and I opted to insider slow but here's a catch, its telling me to download build 10166 which I don't want so can anybody tell me how to switch it to insider fast for 10572 or later because when I tried so it showed an error telling your phone is preparing for an update.. also them I left the programme and it still showed an update to 10166..
What shall I do now and does 10166 support dual sim Pl I need help anybody?.....

Just updated my 1520!! Went flawlessly! Updated from 581 and didn't encounter a loop because I didn't reset in 581...... Build 586 looks exactly the same except for performance tweaks. The new storage sense menu looks great. Phone is not heating much and is a lot faster! No errors in the store and all apps are updated. Can't tell about the battery life just yet but it looks really good. So it was a totaly successful update!

I upgraded my Lumia 630 Dual SIM from 10581 to 10586. Had to a hardware key combination reset and everything seems fine. Works very smooth without any performance issues. One thing I noticed some of the default Apps(like Calculator, wallet etc...) were unable to update in the app store giving 0x80072F78 error, here I was using my WiFi, but when I enabled Mobile Data those apps that were giving errors were updated though I did not have any issues with my broadband over wifi. Not sure if its a bug... I am able to install new apps from the store without any issues using my Wifi. Overall 10586 is very good and I use it on my primary phone without issues.

When I open my dialer no contact shows when I dial.

Hey everyone, just an FYI for those who like to side-load Android apps using the Astoria emulation - YOU WILL BE OUT OF LUCK with the latest release (10586.11) - which is now the "Slow" stable release being offered - attempting to side load will fail. Continued support for side-loading Android apps looks ominous (see article: http://www.windowscentral.com/microsofts-project-astoria-delayed). Looks like the endevour to integrate Android is not going as Microsoft planned and are trying to find a way to quash the project quietly.

I recently updated to the new build 10586 and after a few days of testing there's a new color(Dark Magenta) that popped up on the personalization settings. Anyone who experienced this??

I have build 10586.11 on my 930 but still can't get notifications of messages. Whatsapp and viber work but not messging. Any solutions?

internet sharing is also an issue.. it fails when screen turns off

After updating my Lumia 930 from Win 8.1 to Win 10 all seemed ok to start with until I discovered that all of my phone numbers and all other information attached to the numbers has been deleted. I now have a phone that is completely useless. If I enter a new number and try to save it my phone won't now save any numbers!!!!! This is the most ridicules update that has deleted all of my information from my phone. Most APP's seem to be OK and I have Whatsapp and KiK both of these still have all of the information intact but this does not help me in getting any information back to the main phone book. Also the saved picture folders have changed and now if I want to send a picture to someone from Whatsaap it no longer finds any of my photos. What is Microsoft doing about these problems? I have since found that many other people are having the same problems as me. I have a could backup of my contacts but am unable to get this back to my phone most probably due to the same reason that I cannot enter a number and save it to the phone. Why has all my numbers been deleted from my phone in the first place? Why has Microsoft not fixed this problem and other problems that they know about? What use is a phone that cannot store number and other information? Why has Win 10 phone update been released with so many problems?

This Lumia 640 LTE in Windows 8.1 was upgraded to Windows 10 Mobile. This solved a sound volume problem going systematically to zero. After two days, same problem occurred. At reboot : a big exclamation mark and Lumia blocked. Soft restart and sound works again. This smartphone is unstable, not reliable. Request for another Lumia 640 at Coolblue shop is not accepted. The procedure requests first a 2-3 weeks analysis in repair shop !! User satisfaction is zero and Microsoft Lumia service procedure is old fashioned. Temporary smartphone during repair under warranty is refused ! This will be our last purchase of a Lumia/Windows smartphone !!
Windows Central Newsletter
Thank you for signing up to Windows Central. You will receive a verification email shortly.
There was a problem. Please refresh the page and try again.