Here are the known issues in Windows 10 Mobile build 10586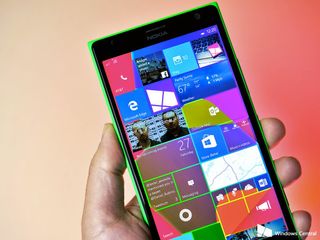 Microsoft has just pushed out a new build of Windows 10 Mobile to Windows Insiders today, coming in at build number 10586. The new build brings a number of bug fixes to the table, but of course, there are some known issues lingering around. Here's the breakdown of the known issues in the latest build.
After we released Build 10581 to Windows Insiders in the Fast ring, we discovered a bug in the build that will cause the filesystem to become partially corrupted after doing a factory reset. For those of you who did a factory reset of your phone, you most likely did not notice this issue on Build 10581. Due to this bug however, upgrading to Build 10586 will cause your phone to go into a reboot loop after the upgrade completes – rebooting at the Windows or operator logo. To recover your phone, you can use the hardware key combination to reset your phone which will then put it at the OOBE experience on Build 10586. We highly recommend that you make sure you do a backup your phone before upgrading to Build 10586 due to this bug. Additionally, you can also recover your phone by using the Windows Device Recovery Tool to go back to Windows Phone 8.1 and then upgrade to Build 10586.
Deploying Silverlight apps through Visual Studio to your phone still won't work in this build. This issue will be fixed with the release of Visual Studio 2015 Update 1 on Nov. 30th. You can deploy UWP apps to your phone without any issues.
There is a known issue where the tile for Insider Hub still remains under All apps but doesn't open. Insider Hub isn't included in this build. There isn't a way to get it back unfortunately. However, it'll return in a future flight! In the meantime, use Insider Hub on the PC as a workaround.
And there you have it. As noted, make sure to do a backup of your phone before upgrading to the latest build in case you run into the reboot loop issue.
Source: Microsoft
Dan Thorp-Lancaster is the Editor in Chief for Windows Central. He began working with Windows Central as a news writer in 2014 and is obsessed with tech of all sorts. You can follow Dan on Twitter @DthorpL and Instagram @heyitsdtl. Got a hot tip? Send it to daniel.thorp-lancaster@futurenet.com.
That's it? Not bad. I wonder if I should upgrade my Lumia 925 (AT&T) now. Anyone think that's a terrible idea at this point? It's my daily driver.

Well, always remember that bugs such as "You can't phone or send sms" weren't mentioned in the "known issues"...

I got a 640 like my daily driver running smooth. Love it. Build 10581

I dont know whats wrong in my cell, When i installed this build, its just restarts, I had to do hard reset from volum and lock butten, then it is working...................

So... you're saying you didn't read the incredibly-short list of known issues, before commenting? Your issue is literally the first one listed.

Hows the SD card support, are things all clear there? I have 640xl but I depend on SD card a lot.

Got it installed on Lumia Icon with no issues.......silky smooth, no issues yet.

This is good news, installing on my Icon now:).

It's actually totally fine. I've been using the previous build (10581) on my Lumia 640 since the day it was released. It is my only phone, btw. I barely had any issues. ​With the polish even better in this build, now is the best time to jump onto the Insider train. :)

What about the battry life?

I'm thinking about updating my Lumia 822, also daily driver

Build 10581 is great on the 822, so this build should be no exception.
You can also set the UI scaling all the way down.

No issues on the 820 since 581 for me.

I've been using it on my daily driver since the very beginning...come on in...the water is fine lol

Hey Jonathan what do u think about the performance of this update on a 512mb ram device #L625...should I go for it or should I wait till the RTM

This is the RTM build. It is running ok so far. I do have a lot of errors on apps both on my l1520 and l640 but only lumia and system apps. Still think it sucks with those errors

I have a friend with L625 running 581, seems as smooth as my L640 on 581, I'd say on par with 8.1

Hey sandeep i had already running my L625 with 10586 build it's going smooth but cortana is not available.

I have a 730 with 10581. Use as daily driver with no problems. Smooth Experience

I got mine (730) updated just this morning. one thing i noticed is that there is problem signing up my microsoft account or Outlook account (that uses my Microsoft account). In the same way, i cannot sync my contacts in my phone. How's your experience? are you having the same problem?

Yap! Same problem in my Lumia 620 n actually outlook mail not showing my main Hotmail account :( this is bugs bcs I reset my phone after I uploaded build 581

Hey the issue u have been experiencing has it been solved or .....

I had that exact problem on 581 had to backup then hard reset.. then restore.. fixed the issue. Maybe there is some other fix.. dunno.

I'm having the same problem on my 730 man, did you got yours fixed?

Hey I am getting the exact issue with my Lumia 640. I just upgraded to Windows 10 couple days ago, and can't access my Hotmail email, only Gmail and Yahoo mail show up. Plus all my contacts lost sync. I am going to give it a couple more days, and if anything else happens i am going back to Windows 8.1.

Me too.. I am using 730 as my daily driver.. Didnt encounter any issues during the update.. I didnt have to reset my phone .. Also there is no problem with outlook

So did u have problem signing in to microsoft

go for it.
the 10581 build was good, except for a few kinks which are fixed on 586

How's the battery life on the last build?

just as good as it was on 8.1

I get a a day and half, with medium usage, connect to internet all the time. using lumia 1520

I can't say that. The very first day I bought my Lumia 640XL I installed Windows 10 on it. With build 10581 my device stand a day with super heavy usage, games, video, internet browsing, mail, WhatsApp... No complains. Now let's try 10586

when you open whatsapp in your window 10 phone build 10586...screen dispaly loading. Did you observe that ??? Do you have any solution for this

Battery is great on my 640 ... But I leave tap to wake off .. dunno how much difference it makes on battery.. just sometimes screen is too sensitive and will wake in my pocket .. I get FULL day easy on 640 build 581 (5am to 11pm)

Daniël, what do you recommend us to do? Your message got me scared as hell. I'm using a 1520 as my daily driver.

If anyone has tried this build with a 930, let me know how it goes pls...? As in battery wise and performance in general...cause the 930 isn't exactly known to have great battery life ...prefer that it doesn't get any worse...:)

Using it (10581) on my Icon as a daily driver. It's been pretty solid, decent battery life as well. I'm able to get through a full day with moderate usage with no problem. Motion data won't update so no health app. Also "hey Cortana" is pretty limited.

On a 930 on 10581. It's the first build I haven't rolled back to 8.1 from within a week due to instability and I'm not noticing any difference beyond maybe actually lasting a little longer.

I installed it yesterday... I wasn't insider till now, as this is supposed to be a shiping version. Can't judge on the battery life as i've been playing and installing things non stop, but just to let you know, I think it works perfectly fine for a daily driver, some apps still need to be updated, and the store could get a little optimized, but overall a good experience. I like it :)

With moderate usage on a Lumia Icon it gets me through the day no problem. Not quite 8.1 battery life.......the benefits far outweigh a small hit in battery life. 10 is 1,000,000x's better than 8.1........its not even close.

i have had groove crash 2 times and messages 1 time and thats less than 1 day later, i also have 16 app updates on the windows stop that show as fails, i cant recomend this build 86 over 81 for these reasons. and thats on a lumia 930. Ill do a fresh install from no resore save tomorrow and see if it solves my problems but to be fail a restore mode that doesnt restore correctly is a pretty terrible restore mode, and its been terrible for most of my windows mobile life. Stil to built 81 dont go to 86 as 81 is very reliable in comparison.

I am using 581 without any issue, it's my only phone so daily driver. It's great in 640

I've been running it on my Lumia 925 daily driver for the last two builds now. It presently isn't all that bad, but can be a little frustrating sometimes when it bogs down or has some crashes. The camera being slow has been the worst part so far. I'm hoping this build will clear that up, however. If you'd like, I can report back how it works after I finish updating.

Please, please, please report back, This is the last thing keeping me from having it on my daily and off my test device. Would be appreciated.

Ha yes my 925 is daily diver to. been testing it my 1520 saw video of running on 1320 same specs was pretty good and that on 10581

I've been using the all the Insider Builds on my daily driver 920 and had no serious issues. The last few builds have been really nice. I think you can go ahead and install this one.

Build 10581 on my 930 has been very good. It's my daily driver too. The first few hours I had high battery drain but left it connected to the internet and charging overnight and since then as good as 8.1.

tried to upgrade 10586 over 10581 that was installed from 8.1 and never been reset. now my 920 is half bricked. first, it has stuck with NOKIA on the screen, i went through the button combination to hard reset, it rebooted, showed NOKIA, then gears and the progress bar for some seconds, then a sad smile :( and turned off. and now i cant hard reset it because instead of showing exclamation it just reboots. exxxxxactly the same i got trying to uograde to 10586 from 10166. well i just wanted to warn everyone with the 920: do not upgrade if your phone is daily and you got no PC to use the recovery tool. be careful, good luck.

i got the same problem in my 820 isn't there any solution

Sure there is. Your problem and the solution are the very first in the list of this tiny article.

my lumia 820 got exactly the same problem. Please help me if u find any solution.it will be the great help for me. Please ....Please ...... Please......

Are you able to finally read the article? Windows Phone Recovery Tool is the ultimate solution to the brick-like cases. Insiders to participate the Preview Program are supposed to be geeks or at least advanced users to deal with betatesting issues, I wonder why you decided to mess with it if you didn't even learn how to recover your device if something goes wrong before it goes wrong. After you recover 8.1 with the Tool, I humbly advice you to stay with 8.1 until the "gold" 10 is out. Just for your device's safety.

I also got a sad face when I tried to hard reset after my phone went in to a reboot loop. I used Windows Device Recovery Tool (the renamed Windows Phone Recovery Tool) http://www.microsoft.com/en-us/mobile/support/faq/?action=singleTopic&topic=FA144103 to recover my phone. After many updates and another hard reset I finally have windows phone 10 back. Lumia 820

I've had the last build on my 925 since its been out. I find for the most part very good and certainly good enough for a DD. I'm upgrading to this build as we speak. Good luck.

I've been using Insider builds on my 925 (Vodafone Australia) for some time and build 10581 was pretty much rock solid for me. Different people see different things on similar hardware but, based on my own experience, I wouldn't hesitate to recommend using the current Insider build on a daily driver. One thing to consider is that Insider builds have seemed to work better after a hard reset so you'll possibly get better results if you're prepared to do that. Given that this is basically the RTM build though, that probably shouldn't be necessary. I didn't reset after upgrading to build 10581, but that was right after rolling back to WP 8.1.

i have been an insider on my daily driver since the build 10131 or something i dont remember and i can asure you this is safe now. its polished a lot actually you can't see bugs anymore like not being able to cal... and battery is good :D just hop over here with us :D

This is being done on a 635 (10581) while my Daily Driver 640 loads the new build.
For me this build is as reliable as 8.1 was. I get an occasional crash, but then again i got those on 8.1 so...
I takes a little getting used to but we're real close now. So go for it.

the 10581 build works great on my 925 so yeah, this one should be even better

Go for it! :) I've been using previous builds on my Lumia 535 for the last few months and it's been very smooth and very rarely do I notice a big that is actually very noticeable (really I rarely see any bugs). So I'd say go for it :D

Hi,Have you installed 10586 build to Lumia 535. If so, hows is it? No bugs? Can i go ahead and update. This is my only phone and its my daily driver.. Please suggest!

Hello vijay Have you installed windows 10 preivew version in you lumia 535.if you had, did you face any issue . Beocz i m thinking for upgrade my windows 8.1 to windows 10.

dude I've been using 10581 on my 925 for around 3 weeks now and it's almost flawless! I say go for the 10586

GO Ahead with a HURAAAHHH!!! your 925 seem superb if you are still on WP 8.1

I've run multiple previous builds on my 925. Some were pretty bad, but the last two that came out before today were good enough for me (still, small things would not always go right, but it was good enough compared to the extras on W10M). This build must be even more polished, so I'm guessing you would be fine running it

Got it on my 925. I really love it! Runs super super fluid as good as 8.1 or even better. Ive gone directly from 8.1 and didn't do a reset! After an hour it downloaded all updates and became super stable. I love the look and feel of W10! The only bug I noticed so far is that I cant set quit hours in Cortana there's no fields or picker to select times! Then we u press back ot crashes.

Thanks all. I may hold off for one more given Nadjib's comment. I use the quiet hours on a schedule and wouldn't want to lose that at all. Although I wouldn't expect an OS update would be necessary to fix it.

Guys I need help here .. after upgrading from 8.1 to this build ( the first time to try W10 build) on my lumia 1520. There were 3 problems 1. When u press and hold on bluetooth in the action center it just takes u to the home screen. 2- in the camera when you take a picture and try to open it from the pic circle on the left corner it doesn't take u to the gallary nor open the pic 3. there is no option to stop navigation key from vibrating when u press them .. I checked extra but there is no touch option.
I did a hardrest and the 1st two were fixed except the 3rd one

1. Well this is how it's made now, just like with wifi, long press to enter menu, so nothing can be done. 2.Never had this problem on my 735, so maybe someone else could help 3. Search for Touch options and you will find it.

Relating to the Camera issue, I had this on build 10581 since the beginning but it now works correctly on this build - it may be that the new build needs a bug fix that 10581 has recently received.

Make sure you get all the updates from the Store. The Touch settings will appear under Extras.

In the settings menu, go to "Extras". Then, select the "touch" option. It should bring you to the old Nokia Touch settings where you can disable vibration from the navigation keys.

Windows 10 phone build has lots of issues. Test phone -> 930 1) Gyrosopce issue, you can check it out by installing a Mininons game and try and play the game its un usable.
2) Issue with install and upgrades, Reboot loop
3) Installation issue Blue screen of death.
4) Deep linking of mail boxes aint working the same way as the old Windows8
5) Issue with the skype camera very squshy
6) Nokia Drive (here drive+) uninstall and re-installing did not work.
7) on the messaging App the microphone to dicate is now removed.
8) Swipe keyboard is gone not ready for primetime yet i belive.

im haveing simular issues on my 930 with build 86 stick with 81 is my sugestion.

7 - the microphone is there, keyboard settings, dictation button 8 - swipe is also available, keyboard settings, language

I've been on build 10581 on my L1020 as a daily driver w/o any major issues. 10586 doesn't seem to be as huge as to upgrade yet and risk stability or encounter upgrade issues.

Build 10581 worked pretty well on my TMoUS L925. I did not do a reset, and the upgrade to Build 10586 went smoothly. Overall feels a little more responsive. Mobile Hotspot now causes my phone to reboot, which I view as a minor set back because before the connection from another device would only last a few seconds.

I'm in India and I'm using Lumia 925. I've upgraded my phone 10 hours ago and it is working absolutely great. So I guess you can upgrade your phone as well.

Awesome! No dealbreaker bugs. The holdouts in the program will have little reason to not upgrade now. :D

If there is no insider hub in this update how will I update to future build.
I don't have a pc

insider hub has nothing to do with the update.

Insider Hub is not the same as the Windows Insider app. Insider Hub is just an app for discussion about the program. Has various tasks to perform that MS wants people to try out, etc.

Yeah seems like its safe for us who never played with insider settings till thud update. My m8 still running the official att 8.1.2 update is going in!

"To recover your phone, you can use the hardware key combination to reset your phone which will then put it at the OOBE experience on Build 10586." That key combo is...?

https://www.windowsphone.com/en-us/how-to/wp8/settings-and-personalization/reset-my-phone

Thank you so much!! You saved my day!!

If you've owned any of the devices without removeable battery and had a problem, Pressing and holding Power, Volume UP and DOWN all at once for a few seconds (15?) will reset the device...so far each Microsoft HW device has or uses a combination that is similar. Surface is the same and I just recently learned from MS Store techs that the Xbox One also has a key combo ;)

From a powered-off state, push the power button to begin power-up. As soon as you see the Microsoft logo press the Up Volume. You should see an Exclamation Point. Press the following in order: Volume UP, Volume Down, Power, Volume Down. This starts the factory reset.

To reset an unresponsive phone If your phone is unresponsive and you can't reach Settings Settings icon, you may be able to reset your phone using the hardware buttons. On Lumia phones (and some others), do the following to reset your phone: 1.Press and hold the Volume down Volume down button and Power Power button buttons at the same time until you feel a vibration (about 10–15 seconds). 2.When you feel the vibration, release the buttons, and then immediately press and hold the Volume down Volume down button button until you see a large exclamation mark. 3.Once the exclamation mark appears, press the following four buttons in this order: Volume up Volume up button, Volume down Volume down button, Power Power button, Volume down Volume down button . Your phone should now reset and restart itself. (It might take a while for the reset to finish.).

This is the RTM build and it still has bugs. LOL

Like every other RTM of every other OS? Shocking I say. Shocking!

There is no RTM ... Windows as a service.. It will be fixed in next update...

What version are the 950's running? They are being delivered today. Hopefully with working software .. Posted via the Windows Central App for Android

They're using this version, 10586

So it's running the Technical Preview? Does that sound like a good idea? And yes I use an Android phone but I'm getting the 950xl. Posted via the Windows Central App for Android

Well, this Build. Not this version of this Build.

They have build 10586. But since that's a fresh install and not an upgrade, the known issue of hanging on upgrade from build 10581 doesn't apply.

This again? So Windows is immune to being buggy because irs considered as a service. Technically there is still an RTM, RC, Beta, etc. Also there is thing still a called final release build, same thing as before only that we got constant upgrades like instead of traditional yearly or 4 year OS upgrades.

The 950 also got firmware

I hope we will got the firmware for older devices soon later this year or early next year.

If you have a Lumia you have new firmware. It is called Lumia Windows 10. No more color names, apparently. Lumia Earwax probably didn't go over too well in the focus groups, and not having another E color handy they went with Windows 10.

Well I didn't the new Lumia firmware which I'm waiting for. I still got the Demim.

Firmware is not w10 think of firmware as I don't know maybe more like the bios

They could use... I don't know... Emerald?

Android has recently been trying to keep up with software exploits that keep being found and Apple, well see link: http://www.bing.com/news/apiclick.aspx?ref=BDIGeneric&aid=5021FF6D1971DE... So on this basis every OS is not truely finished and is continuously receiving updates and fixes.

Just like every piece of software in the universe :)

But not "the most advanced operative system in the world" remember? That made a lot of people laugh

Bugs that only apply to insiders and/or need updated PC software.

Yeah! Haha! Lol! They must be total dumbasses to put out a build as final release when PEOPLE THAT USED THE BETA might run into issues! /s *sigh*

If you actually take the time to look there are three bugs, none of which will be visible to ordinary consumers. One is a very specific bugs concerned with upgrading from one preview to another, normal consumers don't have to worry about that. The second is a developer issue that is actually to do with a separate piece of software, consumers needn't be concerned. The third is a problem with the insider hub, an app normal consumers won't even know exists. So to all intents and purposes there are no known issues in the RTM build for consumers, only for insiders and that's what we're for. Think before commenting, it's quite liberating.

Common sense is appreciated. Posted from this here device.

A little caution regarding "normal" consumers. Consumers using the Insider Previews can't be lumped into "normal" as the OS has not been released to existing customers/devices. The big one is updating from a previous build. This can cause the device to go into an install loop that can generally only be taken care of by donwgrading and reinstalling. This occurs if you routinely factory reset your phone on the previous build. As this was generally noted as a "must do" step when installing builds by various sites, including this one, many "normal" consumers may have done this on 10581, thereby triggering this bug. Fortunately for me, 10581 was the first build I didn't have to reset following install. Previous builds necessitated it due to huge battery drain, overheating, and diappearing apps and tiles. I haven't had time to run this latest build through its paces yet. But so far, appears to be smooth, no heating while on t he charger, faster and more complete charging and apps nicely responsive. I am one of those "normal" consumers on the Fast Track Preview who threw caution to the wind and put the Preview on my daily driver from July. So you can send your thank you notes for all the ridiculous bugs and issues and resets I endured and reported to Feedback in the process. You are welcome LOL

@Mark Richey: considering you're responding to a thread that pointed out that this build is on the 950, yes, "normal" consumers are normal consumers. That was the whole point. Someone commented that they were upset a build released to consumers still had known bugs. Crownshaw was just pointing out that the known bugs won't affect normal users. So no, you're not one of the "normal" consumers. The normal consumers being referred to are actual consumers who are not part of the Insider program.

Yeah, base on this bug. I don't believe this is the RTM, most likely just another RC build.

@aXross: why couldn't this bug be released to manufacturers? how would it affect them?

Wait is this an RTM build already? Those bugs are quire big but also not much a visible bugs to many I guess. Developer bug is invisible to users though, it will still annoy few developers who rely on it, I hope they will just switch to new UWP.

again, how are those bugs big? the first is completely unrelated to RTM. the second one isn't a bug with the OS, its that software is missing on the other side (that will be fixed in 11 days) and is related to a form of distribution that MS doesn't want to encourage in the first place. the last bug is actually *because* its RTM. they did this last time too... Insider Hub wasn't included in the RTM builds.

No where does it say this is the RTM build. Also, even if it was, the bugs they mentioned don't really apply to general customers they are mostly Insider Preview upgrade bugs.

This is the build shipping in the 950. This is as close to what we used to think of RTM as you can get.

its 3 bugs? 2 For insiders who come from insider builds and one for developers.
so they do not affect the customer in no way. so its bugs yea like all operating systems still has bugs go to the android security xD
but the point is its usuable as a daily driver for all those who just come to this build with the big update and just w8ed for it didnt try it. we the ones who try it only get the bugs and see em and only we will se 2 of these bugs right now. no one else cares about hub/the upgrade since they all run windows 8,1 and none of the mare devs lolz :3 so it's bugfree for customers.
(since 2 bugs only for insiders and 1 wont be seen again since the build 10581 will be erradicated xD)

Well, let's see. iOS 9.0.0 released 09/16/15 iOS 9.0.1 released 09/23/15 iOS 9.0.2 released 09/30/15 So after Apple released their major 9.0.0 software, they had to release two updates a few days later to fix problems. From Forbes Magazine: It's time to call it: iOS 9 has had a rough start. Despite its impressive new features, the platform has needed two dedicated bug patches in as many weeks. But not only have these patches failed to fix all the problems, it turns out they are introducing a whole host of new ones along the way…

i think Microsoft doing good job so far. You can't compare between IOS and Windows Mobile. Microsoft is developing OS that support Universal Apps. That's mean apps can running on Phone,Tablet, and PC. Perhaps server too. As we know Windows Phone has lot of kinds of hardware that they have to support. Start from low end , middle end , and High end, and off course different manufacture. And it's take more time to implement all. It's totally different with IOS. Apple only focus to phone OS itself. They don't have to think about universal apps and different manufactur.

really? its taken nearly 12 months to start seeing skype build in from its anounced date, we have only just this week found out linked emails is back soon. We still have failed apps upgrades in the store and we have had this issue in every single build. those with 30gig storeage space are having it removed and left with 5 gig. Theres no 100g or 200 gig onedrive option cause microsoft want you all to pay 5.99, and this latest build 86 is less reliable on my 930 than previous build 81 was, Tell me 12-14 months and still they havent solved alot of issues, do you keep a straight face when you say microsoft is doing well? Things taking too long, things not geting fixed, things prioritised over more impotant things eg flash light over linked in box, no gestures thats still missing and nothing about a apple pay working version. I dont see anything good from microsoft this last 2 weeks. If anythign im fighting a personal battle over the onedrive changes, personally i think they are slaping all their loyal fanbase squarely in the face and i dont know if i can accept that anymore, This slow lazy build, 86 also makes me feel less incouraged about microsoft. Windows desktop 10 the best os on a desktop, windows phone with 8.1 the best phone os ever 10 ig good but not great when it works but there is to many missing features from 8.1 and well releasing 86 just hurt my impressions even if it is a insider. Oh well. I wonder how long their fanbase will deal with these kind of issues before they give up on windows, i dont think its far away now.

Ios 9 is still better Posted via the Windows Central App for Android

These bugs only affects Insiders. Same as RTM PC.

12-14 months and still updates now 16 show up failed in the store, that just is not good enough even for a insider version, especially now that they want to release their 950s and only a week after letting their userbase know that their mostly 30gig storage on onedroive is being removed. Microsoft are really making large steps backwards from their surface book anouncment. Doesnt look like they learned anything in the last 4 years.

I would love to know what causes that

They should polish the user interface more. Windows Phone 8.1 was better in some aspects at this point. Just saying. Also the 'Extra's' entry in settings should be intergrade with main settings. It's more convenient that way. Sorry for bad english

When comparing 8.1 beside 10, you can see how drastically nicer 10 looks. While I agree the 'Extras' section should be integrated into the Main Settings... those Extra settings are meant for the Phone manufacturer, not Microsoft (unless it's a Lumia).

Unfortunately to say, Microsoft choose to rush it and will update it later. Windows 10 rushed to have way more unpolished areas both UI and functionality. Heck even simple opening windows animation is still missing on Universal Apps. Good thing to say, average users didn't mind it and some even ignore it. This makes Windows 10 perceived not being rushed despot it is.

how is it unpolished? and can animations ever be 'missing'? is it a requirement? how does 8.1 look better than this? when i had to reset a few times in the past, i couldn't stand 8.1. it *feels* like an old OS. using 10 now makes me wonder how i even put up with 8.1. I had the same experience between 8 and 8.1. Are you sure you just don't like change?

Windows 10 mobile is better than Wp8.1, debate closed!

when it stops crshing on my groove app and my message app on a 930. when i get windows gestures back, when they bring back intergration with facebook and placeholders, when they return to me the 30 gig of space i got for buying my lumia 930, when they add a pivoting function to grove and intergrate options closer and smoohter together then i might agree with you but right now all the great things windows 10 has still doesnt come close to the natural reliable and great experience i had on windows 8.1 denium, but i agree it got alot of great features but its just not the smooth reliable 8.1 denim way. Lets face it any company that turns around and blames users for using unlimited storage in a unlimited way and then penalising ever single windows user for that and to do it just 2 weeks before they release their 950s, thats not a smart company, it really isnt. I know 4 people that will not be buying the 950 or 950xl and they were 5 including me all because microsft decideed that that 30gig storeg i got when i spent 500 pounds on my 930 and windows 8 was going to be taken away and replaced with again they said 5gig a amount that was more than enough for us all. Any company that thinks 5gig is a decent amount of free storage when people by their devices doesnt belong in the 21st centry, maybe thats why their mobile business has stagnated, people just dont trust microsoft anymore.

unfortunatly i think your right. We dont have the