Here's a new 3D model of the Xbox Series X, now with all of its back ports
Thanks to new information, we now have a good idea of what the Xbox Series X will look like in full 360 degrees.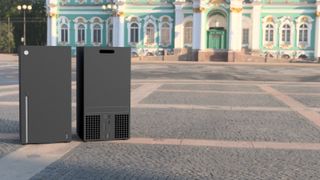 (Image credit: Windows Central)
Last year, Microsoft unveiled the Xbox Series X, its monstrous next-gen console which is said to sport up to 8K visuals, complete with hardware-accelerated ray tracing, and massively boosted loading speeds. We expect the console to hit 12TF of graphical computational power, likely making it the most powerful games console ever seen.
At CES 2020, AMD gave us a glimpse of what it claimed to be the reverse of the console, revealing the Xbox Series X's ports. However, Microsoft quickly put out a statement saying that AMD's render was in fact just that, a render, purchased from a third-party 3D modeling site.
Since then, Brad Sams over at Thurrott.com has provided information on the real ports, and today, we can confirm at our end that Sams's information is accurate. We've now been able to confirm the reverse ports at our end as well, which look identical to the renders Sams put out over here.
To offer a better look at how it might appear in practice, we've updated our Xbox Series X 3D models to offer a more comprehensive look.
If the embed below isn't visible, you may need to disable ad-blockers to get them to show up. They may also take a little time to load on slower connections.
The ports listed appear on prototype Xbox Series X units, and may be subject to change before production rolls out in 2020. I'd heard some rumors that the HDMI-in port was omitted, but hadn't been able to confirm it until now. That said, there's a chance we may still get HDMI-in on the final unit, but I wouldn't bank on it.
On the back, we get two more USB-A ports joining the one on the front, as well as SPDIF optical for audio devices, HDMI-out for your TV, and ethernet for internet. We also get a figure-8 power socket, and a look at the rear intake vents. There's also a slot on the device, which we're told is around an inch deep or less. This is likely used for debugging as Sams speculated in his own post, and won't make it to production units.
It's a bit of a shame that we're losing the HDMI-in port and, apparently, the IR Blaster, indicating that all of the TV integration features of the Xbox One 2013 era have finally been omitted. Chances are very few people actually use the HDMI-in, as more of us gravitate to app-based streaming services over live TV options. HDMI-CEC control may help alleviate the pain point of losing the IR Blaster, but we'll have to wait and see.
If you'd like to see how the Xbox Series X stacks up against the Xbox One X and the PS4 Pro, head over to here. Otherwise, let us know what you think of the port spread in the comments below.
Xbox Series X/S
Main
What is the Xbox Series X release date?
How much does Xbox Series X cost?
Why you can't preorder Xbox Series X yet
Get the Windows Central Newsletter
All the latest news, reviews, and guides for Windows and Xbox diehards.
James built his first PC when he was 13 and has never looked back. He can be found on Windows Central, usually in the corner where all the 3D printers are, or huddled around the Xbox playing the latest games.
I guess I'm one of the few to use the hdmi-in and IR blaster functionality. I'll miss it.

You are not alone. There are a number of us. I get the impression that those that don't do not understand the functionality, and Microsoft stopped promoting it to compete with Sony on gaming... It sucks as it means that the Xbox Series X cannot be the center of my media center system. I used the IR blaster functionality as well...

I don't use that function. Same reason I don't use the BD drive for video. I prefer a receiver to handle inputs and a proper BD player to spin discs. Same reason why I watch Netflix from smart TV and not Xbox. No single device can give you the best experience for everything. Windows Media Center 8.1 is still light years ahead of anything (even Xbox) to consume satellite or terrestrial TV.

@Hiswona you can use the hdmi pass through for other things such as hdmi switches, pcs, consoles etc.

Why should it pass through Xbox? Am I missing something...

I will miss it also. Sure i can use my SmartTV Apps. But my Xbox One is connected with network cable and with my remote control it was nicer to use Netflix with my Xbox instead of my SmartTV which is connected over Wlan and had sometimes buffering due to my Wlan Setup.

I will miss the hdmi-in as well. not as much the IR blaster. would really be nice to have one more USB port, though. 3 kind of limits what you can plug in (controller, headset, external drive). some have one or two more things (mouse, keyboard) but have to chose what to unplug in order to use the other.

I use the HDMI-In port because I "have" to have a big cable box in order to have a cable outlet near my Xbox, for in-home networking. I wouldn't be surprised if they did get rid of it in the Series X because the OneGuide chanel information is no longer updated. In fact MS said that it won't work in some areas...so yeah that's also going away. I can always hook my seldon used cable box to my TV using componet cables, but it's a shame that the Xbox One is slowly moving away from being a useful HTPC to being a mere gaming console.

It really kind of annoys me that there is just this assumption that every one wants to "cut the cord" and "use apps". Personally, I like channel surfing. Also, most of the time, it seems like "internet only" and "internet + tv" end up being almost exactly the same price... certainly not enough to justify getting all of that television via streaming subscription apps. I don't need "OneGuide" as a television schedule overlay to my TV provider, but I do like being able to use the Xbox Operating System to select between streaming apps and my cable box.

I have only one device hooked up to my TV and receiver, and that's the Xbox. I still enjoy being able to walk into my family room, say "Xbox On", and have everything get turned on -- and, have everything turn off just by turning off the Xbox. If the Series X supports HDMI-CEC, then I think it'll still work (I haven't tested it, and my receiver is a little older, so it might not have that support), but it'd be nice to have an IR blaster of some sort (whether through the Kinect or on the Xbox itself) to fall back on.

Well, if I wasn't going to buy this version of the Series X on account of it looking bloody horrible, the removal of all the TV integration just makes sure I will not buy ANY of Microsoft's future consoles. If I'm going to have to deal with the nightmare of HMDI switching again, then the Xbox loses the only advantage it had to me over the PlayStation. Which makes buying a Series X over a PS5 just a dumb move on my part. Thanks for sparing me the money, Microsoft!

Man... I'm really jealous right now. It must be really nice to have such a stress and problem free life that changing inputs on a TV is a "nightmare". This should now be my goal in my own life, do you have any pointers to help me get there?

Sure. Be born in the right European family and go to Law School. That should be enough to grant you a life where, yeah, having to constantly change TV inputs is a nightmare. So don't give up, I believe in you ;)

Lol! I shall aim high in my reincarnation! 😜

Don't feed the Troll... He's a lifeless shell only here to bicker on any and all Microsoft Products/News he comes across...

Dude, relax. Ever heard of a receiver? It's basically a "HDMI switcher" and oh so much more. They start at $200 or so, allow ir, 5+ HDMI, BT, wifi, dlna, the works. Go for more speakers/channels and power and you're in the $800 range like me. Wouldn't trade it! My buddy who plays CoD says playing at my house is like literally going to war!

Am I the only person that has a TV that automatically switches to whatever input it's receiving a signal from?

I do, but the firetv stick always fights back for control....

I actually have that disabled on my Xbox input, but I need some serious help if I consider changing inputs on my TV a "nightmare"! Holy crap, talk about first world problems.

Problem with that is that if you have a cable box, the TV will always be receiving a signal from it. So when you turn on the Xbox (or any other thing), sometimes there's a conflict between the two.

@DJCBS or... you could you know turn the cable box off? 😋 I'm kidding, as I know some can't turn off their cable boxes if they have it to record programmes to watch later. For me my tv has the input switches at the back and I use my tv as a monitor so it's more convenient for me to switch using a hdmi switch lol. The HDMI pass through on the xbox one gives me alot more freedom as with one hdmi cable I make the xbox one my media hub and for times I don't game at all I just unplug it from the hdmi switch and use the cable connected to another hdmi port in my tv with the hdmi switch. So the loss of the pass through will be pretty disappointing.

I feel like MS should really shoot for at least 4 USB ports in the rear, 1 in the front, and then a single USB C port (that supports screen mirroring or streaming controls)

This is what I can't believe they didn't put in, a USB C port. Why not give the option for using an external SSD with some speed rather than limiting it for USB 3.0 speed?

Same... also you can easily get a type-c to micro b cable for backwards compatibility with control pads as well charging stations and battery packs.

Ugh, please don't take away the HDMI-in or IR Blaster, Microsoft. I rely on my Xbox to manage all my media content. I watch my streaming services through the Xbox, including Microsoft Movies & TV. Personally, I don't care about the Guide aspects, just the HDMI pass-through and IR blaster to turn everything on. When I want to watch something, I am accustomed to either saying "Xbox On" or pressing only the Xbox power button, then the Xbox turns on the amp/tuner, Dish receiver, TV, and everything else needed. If there is no HDMI in on the Xbox, aside from losing voice activation for the whole A/V system, I'll also need to change the input on the amp/tuner every time I want to change what I'm watching. That sucks. Please don't break my living room.

Really hope the final build has HDMI in. Love being about to say "Hey Google, turn on Xbox, followed by my tv, xbox, amp and sub woofer all power up. Microsoft sold me on this year's ago. If they take it away, it would really be disappointing.

Will be seriously disappointed about the lack of HDMI-in for pass through.

I'd love a display port. Ah well

I'm not sure if that mysterious port would go away in final releases. The placement of the port is too integrated to simply go away. Am I the only one that is reminded of those glass plates that Microsoft was working on when looking at the size and shape of that port?