Here's everything you can do in Windows Mixed Reality right now
Windows Mixed Reality is here, but what can it be used for?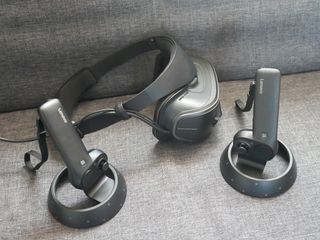 Microsoft's Technical Fellow (and VR whiz) Alex Kipman, speaking at a Windows Mixed Reality (WMR) event at the start of October, explained how the next "revolution of computing" is on its way. While we aren't in a world of pure virtual experiences quite yet, Microsoft is contributing to the revolution with a Windows Mixed Reality platform, which has most recently seen the release of immersive headsets from Acer, Dell, HP, Lenovo, and — coming soon — Samsung. If you happened to pick up a headset, you might be wondering exactly what you can do with it once it's on your head. Let's take a look!
Live inside of a virtual world
The first thing you'll likely see when you don the headset (after you go through the set up) is your home base, which is called Cliff House. This area already contains a bunch of cool 3D objects, and you can add more by using the Holograms app (free).
You'll notice a bunch of screens already inhabiting the walls of the house, which you can customize and add to. Using the quick access menu (press the Xbox button on your gamepad, the Windows key on your keyboard, or the left menu button on your motion controller), you can place UWP apps anywhere in the house in the form of a screen. The screens will stay there until you need to use them, in which case they'll come alive or, if they're a full 3D experience, will transport you away to a different virtual world.
Microsoft recently acquired Altspace VR, bringing the team that designed the awesome social app over to work on building community features within Windows Mixed Reality. Did you set up your space in a funky way using the Holograms app? You'll no doubt one day be able to invite your friends over to check it out.
Until then, there are apps like vTime (free), which let you hang out with other friends across VR platforms in virtual worlds of your choosing. Create a lifelike avatar, use virtual gestures to express yourself, and start adding people to a friends list. If you like to take 360-degree photos, you can import them into vTime and show them off to others.
Travel around the globe
One of the most exciting parts of WMR is the ability to experience faraway locales without ever leaving your home. With an app like HoloTour (free), you're able to move around freely in places like Machu Picchu and Rome, interacting with holographic scenery and a 360-degree video.
Along the way, tour guide Melissa explains exactly what you're seeing, so you can be sure you aren't missing anything. There will no doubt be more travel apps and more locations to visit in the near future, but HoloTour is an excellent introduction to virtual backpacking.
Watch 3D, 360-degree videos
Video in 3D, 360-degree glory is truly something to behold. You really feel like you're standing in the middle of whatever is being shown, and the message of the media often seems a lot clearer. There are already several apps that feature immersive VR content; these experiences within were created for VR, and so they deliver something above and beyond what we're used to on a regular 2D screen. Apps like Inception, Jaunt, Littlstar, and RYOT deliver hard-hitting pieces about our environment, war, culture, and entertainment. Hulu has even come on board with a new VR app, offering all their content on an enormous screen, as well as two timed exclusives: The Driver and A Curious Mind.
If you love sports and live music, definitely check out NextVR, which offers events in full 360-degree format. If you love eSports, SLIVER.tv is a great way to watch your favorite matches of CS:GO (and many others) from inside the game itself.
The Movies & TV Windows 10 app also works within WMR, and can play 360-degree content without a problem. If you'd simply like to sit back and watch your favorite 2D movies or TV shows on an enormous screen, this is the place to do it.
Take in unique experiences only found in VR
The advent of VR has created a new form of entertainment that rests somewhere between your standard video media and a video game. These interactive experiences are sometimes educational, sometimes thrilling, and sometimes moving. They often offer a glimpse into a popular world — take Halo Recruit and Ghostbusters VR as examples — or they'll transport you to a place where humans cannot exist, like with theBlu.
Then you have experiences that are impossible to place into a category, like MoveStudio. Here your movements transport you through a world of art, with your limbs painting images as you move. If you like entertainment with a bit of movement and interaction, these experiences should be to your liking.
Play video games like never before
With the release of WMR comes some high-profile games, some of which Vive and Rift users have already come to love. We have here a variety of shooters, puzzlers, platformers, multiplayers, and dungeon crawlers, all waiting for you to jump inside of and get busy having fun. Here's a full list of games ready for enjoyment right now.
These games deliver a full-blown VR experience, in which you are central in all the action. If you're golfing, you're really teeing off with your motion controllers, if you're shooting, both controllers become guns, and if you're casting spells, they're invoked from your virtual hands.
Don't worry about the rest of your games; just about everything you've so far been playing on your PC can be enjoyed on an enormous screen within WMR. If purchased through the Microsoft Store, the game can be opened directly through the quick access menu and placed somewhere in your world. If you'd like to enjoy, say, a Steam game, open a desktop viewer window and launch the game. We enjoyed some Age of Empires 2 while in the Cliff House!
Don't forget, you can use Xbox One game streaming to also enjoy your Xbox games within WMR.
How to stream Xbox One games to Windows 10
Are you enjoying what Windows Mixed Reality has to offer?
Are you spending more time in a virtual world than in the real world? Which experience or game is so far your favorite? Let us know in the comments section! Also, be sure to check out our other WMR resources.
Get the Windows Central Newsletter
All the latest news, reviews, and guides for Windows and Xbox diehards.
Senior Editor, Laptop Reviews
Cale Hunt is formerly a Senior Editor at Windows Central. He focuses mainly on laptop reviews, news, and accessory coverage. He's been reviewing laptops and accessories full-time since 2016, with hundreds of reviews published for Windows Central. He is an avid PC gamer and multi-platform user, and spends most of his time either tinkering with or writing about tech.