Here's how you can fit the Surface Pro 4 inside the Surface Pro 3 Docking Station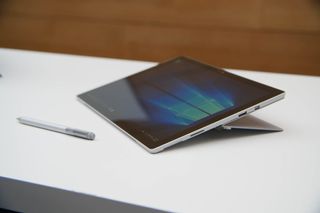 If you bought a Surface Pro 3, you might also have the optional Surface Pro 3 Docking Station, which helps users connect the tablet to more ports as well as a PC monitor. If you do have both, you might be wondering if you can use the newly released Surface Pro 4 on the Surface Pro 3 docking station. The short answer is, "Yes", but the long answer is a little more complicated.
Microsoft is offering Surface Pro 3 docking station owners access to a free spacer adapter that will allow it to work with the Surface Pro 4. The spacer is needed because the new tablet is a bit thinner than the Surface Pro 3. WinSuperSite reports that those owners can go to their local Microsoft Store retail location to pick up the docking station adapter, or they can go to the company's "Send my Surface in for service" website to order the free adapter and have it mailed.
Microsoft is also selling a new docking adapter that's been made for the Surface Pro 4 and Surface Book for $199.99.
Order the new Surface Dock at Microsoft Store / $199.99 (opens in new tab)
Source: Microsoft (opens in new tab); Via: WinSuperSite
Windows Central Newsletter
Get the best of Windows Central in your inbox, every day!
At some point you just have to stop changing the form factor and use the extra space for something else. The biggest Enterprise companies got that way by standardizing designs so enterprise customers could make bulk purchases and not worry about interoperability... This is concept we have lost in the quest to be the thinnest or fastest.

Agreed as far as knowing when to say, "this is thin enough," and doing something like packing in a bigger battery. I'm not totally with you on the design standardization in the particular case of the Surface 3 --> 4, since Microsoft specifically engineered this spacer adapter with that in mind, and is giving them out for free, to boot.

Mine surface pro 4 is in my surface pro 3 dock without issue with no spacer. I'm not having any issues.

have you seen the new dock? problem solved. no need for "standarized" nothing.

Valid concerns. I feel the same way about positioning of USB charging ports on phones. The argument for Surface products I perceive still somewhat different. Microsoft was pushing boundaries for the industry. That they have spacers and what not is nice, but sometimes you have to let the past go. What would Windows have been like a decade ago if Microsoft had just left 32bit behind and dropped legacy support altogether. Historically, they've been good about listening and keeping support live. But this is a differs t beast. This isn't about race to be thinner, etc, it's about show casing what can be done and that innovation can still occur. That the device is thinner and still employs it's cooling mechanism, crazy hinges, electrified tension cable locks, better display, dGPU, etc, in such a form factor is important. There is also one other thing... you may not care, but others do: Thinner and more power are selling points. The ratio of people that will want or own the dock over those that will just want new SP4 probably isn't enough of a concern. The spacer is free and a solution, I certainly didn't expect that compatibility. When I upgrade from SP3 I'm likely to opt for the dongle rather than the dock. So for me this is a moot point.

Everytime we order new laptops for our users we have to get new docking stations as well. There is no consistencys in a brand for anything. There is not one "enterprise" company out there that has a consistent form factor that works from device to device. MS is offering a free solution and it works. They also offer a new dock that will continue to work with all form factors they offer, except for the Surface 3.

The new dock works with SP3

In this day and age, people equate a nonchanging form factor as stale. They expect products to "evolve".

I still find the old Surface Pro 3 (real) Docking Station still great. I really like the actual docking station. The new one is nicer since it's more universal for any Surface devices and it's future-proof, unless they suddenly change the connector which is too early for that ti happen. The new isn't really a dock, it's more like a hub adapter.

I really prefer the idea of the custom-fit docking station to connecting to a hub with a cord, but I think that your future-proofing/universality point has to be why they made that transition (and why they are giving a nod to the Dock 3 owners with this spacer). It also is lighter, takes up less desk space, and gives you an opportunity to use that built-in kickstand!

I greatly prefer the new design. There seems to be a consensus feeling that touch on tablets is just a replacement for a mouse. If that is a the case, the Surface becomes mostly a secondary display, with touch relegated to a secondary use, when docked at a desktop. Fair and good, if that if your usage. The pen is a real differentiator for the Surface. From the MS advertisements you might think that the pen is only good for circling and highlighting. If that is all you use the pen for, the Surface 3 style dock is fine. If you actually want to use the pen, the new "puck" style is superior. Take a look at the introductory video at StaffPad.net. This kind of interaction is really easier with the Surface tethered to a puck than anchored in a fixed angle dock. To be clear, Staffpad is not the only program where this is the case. Drafting (AutoCAD) and Art/drawing feels more natural with a pen, but also require a keyboard that is not in the way. Positioning the angle an location of the Surface really required for a natural/efficient feel. This even applies to something as simple a signing a document. Either the MS dock designers did not understand the pen, or more likely MS decided to market the dock to consumers that were perceived as not ready to embrace the pen interface. I would love to see "Cable Connection" between the SurfaceBook clipboard and keyboard base that would allow the display to be used in a tethered mode. Battery and GPU in base in action and keyboard useable but out of the way.

I was also preferring the custom-fit design, until I realized everything the new dock offers. - Docking station now frees the use of the Surface Pro at any angle when docked - Can now be used with a case on the Surface Pro - It is now a lot more portable and thus can double as a second/replacement charger with not just a meh 1 USB charging port but 4 USB Charge AND Sync ports + multiple other ports - Adds another DisplayPort while keeping the uses it's known for (although it now has 4 USB ports instead of 5), and is backwards compatible with the Surface Pro 3

Nice. I actually prefer the actual dock to the port replicator. I will be returning my SP 4 "dock" and using this instead.

OTOH you'll have a collectors item when surface pro 5 doesn't fit the SP3 dock :)

The new brick dock doesn't allow you to lock the tablet to the dock.
This is sad as I can already see companies ditching the Surface only for this reason.
The new dock is bad for entreprise usage.

The new dock is not bad for enterprise. It's great for the enterprise because it's easier to travel with, store when not in use and takes less space on a cluttered desk. But if you want the fully docked version you can have that too

Just use the old dock then. problem solved.

The old dock will soon be out of stock, as with many Surface product.
You can't run a business based on out of stock products being replaced by bricks.

if your business depends on a docking station that takes up as much room as possible, you probably shouldn't be in business :) If your main goal is some bizzarre scenario where the device is going to "fly off" your desk because it isn't anchored by a mass of the old dock, then you're probably not a significant enough sement to represent the enterprise market.

It is not about the size of the dock. It is about being able to secure the machine while in the dock using a Kensington type lock. Which is a huge chunk of the Enterprise market.

The problem there is that while the SP3 dock has a Kensington lock slot, there's no way to lock the SP tablet into it! So someone can't steal your dock, but they can open the dock and walk away with your tablet, which is the dumbest design ever. You can protect your $200 dock, but not your $1500 tablet with all of your data on it.

OTOH, enterprise customers love the new dock because it is future proof, it is more portable and takes less desk space, it saves them the hassle of buying a display port monitor that supports MTS for dual monitor setup, or yet another dongle, and best of all: also works with existing surface pro 3's. Enterprises love the new dock. -sent from an enterprise.

And it will work with the Surface Book, and probably next form factors.

Exactly!! Some here are not seeing the big picture. Going this route will save $$ in the future. Which is what most competent businesses should be doing.

There's simply no need for this except for "greasing the squeaky wheel" of the internet. I have put the pro 4 in the pro 3 dock numerous times myself now. The slight difference makes you think about slowing down the first couple of times but really its not an issue

If you have a Surface Pro 4 Type Cover as well, can you snap up the keyboard while docked? I purchased a SP4 Type Cover for my SP3 and the new Type Cover will not snap up while docked like my original Type Cover. My only option is to use it flat on my desk.

Would have been funny if John had the article starting with "First, you'll need a hammer". or something like that hehe.

Thanks. I needed a good laugh!

Not sure if this happens to Apple and their iPad Pro 'dock'. USD99 for the spacer that revolutionised spacers!!! Posted via the Windows Central App for Android

The fact that they're offering this spacer for free should make people happy.

I tried ordering it but no success Salt Lake store doesn't have them nor do they seem aware of such an accessory plus when I try to do it online there isn't an option to select a dock. Anyone had any luck? Posted via the Windows Central App for Android

I'm starting to doubt that the adapters even exist. I have yet to see any evidence of one in the hands of consumers, and I've tried to get one through the MS online service route to no avail. If anybody has had any luck getting one of these, I'd like to know. I may have something more to report after 12/5. I'll be heading into the Chicago area, and I'll have an opportunity to check out an MS store in Oakbrook, IL.

Go to the myservice.surface.com page and order it through there. Better yet go back to the Salt Lake location, do it right in front of them and show them what they are already supposed to know