Here's a list of known issues with the Windows 10 January Technical Preview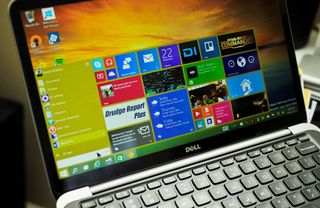 If you're taking the leap and installing todays Windows 10 Technical Preview build 9926, you're bound to encounter some bugs. For your convenience, however, Microsoft has gone ahead and created a list of known issues as of the release of build 9926.
Here's a breakdown of the known issues from Microsoft:
After installing this build, you may see a boot selection menu each time you reboot your PC. This is because a bug where a second boot option is persisted to uninstall the Windows 10 Technical Preview and roll back to the previous OS installed. When you get to this screen, if you do nothing it will automatically boot to the Windows 10 Technical Preview within 30 seconds by default or you can choose it on your own. Don't worry, this behavior is only temporary.
Xbox Live enabled games that require sign-in will not launch correctly. If you see the below dialog box the game requires Xbox Live sign-in. A fix for this will be distributed via WU shortly after the release of Build 9926.
Battery icon shows on lock screen of PCs without batteries.
Tiles on the Start menu show truncated app names (such as the Windows Feedback app).
Remote Desktop has some painting issues that result in tiled pixelation.
Connected Standby enabled devices like Surface Pro 3 may experience shorter than expected battery life.
In Cortana, reminders can't be edited and more complex reminders might not get created. The first reminder you create in Cortana in this build might not pop up, but subsequent ones will. Completed reminders also don't move to the History page in Cortana's Notebook.
The Music app will disappear if minimized within 16 seconds of launch. Just leave it in the foreground for 20 seconds or so and it should work just fine.
Occasionally, the Start Menu is improperly registered and will fail to launch.
If you experience any of the above problems, don't fret! Microsoft notes that some of these issues may be fixed in further updates after release, while others may be patched up in future builds.
Source: Microsoft
Windows Central Newsletter
Get the best of Windows Central in in your inbox, every day!
Dan Thorp-Lancaster is the former Editor-in-Chief of Windows Central. He began working with Windows Central, Android Central, and iMore as a news writer in 2014 and is obsessed with tech of all sorts. You can follow Dan on Twitter @DthorpL and Instagram @heyitsdtl.
Hmmm, good thing its not on anything really major

Dan is toooo faaaasssttt man.. (;

Hmmm. I've already had to reboot twice because the start menu failed to open.

I found a solution to the problem. And it works on my laptop. Here's the link to the solution from the Microsoft forums: http://answers.microsoft.com/en-us/insider/forum/insider_wintp-insider_s... The post that was marked as the answer is what you want. Now all I need fixed is the problem with the AMD display driver.

what is the issue with AMD display driver?

I see this was posted six days ago; however, I was having the same issue. As of today, February 4, if you have the Build 9926 installed, run Windows Update, and it fixed my problem. I'm running with an AMD Radeon 7640G graphics card, and until today, it was giving me the Code 43 error. Hope you have this resolved already. If not, I hope running Update helps. It did for me.

Got the update, now I'm glad I'm on VM.

Virtual machine. Basically an OS within the OS.

Windows upon Windows .... :)

Yup! I always use that. Better to use it on VM than to risk your daily driver main PC.

i just use a test pc that i dont care if it crashes so it performs better

Yes I face the first issue... Big bug

I have a few of those bugs and I have not updated to the new preview. Had these bugs for quite some time actually.
Battery icon, xbl games not starting, truncated app names on tiled start menu, the music app thingy acts differently thou, it stops my music if I minimize the app.

Eh, I need MORE battery on S3, not less. Please let us know front page when that bug is squished.

League of legends works on it so I don't find the other issues important

Installed on x220t .. Working well enough so far.

Hmmm, maybe it's a blessing in disguise that the build keeps bluescreening for me during install?

How do you pin to start? It's all love tiles now. I put things like steam on the traditional start menu side, the left.

Wow this list came up fast, it's nice to know when it's not you it's the computer.

Battery icon shows on lock screen of PCs without batteries.

This has been driving we crazy on my desktop. For some reason I keep thinking it is referring to my UPS. There has been repeated occasions where this happens: a brief moment of "aww crap my UPS battery crapped out", and then the thought "wait my desktop doesn't know that, that's impossible. Why do I keep falling for this?"

Thanks Dan for this list. Exactly what I was looking for :)

Physical keyboard on yoga2pro doesn't work, you have to use the onscreen keyboard, dunno if this is just specific to the yoga

same issue here. managed to resolve it temporarily but not sure how and it's back to now working.

Same here. Both the keyboard and touchpad dont work. can't find a fix yet.

So, they gave up on the Start screen?

You can right click the taskbar, go to Properties and there should be an option to enable that in there.

Well, that used to work with the previous build, but not with this one.

This ought to be the build that has continuum built into it, the start screen should be there in its new form.

I am aware of that, but this new Start screen is nothing more than a stretched Start menu, that has barely something in common with the old one. If you want to see for yourself, you can just give the new build a try, of course, if you haven't already done that.

I guess I will wait at least a few weeks.. :)

Hmm kinda worried about the first issue. Is installing this going to screw up my GRUB?

It might, best to install in a vm.

I seem to be having some issues when disconnecting from a vpn. The ethernet fails to work until I do a reboot. Never had this problem on 8.1

The only problem I had were with drivers.. Had to download Audio and touchpad drivers from samsung's site for my Rv 508.. Without them no touchpad and my mic didn't work so speaking to cortana was impossible.. Had some problems without installing the latest update from MS with start menu.. (buggy).. But it works now :)

Windows update is gone from its old place, no longer supports WSUS properly, and fails probably because of my WSUS settings in the registry. Not real excited about it downloading every update directly from Microsoft without my permission.

Also can't use Cortana without globally logging in with Microsoft account. Since I am on domain network, not sure if I'm ready for that headache.

Nothing major, so it seems. The Explorer-bug in previous versions was more annoying

Some people really don't understand the concept of beta testing.

I would like to know, do windows 10 uninstall all the software of windows 8.1 ?

No, I installed without losing anything.

Anyone by chance experience the remote desktop issue? I'm thinking about updating my work PC and use Remote Desktop heavily. I can deal with some ugliness as long as it's not unusable.

The remote desktop app doesn't catch the windows key anymore, so you can't win+tab or whatever on the other machine. To see the remote start screen, you have to hit the windows key twice; once to trigger both remote and local start menus, and once more to close the local start menu. That's the main issue I'm having but I haven't done a lot.

Well these are not that much big issues accoring to me :)

So far my expierence has been pretty bug-free. Only feature that I am sorely missing is the display brightness adjustment when in tablet mode on my XPS12. In laptop mode I have keyboard shortcuts that work fine, but when used as a tablet the keys are covered and there is no longer a brightness adjustment. The display icon goes to display properties now instead of the slider. Outside of that issue (which I am sure is just an oversight that will be fixed), everything else about this windows build is fantastic so far! Cant wait to put it on the desktop! Really really can't wait to get it on my phone and see how all 3 devices interact with the new OS.

Wait wait, since it boots in the multiple os loader (for uninstalling reasons), that means that its super easy to roll back to 8.1 if necessary?

The app tiles are not truncated. They're a list and until you click on that area, you can't scroll through them. So, the problem is scrolling. Windows should register that my pointer is above the tiles and start scrolling without a click.

That's not the issue they were referring to, and I'm not experiencing yours.

Will it remove all my files from pc

No, it's a fairly seamless update.

One pretty major issue for the SP3 -- any app that tries to play video crashes. Both modern apps (Plex) and Win32 ones (IE). Anyone else experiencing this?

Yes, I am also seeing this. It seems it might be only in certain instances. Are you using the United Kingdom ISO?

I'm not sure actually -- I updated the version that came with the device I bought in New Zealand. Actually it had UK settings on after the update, so it probably chose that when it couldn't fulfil NZ.

I think it may be specific to the UK ISO and maybe other languages. I am reformatting my SP3 with the US version now to test.

Sweet, let me know how it goes! Not sure if I'm ready to reformat, but if that makes a difference then it may help find another solution or at least provide more detail for a bug report.

Okay, this is a bug and will be fixed in an update, only affects SP3 and is related to a graphics update in system hardware update 01/22/15

Funny, that exact updated fixed a lot of things I noticed when first installing this latest build (screen freezing, flashing black, device restarting). Also interesting it only affects one specific regional variant. Thanks for testing that out!

It actually is affecting any language. You can disable GPU rendering in IE advanced settings and Video will play in IE. If you install the latest intel driver from Intel's website it also solves the problem.

Awesome, I'll try that. Fixing IE will be handy (websites with autoplay HTML5 video are a pain). But the drivers sound like a good idea as I use Plex a lot. I can always roll it back once it's fixed. Thanks again!

Tiles are not updating very frecuently! There is not modern IE as of now, right?

No point when Spartan is on the way.

One problem I found is, that clicking on the "System" menu does crash the "Settings" app.

After a few hours of trying out the new build, I rebooted the PC and opted for the roll back. I just don't like the 9926 build. Despite some of the new features being quite good there was a lot more features that just sucked and/or were really buggy.

The 1st issue is easy to fix. Just follow this
http://answers.microsoft.com/en-us/windows/forum/windows_8-windows_insta...

I made the mistake of putting this on my main computer. Both my video and sound card stopped working properly when I updated to this. I'll wait until it actually comes out to use it again and they have actual new drivers for it. In the meantime back to 8.1 where everything works like it should.

Yes! There are certain bugs in Windows 10, but it is just a Technical Preview given here. They will resolve this issue and will launch it again. Hoping, windows will rock again with Windows 10 like its other versions.
Windows Central Newsletter
Thank you for signing up to Windows Central. You will receive a verification email shortly.
There was a problem. Please refresh the page and try again.