Here's what's been fixed and what's broken in the Windows 10 Mobile preview build 10549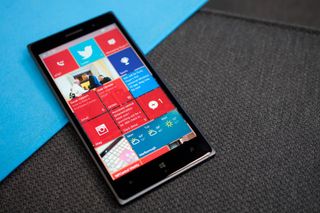 Microsoft has released the Windows 10 Mobile preview build 10549 to members of the Windows Insider team. It has also published a list of what's been fixed compared to the earlier build and what known issues are still in this new build.
Windows Insider head Gabriel Aul posted the list of the fixed problems in build 10549:
The Windows Camera app no longer crashes when certain applications launch it to capture a picture.
We fixed an issue where the touch keyboard would get dismissed every time you sent a message, which made sending 2+ texts in quick succession difficult.
We fixed an issue where swiping away a notification was causing the notification icon to appear top of your screen.
Screenshots were not being properly saved resulting in many top social messenger apps such as WeChat, WhatsApp, LINE, WeiBo, and QQ unable to find saved screenshots. This has been fixed.
We fixed an issue where you couldn't cannot launch apps saved on SD cards after reinserting your SD card.
Pinch to zoom should work properly in the Maps app now.
We fixed an issue where trying to set a custom ring or text tone for a contact shows a black screen for 10 seconds, then does nothing.
We have added back vibrate-only alarms.
We have fixed call-blocking.
There's also a short list of known issues:
After upgrade, you might be missing a few apps. If you experience this, the workaround is to reset your phone.
After rebooting your phone, you won't see notifications, such as new messages, until you unlock your phone for the first time. After that, you should see notifications for new messages just fine. This bug is fixed in a later build.
You will be unable to make calls with Skype for Business, WhatsApp and other apps after upgrading to this build. The workaround is to uninstall and reinstall these apps from the Store.
Of course, the biggest known issue with this build is that people who have the previous 10536 build will have to downgrade back to Windows Phone 8.1 in order to get the new build 10549.
Source: Microsoft
Windows Central Newsletter
Get the best of Windows Central in your inbox, every day!
Finally. I love the stability of 8.1 but I have been missing windows 10 goodness. Ready to upgrade and hope my 640 XL can handle it.

in the same boat. have the lumia 1520 - even downloaded insider app and the W10 mobile build - then chickened out - keep tapping "not now" for install for over a week now!

Same for me, though I tried to install the GDR2 update... But it automtically gave the Windows 10 offer. Would like to know how to get rid of the update message! I tried uninstalling the insider app or even logging out but without succes...

If the update is downloaded, you can only get rid of the reminder by updating or doing a hard reset on your phone.

I was in the same boat. You can't get rid of that update until you either install it, or hard reset. You can't even get the future updates untill you get rid of this one. I had a notification for a build a few months ago, which I didnt want to install because reports said it was buggy. When newer builds were released, I didnt get them. I had to hard reset.

same here. waiting to download a stable version on my lumia 638 somehow i got the denim update through insider app

I wouldn't say the stabiity is the same as 8.1 not even close.

After a few false starts in the 920 it is working better than any previous 10 build. The camera seems wonky and didn't save the pictures.

12 Hour later with this build on my ICON and I sadly have to say battery is worse..losing 15% or more an hour. It may be that Cortana Bug.

I would be almost happy with 15% per hour, my 930 was 30-40% per hour... Basically a QI charger barely kept up with the battery drain. Now with same usage on 8.1 is about 3-5% per hour.... There are many good things in Win 10 mobile, but its still need a lots of care...

Yes!!! QI charging is terrible with my ICON on Windows 10...glad you acknowledged this...I still use it but I break out the wall charger for faster charging...

I'm on a 920 as well and am unable to connect to the internet via wi-fi after this build was installed.

Hi, can you help me please? I also have a L920 and when I pick the 175% display option, I can not jump through applications by pressing the back button: Do you have the same issue?

Searched for update but showed your phone up to date

Mine says this continuously

Did you read that you have to be on 8.1 to get it?

Can't update from windows phone 8.1... :(

So hey guys. I'm kinda on windows 10 mobile build 10536 and last night i got an updat efrom microsoft saying windows 10 tech preview 10549. its strange cause i know that only windows 8.1 is getting the update. also the download is stuck at 0% :( what should i do reset or just leave it

You have to go back to 8.1 and then update

Seriously i have to go back to 8.1 and then upgrade? Noooooooooo

You don't have to, but if you want this one, then yeah...that said, if the current build is working for you, stick with it. Always do what's best for you and I sincerely hope you're not using on your main device... O.o

Yeah the 10536 isn't working for me. Messaging and outlook sucketh.

yup its up to u.....its natural if u follow development......

It was suprisingly quick for me like less than 3 mins. I don't know if I had predownload 8.1 files or something but I was amazed by it lol

Yes ... If you used your Windows device recovery tool for your phone on same pc & same phone... Firmware is not downloaded again.
I am using that same downloaded firmware for like 5-6 times

Does this mean that I need to have a Windows 7/8/10 PC in order to downgrade to 8.1? It seems to me that the WDRT only works there.

The intial rollback was that fast for me. I think the 3rd critical update is installing now for 8.1. Seemed faster to start, not so much now :( The new build will be worth it though.

It's so they can test the upgrade path most Windows users will be undergoing.

They need to test the upgrade path NON-INSIDERS will be taking this winter. This means they are getting closer to RTM build. As Aul said, thanks to those that help and choose the extra work.

This is logical since the RTM will require a clean upgrade from 8.1. It might be an indication they are getting close to RTM.

Nothing about bringing "Hey Cortana" back to supported devices. :'-(

I know I want it now!! MY ICON SHOULD SUPPORT IT :(

Especially when driving!!!

Hey Cortana is a big drain on the already small Icon's battery anyways.

I think this update is for limited mobiles

Did you install the insider app

Make sure you are running wp8.1 when searching for the update. Make sure you have downloaded the insider app and that u have re-enrolled on the fast ring. Then search for an update and you will find it

It's working great on the Lumia 640XL. That's what I have.

What about 10512, can I get this from that build..? =[

It says only 10536, maybe yes

No u wont.. U'll get 536 after 512

I want floating keyboard in smaller screens

The keyboard will float out of the small screen and rest on the surface (not the Surface PC) beside the phone so be careful what you wish for.

Going to skip this one. I just set up my L920 with 10536.1004 after a failed update with sad face screen, recover back to wp 8.1, then updated to 10536.... So I'm not gonna go through that much trouble again with a build that seems like won't change my life too much. I need Cortana to be working again in Canada, one of the newer builds made it dysfunctional in canada no matter what settings I did.

It mentioned Cortana working in Canada for the new build.

He obviously didn't read the article.

I will skip this one too! Went through exactly the same trouble as you. Will wait for the next build with more features and overall stability updates.

Me too. I just hard reset my phone and upgraded to 10536... Not gonna go through all that trouble again

Has Microsoft added "vibrate+ring" in Windows 10?

Is WDRT site is down ? I can't download it. http://go.microsoft.com/fwlink/?LinkID=525568

What's the performance and stability like? I tried W10M for about 2 months, but the speed and the constant crashing forced me to go back to 8.1.

Pre 10536 fantastic. 10536 gave me major headaches. Apps that restore data after installation fail to complete installation, for instance. This means I can't install most apps. I also had terrible issues with messenger. It was unusable. I'm going to revert to 8.1 and take this update to help with data and to see if those issues are resolved. Not getting text notifications is a big problem for me.

Waaaaah! I have to do something that's totally voluntary to do something that's totally voluntary?????????? The insanity!!

Seems like you had a bad day

Am gonna try it.I have put my phone to hard reset .Waiting.Hope everything occurs successfully.

Go back or go to jail. Those are your options. THANKS, OBAMA.

Treasure Tag is still not supported?! Can someone try it later? https://www.microsoft.com/hu-hu/store/apps/treasure-tag/9wzdncrfj3dw

Downloading right now.
Gabe also tweeted:
@GabeAul Gabe, no mention in the blog of fixing the screen loading issues that have plagued many of us. Is that fixed or improved?
@abuccijr We fixed the bug that was causing 99.9% of this. There are a few corner cases still and we're chasing those down. @GabeAul No words on the Battery Usage/drain, can you say something is it better, than last Build?
@NN2710 There are a couple of fixes in this build, but we have a big one coming still. Cortana BG usage can be super high in some cases. So i'm curious how this new build feels, i use it as my daily driver (L830).

Corner cases? So I can wavedash on Windows 10 now?

I'm hoping it fixes the new Messaging apps huge battery drain.

As some of you complete the upgrade, are you able to start piling on a pile of apps (100+ total) and pinning a lot of them (50+) to the Start Screen, then perform a restart and see if the Loading... or Resuming... bug still exists? (These numbers are a bit high, but I'm just wanting to be certain. I'm still looking to update myself anyway, but it'd be nice to know...)

I need to know this too :(

Mine is "Preparing to install" so I'll give it a whirl once I'm back up and running. :) It's not mentioned in the current release notes, but it was _supposed_ to be fixed in the last build, so fingers crossed that's why nothing was mentioned this go around. :)

Why in the freaking fudgity fudge can't I download it..??!!??!? Driving me nuts... Keeps giving me errors... And yeah I m on windows 8.1

It _might_ be that Windows Update is being slammed at the moment. That's all that I can wager. I started my update and then went for lunch and by the time I returned, it was prompting me for when I wanted to proceed with the install. Sort of apples to oranges, but updating Windows 7 on my tablet to Windows 10 on the weekend, it'd go 5-10% downloading, then error out, then I'd have to click Try Again and it'd go another 5-10%. Lather, rinse, repeat. So maybe WU is just under the weather the past few days. :)

refresh your insider preview app settings maybe?

This is exactly what I'm waiting to hear about. Wish the WPC team would mention it. It's kind of the biggest bug of the previous builds.

Waiting for this info, too. Having only one device keep me holding up from testing new builds. I've upgrading view times in the past and this "resuming..." thing render my phone useless for sometimes. I'd rather not going through all these again until it completely fixed (or at the very least, that 99.9% Gabe said is actually 99.9%).

I'm still seeing some intermittent "Loading..." activity though I've not yet had a moment to hard reset. I meant to today, but no dice. What I'm seeing now tends to be resolved within a couple minutes. So it's certainly better than what it used to be.

So nothing to improve the overall speed and performance?

I think that's always a given that that's improved each build.

Im surprised they didn't mention it, but in twitter he answered they fixed a lot of performance and speed bugs.

Thanks for this new build
Ready to upgrade my Lumia 730

Rubbish, why shud I stress myself and waste my data plan to downgrade to windows 8.1 before installing the new build? MS u fall my hand....

Why would you have to use your data plan to downgrade to windows 8.1?

You are willingly testing out Beta software so if you don't like the inconvenience that comes with that then I suggest you just stick to 8.1 until 10 is complete.

Exactly. Why don't people go find some wifi to use instead of burning up their data plan?

You don't have to do anything, guy. They stated why they opted for this route for this build. If you don't want to do this, then no harm done. Also, go to McDonalds and use their WiFi if you have shitty plan and/ or no home WiFi. FFS people are terrible with their entitled attitudes. This whole program is voluntary GET OVER IT.

I wouldn't go pointing them to free WiFi solutions. Have you ever tried to download anything on a free connection? Let me spoil it for you, it takes too long to feasibly do that. You an barely load a website with free mcdonalds WiFi, much less a 2GB update.

Someone should talk to you about Wi-Fi.

you can't even use your data plan do downgrade.. THAT has to be done from a computer!!!!

I will wait too for next build. Will not go back a forth time to 8.1.. Can live with 10536 build though in need of new build. Phone has slowed down remarkable and twitter and windows central are very very slow loading.

Do a factory reset. I had same problem. Now its everithing verry fast ;) build 10536 Lumia 640xl lte

I don't know why Microsoft dosen't give fully concentration on Windows 10 Mobile. Users are getting bored day by day.

Bored? You've missed the point of this program.

Love how the caveat about those of us on the most recent build must downgrade is in the bottom of the list. Not nice.

You're behaving as if Microsoft is being sneaky or something. It's a case of whether the good news or bad news first. You're a TESTER. They want you to test the upgrade path from 8.1. If you don't like it, you either go back to 8.1 or wait until the next W10M build where they fix the incremental upgrade. You signed up for this, man... Suck IT UP!

I'm convinced. People are childish idiots. This makes me sadder and sadder each time I read this trash... "what?? You want me to test? Sure, I volunteered, but I just wanted everything to work and not take any risk or expend any energy." Insufferable brats.

And I'm convinced that calling people names is unnecessary, and only creates a hostile environment here.

Looking at what they fixed, I'll stay at 10536. There's absolutely nothing listed worth doing the down to 8.1 and back up again. Not mention what if there's a bug with this build and you have to go back to 8.1 to get the next build.

Hey guys..here we go I will update my Nokia Lumia 630 tonight it is downloading now ...i will try it .please tell me if it is safe to update my Lumia

single biggest reason, why i am going to revert to 8.1, and install.............Gabe Aul claims that it has solved the Loading............ for 99.9% of devices, which to me, is the biggest problem with W10 mobile at the moment.

going back to 8.1? again? ugh... hope they find a way to let us upgrade from current builds... I guess I'll see if I have enough spare time between work and MGS TPP to go back and forth with my phone :)

Gabe mentioned that.. the found the problem last night. and instead of delaying the release totally. MS released this update with the caveat that we have to wind back to 8.1

Pass on this build. Not going to spend three hours trying to reset my phone to upgrade it again.

Id install it but my 1020 test device wont roll back to 8.1. Ho hum

Using the tool it wont roll back? Boo! What is the error?

does anyone know if mobile hotspot actually works on the Lumia 920 now? I guess I'll just have to flash back to 8.1, upgrade, and try it out. If it still doesn't work, i will be very disappointed.

Hotspot was fixed in build 10536

It works in general, but dropping printer/scanner if connected to it, tried it many times...

Did they fix the looping Loading start screen yet?

Fixed in 10536...the last month build .-.

Except that it was well documented that it did not. :( I was one of the unfortunate ones that were still stuck with the bug, even after a hard reset. There are a few of us in the forums crying on each others' shoulders, sharing war stories, trying to cheer each other up. :D Gonna see soon if it was fixed for good in this build... Fingers crossed!

Haha maybe the should hire this person working part time on WP full time? This is just sad.

Lol at the idea of an OS being worked on by one person

So so disappointed. This is the second time they found a late upgrade bug.Isn't that one of the first thing that should be discovered? There must be someone at MS that upgrades.

The "Roll back to Win 8.1 to install" Bug

So, what about the performance?

2 months, 2 builds, and not much to show for it. Yeah, I'm frustrated. I'll be skipping this build. I'll have another look in about a year.


Good. You weren't here for the right reasons anyway and were always going to be disappointed. See this crowd in all betas

Oh. And I suppose your going to hold up Win 10 mobile's development as the model for all others to follow? Get your head out of your ass. It's been a mess. Go troll someone else's comment.

Anyone updated there Lumia 720 to windows 10 ???? If yes then tell me how is the performance ??? I'm going to update my phone to windows 10 mobile.... Plz suggest

512 mb RAM devices should not be left out, I need to have a pretty smooth experience with Windows 10 Mobile on my low end phone before upgrading to a Mid or High end device, and so are many out there.

Can anybody tell reason for this,I am using Lumia 730 n my bro using samsung j5,here in windows phone "hey cortana" is not working for lumia730.but Samsung j5 have approx same specs,same processor,but "ok google" works fine....i think both assistance are same,,,so y this difference...

It's sort of difficult to make a comparison between those two. I believe Hey Cortana requires a couple specific things, the least of which is the correction regional settings. Yes, functionaly the services are similar, but that's about it. When you attempt to enable it, does it indicate why it failed? I know in my case, it tells me it's because it's not available in my language (English (Canada)). If I switch to English (US) it works. But I seem to recall that it only works on certain phones too (I use a 1520), but I might be waaay off on that last bit. :)

Hey, I'm on a 1520 as well, but I have not been able to get "Hey Cortana" to work. I am on the current build (not 10536 yet). Can you tell me how you got her started? Thanks in advance.

I have th 1520 as well but havent pulled the trigger on the TP yet. One of the reasons is the Hey cortana issue and the other is concerns about the band v1orking with 10

I have the Bandv1. Works very well.

Sorry, I AM on Build 10536. Not yet on 10549.

I just made sure that everything was set to English (United States) including region, keyboard, and speech. Once I did that, Hey Cortana was available for me on my 1520. :)

Oh my god! I am in the same time excited and scared. Very scared. Hope it works! I will gonna start download in a few minutes. Or not. Decisions, decisions...

Something about the day by day horrible performance degradation that is plaguing current build? It's scaring that Gabe doesn't seem to have acknowledged it yet, but it's pretty noticeable after a week or two.

It's interesting that you mention that, but I started to notice the same thing with the last build and assumed it was my imagination. I'm even leaning a bit towards thinking it is what led to my Loading... and Resuming... Start Screen loop, though that can be a bit difficult to pinpoint since it usually only manifests itself after a restart, and if you go days or weeks without a restart, it might suddenly appear then.

There always seems to be bugs or performance issues that go unspoken about. It took them 4 or 5 builds before they finally acknowledged the start screen bug.

I had a small conversation with Gabe on twitter... He suggested some Cortana on background issue... but many of us facing this problem do not even have Cortana. They basically do not know why the performance slows down over time as "Slowdown over time is one of the toughest things to debug, but we're sorting.", he said. At this point/time, a statement like that, it's kind of scary. I hope they will be able to fix it on time.

so i can set ringtones now? and cellular data works?? anyone can confirm?

I had to reset my L 1520 a few weeks ago and then reload to 10536 and when I did I lost previous upgrades that allowed me to choose custom ringtones. Since then I have not been able to do so. I'm not going to downgrade again and then upgrade cause who knows what I'll lose this time.

Yeah, I did the same...frustrating...anyway, you can solve the ringtone issue converting files to m4r...

Thanks, that worked perfectly! Now Frank's ringtone from the movie Crank works as before!

My biggest beef w/ 10536 was that after a hard reset - which they recommend after the upgrade - I lost my Messaging app and needed to use the Skype Messaging app, which crashed 3-5 times for each message I tried to send. :/ I understand they quickly discovered that bug and a re-upgrade would have resolved it, but by then I had already rolled back to 8.1. On the bright side, that's set me up for this upgrade. :D

I lost my messaging app too but was able to get it from the Store.

I was wanted to start the next update with 8.1 anyways, so having to start this update from 8.1 worked out for me. so far 58% on the install, fingers crossed for a fixing the load/resume search that I had to do before due to barely seeing a start screen.

Dear give me another phone for upgrade this build

Don't download this build on your primary device.

how about the "Loading....Loading....Loading....Loading....Loading....Loading....Loading....Loading....Loading...." fix?

A couple of us are hoping that it's resolved. :) I'm at the gears now, waiting... I hope to know soon!

Gabe said on twitter that 99.9% of the occurances of this were fixed. But people i don't think have this build running just yet or played with it enough to fully see. SHOULD be better though.

I'll give it the gears and find out! After it's done giving me the gears, anyway...

Nah...536 runs ok with 930...but thanks, ill wait :)

My next phone will run iOS

My current phone does, I'm looking forward to moving away from it when the 950XL arrives. Have played with W10 on a 640XL, and bugs aside I prefer it more than iOS. iOS isn't bug free either, I've had issues here and there with apps freezing, and random reboots. The OS isn't as solid as it once was IMO. Been using it since 3.0.

Slowest download ever.... On 4% for ages.

I wish there was a big fat article that reminds the people they are TESTERS only so they should stop complaining. Seriously.. how can you agree to those terms and then complain about them?

Those excited People just want a daily driver hehe

There is no article because no one is officially a tester. The terms you agree to are about using pre-release software, not "testing".

Didnt they hold off on releasing the last build to prevent us having to downgrade again? Or was that another build?

yes, and we had to do 3 installs to get around it! then this! oh well seeing as we are near the end (I hope) this better be the last time!

That was 1 build previous to 10536. They held off, then the 10536 installed the broken one then immediately upgraded to 10536. But there were 2 builds held between 10536 and 10549.

Hehe yes next build will have only one improvement that you can download it from current build..hehe

Mine's stuck on spinning gears with no progress at all for 30~ minutes :(


My 1520 was stuck for a few minutes, then would quickly grind through about 25% of the bar, then be stuck for a few minutes. I'm sure it'll take off for you soon!

I had a black screen with a bit of backlight for 15 minutes, then We're Getting There... appeared. Wiped a bead of sweat off the forehead.

Me too! My 1520 did the same thing and I was dreading having a brick until I got home from work for a factory restore. It's at the "Almost Done" stage now though. Phew!

Hi, can you help me please? I also have a L920 and when I pick the 175% display option, I can not jump through applications by pressing the back button: Do you have the same issue? I need a workaround =(

Installed..... super fast... loading and resuming issue fixed .. well done Microsoft :)

Seriously? What phone are you using?

How many tiles do you have on your home screen? I won't believe it's fixed until someone shows me 50 tiles and in or out of folders and no start screen crashes.

i have 44 tiles including folders, and 26 Tiles inside the folder, total 70 Tiles in my start screen.

The loading... issue is not fixed at least for me :( I suppose I have so many tiles on start screen. And this is very severe type of loading: I cannot see the start screen at all, it just indefinitely loops and shows "loading...". By opening search on correct spot I've managed to see the start screen a couple of times and then phone has been quite fast even. Then after a while phone falls back to thie "loading..." hell. I'm planning to make a detailed error report via Insider Feedback to Microsoft as this is a showstopper for them. Lumia 930, downgrade to 8.1. Restore 8.1 backup (with many tiles), upgrade to W10.

Now it`s over an hour and the gears are spinning! Yet!

No fix for the crashing start screen on Lumia 930?

Nope - still stuck Loading.. on my Lumia 930. How they can release builds with this bug amazes me - in a bad way!

Fixed for me, when i recovered to 8.1 i didnt restore at that point. Did all the updates and then a hard reset when on w10m and a restore then. Phone works so well now, no freezing, or loading screens at all as yet. Even the camera loads from the button instantly!

Question...I did the downgrade to 8.1 and then immediate upgrade to thios build on my ICON...first message I got was "welcome to Cyan"...did I lose Denim?

It happened too with the previous build, for everyone, AFAIK.

What is the actual firmware number for Denim, so I can just verify if it happened for real or not?

i had this! i wonder if the new recovery tool is installing the older cyan, then getting the denim off your network provider? either way it delays the update process by about 30 minutes!

Yeah before I reinstall everything again, I want to confirm if we need to redownload all of the 8x updates first and then go to Insider Build...

I think you do. Happened with my 1020 before so this time I did the 8.1 updates prior to installing 10. I only did one which gave me denim.

I verified...when you go back to 8.1 on the ICON, it IS Denim...just not sure why it says Cyan when you upgrade to 10. I am sadly going to have to go back to 8.1. Battery life is much worse and I am guessing it is due to this Cortana bug now. It is dropping 10 % or more in 45 minutes.

Downgrade to get it??? Awww man :s Sorely disappointed

That's why I have 2 640's one on 10 and one on 8.1. So for me no going back needed already there. Then I'll take the current 10 and go back to 8.1 after the current 8.1 is on 10549. Confused? HAHA

What..?no update showing in my lumia 640xl and 535

If you are on that last build, you have to revert back to 8.1, redownload the Insider Preview and then go to this latest build.

I'm glad the answer to a lot of those is "reset your phone" as I do that every new build anyway: reset to 8.1, upgrade, hard reset and then setup as a new phone (with the last build setting it up from the 10512 backup I had really messed everything up). It's a long process though, but so far much quicker than the last build. It's just on the last step but I'm coming up on 2 hours now...

Has anyone tried this new build on their lumia 1020? Curious to know if the battery and camera performance have improved in the last two months?

is it me or there was an article this mornig hands-on with Surface Pro 4 but it look like it have ben remove... I can't find the video on youtube?

FFFFF! I'm getting the "Loading..." loop on my 1520 after performing the upgrade. D'oh! Gonna do a hard reset now and see what happens, but that's never resolved it for me in previous builds. :/ Fingers crossed though... if there's something to be learned with W10M builds it's that just because something happened in earlier builds doesn't mean it'll do it again in later builds. Of course, this will make further testing more difficult until I get home, since a hard reset won't have much in the way of apps installed, and I don't get the glitch until a lot have been installed. Maybe that's what Gabe meant about it being fixed for 99.9% of the people out there... maybe I'm the 0.1% of weirdos that have waaay too many apps installed. :D

This is exactly what I wanted to know. How many apps do you have on your start screen?

I have approximately 70 items pinned to my Start Screen, including Word, Excel, and PowerPoint which are in a folder. I have not yet hard reset the device, but I did turn it off and back on, and it seems to work, for the most part. (I had one moment where it did the Resuming... loop twice, then the Start Screen opened.) I do not want to give any false hope, but this does make me at least a little optimistic that maybe a hard reset will resolve this. As it is, it's at least usable, whereas with the last build, nothing short of waiting for approximately 45 minutes would see the Start Screen eventually load. (The last build even worked _generally_ well for me, but Messaging for Skype would crash frequently and it was those crashes specifically that seemed to consistently trigger a Loading... or Resuming... loop for the Start Screen.)

Dear Microsoft, I switched back to 8.1 weeks ago so I beat you to it. Ha! I'll give the old Lumia 920 a spin when I get home today. Posted via the Windows Central App for Android

i want to know what apps are going to be missing? should i hard reset before restoring my backup? i would quite like to keep Lumia Camera?

If it helps, they did add Live Images to WINDOWS Camera...but I believe we can find a link to Lumia Camera and install it...

I can't wait to get home and update. Acquired a nearly brand new Samsung Galaxy S5 from my granddaughter (needed money) and switch to it. It has some nice features and a couple of apps that aren't available for Windows. It's slimmer and lighter than my Icon and fits my pocket better but I hate the damn thing. I miss Cortana for reading and replying to text while I'm driving. Ok Google is a piece of machine voiced crap. Had to pay $3.99 for a separate app to read text over Bluetooth and it's not as polite and won't ask of you if you want Cortana to read it or ignore it or if I want to reply or am I done. You have to swipe left or right to view these tiny little icons that just set on your screen and do nothing. I just want to swipe up or down, not remember on which page the app I want is. The only bright side is the Microsoft apps that work pretty good. Unless Andriod 6 is anywhere close to WP10 I'm going to sell it to someone who has the misconception that Android is superior to Windows Mobile, which it isn't .

looks like the have upgraded the install system. what used to be 21 steps is now only 9! but step 1 is taking ages!

Downgraded. Then upgraded then reset in 930. Jesus night and day speed difference. Store opens straight up. The windows central app is now back to instant open. Just installing all my apps but I would say night and day difference in performance

Many people seem upset about having to downgrade to WP 8.1 and back to Windows 10 Mobile; I'm already doing it right now because I'm excited enough for the new features and the bug fixes. Plus, I love going to 8.1 to remind myself how much I enjoy 10 more LOL.

I can't install WINDOWS DEVICE RECOVERY TOOL either on my Lappy or my PC... It is showing some hash error :-( ... Followed the steps on windows central forum about this error but still isn't helping...ny helps plz

Installed it on my lumia 630, and its working Great for the moment, no resuming screens. Haven t even hard reset yet

Bricked my phone yet again. I got a 1020, and my start screen is nothing but Loading... Loading... Loading... Happened with the last build, and the same goes for this one. Welp, looks like I'll be using the Windows Device Recovery Tool. It is literally unusable. I can access settings, but no apps unless I invoke cortana. I wonder what it is about my device that is causing this, since it seems other 1020's seem to do okay on this build and the last.

Try disabling Wi-Fi, locking the screen, then unlocking it, enabling Wi-Fi again, lock and unlock again. It used to work for me most of the time on the previous build (on my 630). But I have hopped they would had fixed it. It's a major bug and it's there for more than three builds.

If anyone is using an AT&T Lumia 830, going back to v8.1 will get you the real Denim firmware in the process. It might be worthwhile for that along the way. Of course, re-installing all of the apps is a pain, but at least 8.x+ has backups for some apps for when you reset your phone.

my wp does not display notifications for whatsapp, telegram etc. after a soft reset its shows with 20s delays. whatsapp only shows count on live tiles not on the notification tray. am on w8.1. messages only appear when i open the app. testing on the same wifi-network, my other device on android gets the messages instantly. also my message gets delivered to my colleagues, but wp does not notify me about them. selected "allowed" in battery saver and banner alerts, sound, vibration are selected.

Anyone already install the new build? Toughts?

This build is so much faster, polished and, yes I downgraded to wp8
1, installed win10 build and did a hard reset, but I love windows 10 mobile. It's almost as fast as wp8.1 on Lumia 640 :-D

Posted on the Preview forum: Just finished the update to a new build. I'm assuming that since we rolled back to 8.1, which creates a clean phone, the upgrade to this build MIGHT not need a hard reset?
I will know more after the loooooong list of app updates is finished. You pretty much can't test drive the new build until it finishes downloading apps and installing them. Phone is pretty busy even though you are looking at a fresh start screen. Edit: Update.....all apps have downloaded. Man, the store is far crisper now. And no evidence that a hard reset will be needed. (so far)
There's cleaner code running underneath this build, in my opinion. You can feeeeeeel it. Some proof is I reloaded the WC app after abandoning it in 10536. (unusably slowwww) It still has a hint of delay compared to 8.1, but much snappier (ish)too. I doubt seriously any code in the app changed, so it's core code that did.

Rolling back is pain in the ass, as i dnt hv extra Lumia it is my daily driver.will wait for d not one

I'm in build 10512.. So I can update or not??

I'm rolling back to 8.1, and I'm leaving it there.

This seems a minor update, not really worth the time, so I won't update it till 10565 or above. At least give me a working Edge, it crashes a lot on my lumia 1320

Works Amazing on Lumia 640 and on my 640XL hard reset after install always makes for better performance

Same here ... Even I am feeling awesome..

Hello, does anyone know if the Outlook issue (no outgoing mails) with POP/IMAP mail server accounts has been fixed with this update? That's been the biggest issue I've been facing since updating to 10512 & 10536. Gmail works fine, though. If this mail issue has been fixed, I wouldn't mind taking the trouble of going through downgrading and then updating.

Downloading updates 9% ...... Its not all moving Further ...

L535, reverted back to 8.1 from previous build because of battery drain, slow app store and resuming issue, now on this current build again. Seems like these issues are still there, going to try this build for few days :-)

Did they fixed connection problem with wireless wi-fi external monitor? On 10536.1004 it didn't work.

hmmm decisions decisions.. do I update my daily 930......

everytime I am doing this update I regret, I'm tired to test on my daily 930 !
I have no trust in Windows 10 mobile

I use it on my daily 930, the previous version was poor (very poor). but a fresh install of 8.1, upgrade to w10m, hard reset and restore. its running perfect at the moment

"Pinch to zoom should work properly in the Maps app now." This is what I can't get into my head: MS made it perfectly clear that apps updates will be separated from the OS updates for good, hell even the Settings is an app. So, why on Earth is this the second update in row that "fixes the zoom"? Apparently they couldn't get it right in the first round (how is that even possible???), so round two here we go. What does Maps have to do with OS update? Besides all this, the list of bugfixes is infinitesimal when compared to the issues with the OS. There will be a massive shitstorm related to W10M later this year..

Finally!!! the last version practially killed my phone, battery lasted half a day at most. A full refresh has done it a world of good, like having a new phone! very quick and responsive (930).

So after the long wait this is what we get as an update not been able to go from previous build, its very nice of Microsoft

I'm going to wait for a more stable build before going to WM10. Having to get back do 8.1 to go to the last build is ridiculous.

I think for a system that will go out in 2 months, still has very basic problems....

My BIGGEST disappointment with the mobile OS is the lack of support for the Band / Cortana interface. With 8.1, my Band can talk to my phone and make life a whole lot simpler. It has never been available in Windows 10. I've asked GabeAul on Twitter repeatedly about this and not even a flutter of a response. It amazes me that Microsoft now offers a Band 2 while advertising new Lumias with Win 10 mobile, and they market the ability to use the Band with Cortana on the phone ... but it is not there. If anyone knows someone at MSFT, I'd sure love to know if / when this feature will be brought back. If not, then MSFT needs to take it off the Band ads they have plastered on the net.

I installed and it works. No more "loading..." at returning to the start screen. Works very smooth in Lumia925 Edit: "loading.." screen is back. Unfortunately smoothness only last two days. It's draining the battery super fast and phone becoming hot as hell if I use internet.

If I try to change the fast actions in Action Centre, it works for others but not for Rotation Lock. If I try to replace Rotation Lock with something else, Settings crashes. Despite information to the contrary, Cortana doesn't seem to work with region and language set to Australia. The speech files refuse to download. Cortana uses funky, non-English characters in her Quiet Hours auto-reply.

With this build I cannot connect to my Bluetooth headphones and carkit. Do more Windows Insiders have this problem?

...is it just me? I tried the new build but the controls and icons on the viewfinder of the camera app is missing. ...do i need to do hard reset on this?

lets be honest i a gree that wmp 10 has many feature over 8.1 but still behind android and ios it it take to much to release , android already luched 2 os version since windows 10 start

not able to downgrade to 8.1 with windows device recovery tool for 830. Anyone succeeded?

After hard resetting my phone, I'm horrified to see that the message app is gone! And the version is still windows 10 preview.

when is the next build comming up?

«We have added back vibrate-only alarms» — so, where it is?