Here's what's broken in the first wave of the New Xbox One Experience preview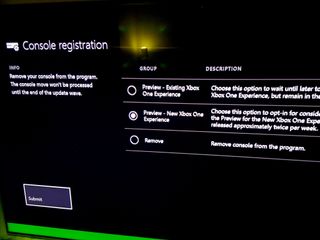 Along with the first round of invites going out to Xbox One preview members to check out the new Windows 10 based experience, Microsoft has published a comprehensive list of known issues.
To be clear, this is not a normal Xbox One preview update and initially there are a lot more issues than you'd see on a regular monthly rollout. The list has been posted in full in the Xbox One preview members forums, but we've transcribed it for everyone to see below.
Games and Apps: The following are known issues with specific titles on the initial New Xbox One Experience updates.
Games Failing to Launch: The following games may fail to launch:
Guacamelee: SCTE
Unmechanical
Elite: Dangerous
Pool Nation FX
D4: Dark Dreams Don't Die
Xbox Fitness
Skylanders
Destiny: The Taken King
Game Compilation Discs (ex. Borderlands: The Handsome Collection, Saints Row IV).
Forza 6: You may encounter graphical errors (screen turns a blue or purple hue) when participating in races
Assassin's Creed Unity: Installing Assassin's Creed Unity DLC while the game is open will cause it to crash when the DLC finishes downloading.
Elder Scrolls Online: Logging in to an existing character will cause an error indicating you do not have network connectivity and prevent you from connecting to the server.
Titles with DLC installation issues: You will be unable to install DLC from game collection as no manage UI is present. Simply download the DLC and bundled title from the Store.
Apps Failing to Launch: The following apps may fail to launch:
ABC News
VUDU
SlingTV
WWE
Showtime Anytime
Every Street United
BlinkBox
TWC TV
Apps with video issues: The following apps will launch but videos or streams will not play. - SyFy - USA Now - BravoNow - TED - MLB
General System Issues
System Update Errors: If you encounter an update error screen while downloading a system update and the console freezes, please wait 3 minutes before rebooting the console to ensure crash data is captured. Crash data is submitted automatically; no action required on your part.
Party Chat: When entering connected standby with a party chat session open, after resuming from connected standby party chat may no longer function. Workaround: Hard reset the console.
Xbox Button: While holding down a button on the controller or plugging in a racing wheel and pressing the Xbox button, the power menu may pop up after which the Xbox button will fail to recognize input. Workaround: Hard reset the console.
Automatic Downloads: Content purchased from Xbox.com will not automatically download to the Xbox One console. This feature is planned to come later.
Browser: You will be unable to use voice commands in the browser; using voice commands in the browser will likely cause the console to hang and require a hard reset to resolve the issue.
My games & apps: After downloading a system update My games & apps may fail to populate. Workaround: Hard reset the console.
Games stuck in the queue: You may find games are unexpectedly remaining in the download queue.
Notifications: Friends do not receive game toast notifications.
Live TV: The following issues affect the Live TV experience:
Cable/Satellite set top box compatibility is not yet at parity with the current Xbox One experience. Please continue to report video playback and audio issues using the Report a problem app to help us improve the experience. HDMI troubleshooting steps:
Go Home and press the menu button on the OneGuide app to quit, then restart it.
Unplug and re-plug the HDMI-in cable from the Xbox, ensuring it's seated securely in the port.
With the Xbox One turned on, pull the power cord on the cable/satellite box, wait a few seconds, and plug it back in.
Press and hold the power button on the front of the Xbox One to perform a hard reboot of the console.
Dolby Digital surround sound will not work for Live TV.
App channels cannot be set as a Favorite.
The "Xbox Snap TV" voice command does not work. You can snap TV via voice command by saying "Xbox Snap OneGuide" or choosing OneGuide from the Snap Center.
The OneGuide pin doesn't function. You can launch OneGuide using the app, voice commands, or from the OneGuide twist.
You may experience a stuck frame streaming TV to the Xbox App. You can enter OneGuide or resize your window to restore video playback.
The media transport controls do not work when streaming TV to SmartGlass and Xbox app clients.
When resuming from connected standby the Xbox One media remote may fail to send commands; a hard reset resolves this.
Community Twist
Currently this area is not fully populated with content and is missing large sections of the user experience. Activity feed content also may not be actionable and items on the trending items second level screen have not been fully tuned. As Preview moves forward content and features in this area will light up.
Xbox App/Smartglass
SmartGlass and Xbox App Live TV/OneGuide: You may experience issues connecting to Live TV or OneGuide when connecting to the console with SmartGlass. Workaround: Set your SmartGlass connection to auto connect, quit the app, and restart. If the issue persists, hard reset the console.
Basic SmartGlass functionality is now available including gamepad navigation, touch navigation, remote text entry, media playback control, and companions for apps and games. Other features such as two-finger touch panning, media companions, and power on/off will not function in this build.
Accessories
Xbox One Media Remote:
When resuming from connected standby the Xbox One media remote may fail to send commands; a hard reset resolves this.
The buttons for media playback will not work (rewind, play, pause, fast forward, skip back, stop, skip forward). The directional and center "select" button will function as normal.
USB TV Tuner: If you have a USB TV Tuner plugged into your Threshold Xbox One console, Windows and Windows Phone SmartGlass devices will crash when attempting to connect to the console. To avoid this, you can switch to the Xbox App on Windows 10 or reset your TV settings and avoid setting up the USB TV Tuner.
Third Party Steering Wheels: Using a third party steering wheel will work in games, however, it may cause instability to the console after attempting to use the Xbox button to return to the dashboard. Workaround: Hard reset the console.
Richard Devine is an Editor at Windows Central. A former Project Manager and long-term tech addict, he joined Mobile Nations in 2011 and has been found on Android Central and iMore as well as Windows Central. Currently you'll find him covering all manner of PC hardware and gaming, and you can follow him on Twitter and Instagram.
That's some bugs. I'll wait.

Haha no kidding, insane list. Majority does not effect me as far as the games, apps, or TV.

This is unbelievable. These are massive issues...most of which require a hard reset to fix..

And opting in to the preview is entirely optional. At least we get to see this before we decide. Unless you just went in all guns blazing like Dan and just said "yes yes lemme in" ;-)

That's the only way you should opt in.

I went guns blazing. :) None of the listed issues will really affect me, the games on the list that could be issues for me are Destiny, ESO, Guacamelee, and Elite: Dangerous, but I haven't started Destiny (and see no reason to do so) and ESO I just haven't been able to get into, I'm too tied to Neverwinter right now, Guacamelee has been ages since I last launched it and Elite I will tackle after Neverwinter, so it has time to be fixed.

Same here!!i want to check and help!! :)

My first response was also that's a lot of big bugs, but reflecting on the list it's really not that bad, a couple of issues with those games is probly the main thing, but everything else seems easy enough to work around. The only game on the list I want to play is elite, and don't have any of the tv stuff, so looks alright to me. Already got the invite so thinking I'll sign up and see how we go!

Actually, you right. I don't even use it for TV, and as long as Netflix isn't effected, im all in for it really. Hoping it runs smooth though.

THAT'S A LOT OF BUGS!!!!!! THAT'LL BE 4 BUCKS BABY!!!!! YOU WANT FRIES WITH THAT?????? HE JUST LEFT......... WITH BUGS!!!!!!!!

kung pow. my favorite movie lol

Lol, and I thought windows 10 mobile was buggy, compared to this, the w10m runs as smooth as my nokia3310

To be fair, you have no idea how "smooth" this will run. Compared to WXM or otherwise.

Ouch. Sounds like there will be anger on twitter. They were warned about issues though

Guess that's why it's opt-in. This isn't just a makeover, some serious stuff going on underneath. I know I'm staying put. Not risking my Forza experience for anyone!

That would be a sad tragedy

Is there even a happy tragedy?

That's what they call: Schadenfreude.

Anger on Twitter?! Nooooooo...

Holy smokes! No Destiny, I'll wait official release, that's even worse than windows 10 mobile. This preview is a big No No!

Right? I'd freak out if Destiny was broke! I'll do the tech preview on my phone, but don't fuck with my Xbox! Glad I'm not in the preview now lol

The dashboard is opt-in for preview members so even if you were in the preview you could skip this

Yes, because this early buggy build, and final release will be the only two builds in the entire testing process of this new software.... /s

The key word in the verbage here is that they "may" fail to launch. It's not 100% they fail all the time.

...except that in cases like this, "may" is often code for "will" or "almost certainly will", but sounds better.

More issues than all PC and Mobile builds combined lol

No, what there is more honest of what is not working on this preview release when compared to the PC and Mobile combined. Not that I blame the PC Windows for not giving everybody the low down on issues they just can't be exact as to what is wrong because of all the combinations of hardware. The Xbox group clearly have a better understanding of the issues because the system (like an Mac hardware) are the same for each console. So fixing issues, IMO, is a lot easier than having to deal with thousands of different hardware configuration. Hence what may seem like big issues are relatively quick to fix. In fact they already anncounced that those who opt into the updated console preview will be receiving around 2 updates a week. That truly is a fast release circle :) Pineapple!​

Given the single hardware build, it is easier for them to find all of the bugs compared to phone and PC. But I'll wait for a more stable build.

Right sounds like a hot mess...

Holy f**k! That's not a good first impression!

Hence why it's a preview. And a preview you have to opt in for no less ;-)

True, but you and I both know that you only get one chance to make a first impression...people who don't yet have the preview will be looking at the complaints of this alpha test to see what its like. It will take some serious damage control to not turn people off of this mandatory future of Xbox gaming. Microsoft should have done this whole windows 10 thing all at once much later on and saved themselves a lot of headache and preserve the unified image they are going for.

If people are intelligent enough to look at reactions to an ALPHA test, they should know what an ALPHA test is. All this doom and gloom is such nonsense. It really is.

What about those who ask you about it? Who are curious about windows 10 on the Xbox?

@Predict then, tell them the truth: it's still on alpha.

I have never, ever, participated in an alpha that is as bug ridden as this is. Yes it is optional, but they could have at least waited a little bit longer, ironed out a couple issues, then let people jump in.

You haven't participated in this one yet, either. How the feck do you know how bug ridden it is, and how many of those possible issues may affect you? Fact is, you don't. I disagree that they should've held it for long, it's not like theyre pushing it to the unexpecting masses at the moment. It's not just optional, it's also highly exclusive. You have to be in the Xbox Preview Program already, and you have to know to load the Preview app and opt into it. 99% of Xbox gamers wont be doing this, and those that do really should know better than to complain about bugs in an early Alpha build. Dont want bugs? Then don't opt in. Simples.

If the update did not had any issues, then there wouldn't be a beta stage, they would release it to everyone. Just because some are too stupid to understand the difference between test software and final software, is not an excuse to bash said software.

Admit it, they are behind right now. Sounds like nights and weekends are in their future.

They still have 2 months before it's even rolling out to everyone, that's a lot of time.

True, and I am glad to have seen this list before opting in (I saw it last night, in the preview program app on the box, and wisely decided to steer clear of this one). Still, at this point (about 2 months before the planned release), I am surprised to see so many serious issues. They can't mess this up. When it comes out, it just has to work.

So basically it's hard resets all day

Yeah everybody start to compare the first Windows PC preview build when they launch Windows 10 /s Guess what? Nobody remember that first preview build (and it was awful).

Why does it seem Microsoft has been twitling their thumbs since summer when this stuff was announced. This is a HUGE list :-o Windows 10 is not coming together like they said it would. :-\

Pretty sure no one has been twiddling thumbs. I've seen a demo of this stuff at Gamescom and there's a lot to be excited for. The best way Microsoft gets this stuff finished is getting it out there for people to use and help them iron out the bugs.

A good point, but testing should've been done under an NDA in this case. However impractical. If nothing more to defend themselves against poorly informed consumers who think the final release will be like this.

If you've opted in (twice) to what is clearly a preview program (and a preview for the preview progam), I would hope you'd be more than just a poorly informed consumer.

No no no, I mean people who hear about it from us, the Microsoft evangelists. I, for one, am always giving WP props, w10 and w10mobile too. It sucks when people ask me what the new build is like and i have to try and justify the bad parts to someone who isn't familiar with alphas,betas,QA, etc. They just want it to work. That's the consumers I'm talking about, who get information about this platform though this user base. Even after seeing these issues, I still opted in. Because it will be a better service in the long run. This is why they were smart for targeting users who submit a lot of feedback.

I see what you mean now. You're right on the difficulty of communication part, it can be tough.

Just tell them that you are one of their testers (which is, true) and you don't have to justify the bugs (because you are testing it).

Simple answer, it is not ready for general use yet. It has a lot of bugs and they are fixing them with updates twice a week. I will let know when they are finished.

@PredicatableComments I'm sorry, but if YOU as a Microsoft "evangelist" were trotting around the Earth spouting vitriol and doom about an early alpha product being buggy to anybody who'll listen, then any negative impressions those "poorly informed consumers" get would be entirely YOUR fault, not Microsoft's. If somebody asks you about the new dashboard, why would you ever think of highlighting the bugs in the first place? That's just stupid. No, what you'd be doing is telling them how good the new stuff is, and you'd just say but it is early in development so does have a few issues. Why go into specifics? What an absolutely ridiculous thing to say.

Poorly informed customers wouldn't be involved in this anyway. Only people with at least half a brain cell who know what these previews involve would think about opting into the preview programme at all.

This is also why the first wave will only be going to the most active participants in the Preview program. These people are less likely to be freaking out complaining because their One Guide is not working or Pool Nation doesn't load up. Actually if people read the opt-in terms it clearly states that this is one of two opt-ins validation checks and even people who opt in now are not necessarily going to be part of the first test group or even the second just that they will have an opportunity at some part of being in a test group.

There ARE plenty of poorly informed consumers out there and I would bet money that many of them are in the preview program for the wrong reasons. You only need to browse the forums out there to find countless threads of gamers who are looking for an invite into the preview program because they want access to the features NOW rather than later... those are usually the ones that initiate the bad press.

Perhaps they should have provided you a separate list of what *IS* working. That way you would know how much work they've been doing. Would that help?

A system update for Xbox One was released 2 days ago, anyone knows what was fix or added?

Just preparing for the new experience

As Long as Netflix is still working I'm ok.

Lol should I download this on my daily driver?

Not if you do your daily driving on Forza. In which case you'd be done driving for a while.

Hahahaha, would thumb this up if I wasn't on my phone!

Well, if you've been looking for an excuse for a secondary Xbox One...

PS4 is the better console /s Anyway I'm looking forward to the update and especially the backwards compatibility hello old memories

My Ps4 is the most expensive dust collector I've ever owned. Right next to my Vita and WiiU.

"Forza 6: You may encounter graphical errors (screen turns a blue or purple hue) when participating in races" nah im good

Exactly why I'm staying out!

Sound like they are rebuilding everything from scratch as they did with Windows 10 Mobile.

They pretty much are I think. Was interested, but think I'll leave it alone. My wife uses it as much as me, if it's constant hard resets to keep it going she will go the console with an axe.

They are. It's based on Windows 10.

To be fair, they also identify bugs with low probability to at least acknowledge them. It's not realistic to think every single possible thing on this list will go wrong with your Xbox.

I want to know if that list is definite or possible issues. Anyone with Destiny game to try out the new experience and see if it works? Oh, and Netflix. Hmm.. I just might try it myself... So tempted. ;)

The preview hasn't rolled out to anyone yet.

I know, I mean when it rolls out is anyone with Destiny going to risk it... I've opted in, I guess I'll find out eventually :)

I have Destiny and will be getting it... But then again Destiny is boring as hell to me

me too, but i find the 2.0 updates have made is fun again, then again i also started a new class to play through the "story" with the new voice work to see how it came out. they have weaved it together better now, the progression system finally makes more sense and there seems to have been a small bump in effects and general polish that make the game fun again. that being said even if destiny ends up broken, i'm sure one of the games in my backlog will work so i can play. i'm going to be super bummed in halo 5 doesn't work for some reason though when it comes out

What I'm wondering about is what it means by "Friends will not receive game toast notifications". Does that mean we'll be unable to send invites to friends?

To be fair it is not Destiny the game but Destiny the Taken King (the expansion or new game or whatever they categorizing it as) that has a problem in the upcoming build. Destiny and the games other DLC works fine.

Nearly all of those issues include the word "may". http://dictionary.reference.com/browse/may (Definition 1)

Just as I read the list of problems, I got the invite. Now im hesitant .-.

Yeah, just got my message too. I think I'm good for now.

Think of it like this. You can help shape and better not just your experience but other Xbox friends. I usually poll my friends for input.

With my super demanding job I have very little time to play (though I some how seem to spend a lot of time here:) - I cannot afford to have a broken machine the once/twice a week I get to play. I would love to, but growing up sucks....

Ok, so basically everything is broken. Might have been quicker to just list the things that work.