Here's what's fixed and what's broken in Windows 10 Insider build 14959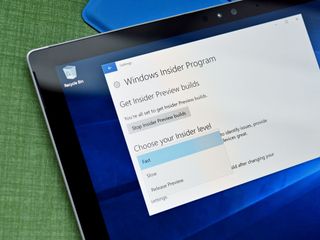 (Image credit: Windows Central)
Microsoft has unleashed a fresh Windows 10 PC and Mobile preview build for Insiders on the Fast ring. As is typically the case these builds, not only are there new features and changes to check out, but Microsoft has also thrown in plenty of fixes as well. Of course, there are some known issues to be aware of, too. Here's the breakdown of what's fixed and broken in Windows 10 preview build 14959 for PC and Mobile.
Improvements and Fixes for PC
We fixed an issue for Insiders resulting in the automatic brightness setting unexpectedly being turned off after upgrading. In doing so, we've re-enabled automatic brightness adjust for users that have never changed their auto-brightness setting. If you have already manually configured your auto-brightness setting, then this fix will not affect you. If you would like to enable or disable automatic brightness adjustment, please go to Settings > System > Display, where you can adjust your preferences.
We fixed an issue Insiders on domain connected PCs may have experienced where login might fail when the computer was disconnected from its domain network.
We fixed an issue resulting in certain apps, such as Outlook Mail and Calendar, failing to update for some Insiders with the error code 0x800700B7.
We fixed an issue for Insiders with certain device models where ejecting an SD card might result in a system crash.
We fixed an issue where disliking one of the Spotlight lock screen images would show the new image immediately, followed by a transition animation from the previous image to the new image.
We fixed an issue where launching an app from another app while in Tablet mode no longer launched it side by side, and instead launched it fullscreen (for example, when launching a web link from the MSN News app).
Known issues for PC
If you have a 3rd party antivirus product installed on your PC – your PC might not be able to complete the update to this build and roll-back to the previous build.
We're aware of an issue where Internet Explorer may crash a few seconds after launch and working.
Improvements and Fixes for Mobile
The data usage page in Settings via Settings > Network & wireless > Data usage has been updated with performance and UI improvements.
We fixed issues preventing Insiders from adding cards to Wallet and paying using tap to pay.
We fixed an issue resulting in being unexpectedly able to close Start in the task switcher.
We fixed an issue resulting in certain options for default calling app via Settings > System > Phone > Default apps from being unexpectedly missing.
We fixed an issue causing apps that play media in the background, such as Groove Music, to stop when Battery Saver turns on.
We fixed an issue Insiders may have experienced where the phone would get into a state where copy/paste wouldn't work until the device had been restarted.
We fixed an issue where Settings might hang after unchecking "Let apps automatically use this VPN connection" in VPN Settings.
Known Issues for Mobile
If you used the previous 'date change' workaround to update to Build 14951 or Build 14955: Please don't use it any longer! The Microsoft account (MSA) ticket on your device needs to expire and then you'll be offered today's build. If you changed your date by 30 years… you'll want to do a device reset.
You will be unable to install additional languages, keyboards, and speech packs on your phone for the next few weeks. If you have existing languages, keyboards, and speech packs installed – they will carry over when you update to new builds. You just can't install any new ones. If you do a hard reset of your phone on these builds – you will also be unable to install additional languages, keyboards, and speech packs. You can use Windows Device Recovery Tool to go back to Windows Phone 8.1 or Windows 10 Mobile, install any languages, keyboards, and speech packs you need and then update to the latest build in the Fast ring as a workaround.
That's all for the fixes and known issues in build 14959. For the full details of what's new, make sure to check out our Windows 10 build 14959 announcement post!
Windows Central Newsletter
Get the best of Windows Central in in your inbox, every day!
Dan Thorp-Lancaster is the former Editor-in-Chief of Windows Central. He began working with Windows Central, Android Central, and iMore as a news writer in 2014 and is obsessed with tech of all sorts. You can follow Dan on Twitter @DthorpL and Instagram @heyitsdtl.
UUP IS REALLY AWESOME CONCEPT.

It is a great idea, but alas, no one reads the whole article so expect lots of what's UUP! The same way that no one has fully understood the date hack for last weeks fast ring could stop builds coming through

Yes, but I did the date hack because I couldn't get the builds, so there's that.

And didn't Microsoft tell us they were fixing.. 3 builds on and still 0%

what's uuuuuuppp!!!! Comments like this?

Shame Microsoft can't update us without issue after issue..

No new features for.mobile?

Besides UUP which is huge?

Should save time uninstalling and reinstalling every app that won't run on Sd or Ms poor update system that won't use sd as temp space

Need to get the core debugged first! Why not have a play with your phone, you might find the 'data' section has been improved, so I kinda guess that new??

My wife can now iron the clothes while while sitting on the sofa and I can change my car's oil from the living room

So we have to wait 7 days for our MSA ticket to expire before downloading?

Or Ms could release a small app to clear.

Tired of this fast ring only crap! When can we expect the next Production builds? It's been months!!

Lasy production Update was like three weeks ago, definitely not momths

Pay him no mind, he is probably a bitter Cleveland Indians fan.

It was a tough loss, but a great Series. Hats off to both teams. I am an Indians fan, but not bitter.

Well, I'm a Jays fan and I'm bitter.
What's UUP??? ;O)

Production gets updated monthly.

Don't have that option on my l640/l635

Release won't see them until they are stable. You are going to have a bit of a wait.

Years.. My release version phone apps crash all the time

Calm down.
You ae complaining about only fast ring getting Buggy preview builds. You, do not understand the purpose of the insider program at all do you?
The reason Fast ring is getting more updates than Production, is because they are TEST builds. Once they are all stable and all planned features are added, Production will receive and update with all new features in the next major production update.
(Also Production has been receiving small bug fix updates and even the Anniversary update in the last month... So your point is :)??? )

It is not that bad. New features few few and far between but some good ones coming through the store. What worries me is my battery life on my 950xl loosing 46% while I'm asleep for 7 hours and I'm lucky if I get 4 hours active use after charging. Not running hot or anything

Has anyone been able to use Psiphon3 on the Fast Ring builds? Whenever I try I get a message that says it was unable to setup.

Is that 7 days since last weeks tweek? So I'll have to wait a couple of days then

Allegedly... Both my insider phones done at same time, one updated other didn't

It is stated that the date work around could bite you on the butt, especially those who set it forward by months or longer. No update unless HR performed.

Yeah, I have a few more days I have to wait until I can get updates.

I cannot recall what date I used. So I might have to wait a full month :S or hard reset.... can't wait for a month. Perhaps that I miss a build or two...

Yea I switched the date up by a month.. I think it's HR time for me..

Has anyone on fast ring been able to use the Vector Watch Windows 10 app to work with the watch yet. I had to go to the regular builds in order to make it work, so that was a deal breaker for me, as I miss my fast ring. Also, has Microsoft enabled the Tap To Pay function on the Elite X3 yet? That is another thing I miss. I may actually go back to my 950XL to have Tap to Pay again, but neither phone has a usable Vector Watch app on Fast Ring.

I thought the HP guy said in the podcast that they won't be enabling Tap to Pay ?

I didn't hear a podcast, so I'm not sure. I sure would not understand why though. The device is more than capable.

The device is capable, but it's up to HP as to if/when it gets Tap to Pay.
I think there were security concerns from their clients, but can't remember exactly.

Man, I sure hope they decide to add it. I still wonder about the Vector Watch App on this build. Anyone know the answer to that one?

Does anybody get texts in Chinese randomly????"

YES!!! I do! But so far only from my wife. Probably 5 or 6 times in the past couple weeks. Also my notifications arent auto-dismissing when I open the app that sent the notication. I have to then bring up action center and dismiss them manually every time. I'm on Release Preview Ring 1520. I thought this must be just me as I hadnt seen anything about it from anyone else

Maybe, you should check your wife's birth certificate.
(politics humour) ;O)

My wife has gotten these recently as well from a couple of iPhone users. One of which said someone else (Android phone) got a strange text from her. I have confirmed that one person included emojis in the text to my wife. My unproven theory is that it has something to do with the new changes to iMessage and some of those don't translate to other platforms.

I would say you are probably right but my wife (the only person ive gotten these messages from) has a 950. So we both use W10M and no iPhone in the mix. It could be changes to emoji though. That could make sense.

Now that you mention this, I realized that those random Chinese messages I got they came from people using iPhones. So probably you are right with that theory

Also, I copy/pasted the Chinese into Google Translate, set to go from Chinese to English, and it always comes out as Chinese. haha

Just had this happen last week on my 950XL which is running the latest production build.

It happened to me on my 640 running the latest production build. It was from an iPhone user and on lengthy texts, so I blamed iMessage.

I'm stuck at build 14946...14951, 14955, 14959 were not a luck to me.

I'm in the same boat with my Icon. I still get error 0x8024800a​ everytime I try to update. Anyone have any ideas?

Yeah, I did the work around. Went from fast to slow, changed the date to November 8th, check for updates, then changed back to the 3rd of November, changed back to fast ring, check for updates and now downloading

Out of curiosity, which release were you updating from and did it update to 149159?

I'm on an Icon and never had to do the workaround. Downloading this build now.

I'm in the same situation here, build 14926- NL 1520 . 2 resets , I tried the workaround many times and nothing. My phone still stuck on build 14926.

TruCaller works as it should again, yaay!!

Until next build no doubt.

Well, depending on whether you can upgrade to the next build.. ANYWAY........

Not see the update on Lumia 950 yet anyone else?

Strange, I did the date hack on both builds and got this one fine this morning

Same for me. It downloaded with no issues.

Can anyone use the Garmin Connect app with 950 or 950xl? Fast ring..

Strange that I've had the new Data usage setting ui for a few weeks before this update. I thought it was a normal thing they had decided to just be quiet about it.

Funny thing: I can install the update on my 950XL but not on the SP4 because I have a third party antivirus, booo!!!

Not funny at all. They have stated it very clearly in the changelog.

I used the date work around the first time, only set 7 days ahead. Second update (last) was fine. This one is not coming through. Set my gate to 10th November. It started downloading but stuck at 0 percent. Looks like I'll just leave it until out decide to update!

Darn, only 9% battery left... Anyone know if they fixed the Excel crashing thing? Can't wait to install it tomorrow!!!

OMG the domain issue has killed me I have reloaded like 6x thinking I may have had a virus. Bad news is it sucks doing that good news is work approved a Surface Book over my HPZbook 17. I already found another issue while in the midst of the recovery that wipes everything this build doesn't like that and I am can't reload until I head back to office tomorrow :(

Well, for me this new build created two really nasty problems: Edge and authenticator dont open!

I haven't been able to update PC since 14393. all update freeze at 70% Working on updates. Have changed hard drive but nothing changes. whats going on?

Guys did they fix the issue resulting in screen going blank now and then when the phone is unlocked?

They still have not fixed the Excel crashing issue when trying to go from one tab to another. Or have they?

PEOPLE app still broke. Isn't this rather important in a phone???????

I am yet to find any issues with this build on my Microsoft 640. Had the connectivity issue with wifi, quick reset did the trick. Now, runs great!

You having apps crash on start you up

I did all the work arounds for both builds 14951 and 14955 without success. Still stuck on 14946. I am waiting for the latest update to come across my path and fix things. But it hasn't yet. Says my phone is up to date. Any suggestions?

Anyone getting messenger+ pop up

Yep, every time I restart my phone (640/149151).

Ok... So we only change from fast to slow with the insider preview? I have not set up preview and really preferred not to. Any assistance out there with assisting with the apps updating

First time I go back to Production build for a long time. Since the last 3 builds, I am experiencing multiple daily unexpected restarts & my phone sometimes dies suddenly when I unlock it. Then I cannot turn it on, I have to press volume & power keys to force it. No one seems to report this in the Feedback Hub. Am I the only one ?

My Lumia 540 phone also dies suddenly, its only come to life when i remove battery and put it again. I get this issue after update OS build:-10.0.14955.1000

Same here! All three previous builds are awful. I went back tried installing fresh without using a backup and it still is crashing... Really weird. Using a 640 to just get through the day! My 950xl doesn't even let me press down the buttons to reboot. I have to plug it in to the wall charger or take out the battery... But it crashes within about 10 min of use

I'm having similar problem. Power button is doing nothing. I need to use camera button to turn on the screen on my Lumia 950.

Vpn still not working on my Lumia 950.

Hi all; Anyone experienced broken Data Usage in Settings? I am using a 950XL. My 1520 is OK but not my new 950XL, bad MS sending out such a build.....

Why updates still stack in 0%

Update stuck at 100% keep saying "downloading updates" even after ½ an hour. What's the solution for this? I am on fast ring build 14955.. Could you please help me??

Successfully installed build 14959 on htc m8

Still( We fixed an issue resulting in certain options for default calling app via Settings > System > Phone > Default apps from being unexpectedly missing) missing for lumia 535.
Also screen not wake up when press lock button.blank screen appear.fix it.

Still( We fixed an issue resulting in certain options for default calling app via Settings > System > Phone > Default apps from being unexpectedly missing) missing for lumia 535.
Also screen not wake up when press lock button.blank screen appear.fix it
Windows Central Newsletter
Thank you for signing up to Windows Central. You will receive a verification email shortly.
There was a problem. Please refresh the page and try again.