Windows 10 build 14959 now available for Insiders on PC and Mobile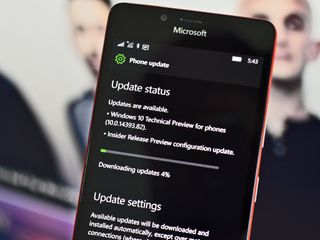 Microsoft has just started rolling out Windows 10 build 14959, the latest preview build for Insiders in the fast ring on PC and phone. Today's build features more improvements under the hood, bug fixes and other small changes on the surface.
In what's probably the biggest change this week, Microsoft has started rolling out its new Unified Update Platform, available for Mobile insiders today, which makes downloading new builds faster by simply downloading the new bits needed, rather than a full build.
What's new
Unified Update Platform: This build for Mobile is being published using our new update publishing system called Unified Update Platform (UUP).
Controlling the Display Scaling of your Virtual Machines (PC): We've heard your feedback that Hyper-V Virtual Machines sometimes aren't scaled as you'd expect, so we've added a new Zoom option in the View menu, where you can override the default scaling and set it to 100, 125, 150 or 200 – whichever matches your preference. Along the way, we also fixed an issue where certain VMs wouldn't display the remote desktop connection bar after entering full screen mode. We are still refining the experience so there might be some rough edges. For example, although we added zoom levels to handle high DPI more gracefully, when zooming you won't be able to see the VM's whole screen without scrolling.
Improvements for PC
fixed an issue for Insiders resulting in the automatic brightness setting unexpectedly being turned off after upgrading. In doing so, we've re-enabled automatic brightness adjust for users that have never changed their auto-brightness setting. If you have already manually configured your auto-brightness setting, then this fix will not affect you. If you would like to enable or disable automatic brightness adjustment, please go to Settings > System > Display, where you can adjust your preferences.
fixed an issue Insiders on domain connected PCs may have experienced where login might fail when the computer was disconnected from its domain network.
fixed an issue resulting in certain apps, such as Outlook Mail and Calendar, failing to update for some Insiders with the error code 0x800700B7.
fixed an issue for Insiders with certain device models where ejecting an SD card might result in a system crash.
fixed an issue where disliking one of the Spotlight lock screen images would show the new image immediately, followed by a transition animation from the previous image to the new image.
fixed an issue where launching an app from another app while in Tablet mode no longer launched it side by side, and instead launched it fullscreen (for example, when launching a web link from the MSN News app).
Improvements for phone
The data usage page in Settings via Settings > Network & wireless > Data usage has been updated with performance and UI improvements.
We fixed issues preventing Insiders from adding cards to Wallet and paying using tap to pay.
We fixed an issue resulting in being unexpectedly able to close Start in the task switcher.
We fixed an issue resulting in certain options for default calling app via Settings > System > Phone > Default apps from being unexpectedly missing.
We fixed an issue causing apps that play media in the background, such as Groove Music, to stop when Battery Saver turns on.
We fixed an issue Insiders may have experienced where the phone would get into a state where copy/paste wouldn't work until the device had been restarted.
We fixed an issue where Settings might hang after unchecking "Let apps automatically use this VPN connection" in VPN Settings.
Zac Bowden is a Senior Editor at Windows Central. Bringing you exclusive coverage into the world of Windows 10 on PCs, tablets, phones, and more. Also an avid collector of rare Microsoft prototype devices! Keep in touch on Twitter: @zacbowden.
Meh, not showing up in Philly.

Did you use the work around previously? If so, you will not get updates until seven days after the date you chose.

Hey Giddora, at least you read the WHOLE article with details of date hack!! I don't mind helping people out, providing they help themselves first!

First get some Philly cheese sticks and Kinder Surprise and eat it. Then come back and check for updates

Zoom levels for VMs, thank god! This has been driving me batty.

had to change the date up 7 days. it's now downloading.

Same here. Downloading now!

haha and same here, Thanks!!

Ok. Others just make your date to 7th Nov so that you can get the update and the issue won't repeat when you get the next build after 8th Nov.

You will not be able to get any new updates until the 16th of november if you use this workaround. (chosen date + days)

I had set my date as 5th Nov for the previous build and I changed to 7th today and I'm downloading the update now....

This isn't working for me, even after a factory reset.

Damn, beaten to it. The token is +7 from the date set isn't it?

No idea on the token expiration.. I just say what worked for me.

You will have to continue doing that for every coming update then...

Zac, Using an old picture with wrong build????????

No word about Continuum bugs((

You cant connect to a screen wirelessly either?

downloading on 950XL in UK.
that picture threw me for a while as it didn't match the 14959 (RS_PRERELEASE) message :-)

This is great but does this solve the Bitdefender Total Security 2017 issues I had on my SP3 & desktops ?

Bout time they fixed Data usage! It's been useless for what like 2 years now? Just like Cortana!

Yeah data usage statistics is waste in windows 10 even my old wp 8.1 had better data usage showing up
In windows 10 both pc & mobile windows/software update data usage doesn't get displayed

Speaking of Cortana....I still can't get her to play music for me. It worked flawlessly on my old phone with 8.1, but it has never worked on my 950.

Till anniversary update it was worse. But now it works a bit for me. But not as win phone 8.1. Beta was better, i think.

I wish they would add tethering and roaming stat

UUP seems faster..... download happens extremely fast compared to before

You have to hack your 925 with Interop. We old phone users fell out of the supported devices category before the anniversary update. Here's your walk-thru is you haven't hacked your phone yet. That being said I pulled down 14959 on my 925 today

How does it work? As in, is the performance good?

it's not bad...often it's pretty snappy. there are some problems with it but i dont always know what is a phone problem and what is the OS. the bluetooth is crap right now, but i think that's happening on some supported devices as well. Also, pano doesn't work on the camera, but that stopped working before the 925 went out of support.

Thanks for the info :)
I keep wondering if it's worth toying with my 820. Already have 2 other supported devices, but the 820 is like first love

How it hack with interop, in lumia 925???

Check this comment thread in a browser. The link h should work there... The WC app doesn't show the hyperlink I included

I did. I bumped it out again to the 10th to get this one.

You may have shot yourself in the foot. You may be stuck until 17th

No worries. I reset often.

Is it weird that my Alcatel xL updated Tuesday night?

Apparently the update Tuesday was build 14955. I never saw it listed anywhere. But just finished installing 14959.

I did the work around but did not have to change the date this time. ETA I will as it sticks at 0 :( posted before watching

For last 1 hour stucked at 0%. Have not done any workaround for any build earlier. Anyone else facing same problem?

I use the work around the last time but now I didn't do anything and it is downloading.

Does anyone get 2-5 second blank screens when trying to unlock/wake? Hoping they fixed this

Does this happen when on charge? I have a 950 on release preview and it does it! Glance goes, glance comes back with no lock screen. Unplug, double tap and works flawlessly again. Plug it in, back to square one.

Is there a release preview option on the 950/XL? Pardon my basic question.. But thing is that I only have Slow and Fast ring options on my 950XL and 830. Not sure, could it be that if I opt out the insider program I will get them?

Yeah it occasionally happens in my 950 too while charging

Happens way to often for comfort

Yes! I do! I made a report of it @ the hub...

Now getting error 0x8024001e what the hell.

Try searching the error online. Usually you'll at least come to know what is causing it, and can leave feedback (may be with system monitoring) about it.

Well my Lumia 950 isn't seeing it but my surface pro 4 is loading it a moment

Lets see... Giving it time.

My 950 XL not update, but 930 do????????

Bluetooth stack still jacked up. Band 2 will only sync one time after the OS update then the app thinks Bluetooth is disabled on the Phone. Bluetooth audio will stop randomly, but the app will keep playing. Bluetooth settings then become unusable and the device will only turn off via soft reset.

And where this OTG function?

So it looks like the old issue is there.as I forwarded date 3 week and it downloading on L950

I'll wait a day or two then switch back to the fast ring I think, I only have one phone left now so have been cautious about fast ring but looks like most major issues have been worked out now. Might not be the best idea to use fast ring on a daily driver but I do miss giving feedback!

Well I'm not sure about this UUP stuff, but this update was just as long and painful as all previous builds.

I think we'll see the improvement next build onwards. This build is more of a setup for that

It never takes longer than 15 minutes to complete the installation for me. I don't think that's painful at all. But it might be a device issue. I have a Lumia 1520.

It takes me an hour to download, prepare install, reboot, install, and migrate data on Lumia 950.

For the past few builds, my PC has not been receiving any fast ring updates. The only way I can get it on my surface pro 4 is by doing a clean install to RS1 then updating to the RS2 via Windows update. Then when a new build comes out "everything is update to date" So I have to reset back to RS1 and start all over again It is so frustrating.

I used the workaround before and this update downloaded fine for me with no changes nor workarounds needed.

Aw sweet! I was on 14905.1111 - previous owner of the phone had put the 950XL on this build. Couldn't update to 14951. Now I'm on this build!

With my lumia 640, Edge does not open. Crashes immediately... ☠

I reset my 950XL and thought to stay in the Release Preview ring would be better, but what the heck, back on the Fast ring and downloading this now in Thailand.

If you guys are actually listening, have you fixed the screen tearing bug in LUMIA 830?

How big is the download? Mine is stuck because it tells me that the size is 4 ,1GB. May be it's a side effect of my trying to repeat last weeks work around

update not showing up and for me, did the workaround still nothing. 950xl

Persistent freezing of screen on L1520 running 14955; let's see if it shall go away when on 14959.

Lumia 640. Used the workaround the last 2 updates. This time didn't use the workaround, downloaded but wouldn't install until the third try.

Lumia 535 works generally good, but it impossible to add new languages/keyboards - only previously installed at previous build.

I haven't been able to update PC since 14393. all update freeze at 70% Working on updates. Have changed hard drive but nothing changes. whats going on?

just discovered something that I haven't seen anyone mention, the old school add/remove programs (Programs & Features) has finally been replaced and added in modern settings :)

Hi all; Anyone experienced broken Data Usage in Settings? I am using a 950XL. My 1520 is OK but not my new 950XL, bad MS sending out such a build.....

Why update still stuck in 0%
Windows Central Newsletter
Thank you for signing up to Windows Central. You will receive a verification email shortly.
There was a problem. Please refresh the page and try again.