Here's what's new, fixed, and broken in Windows 10 build 14367 for PC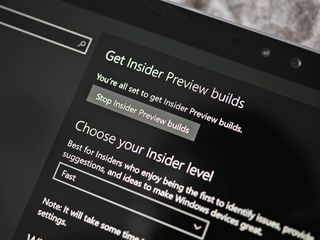 Microsoft has dropped another PC build for Insiders this week, and as always, they've helpfully compiled a list of what's new, fixed and broken in build 14367. Thanks to the Insider Bug Bash, Microsoft is pushing more builds out now for an optimum amount of feedback. Here's a list of everything that's changed, directly from Microsoft:
What's new
New keyboard shortcut for Feedback Hub on PC: We love getting your feedback, and want to make it even easier for you to get into Feedback Hub on PC builds. To capture a screenshot and launch Feedback Hub please use they keyboard shortcut Windows key + F. This opens Feedback Hub and attaches a screenshot of your PC (you can review and remove this before you submit). The old PC keyboard shortcut of Windows key + SHIFT + ? will stop working because of this change.
Also, as a reminder, on Mobile you can use VOL DOWN + POWER to launch Feedback Hub.
Handwriting Recognition Language Support: We are excited to announce 23 new languages for handwriting recognition as a tech preview. This includes Indonesian, Malay, and is our first time to support African languages like Swahili, Xhosa and Zulu. You can install them from language settings and use them in the handwriting keyboard. If you are a developer, you can also leverage them in your apps following the guide to recognize ink as text. Please check the list of supported languages, give them a try, and send us your feedback.
A new tool to give your PC a fresh start: We've heard from many of you that are attempting to perform a clean installation of Windows that it can sometimes be hard to get started. To help, we are providing a new tool that enables an easy and simple way to start fresh with a clean installation of Windows. This tool is now available from the Settings app for Windows Insiders using the latest builds that installs a clean copy of the most recent version of Windows10 and removes apps that were installed on your PC. You can visit this Microsoft Community page (which has been updated) to learn more about the tool and download it.
What's fixed
Cross-device notifications from your phone to your PC via Cortana are now more reliable and faster. You can also use quick replies from your PC for notifications that support that feature (there is a known issue in which this will only work if your phone's screen is turned on – we'll be fixing this!). Additionally, notifications from your phone to your PC will appear under its own Windows Phone group in Action Center – with a fancy new logo to boot!
We fixed an issue where the emoji in cross-device notifications would appear as boxes. We also fixed an issue where certain emoji would appear as square boxes in some apps like Notepad. Fixed an issue resulting in the dialog when joining the PC to an Azure AD potentially being unexpectedly large on certain devices
Quick Actions in Action Center that turn on and off different functionality in your device, like Bluetooth on your phone or Tablet Mode on your PC, now have a transient On/Off text indicator so you can clearly see the state change for these. We fixed an issue where the WIN + A keyboard shortcut to launch Action Center wouldn't work if Action Center icon had been turned off. We also fixed an issue where certain notifications could result in the Action Center not launching until that toast had been cleared.
We fixed an issue where Cortana wasn't showing relevant system settings results for certain terms, in particular "typo" or "connect".
We fixed an issue where the text in the network flyout might change color from white to black when entering credentials if your PC is using dark mode.
We fixed an issue where PowerShell shortcuts pinned to the taskbar could only create one functional window – subsequent windows generated from the pinned icon would not accept input.
We fixed an issue where each newly opened notes in Sticky Notes would flash white and black after a certain number of notes had already been created.
We added a new shortcut to turn on/off Private mode when using the Japanese Input Method Editor. This new keyboard shortcut is Ctrl + Shift + P. We also increased the width of the Japanese 12 key keyboard for small devices when in portrait, so as to improve ease of use and fixed an issue where no characters would be input when using this keyboard in a field where Input Method Editors are disabled
We updated the Update & Security, Windows Update and Recovery icons in Settings, to be more reflective of the action
We fixed an issue where the Office apps might not show up in Start's "Most used" list.
We fixed an issue where saying "Hey Cortana" would launch Cortana behind Windows Ink Workspace.
We fixed an issue resulting in Explorer.exe crashing if you selected "Open Command window here" from File Explorer's context menu.
Known issues
The Desktop App Converter Preview (Project Centennial) will fail to run on the Windows 10 Insider Preview Build 14366. If you are a developer utilizing the converter tool to convert your desktop app to UWP, we suggest skipping Build 14366 or switching to the Slow ring until we can fix this issue.
Narrator does not launch when you toggle switch to "on" via Settings app > Ease of access > Narrator.
There you have it. As the Windows 10 Anniversary Update draws closer to public release, these new insider builds seem to have less and less known issues to endure. This is great news, as it's a sign we're headed for sign-off very soon!
Zac Bowden is a Senior Editor at Windows Central. Bringing you exclusive coverage into the world of Windows 10 on PCs, tablets, phones, and more. Also an avid collector of rare Microsoft prototype devices! Keep in touch on Twitter: @zacbowden.
These updates are getting addictive! I really look forward to them.

Good thing I have unlimited internet

Cool will be updating my 2 laptops and 2 desk tops to this new build later today.

I need to update my laptop. Again. I just got 14361 Tuesday. But I'm glad they're coming!

They finally fixed the notification syncing!

The Fast Ring is getting REAALLY FAAST now. :)

Still waiting on: - DTtW for 950/950XL - USB Audio Class 2 - SMS over Bluetooth vehicle hands free fixed - WiFi 5GHz band connectivity issues fixed

Edit it to include L650 and 550 also.

In last build i have found some bugs as like that windows updates now downloading properly as will as on many ISP. So this error has been fixed in this build or not. ? Here is a screenshot. http://prntscr.com/bhddqm so please open this link and check

aint a L650 and 550 phones? This post is for PCs lol. Ps read the articles header before posting nonsense to do with mobile builds in the wrong articles comment section.

When installing, I get to 18% on step 1, then it stops and revert back to previous build. Every time. Ideas?

I have noticed that before I click restart to start the install. I go do a defrag of my c drive first so there ain't no fragmented files on there that could potentially cause problems during the install.

Could be not enough space make sure there's at least 25 GB of free space before installing.

I'd love a tool to make a list of all my installed apps and ID codes.

ARG! I want all of these new builds. I've been stuck on 14295 and all the newer builds fail and then I get my "previous build" restored. :( I don't have the patience to do a full clean install yet.


ARG! I want all of these new builds. I've been stuck on 14295 and all the newer builds fail and then I get my "previous build" restored. :( I don't have the patience to do a full clean install yet.

Have you checked the basics?
* Heaps of free space
* chkdsk
* sfc /scannow
-> if it can't fix the files you need to get more serious with dism...

248GB free
No errors on disk
UNinstalled 3rd party malware fighters & disabled Windows Defender and Firewall during update. I'm guessing I'll have to wait on this build until final release and then I'll gather up all of my install ID numbers and start from scratch.

I'm glad they fixed bugs. That's what should always be the utmost priority. Posted via the Windows Central App for Android

Well generally they build features and fix the worst bugs only until finally they have a 'feature freeze' where no new features get added. Then they focus on hunting all the remaining bugs. We're at the stage that they're getting it ready to launch so we will see far fewer 'new things' from here on out.

This updates makes my pc unusable

In what way is it unusable Mark?

My pc starts up quickandwhen going into desktop it's suddenly slow and freezes, sorry for yhe typo but on the 950 you can't see what you type in this app

Might as well wait another month. Been on fast ring since it began but this time round I feel disapointed on Pc not a lot of new features - Ink - and that's it. Ok on my tablet. Otherwise just tinkering with things like settings and all apps on start button. messaging every where is cool but did microsoft really wanted us as insiders for so long just for a few things? As for mobile I love my 950 Xl just as much as I loved my 930 but on the latest build again and nothing of real significant has come along since windows 10 mobile. Just wasting my time downloading each build as they come which has been addictive on both Pc and Mobile but looking back over the last few months Im thinking how did I ever get sucked in to this.

The reason there is no new features in the last few builds is because MS are not even a month a way from releasing the Anniversary update (Redstone 1), so now its just polish up as many bugs as possible as quickly as possible in time for the big production-line update. It would make no sense to add new features into the builds now just about 2 weeks before the deadline or they'd have to postpone the update for non-insiders. The next time they add features will highly likely be in July+ When they begin Redstone2. (Even then, it'll likely be unstable builds like it was at the start of Windows10(/Mobile) TH branch and RS branch)

Had to roll back, my network connection would not stay stable. Back on 14366 and everything back to normal.
Windows Central Newsletter
Get the best of Windows Central in in your inbox, every day!
Thank you for signing up to Windows Central. You will receive a verification email shortly.
There was a problem. Please refresh the page and try again.