Here's what's new and broken in Windows 10 preview build 10532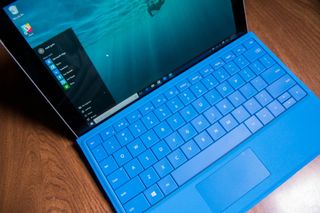 In the new Windows 10 preview build 10532 that will be available for Windows Insiders to download today, Microsoft has put in a couple of small but interesting new features. There's also a short list of known issues with the build.
Windows Insider leader Gabriel Aul offered the details of the new features:
Here's the small list of known issues with Windows 10 preview build 10532:
Windows Hello face sign-on will not work on this build with some devices; the device can still be unlocked with other methods like pin, password, or fingerprint.
As reported by Insiders on the build 10525, 64 bit Google Chrome will crash on launch. Google is aware of the issue. In the meantime their 64 bit Google Chrome Canary build or 32 bit Google Chrome will work on this build.
Source: Microsoft
Windows Central Newsletter
Get the best of Windows Central in in your inbox, every day!
So does this mean the internet sharing is fixed?

Most likely, or they would've written like "internet sharing is still broken yadda yadda"

Is the build number gone from the desktop in this build, is it worth upgrading too? For me Windows hello is not a problem because I don't have a real sense camera.

stop whining about the damn watermark =/

I don't think he was whining. Seemed like a legitimate question.

The watermark will always be available on any Insider Preview version. If you don't want the watermark, you will need to opt-out of the Insider program and stick with official public release builds.

Thank goodness for sharing feedback option. My feedbacks, which I naturally feel deserve a lot more upvotes are current barebones because of lack of exposure.

Yeah, me too. Let's start something in the forums or something where we all vote for each other's feedback. See you there. Can I also maybe create like 30 email aliases with outlook and use those?

The voting system depends on people's actual interest in something to make it relevant for Microsoft. If you have feedback you want implemented and seen by Microsoft without upvoting, just talk to Microsoft via e-mail, phone or Twitter. Upvoting is a relevance-controlled system, meant to filter features that people feel "me too" about. Just saying :)

My biggest issue is that my feedback is rarely up-voted, but matching feedback from others recieves hundreads of votes. For example, I requested the ability to share feedback when the Feedback system was first introduced, and recieved only a few (less than 10) votes. But others who requested this feature recieved 1k+ votes.


Yeah, feedback still seems lack good discoverability to new feedbacks and for some reason getting good number of upvotes is tricky. I think its because not everybody is checking the new feedback and rather many just stick to Trending and vote in there. I have seen alot of more useful and legitimate feedbacks and got very few votes. While feedbacks about Aero and Recycle Bin icon got unnecessarily outrageous amount of votes. Look, no one cares about People app thus launched prematurely. No wonder Windows 10 turns out to be generally unpolished at launch.

*Tweets 'Make Groove More Like Zune' through feedback app*

Will the Zune crying never end?

As soon as they bring an app that has feature parity with the Zune app yes Still no auto playlist

Do you want the barebones prison grey Windows 98 theme to go along with that and the XP start menu back too? Never stop holding on to the past! Just install windows Xp, plug in your brick-like zune and be done with it; stop dragging the rest f the future back to the stone age with you.

There are improvements in Edge too. dev.modern.ie/platform/changelog

Not until proper extensions are released in a subsequent build, expect late Sept for preview of extensions.

Wtf is with the context menu icons? They look handdrawn with a bleeding pen.

Wait. BOSS is not an ADJECTIVE ! DANG!

I think they look great. Very clean.

Not a extremely exciting build

If by exciting you mean noticeably different, you're in for some serious disappointment from here on out.

Maybe, maybe not. I heard a rumor that something huge is coming for Insiders. Gabe says.

Build 10525 Edge started crashing the secound day never found a fix that worked .Build 10532 Is a total train wreck Edge crashes Instantly,The store app does not work along with no charms,no update can not acsess notifications total crap It might be my computer but other builds worked great,anybody else having Issues?

Not an extremely exciting OS

There should be an option to choose the light or dark theme across the entire OS like on the phone.

Or better yet, JUST DARK!!!!

Remember when all screens had that monochrome white/green/amber on black look? Pepperidge Farm remembers. Another what's practically prehistoricly old is new again.

Should make chrome crash all the time... Make it a feature. Better yet, consider google apps like virus and have defender wipe therm from the system and redirect google related web links to the better Microsoft alternatives.

Making Chrome crash shouldn't be all that difficult since Chrome uses a number of undocumented APIs.

Chrome crashes plenty without any help from Microsoft, even on Google's own platforms.

Mobile mobile mobile mobile......... I want windows 10 mobile build fast fast fast......

No, they're still putting all effort on windows 10. And, btw, I don't think we will see much more features on w10 mobile..

It would be nice to see features that had been in WP 8.1 :(

I would like an Ommpah Loompah!

Please, fix the freakin play-to device, and the randoom app shutdown. I don't really understand that

Have you tried submitting this to the Windows feedback app? Or just post it on answers.microfost.com. They are very sure to assure you that they will work with you to solve your problem. They never do. But they sure do try. Also have you tried a full hard reset, and SFC /RUN /SCANNNOW / ? from elevated command prompt?

Still faster than Windows mobile builds.

Don't have to sign a ROM for your PC.

Firefox 40 better than Google Chrome and Edge is on other hand..I don't care about Google Chrome crash or Google Crash.

Me neither. Googleless life can be achieved. I have done it too!

Shhhhh maybe Microsoft wants Google Chrome to crash on launch. just don't tell Google.

probably the other way around, so you think windows is a peice of &$&#, then get an Android tablet for $4.30

Ballanda, bud you need another hobby. You have posted way to much in this thread. :)

I don't think windows is a priece of "&$&#" my comment was just irony.

SHOW WINDOWS SIDE BY SIDE is still broken. I dont get it. People are on to whining about enhancements, when there are still bugs. I cannot work like this! Gabe, hear our prayer.

I learned the hard way not to do insider on main pc. Last one kept freezing on me so reverted back to 10240. Except everything was messed. Icons missing. Store would not open regardless of known solutions. Apps had weird name with resource links. Oh man. Have to do a reset now and going to have to reinstall everything. My ms experience has been slowly dwindling.

agreed. I am not doing my central backbone machine again. If the watermark isn't annoying enough, it always deletes some of my settings anf prefereces after each build.... something I dont want to be maintaining every 8-10 days if that's how its gonna be.

Downloading the Update right now...I really hope they fixed the computer crash upon game exit issue...

Nope, problem is still there...

it is still there... experiencing it atm.

I don't get the sharing part....

It lets you share it to your social network friends so that they can see your feedback if its good and getting swept back in the wave of others feedback. It helps bring true attention to certain feedback.

Didn't your parents ever teach you about sharing? Oh, my... tsk tsk.

Just updated to Build 10532, Norton Security doesn't work have to go back Windows Defender

Norton not working is probably a good thing!

I'm using the non-preview version, with only Windows Defender and no other antivirus. Works great!

Please fix the mail app already - it's not usable in it's current state .. that and OneDrive .. seriously ..

..and bring back the charms menu ... (/troll) ..

That would be very helpful for tablet users like me.

Actually. I do miss the ability to swipe from the left and share stuff -- this picking the top of the menu is really fiddly at the best of times

So true. MS totally fucked up the tablet experience with Windows 10. Its unusable. All they had to do in Win 8.2 was to disable the charsm when on Desktop and put the fucking start menu back for users living in the past. Or extend the Charms APIs to Win32 apps or make reasonable defaults possible on the desktop. Like: when there is clipboard content that looks like an URL let it be shared. If there are files in the clipboard, let them be shared or printed. Now every app has the share option somewhere, as well as settings and print. A true desaster. Staying on Win 8.1 until this mess is fixed.

So since it's unusable you're getting a Mac right?

The charms menu was just too ahead of its time I guess. I don't understand what was confusing about it but I guess people are just stupid. My humble opinion. Loved the charms bar, they could have at least kept it for tablet mode.

The concept of a unified place for settings, sharing and printing was indeed unique. You had to learn it once and it worked in every app. Now you have to hunt for these things in each app. An not even MS keeps it consitent across their fucking default apps they put in every user profile.

You hit the nail, people are dumb and it's resulted in a flawed experience, I consider it useless for tablet computing which is the market MS need to win over.

The Share function across the system is actually quite handy. The open feedback is, overall,a sign of positive thinking.

This build has serious issue with drivers. Althought the updated build had working drivers, 10532 installs Microsoft-forced drivers for some devices and doesn't bother about some others (leaving them without a driver). Result? Lenovo Yoga Tab 851F WiFi driver broken, no WiFi. HP Probook 6465b HP APU VGA driver broken, no online video (would happen on all AMD APUs of at least this gen). The WORST part however is, that these drivers can not be updated! Driver update alway times out, tried many approaches and several driver versions. This probably is the result of Microsoft's mysterious silence about the forced driver autoupdate in previous builds which srews up many computers every day. They are heading somewhere - in actual build there's almost no way to actually CHANGE a driver. I managed to change the VGA driver Windows 8 compatibility mode, but Catalyst app won't install. And of course driver will get updated in a couple hours again. I posted a Feedback: Windows-Feedback:?contextid=79&feedbackid=2051a7d0-d99e-41f1-9607-f97ec96725f2&form=1&src=2 Please share and upvote! This is absolutely unacceptable, Microsoft is rendering our computers useless! BTW Yoga already reverted, now is autorebooting :-(

I have the same issue on lenovo yoga tablet 2. No Wifi and I can't install wifi driver. Rolling back to 10525.

I don't think there's any sinister plot, just really dumb mistakes. I'm in the process of rolling back also. I have a ThinkPad 8, and the WiFi driver would not install. I even downloaded the newest driver from Lenovo on my main laptop, put it ok a USB, and tried to install it on my ThinkPad; but installation kept hanging and was unable to even uninstall the current Broadcom drivers. Sucks really, hopefully my rollback works. I think I saw your feedback, I'll give it an upvote. Just your anger came across a bit too much, remember these builds might not work; I too understand the frustration.

Anyone know how to enable Netframe 3.5 in windows 10 using command prompt and iso file

So far at least two of my apps won't work. Flipboard and CBS news. Had to go back to last build. Going back I lost my store app. No matter what I try it won't open. I'm honestly thinking the only stable solution on a tablet especially and even desktop is 8.1. It just works! We have the Neanderthals to thank for whining about charms and the old start screen.

So happy for the menus, but most of all i am amazed by how much microsoft seems to listen.

Since I upgraded, I have a strange issue with the Edge browser. The mouse pointer needs to be about an inch above the actual link yo want to click. The pointer is not matching up to the actual real estate in the browser. Issue does not occur with IE, just Edge. Other than that, everything seems to work well.

Anyone else seeing their context menues get darker with each hover? Mine go from gray to blue on hover, then get darker blue with each hover. A very weird bug.

lost wifi and touchpad on asus t100 kind of essential for a all in one

Ok, I really like that context menu. It's spacious, clean and fits with the Windows 10 theme.

Groove Music is now broken for me in 10532. When I opened the app, my library showed up (~6,000 songs). Within seconds, the entire library disappeared and now no tracks are shown at all. Nothing happened to the actual files, but the app no longer shows anything. I've double checked the locations to scan, etc, but nothing works. I also can't get it to scan the locations where my music is stored. This was working prior to the update.

I had to rollback to WP 8.1 in my Lumia 925 because the wi-f wasn't working in this build.
Windows Central Newsletter
Thank you for signing up to Windows Central. You will receive a verification email shortly.
There was a problem. Please refresh the page and try again.