Here's what's new, what's fixed and what's still broken in Windows 10 build 10074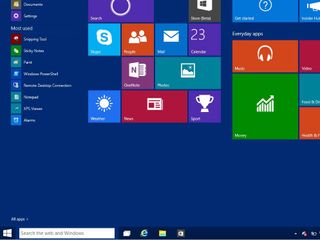 The newly launched Windows 10 10074 build has a ton of new features, along with some bug fixes and, yes, still a few things that are currently broken.
Microsoft's Windows Insider head Gabriel Aul detailed what's new, what's fixed and and what still are known issues in this latest build of the OS:
General UX improvements: We made a bunch of UX improvements with the last build and you'll see even more in this build. For example, you'll notice a new Live Tile animation for Start in addition to in addition to some performance and stability improvements for Live Tiles.
We've done work to better support high DPI displays. And we know many Windows Insiders are running multi-mon setups – often with 2 monitors with different DPI. You will start to see some work we're doing to make sure core UX components in Windows scale correctly on both your monitors so things look nice regardless of DPI.
We've also heard loud in clear that many Windows Insiders want to see Aero Glass from Windows 7 make a comeback. We've been working out how to satisfy this request, and are trying some things out with this build to see how you like them. We're running a little A/B test with this build. 50% of you will normal transparency on the Start menu and taskbar while the other 50% will see a blur effect on the Start menu and taskbar (like frosted glass). If Windows Insiders really like the blur effect, we will add it to more areas and even consider making it the default instead of standard transparency. Which one did you get? Send us feedback about it via the Windows Feedback app!
Even more improvements to Continuum: We're continuing to make Continuum better and invest in a simplified taskbar. Additionally when you close an application in Tablet mode, we take you back to the Start screen instead of the desktop as you would expect when using a tablet. You will see general polish on snapping, and the shared divider between two snapped windows now let's you adjust the size.
Multi-tasking improvements: We're continuing to refine and complete our mulit-tasking experience with Windows 10. Check out Alt-Tab, Task-View, and Snap Assist. Snap Assist also now supports the ability to close a window during Snap Assist.
New default Windows sounds: We've heard a lot of feedback from people that they want some fresh system sounds for Windows 10. Check them out and let us know what you think.
Visual refresh for Cortana: You will see a visual refresh for Cortana in this build that makes the experience feel more ingrained into the overall Windows experience. Start and Cortana are now more tightly integrated. As you start to search for an app from within Start, Cortana can seamlessly take over and bring back the right result. The new Windows split view control has been added to Cortana's left rail, offering quick access to key Cortana functionality like the Notebook, Reminders or Feedback on how Cortana's doing. This split view control helps anchor Cortana to the rest of the Windows UI and provides navigation consistent with many other Windows first party applications.
New experiences in Cortana: We are turning on some new experiences in Cortana powered by Bing Instant Answers. Cortana will aim to answer your question while you're still typing. Here are a few questions you can try:
Weather – "Seattle Weather"
Finance – "MSFT stock"
Dictionary – "define astounding"
Calculator – "48*92"
Flight Status – "UA 238"
Reference – "how tall is brad pitt"
Showtimes – "movies near me"
Tech Help – "memory in my computer"
Time Zone – "time in London"
Unit Conversion – "42 ft in meters"
Chit Chat – "tell me a joke"
We have also added additional proactive scenarios like News categories and Flight Tracking.
Updates for the Music and Video Preview apps: We've also shipped updates to these apps. The Music Preview app (3.6.999.0) has some UX improvements including a more immersive Now Playing experience with a true full screen mode. With the Video Preview app (3.6.999.0) – you can download movies, TV shows, and TV seasons and check progress, pause, resume, cancel the download. You can also download, delete, and even re-download videos as many times as you want on up to three devices (we're planning to increase the number of devices you can download content too!). Closed captioning for purchased content now appears. You will see a list of new features when you first launch these app after each update!
Xbox app April 2015 update: The Xbox app for Windows 10 has been updated (your version number should be 4.4.9014.0 or higher) with new features like Game DVR for PC games, screenshots, a Live Tile, user profiles, and real-name sharing. Oh and the drivers for Xbox controllers are now included with Windows 10, so you no longer have to download and install controller drivers on Windows 10. For more on this month's Xbox app for Windows 10 update as well as the new Avatars app – read this blog post.
Windows Store Beta improvements: We're excited about delivering a single unified Store experience in Windows 10 which we're talking more about this week at Build. We've made some improvements to the Store Beta which is now a blue tile instead of grey. Xbox Live games should be working and so are in-app purchases. Apps you purchased on a PC running Windows 8.1 will now show up in the Store Beta on Windows 10 as owned (and vice-versa). We're also expanding the Store Beta from 41 markets with the addition of these new markets: Afghanistan, Åland Islands, Albania, Algeria, American Samoa, Andorra, Angola, Anguilla, Antarctica, Antigua and Barbuda, Armenia, Aruba, Azerbaijan, The Bahamas, Bangladesh, Barbados, Belize, Benin, Bermuda, Bahrain, Bhutan, Bolivia, Bonaire, Bosnia and Herzegovina, Botswana, Bouvet Island, Cyprus, Dominican Republic, El Salvador, Georgia, Ghana, Guatemala, Iceland, Iraq, Kazakhstan, Malta, Pakistan, Qatar, Sri Lanka, Jordan, Lebanon, Nicaragua, Oman, Panama, Puerto Rico, Paraguay, Trinidad and Tobago, Uganda, Venezuela.
Discovering features and apps in Windows 10: We are investing in easy "bite-sized" learning and discovery experiences so that users can get more out of Windows 10. This ranges from tips and tricks on the Lock screen, to helping users discover high quality apps through Start, the Lock screen and Cortana. Be confident that you won't miss out on new features and enjoy the ease of having high quality apps curated for you. It's optional, and if anything doesn't strike your fancy, you can provide feedback directly, such as whether you like an image or an app. These new experiences will be rolling out over time, so you may not see them in your market yet.
Microsoft detailed what they have fixed in this new build compared to older versions of Windows 10:
You can now launch Win32 (desktop) apps from the Start menu again. Sorry about this bug!
You should be able to download music in the Xbox Music and Music Preview apps.
When you minimize an app playing audio, it should continue playing in the background.
Finally, there's a small list this time of known issues:
Developers cannot enable Developer Mode in the Settings app for installing and testing apps on this build. We'll enable this in an upcoming build. In the meantime, you will need enable your device for development using the Group Policy Editor.
There is an issue in this build preventing some games from playing in full screen mode. We're working to get a fix out via WU as soon as possible.
The People app continues to crash. We're planning to release an update for the People app through the Store Beta that fixes this.
Source: Microsoft
Want same too for my fone

So I can connect my controller and start playing?

and when TABS TO THE FILE EXPLORER??

window 10 Build 10074 and ALL Previous Windows + Build free Download.......Here Direct Links: http://talhawebz.blogspot.com/2015/04/window-10-pro-enterprise-technical_29.html Torrent: http://talhawebz.blogspot.com/2015/04/window-10-pro-enterprise-build-10074.html Enjoy it.......

Does it include a rebranded version of Project Spartan, the new Edge?

no. it's the same build that was leaked yesterday.

As soon as I can get it on my DV8P I will because these are some good improvements for my tablet =).

I suggest you wait if the DV8P is your primary tablet. It is still not very stable, and tablet mode is still quite buggy. If you are OK with the rough edges, then you should be fine.

No prob.. Updating anyways :)

Great copy and paste, even got all of Gabe's typos.

They're not typos, they're Gabe-isms

Update, Use, Feedback Repeat ;)

Hopefully they keep standard transparency. I don't want that ugly blurry Windows 7 appearance

They should use the most popular option as default and include a toggle for those who don't like it that way.

I doubt something as minor as this will get a toggle, probably they'll choose which is more popular and get over with it.

Seriously, what do most people like in Aero? I loved the simple transparency effect on the taskbar.

What people most like about Aero is that it makes text in the background somewhat hidden and helps in avoiding confusion. Besides, it has a special kind of glow which really makes the UI look fresh.

Nope it looks antiquated not fresh.

If they'll add blur i'm gonna have a heart attack.

I like it, it should at least be an option

The advantage of the blur is I can still read the app list that shows up over my desktop icons. It looked pretty crap with just transparency. But yeah, I'm all for having a toggle

I absolutely hate looking at blur on minimalistic style UI, it's fine for Windows 7 style but it doesn't fit here. Round profile images, blur, what next? Apple logo in taskbar?

Omg this app doesn't have alot of bugs... Like what??? I hope this will be a continued updating process ;)

"App"? Okay. Go home, you are drunk.

I wonder if there will be a hack to switch back and forth from aero to transparent?

I'm wondering why they didn't just provide a way so everyone can compare them.

I wished they had done that. I got the frosted glass crap :(

How do you sync an xbone controller? It's just bt?
Is MS trying to get a patent on continuum? That's a nice UI device to bogard.

It doesn't use BT, you have to connect it via USB.

Better than the 360 method. Thanks.

There's going to be a wireless dongle that comes out later this year, closer to when Windows 10 comes out, if I'm not mistaken (I remember reading about it a couple months ago, not sure when though).

I hope they make Edge have tablet UI soon. It's not terrible as is but it's not ideal either. Swipe for back and forward is important.

Phones? Late April update ?

I'm having this issue 0x800705b4 pls help. I'm on 10061 and i only did get this issue on 9946 now it doesnt see any updates gives this code. When I try again, its just looks for the update then gives the code again! Can anyone help?

Bing the code? I found this. Hope that helps!

Set to fast ring, i had same issue until i changed it from slow to fast

"We've also heard loud in clear that many Windows Insiders want to see Aero Glass from Windows 7 make a comeback" NOOOO!

Don't like it, turn it off. Don't insist that nobody can have it.

Can't in this build. I'm stuck with the frosted glass POS. I've hated that crap since I saw it in IOS 7

I think that it will be optional, an your feedback should be helpful. No luck for me on tablet, will check PC later. Want to see the difference.

From what I can tell, it's only available in desktop mode.

YESSSS. I'm so happy today.

Expanding markets to new countries. Im from Afghanistan. Can any body please tell me what are the benefits for me? I mean what can I do with store now that i couldnt do before.

Meanwhile i keep getting this error when trying to download the new build • fbl_impressive Professional 10074 - Error 0x80246017

Bing brought up this. Hope it helps!

Set to fast ring, i got same thing until i switched it from slow to fast

Does this mean the beta store is also fixed?, it keeps loading every time i open it

The update is impressive. However they should start on phones too. Windows 10 for PCs and phones release in one day?

We are in desparate need of a new fastpath on the phone. If I knew it was a couple weeks away I'd roll back to WP8.1.

I love all these comments of people who think builds can be made in a day or even a week. To you people, I say this: "Try developing for a day." It takes a lot of time!! Be patient...80 million+ lines of code just doesn't get fixed and updated in that period of time.

Off topic good news: I asks Cortana to open windows update, and the response was:
"Sorry, I can't do this for you right now. Please check back in future updates."
They're obviously anticipating that question, and have a response ready. That gives me positive vibes.

Had same answer when tried: "Start/open/launch Opera browser" or other programs. Waiting for new updates.

Impressive update. Will be updating tonight!

Big up to Trinidad and Tobago. Woot

Feels pretty stable... I can start to see a light at the end of the tunnel...

Aero was stupid on previous versions of Windows and remains so on the latest version. I AM glad to see I no longer have to get kicked to the stupid desktop after exiting a program. Why is Microsoft wasting any dev time on idiotic sounds? Work on something that MATTERS. I don't WANT to be forced to use keyboard commands to manipulate apps!!!!!! I love the way Win8 handles it. BRING THAT BACK!

Can i just say I hate these new Windows Central advertisements that when on mobile, make you think your phone browser is frozen until you see it scroll up. Then you see tiny text saying to scroll to the top to dismiss. Worde than a full screen modal video.

Now the big question is: Is this the build where I dare installing it on my daily driver, the SP3?

My SP3 has run every build since 9841, mostly without issue. Wouldn't go back to 8.1 if you paid me.

While I've enjoyed the Windows 10 builds, they are almost infinitely inferior in tablet mode, so if you do use your Surface as a tablet, it's a bit strange to be as high on it as you appear to be. :) I'm glad to see the tablet UI continuing to get improvements. Windows 8/8.1 got a lot of the tablet stuff down just fine, so I'm not sure why there's this need to reinvent the wheel on the UI front, but I'm sure there are project managers at MS making triple figures that have their reasons. :/

I regulary have problems with lock screen after sleep. It asks for Win + Power, but works only sometimes when keyboard is attached, and sometimes orientation is broken. But still, use W10 looks good in any case

Maybe it will be fixed in 10.1. Right now, it's barely usable by doing usability hackjob. The saddest thing is that I'm sure that Stardocks will not provide Win8 multitasking for Win10. The fanbase of hybrids is too small and 8 has barely been out on the market.

Is this slow or fast ring build? Edit: Nvm its on another article.

They still seem to be trying to figure out what to do with the search window when going from the start menu. Previously it overlapped awkwardly, now it just dumps the start menu and opens the search menu (very slow on my old laptop). Hopefully there's a better solution forthcoming

The only problem I have os that the SP3 really replaced pretty much everything but my phone. So it is the device I rely on totally. I have the TP on an older PC and while it runs OK, I am still a bit hesitant. I just need it to work reliably. Oh, the stretch between geeky desire and professional caution :)

That 3d effect live tile!!!

I got the blur effect on the taskbar and start menu soon after installing the graphics. Blur is enabled only in mini view, normal transparency in full view.
Checked the 'EnableBlurBehind' key from registry but was already turned on by default.

Uhhh I updated and the watermark on my desktop still says 10061

I haven't installed any of the windows 10 build in my pc.. Can I install this build directly into my pc running windows 8.1??? Plss anyone do say..

Yes you can, without losing any file!
Go to insider.com + you can dual boot it, search WC for more info

I did fresh install of this build and never look back to W8.1 even though there is still rough edges here and there.

How's the battery life?
I'm planning to install it on my VAIO

I got n error on My lumia sd card a few days ago. I removed it, put it in a card reader and plugged it to the laptop with build 10061. I checked it for errors by the windows error checking but it was unable to check(was at zero percet for 12 mins. and then I cancelled). I tried a pendrive and it scanned it succesfully. Is this a bug. Has anyone else figured it.

Oh to be able to get to 10074.......I've been testing W10 on a traditional non-touchscreen Toshiba laptop. The last time I updated (build 10061) I can no longer access the windows homepage, notification centre, Cortana search or anything pinned to the taskbar.....basically I'm stuck on the desktop and can't access any apps.....I knew it was a risk when downloading the preview and I accepted the "this sh!t could brick your device" policy when I joined the fast ring preview....still, it kinda sux :(

I hope this fixes the crashing of my PC when opening a video on the browser susch as Youtube, etc.

I Update but won't use it. I got a new laptop where everything works at least

Am I the only one who cannot run apps from the start menu's search bar ? When typing something like "cmd", it correctly finds "Command Prompt" in the search results, but clicking on it or pressing enter to start it does nothing. And it's the same for every app I try to search for/run. Since this was my main way of starting apps, this is a problem :)

After a reboot, it actually worked for the first search I did.Then it broke again.

For my system, the dual boot screen will no longer show. W10 sets itself as default, so I have to go into msconfig to change the default OS in order to get back to my W8.1.

You need to download and install EasyBCD it will do the job for you it's the perfect boot manager.

AH, finally I can run 32 bit apps with out having right click and run as an admin on every single application....This was a MAJOR annoyance... It's worth upgradeing for that fix alone.... Now if we can get Windows 10 phone for the ICON, could be happy...

My store icon is still gray after the update, anyone else with this "issue"?

My start doesn't launch sometime. Anyone with this issue?
Windows Central Newsletter
Thank you for signing up to Windows Central. You will receive a verification email shortly.
There was a problem. Please refresh the page and try again.