Here's what's in the Windows 10 PC and Mobile cumulative build 14393.82 for Insiders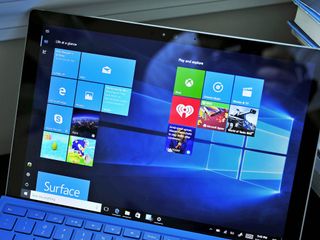 Microsoft released the full change log of what was included in the latest Windows 10 cumulative build 14393.82 update that was released earlier this week to Insiders in the Release Preview ring.
The long change log was posted on the Feedback Hub (via Microsoft's Brandon LeBlanc) and is reproduced below:
Improved reliability of Network Controller, DNS server, gateways, Storage Spaces Direct, Group Managed Service Accounts, remote procedure calls (RPC), PowerShell, Internet Explorer, printer pairing and interoperability, the Windows kernel, Media Core, the Store, Connected Standby, Cluster Health service, the Hypervisor debugger and platform, and Active Directory.
Improved performance for Storage Spaces Direct (S2D) with many nodes or disks, scrolling lists on Xbox, DHCP address acquisition, Active Directory queries, and the Cluster Health service.
Addressed issue that prevents external media from playing on Xbox One using the Cast to Device menu.
Addressed issue that causes the Mouse events to be not recognized sometimes in Internet Explorer.
Addressed issue that slows the rendering and resizing of nested tables in Internet Explorer.
Addressed issue that was not causing the UI layout to be updated correctly in Internet Explorer 11 quirks mode.
Addressed issue that was causing nodes to be disconnected from a Cluster service intermittently.
Addressed issue with the 3G and 4G options not shown correctly in Windows 10 Mobile settings.
Addressed additional issues with MDM enrollment for an Azure Active Directory tenant, software compatibility, poor rendering of Yu Gothic font family, Cortana, slow connections to cluster shares, Xbox One cannot launch the Netflix app using the DIAL protocol, Xbox sound volume and music playback, all video stops while audio plays in a Movies & TV app, incorrect scaling of Internet Explorer's first-run dialog, driver setup, Windows Update for Business, apps failing to install after resetting device, boot failure with Hyper-V and BitLocker enabled, Cache Manager, Cluster Health service, cannot alter roles and features on a locked down machine, disk-to-enclosure mappings not working, PowerShell, missing lock screen image, fitness tracker not recognized as a mass storage device, synchronization not working between Intune and Azure Active Directory (AAD), failed Wi-Fi Skype calls, poor streaming playback using progressive download, failed cancellation of Store download, extensions for Microsoft Edge, incorrect Lock screen UI after resuming from hibernate and sleep and blocked installation of Store game bundles.
Late on Thursday night, Microsoft re-released the same update for Windows 10 PC Insider owners with an additional fix. People who had downloaded the previous 14393.82 build did not receive this new version.
Windows Central Newsletter
Get the best of Windows Central in in your inbox, every day!
Great! camera was kind of shaky... not working well and actually rebooting a couple of times when taking pictures or manipulated them... assuming they are fixing it, that is...

You mean on mobile? I was also having a problem with it which is frustratingly crashing the system sometimes. There is even some instances where the Camera and the whole system unresponsive for a while. Not sure if this a Camera app problem but more like the OS related issue.

Interesting. I had an issue with my Icon OIS being jittery. I sent it back for a warranty replacement. So it was the OS the whole time?

No worries. I m on 14905.1000

Are they even working on the issues in the Linux subsystem? Still waiting for ifconfig, apache, MySQL and PHP to work properly.

Hmm, ifconfig (and many network-reliant daemons) had issues during the early releases but they supposedly fixed that ages ago. Have you upgraded to release from the early preview builds? You might still have the old DNS configuration that caused those problems. For what it's worth, all of your example binaries work for me under LXSS, but I haven't used them so much that i've found any edge case breakage. What exactly doesn't work about them for you?

ipconfig doesn't work at all. Apache and MySQL are only able to install using a **** ton of workarounds. PHP failed to install. I've always updated to the latest insider builds. So I'm currently running Redstone 2. I should probably wipe the subsystem and reinstall it.

Does mysql running on the subsystem run faster than say mariadb or even just the windows myslq install? Or is it a purely cmd/terminal choice?

For me it's more of a habit. I've been working with MySQL for years now.

Well ever since using to this, I can't hear anything when Groove plays, even though videos and other audio works fine. This is true for off or on Bluetooth. My music pass is useless until it's fixed.

It was reportedly fixed in fast ring update. A matter of time until we all get it. I'm in same situation

Good to hear that they fixed the lock screen image not showing up.

And here's what's new for the Lumia 950 on AT&T. NOTHING!!!

No kidding dude... I'm so tired of AT&T...

I was about to buy the nonbranded 950 XL from the MS store when they had the recent sale but I got Asurion to replace my 850 for a 950 so it was a lot cheaper. Kind of regretting that now.

Pardon my ignorance... Can't you just go to insider release preview and get everything?

Not firmware. I'm already on Release Preview build 14393.82. But have to wait for BS AT&T carrier approved firmware to get Double Tap to Wake and some other MS bug fixes. This phone never should've been released without Double Tap! #MSFAIL

Be careful what you wish for... I activated doubled tap and all kinds of problems came about... Battery got dramatically worse, iris scanner became glitchy as well as a brightness bug. So after realizing my phone never behaved this way before, I turned it off... And like magic the other problems went away

At least you can blame AT&T... We haven't got the new firmware on unbranded 950xls in the UK yet either.

No. YOU should've never bought a car at a gas station, now pay the consequences

I was originally upset that T-Mo didn't offer the 950. Luckily I was able to afford the phone without a payment plan and bought it from MSFT directly. The update pace has been good and I am always on the latest release without waiting for a carrier to get out of the way. There was a potential downside for not having wifi calling, but thats not a big deal for me. I think I might be an unlocked phone convert from now on. I only hope that MSFT starts running phone purchase plans in the future to take the gamble away completely. Sorry to hear about AT&T. At least you're not on VZN.

I still can't reply or forward from outlook mobile on my Icon. I wish that was fixed cuz the rest of it is awesome.

I had that problem but I removed the account and then re-added and all is well now. I'm also using an Icon and the problem was with my gmail account rather than my MS account.

Surprised by all the bug fixing with IE11

Hi, I'm with 14393.67 on my Lumia 930. Worked great for a couple of days, but now got very hot after downloaded some pictures, and restarted by itself after I took some pictures...
On the Brightside, the keyboard size and place is adjustable, swipe back & forward in edge is great.
Hoping the heat problem will go away somehow...

I had this heat problem on my 930 too, but since 14393 it is gone... Maybe try a hard reset.

Here's something else new with this update...your mobile app doesn't work on my Icon. The live tile tells e there's 21 articles, but when I open it, it closes immediately. I uninstalled it and reinstalled it, and it still does it. I'm getting tired of Windows phone. Im tired of the glitchy updates, im tired of the old equipment and the lack of carriers. and im tired of being f'd in the butt by Nadella. Im seriously considering moving to Samsung on Verizon, and even if I keep my icon, I may move my wife and son's lines just to get the newer phones. Time for me to f Nadella. Somebody fire that bozo.

Still no fixes for crappy Bluetooth and broken text scaling on mobile. Sad trombone!

Yeah, I have that build on my AT&T 950. I was wondering what was going on.

My phone says that the phone is up to date, and it's running version 14905.1000, windows central never talked about this build, I'm on fast ring, Lumia 1520.

You should read the first sentence of this article to get your answer. Also, WC has 2 articles prior to this one talking about this build.

Did you flunk basic math? 14905 > 14393.

The phone is saying this is the build number you dumbass, I exactly meant 14905. Stupid people in this world, gosh

The photos app is still horrible in the anniversary update. Unbelievable. Sometimes you simply can't zoom and drag a photo.

True about zooming, or pinching... It freezes, or the picture disappears the screen

Yep, same here. I found out that the pinch/zoom and disappearing photo issue happens when you enter the photos app from the camera app.
If I go to photos app directly from the Start screen, the pinch zoom, blackout issue is gone.

They forgot: GPS not working again stopped working again. So can't use no navigation app.

I don't know about anyone else but my insider build is 14905

Yeah, you're right, you are.

I'm in the same build,1520.3 -14905

You must be on the Fast insider ring, which is previewing the next *MAJOR* update of Windows 10, which has been codenamed Redstone 2. This article is talking about the Release Preview insider ring, which is previewing the next cumulative *PATCH* of the current version of Windows 10.

Insider fast ring, but that should have been obvious if I stated I was on the latest preview.

And here I'm sill stucked on build 14901 w.....t......

Looks like a large number of fixes are for Server 2016, which doesn't officially release until September.

Does anyone have the new panorama feature in the camera app? I have the latest build and i dont seem to have it..

It's been there for me for some time now. It's another "icon" where you choose video/photo mode

Its for some phones only. My 535 doesnt have it.

Same here It's not in this build it seems..

It is no longer present in the camera builds. People may already have got it when out came out, but that build is not available right now, regardless of phone or region. Thanks MS.

Yeah. Mine does have panorama and it works kind of OK, stitching could use some improvement.
I'm on 14393.82, camera app build is 2016.816.21.0 and I'm on L640XL
I'm surprised that by default, the pano runs full 360 degrees instead of 180 like the old app did from Nokia, so I manually stop the capture where I want it, which is very nice and provides some flexibility. Now, they need to provide vertical mode by default, instead of me having to rotate the phone.
I really miss the old Photosynth

How is your camera app build more recent than other users? I am also on 14393.82 but my camera build is 2016.404.191.0

Luke, I have no clue why. I've always had the pano in Camera app ever since they released it, it never went away for me. If it helps, I'm on a release preview ring, have L640XL and the camera build I wrote above showed up and autoinstalled yesterday

Fast Ring is on RS2 14905.

So did they add static IP options for mobile devices? Been waiting on this forever.

Is there a reason I cant update to this version on my Lumia 950xl US? Im still on 905 build

Yes, you can't update to a "later" build.
Fast ring is on a brave new development branch, these are still AU builds

Is anyone having an issue where they can't enable wifi or mobile hotspot options? Started happening after this update on Lumia 640.

Did you enabled 4g before tapping on hotspot tile?

And no update on camera....

Is it better than the anniversary update .67 ?

I think so. It finally fixed the broken live tile in calendar and mail for me. For the first time ever on RS1 build.
So, I'm happy camper now.

i wish they would fix the alarm volume issue so annoying

Any word on if windows mobile's file manager will ever be able to browse network shares?

I am on 14905.1 and it seems since the update this week, I can't download or update apps

I wish they finally enable call recorder for all wp10 phones!!!!

i miss live tiles and the ui in windows mobile. Im on week 3 of my s7 edge. here maps then paypal leaving was enough for me. For me to return i would need here maps or microsoft maps to be as good as google maps, id need paypal, you tube official app and paypal to return, i dont see that happening soon so im out but i will miss live tiles and the notification aspect of my 930 lumia mobile phone, it is fantastic but apps seem to be bleeding since microsoft took a mobile backseat or at least seemed to take a mobile backseat with the terrible plastic looking 950 and xl series mobiel phones. windows mobile has alot of things that are great and beat what th s7 offer but apps is not one of them and to me thats now a big issue with windows mobile. Strangely it wasnt a issue for me in 8.1mobile cause i hade here maps, i had a reliable you tube experience(in win 10 mobile its not). I hadnt used google maps but now i have and wow its night and day. But ui, moving around the os and the way it was all fluet, notifications opoening the blanck screen on a 930 or opening to the lock screen from glance on the 830 all thses things better the s7 edge experience. Big shame microsoft couldnt have released a decent flagship phone ion 2015 instead of the 950, , to think a metal body a finger print scanner, wirelkess pay would have sold more phones, developers like paypal and here maps wouldnt have left the windows eco sytem, hell why didnt microsoft buy nokias here maps, a very studip move from where im standing. I hope microsoft can make it work cause if android or mac os release a os that has all the games a pc desktop has, ill probably move over to one of their eco systems and why? all devices on the same system.
Windows Central Newsletter
Thank you for signing up to Windows Central. You will receive a verification email shortly.
There was a problem. Please refresh the page and try again.