Here's whats new in Windows 10 Insider preview build 14279, including more Cortana languages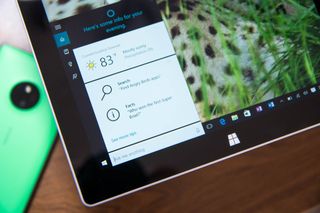 Microsoft has revealed what's new in the just released Windows 10 PC preview build 14279 for Insiders in the Fast ring. It includes more languages for the Cortana digital assistant.
According to Microsoft's Windows Insider leader Gabriel Aul:
Cortana in more languages: With this build, we are enabling Cortana for the Spanish (Mexico), Portuguese (Brazil) or French (Canada) languages! If you're running the Windows 10 Insider Preview in these languages – give Cortana a try and let us know what you think. For each new market and language, the Cortana Team works to develop a custom experience that is relevant in each individual market and language. For instance, in Brazil – Cortana is fond of pasteis which is a common food found in many regions across Brazil. And in Mexico, we added local flavor to reflect the accent and language of the country. But our work is never complete and a big part of our development process is getting feedback from you. These are early versions that we will continue improve based on your feedback and we look forward to hearing more from you.
Cortana remembers things for you: We have all had those moments throughout a busy day where we need to remember something, but don't have time to stop what we are doing to set a detailed reminder. With Cortana, you can now save useful information like the name of a book you want to read (ex: "remind me to read [insert book name]"), or a to-do item without a due date (ex: "remind me to wash the car"). You have the option to set specific details like location, time, and people at a later time so that Cortana will surface it when its most relevant. You can always view and edit all of these in the same place you see your reminders in Cortana today. In future builds Cortana will be able to retrieve these upon request, just like a real personal assistant would.
Updated logon experience: Previously on PC, there were two separate backgrounds for the Lock screen and then the logon screen. We're merging the experience so there is just a single background – your Lock screen background. This is similar to the behavior seen on mobile. If you have a custom Lock screen background set, you will see your Lock screen background is now used for both the Lock screen and logon screen. If you're a Windows Spotlight user – hold tight, you'll see this change soon in a future build. We're also working on some additional tweaks here to make the transition between the Lock screen and logging in much smoother.
Performance and Candidate improvements in Japanese IME: We have improved performance of IME especially on typing response. So your typing experience will be smoother than before. We also extended our prediction content and you can select wider variety of candidates from prediction candidate list.
Source: Microsoft
Windows Central Newsletter
Get the best of Windows Central in in your inbox, every day!
Sigh, got so excited when i read the title, but sadly not in the Netherlands yet... Posted from the WC beta app using lumia 1520

And still not in Sweden either

Yeah, and at this rate I guess we can forget it for a few years.

Nope, and Norway (where I live) is probably even further down the list. I guess we can look forward to Cortana sometime in the 2030's. Wish they would just release a general Cortana for those who don't have a country specific one yet. I really don't give a **** if Cortana has a thing for brunost (brown cheese), or not.

Or alternativly​ you can put your computer in English language and region and get it now? Brunost er oppskrytt.

Hvordan våger du å si noe så respektløst om den mektige norske brunosten!

Same here, wondering when Cortana will be available in Belgium, Flanders.

Tomorrow in English as a stopgap if MS would just uncouple overall region settings, overall language settings, and app-specific region and language settings... Since MS seems barely aware that most of the world is multilingual however, 2020 seems more likely.

My sentiments exactly, I wouldn't mind an American/English version as long as I didn't have to change my regional settings.

They haven't even finished all of the English countries! Cortana doesn't support New Zealand English yet, so I have to set my region to Australia. Maybe it has something to do with our Maori place names, or culture, or something, but currently I care less about Cortana's culture-tuned personality, and more about the actual functionality of Cortana. (Place names can be fun, like when I was using American Cortana, saying "whats the weather like in Auckland?", and it returning the weather for Oakland, California.)

You hit on why English speaking countries don't all have Cortana already, accents. US Cortana is not going to work well for an English speaker with a non US accent. Speech recognition is so difficult for a computer due to accents

However, Cortana with Australian English is available, and our accents, dare I say it, are pretty similar.

We say barbara different? ;)

US Cortana worked well enough for me when I tried her on my phone and I'm Flemish. Yes, I couldn't get her to pronounce my name correctly, the would probably be true for most local names, and she doesn't have any regional knowledge either. But, US Cortana at half capacity easily beats no Cortana at all... Not to mention that uncoupling region and language might make things easier for international students and expats as well.

Just make Cortana call you a c*** at the end on each responce and boom, theres your aussie version.!


"We're merging the experience so there is just a single background". Yeah, finally!

They should better merge the useful things, not the ugly ones...

E.g. I'd like to see Swype and text messages/calls utilising the phone (without Cortana) on the desktop/tablet, maybe a possibility to use location sensor of the phone (Surface lacks it). On the phone I miss drawing in OneNote, SSTP VPN, Outlook tasks, SharePoint access and a good web browser. Instead we get the new logon screen, which I already wasn't a fan of on the phone, the old curtain style looked far better and felt like part of the OS. Thankfully I don't have to watch the animation when using Windows Hello. I hope they leave the possibility to disable the logon background on the desktop as it is now, I don't want circle userpics and textboxes on my wallpaper...

Yes! This is a very welcome change.

I like the way it is now... The blue hero image... And my lock screen I hope the change provides an option...

Flying time and date text doesn't look good at all. I liked the curtain login better

Not grabbed the update yet, just got back from the pub. But sounds like it's now similar to phones

Well they make it consistent to phones which makes sense. But yeah I also still prefers the curtain style locks screen. I haven't still got the update yet but I hope they will at least make it look good, not another change that even designer vomits. Sent from Windows 95

I wonder if this has fixed the Picture password login being treated like a second poor child: Until now you can't switch to another user in there. Can anyone check in this build?

No Nigerian language?... When in Nigeria

No Nigerian language?... When in Nigeria?

Since I sent your prince the money he needs and pays me for my great deed, Microsoft promised to release Windows with Nigerian support. They just need the prince to sign off. So soon as I just put the money in this morning and it appears he got it. /s

Funny ****......sad part is actually know a senior citizen who got duped by this scam and lost close to $250k......and they are broke now.

Wen Kotana speak Yoruba?
Oloshi ni gbogbo eyin ti e "down vote" Martin Sesezobor. Eyin alainirori dede... Una real fada!

Brazilians must be happy. They were waiting for the localisation of cortana from a long time.

Since the promised October 2015, then December, now early 2016 :)
Great \o/

I expected mobile release too

I want to know if I can now use Cortana with Mexican Spanish, am curious to hear her talk.

In my Win 10 mobile phone I mean.

I just hope that when she comes to phone, it's not on Redstone cause we have no phones with W10M here.

the top Windows Phone available to buy right now is the 640 XL with NO LTE. I'm not kidding, @LumiaBrasil official twitter said so, and all higher models are out of stock or weren't released (950/550).

Was hoping Cortana to be available in Malaysia , even if it was fully english.

They are really slow in making WP10 , they should focus on mobile business . In PC market they can't be beaten

Cortana in BR-PT!!!! Finally!!!! When it will be release for mobile??


I'm still hoping for a Hungarian Cortana. Or at least an English speaking one available here. I know, we're a small country with only 10 million people, but come on MS... Pleeeeaaaaseeeee :D Posted from Windows Central for Windows 10, on HP 250 G1 notebook

They haven't fixed the Messenger on desktop to match mobile yet? Was hoping to see them pair up, it's cool tho I can wait. =[~)

Exactly, shouldn't that have been in TH2 like Edge plugins? Instead it seems we will just get some Cortana features and a new logon image...

Are you able to send images in this build? Since they introduced sending images it hasn't worked on pc for me, perfect in mobile though

No...unfortunately. It hangs, same thing w/ sharing to messaging. They did fix emojis tho, still waiting for the muppet mojis and such... =[

Yeah, it's still look horrible though functionality is still kinda basic. Well they said that this Redstone update will have major improvements in this area. (I still wish that Redstone 1 will get several new improvements on Task view, Start, features returning from W8.1+WP8.1, and almost cohesive UI). Sent from Windows 95

I loved that Cortana thing...

I wonder when she gonna speak Arabic. And what's her name gonna be? What she will sound like?

There are too many spoken variants of Arabic, so probably not this year or the next one. She will speak MSA whenever that happens though. Posted from Bikini Bottom via my ShellPhone 950 XL

We can have the old Arabic "which is AlFusha Arabic" which every Arabic person know about. BTW, what do you mean by "MSA"?

I mean "Modern Standard Arabic".

Lula caindo, minhas ações subindo, Cortana entrando... Hoje está sendo um dia e só!!!

Não esqueça do dólar que caiu também!

Well, lots of Cortana's!
For security reason, what I like to see is for Cortana to function normally with the Location Off, and only reminds the user to switch it On for any location related commands, search or reminders...

A decent build for me. Will skip it. PS: I just read about the bluescreen fix. I am now installing this build.

If Cortana is available for Mexico con PC, why not on W10M??

Probably with the same update for w10m ;)

How about Cortana for Austria...

When Austrians decide to speak proper German; i.e. when pigs fly. :-P Sent from Bikini Bottom via my ShellBook XPS 13

A Cortana le gustarán los tacos al pastor?
Probablemente lo averigüemos pronto. Bienvenida a México Cortana!

When comes cortana for Netherlands??!!

"We're also working on some additional tweaks here to make the transition between the Lock screen and logging in much smoother." Seriously looking forward to this!

Customization foor lockscreen would be nice! Both in PC & Mobile!

Will cortana able to say "Perkele" in Finnish version? Will it find nearest Alko or Sauna?

More Cortana regions! Good! Now keep adding those.

BRAZIIIIIIIIIIIL \o/ finally. Can't wait for the mobile preview so I can finally change my language settings back to brazilian portuguese.

Interesting that Microsoft chooses to enable Cortana for Brazil (and not Portugal). It is interesting because the Lumia mobile devices that can, today, have a redstone build, are not available for sale in Brazil (just in Portugal). When the next mobile build is out, how will they test Cortana in PT-BR? Maybe the portuguese guys will change their phones to Brazil region to test it... We also have pasteis (I love pasteis de nata and pasteis de bacalhau!) in Portugal. I mean, we invented them. :P
They should enable PT-BR Cortana also in Portugal. We Portuguese are also fond of pasteis. :D

Well already don't even have released Cortana in locale Spanish Chile es-cl and possibly Will never do so I'm done with Microsoft neither they have improved or can use local scout here so just it's time to move to android

Finallyy!!! Cortana para Mexico. Cheers for microsoft

I don't know if it's just me but I'm unable to download the French Canadian voice package. I'm getting an error so I can't setup Cortana.

I find the lock screen on desktops pointless, so I've always disabled it. Unfortunately the last build broke the ability to disable it. Now I guess I know why, though I haven't tried this new build yet. It will be interesting to see what they do with it. -- Lumia 640 (Windows 10)

when in philippines? it's okay even if it is in english(philippines) settings, we just want to have cortana :) Posted from Windows Central for Windows 10

They could release engrish Cortana so that everyone could use it.

Ugh ... Microsoft and its region specific features ... sick of it ...

You know there are real reasons why right? They aren't doing it to snub you.

Whatever their reason might be, I do not think it is worth it. Especially since there are some basic features built into cortana that, to my knowledge, still not available to countries without cortana (like eg. quiet hours). I get that they want to optimise the experience, but I rather have a badly optimised experience, than no experience at all ...

Some nice little UI tweaks, I like the lock screen/login screen idea (despite the fact I'd rather not have a lock screen at all), and a 'num lock is off' message when trying to login with a PIN and the num lock is turned off. More UI tweaks in each build please MS!

I really wish they didn't mess with the login screen background, I liked the default Windows 10 Hero wallpaper there. It does look much nicer than my lock screen background (one of the defaults) when I'm logging in. The lock screen background doesn't belong on the login screen in my opinion.

I know dutch is a long way from release, but the thing is you can't use contana in a other language either. am happy if i could use it in english. But that does not work couse the region is not correct. So would it not be better if it could be use but in english for now.

Anyone have any issue getting this build to install? I am having absolutely no luck. Out of 4, only one installed. The other 3 did not and are still on 71. Posted from Windows Central for Windows 10

I still don't understand why Cortana is region-bound. I would gladly use the English version in the Czech Republic but this is for some obscure reason impossible without "relocating" the phone to GB or US. Why is the language setting simply not enough?
Windows Central Newsletter
Thank you for signing up to Windows Central. You will receive a verification email shortly.
There was a problem. Please refresh the page and try again.