Here's what's in the Windows 10 Release Preview build 10586.456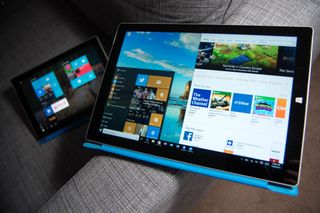 (Image credit: Dan Rubino / Windows Central)
Microsoft has released a change log of what was included in the Windows 10 Release Preview build 10586.456. That build was made available to Insiders for both PC and Mobile in that update ring earlier this week.
The change log was first posted in the Insider Feedback Hub app, and was later reprinted by Microsoft Windows team member Jen Gentleman in her Twitter account:
Improved reliability in a number of areas including Windows Media player, Internet Explorer 11, Windows Explorer, Miracast, and Windows kernel.
Fixed an issue with some users noticing a black screen instead of the lock screen, when resuming from connected standby.
Fixed issue where the DirectAccess Disconnect button appears sometimes even when the connection is not fully established.
Fixed issue where local user accounts weren't locked out after a number of failed sign in attempts.
Improved support for playback of video in certain applications that did not render the video while the audio continued after resuming from sleep.
Fixed issue where the Windows Phone sometimes loses user authentication certificates after upgrading to Windows 10 Mobile.
Improved support to honor the data backup settings of applications on Windows 10 Mobile.
Fixed issue where Microsoft Silverlight based application won't install on Windows 10 Mobile, after joining Azure Active Directory.
Fixed additional issues in .NET, Windows Kernel, Windows Update, Authentication, revised daylight saving time, support for PDF files, Bluetooth, Microsoft Edge, Internet Explorer, Networking and Wi-Fi connectivity.
Usually, the Release Preview build is the last step before it is made available to all Windows 10 users.
Windows Central Newsletter
Get the best of Windows Central in your inbox, every day!
Windows 10 Mobile has been really nice on my Lumia 830. I only have one app that ever crashes: the Windows Central UWA. It crashed like four times in a row, one after another, about an hour and a half ago.

yep, latest 2 builds tend to do this on my phone also (Lumia 930)

Also, notifications for comment and forum replies are broken for me. On my Lumia 830 and RS1 Lumia 640.

This It just shows as new notification

Same here...it just says 'new comment' now... The comments aren't there in the notification anymore...

it happens on my all phones 1520, 950xl, 930 and 640xl... seem to be app bug then the os

I know it's an app bug because the article notifications are fine and so are notifications for other apps.

Facebook (beta) as well. But it's true, WC app on mobile 735 crashes almost every time I go back to the app, scrolling through comments.

It crashes as soon as i start this app...the latest build of this app after which they removed the beta tag is the most crappy build of this app

I think it's still way better than earlier Builds, but it's still not quite "usable." I don't think it's ready to have the Beta tag removed.

Lol Facebook ported I was able to navigate for hours (guilty) without crashing... Windows is weird.

i faced the same issue with my 1520 and stops when i change to 950XL

OffTopic: Are you from Argentina? I mean, because of your Cerati's profile picture

I have a Lumia 830 with many problems that hadn't been mentioned by Microsoft till now I think there leaving people with uncommon problems behind as for wc app I'm using the old one and starting to get used to the stability

On this uild is anyone having an issue with the keyboard not appearing when trying to login to messenger app?

I had this issue on some apps ported from ios, reset the phone and it should be fixed.

Yes, but solved it by just killing and restarting Messenger.

Dear L820, 920, 925, 1020 and 63x 512 MB owners. These are our last days of W10M OS updates ! Let's enjoy while we can.

or just hack your x20 phone and install Redstone on it ;)


Any pointers on how to achieve this? I have a spare 920 I would like to experiment on :-)

http://forum.xda-developers.com/windows-10/windows-10-mobile/windows-mob... Note that Glance doesn't work with the latest Redstone build on 1020.

The down side is that glances screen doesn't work on Lumia 920(tried it with mine).

I'm doing this now, yesterday I saw that Redstone was working again for 920, I was so so so so happy. Remember when a build made every x20 have a reboot loop? Everyone thought it was the end.

That hack doesn't work on 512 MB RAM devices.

What do you mean by last? I really dont know.

Redstone is not supported and you can't install it -officially- even on insider. With the imminent launch of anniversary update this may be the last build for "threshold".

Lumia 535 scaling problem is solved or not

On this build? I don't know. But on RS builds, it is fixed.

is this version good with L1020? i went back to win 8.1 and waiting for most stable for L1020

.420 is excellent on 1020, after a hard reset. I haven't tried this version yet, but my wife's 920 has just updated to .456 and it's running very smoothly so far.

yes am using it didnt face any issue since 356 and above versions as such. I havent done hard reset even once after coming to win 10

So who are the responsible for these os update.what are you saying.there are last days.go to h*l* MS.

Last days of Threshold. On August 2nd, Threshold builds will stop updating, and x2x phones will no longer receive any updates, since they can't install Redstone via the Insider or Production rings. Only possibility left is the hack, but Glance isn't working with that hack.

I seriously forgot about glance (even tho I love it)... After so many resets I forgot to turn it on lol. Just did :) The best backgrounds are prominent black with really bright and saturated colors and high contrast. It was nice when we had the glance background app, there we could use any picture and apply filters to make it look better.

I have the scaling problem on 950xl. Other phones are fine...even 1520 is fine.

where exactly u getting scaling issues ? in apps ?

Please answer Lumia 535 scaling problem is fixed or not

scaling issue is bcz of app, until they release UWP app whatever the build apps still has scaling issues.

Its only Lumia 535.other Lumia doesn't have scaling problem

The issue was fixed in RS1 at least.

Microsoft.
I'm 99% certain that the Lumia 535 scaling issue was fixed in an earlier RS1 Build.

And if someone doesn't believe Microsoft (god knows why), I experienced it myself too :D It's really fixed in RS builds.

Yes in rs update it was fixed.but when 10586 build

If it's not fixed in this rp build, I don't think it will be solved in any 10586 builds, because there's only one month left until the Anniversary Update comes out, and fixes this issue.

i have deleted lot of games due to scaling problem

i am using L730 and in slow ring build 14372, apps like WhatsApp, Freecharge, Bookmyshow, cricbuzz, and many more still has scaling issues...... Acc. to MS these issue can only resolved by app developers, apparently they has to update all their apps to UWP otherwise suffer..... .

After this update, Whatsapp is working bad (more slow on typing, recieving and sending messages), the keyboard shrunk, sometimes whatsapp make my phone restart and i´m furious...

Whatsapp on build 14376 is fast.

Does anyone have changelog specifically for mobile?

It's basically the same thing. If you want to know what's fixed for Mobile only go through and see which items only make sense for Mobile. That's about it.

Just want less battery drain, SMS notifications back...

This build brick my 1020. :(

Windows Central UWA crashes everytime I have slow internet connection like 2G network and also when being offline, on my Lumia 730..

Why does this matter with anniversary update just around the corner.

A more stable foundation for the update.

for phones not getting the anniversary update...

Two beefs on my behalf (Lumia 830): Storing downloaded audio files still doesn't work and maps take forever finding routes and destinations with a weak signal, because they fail to use the offline maps available. It only gets better when the data connection is totally turned off.

I don't have a problem with storing downloaded music files.
The maps issue I haven't even experienced.

Anyone know if this fixes the intermittent stuttering of music playback? Never had the problem on my old Lumia 1520, only on my 950XL

Wish this build fixes battery drain on my 640XL. It drains even when phone is on standby whereas 8.1 could go a day a the same battery level on standby.

Still no fix for phone numbers not being links on emails and calendar

The battery in my 1520 is off the chain. I can get 2 1/2 days light to medium use.