Here's when the next two Microsoft Store locations will open their doors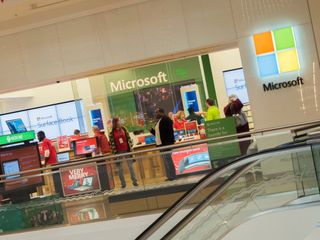 The two previously announced upcoming Microsoft Store locations in the U.S, one in Boca Raton, Florida and the other in Nashville, Tennessee, now have official opening dates in November.
According to an email press release, the Microsoft Store in Boca Raton will open at 11 a.m. Eastern time on Thursday, Nov. 3 at Town Center. The first 200 customers in line will get a ticket to meet former Miami Dolphins quarterback Dan Marino on Saturday, Nov. 5 from 12:30-2:30 p.m. Eastern time.
The Nashville store will open at 11 a.m. Central time on Thursday, Nov. 17 at Green Hills. The first 200 people in line will get a ticket to meet former Tennessee Titans player Eddie George on Saturday, Nov. 19 from 12:30-2:30 p.m. Central time.
Microsoft added:
Microsoft has slowed its pace in the opening of new Microsoft Store locations considerably in the past year. It currently has over 100 stores open in the U.S and Canada, with only one location outside of North America, in Sydney, Australia.
Get the Windows Central Newsletter
All the latest news, reviews, and guides for Windows and Xbox diehards.
No there's also one in Malaysia

Um, no. The ones in Malaysia were all ex-Nokia phone stores, transformed into authorised resellers - not quite the same thing. Hence why you don't see them on the official retail locations list. https://www.microsoft.com/en-us/store/locations/

So I don't live near these store locations but id be sad if all I got was to meet an ex sports player. Def not my cup of (tea.)

At this rate we will not see a London store for a long time.... plus since they just want to be a software and services company first I doubt we will see any more retail stores outside of the US popping up in the future.

You have better chances of getting a store in London than we do up here in Alaska. I'm quite surprised they don't have one in London already to be honest

Believe me. Alaska has a much better chance than in India!

@Idiosyncrasy oh I doubt that all the best spots are pretty much taken and Apple is about to take over a historic landmark (Battersea power station) as their new HQ.

Must be nice! I have to settle for a MS store kiosk at my local mall.

You're lucky to even get that.

sad thing is by me, there is a full blown iStore in every major mall in my country and not a single ms store

Looks like MS will be shuttering these non-performing retail outlets soon.

They will retrench the retail arm soon L950 & Huawei p9

I really wish they would add one to the Mall of GA, I would visit frequently and I know many others would the ones in the Atl area are a pain to get to.

Am I the only one who thinks these stores are next on the chopping block? They've never been wildly successful like Apple stores, and since Nadella seems to be pulling Microsoft out of any and all consumer focuses, I don't see a role for these in the new Microsoft.

Doubt it, while the Storefront hasn't seen the same ammount of growth in 2015,16 as it has in 13,14. It still represents a face of Microsoft to Consumers. The Surface brand still accounts for 3/4 units sold at a Microsoft store. The buying experience also is unheard of for a Windows device even for OEMs everyone benefits from B&M locations

If you're going to gauge a store's success on how it compares in popularity to an apple store then you might as well close every store in the world that's not an apple store.

But that's my point...Nadella has been axing all of the consumer hardware stuff that's not as runaway successful as an Apple product/concept...the Surface Pro line is pretty much the sole survivor, and even then it's probably been saved due to its strong enterprise roots...

Ah. I misunderstood, and I agree with you. It's frustrating mostly because it seems they're not even trying, as in, they're not even advertising most of their products.

You mean surface store... what else they're going to sell without lumias >:(

OEM of course, Lenovo, Dell, Acer Etc.

OEM of course, Lenovo, Dell, Acer Etc.

XBox and it's related stuff, peripherals, first and third party PCs, W10M phones and associated stuff, plus each store provides a help and trouble shooting service for the masses, and their flagship, at least, also offer a regular program of free training seminars on a wide range of topics

I don't know why Microsoft doesn't try a little harder to sell hardware. They could be really successful.

Those stores have absolutely no reason to exist. Microsoft widthdrew from customer market and focused on business. The stores used to have everything MS/Windows related. They never were as popular as Apple stores, true. But still there were some customers. they were perfect showrooms for MS software/hardware. Now they simply sell a few models of laptops. And if someone wants to buy a laptop, the MS store is the last place they would look. Recently I went to the flagship store in NY and suddenly all became clear. I lost any hope that Windows Phone will ever come back. The first floor - mostly Surface and some other laptops. At the very end a small shelf with three Lumias. There are two more floors in the store but absolutely no sign directing there. Those very few customers who happen to know about it will go up and see some xbox. If you're persistent enough you might even find two shelves with Fitbit and 1/4 of a shelf dedicated to MS Band. Recently there were some news that they will remarket the stores to help small businesses. But honestly, I think MS completely misunderstand how small business works. No one will come there to buy computers, software and services from MS. That's not how small business gets what they need. MS might be good at enterprise but small business and regular consumers are not the market they understand. Definitely not since Nadella's reign started. They will kill those stores within a year or two. I'm sure of it. And if for some reason they will keep them I can bet you will find Android phones in there faster than any Windows Phone for consumers.

I think there is a place for these outlets, perhaps more so since Microsoft's change in its mobile hardware strategy. Instead of showcasing its own Lumia products for example, OEMs can breathe more easily and gain better traction by promoting with their own hardware instead of being scared off as they rightly have been for the past few years. But wider than that, there's a massive opportunity to promote Windows10 devices on all sorts of form factors that go way beyond the scope of a typical Apple store which can only really concentrate on iPhone, Macbooks and watches and a smattering of compatible third-party accessories.

The place to promote Windows 10 devices IMHO is at any electronics/computer store. People are more likely to go to Best Buy, Microcenter or similar and those are full of Windows 10 computers.
As for the phones I disagree. They clearly don't promote/showcase ANY phones. There used to be place for some OEM devices before but now they have literally two or three Lumia phones hidden away from customers' eyes. Besides their strategy is obviously focusing on business customers and those won't go to a store to check out phones. The sales rep will bring the phones to them. That's how you sell to SMB and enterprise. Phones or computers. And that's why, in the light of MS's clear focus on business customers, I believe the stores are useless.
But really to understand that all one needs to do is to go to those stores and see. There are virtually no customers whatsoever. Only a LOT of bored sales people playing xbox. All you can buy there is a laptop and, as I said, you probably will go to a nearby BestBuy to get it.

Wow look at all the people inside and outside that microsoft store in the picture. Doing great!

That's the Microsoft Store in Cincinnati (Kenwood Towne Mall). This is actually a somewhat old picture, as nearly every employee in that picture no longer works there. Based on the Skittles and the Surface signage, I'd guess during last Christmas season. I used to work there myself (I was an original hire from when the store opened) as a Tech Advisor (the guys that worked on computers, think Genius Bar for the Apple Store). The thing to keep in mind with Microsoft Stores and how 'busy' they look is that: A) Microsoft does ZERO advertising outside the Mall for them. Only recently did any Microsoft commercials even mention the stores at all, and only as a quick logo. B) Most Malls are slow. If Mall traffic is low, store traffic is low. C) General staffing levels are extremely high for a retail store. They'd rather have way too many employees so that even at the busiest of times there's enough. The benefit of being part of an extremely profitable company. D) Microsoft Stores do more than sell to consumers. There's some talk above about how they should focus on small business, and how that'd be a bad idea or a good idea. They actually already do that, and have always done that. They keep someone on staff who specifically works with all local business/schools/nonprofits/etc. to sell hardware direct to them. You won't see these in the store naturally (unless you're lucky enough to be there for the ring out process, then you'll see dozens of Surfaces, etc. seemingly be run through the POS system for no reason...) E) It doesn't take as much to be profitable as a store as other retailers. This was actually counterintuitive to me, as I know the cost to run the store must be astronomical. All the screens, lights, employees, the amazing wifi system, the servers, the large amount of space being rented (the Stores have a huge amount of backroom space far more than you'd ever believe) must be very expensive. But most hardware sales go out with extremely profitable protection plans, accesorries, and the like Mostly because the protection plan was actually worth it for once, especially for a tech novice. In addition to the usual "hey if the worst happens, you're taken care of" it gets you priority tech support in the store, and free personal lessons using your device for a year. It's the only place other than Apple that I'd recommend buying the protection, especially for family members. Still, I stopped working there... because thanks to the Microsoft Store I actualy had gained the skills and resume credentials I needed for a 9-5 job. Best retail gig I ever worked, but thankfully also the last.

I see only two customers in this picture... maybe three

When will the Microsoft start to pay attention to people outside the USA. Every product, feature and store are for USA. If Microsoft does not start investing outside the USA they will not be a universal company. I would love to see a Microsoft store here in Turkiye.