Here's the winner of the new Lumia 950 XL!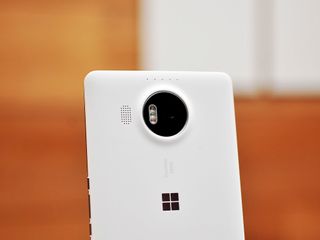 Microsoft has announced the new Lumia 950 and Lumia 950 XL and we decided it would be fun to give our readers a shot at winning the Lumia 950 XL for FREE. We asked you all to leave a comment letting us know what feature you were looking forward to most in the new phone, and over 6000 of you replied with your thoughts. You guys are really looking forward to a lot of things from this phone, from liquid cooling and the iris scanner to the Snapdragon 810 processor and Continuum.
The winning comment came down to luck-of-the-draw though, and it's time now to see who the winner is!
Congratulations to FizzySignal! You're the lucky Windows Central reader who has won a new Lumia 950 XL. Watch your email as I will be in touch soon. To everyone else, thanks for entering! We'll have another great contest here soon, so keep reading Windows Central and watch for the next one.
Windows Central Newsletter
Get the best of Windows Central in your inbox, every day!
Congratulations FizzySignal

Wish I could see any of those winners in comment section. They seem like they don't exist. Anyway, congrats to Fizzy! XD

Comment of the day which is the venerable truth.

Oh, well... We'll get ours sooner, or later..
......
Maybe Surface Pro Phone XL...

that will never happen XD

Yes it will... Trust me. I know.

Exactly what I was thinking bro. We the regular commenters here know ourselves and somehow for a series of these giveaways, I've never seen any of the winning names here. Another thing or question I also wanna raise is, has anyone outside the US won any of these Windows Central hardware giveaways? Cuz I for example is outside the US and been thinking, maybe I just have to stop entering in WC giveaways and wishful thoughts. Anyways congrats to the winner @Fizzy

I am a regular reader/commenter here. I sounded if anyone recognizes me lol

I recognize you... You told me to shut it a few times...

i remember you as well. You comment lots here, so maybe you should've gotten the prize

I've seen a lot of people telling you to shut it.

Does anybody care for people outside US? i mean seriously, no product promotions, limited availability and whatnot gets outside us? No hate to the people but the companies should seriously rethink their strategies of ignoring the other countries.

@Pallav There was a contest not too long ago where it seemed only people outside the US won. So I'm not sure what you're referring too.

@Pallav Here you go... http://www.windowscentral.com/here-are-5-winners-our-opera-mini-contest

Nobody cares for people inside the US either, so you're not alone. #onecarrier

Somehow it's as if a random give away is all down to luck of the draw, kinda like the lottery. So weird.

I think I have said my piece to the first person who has complained that they did not win, but I am REAL and I am outside the US, I Live in the UK, thanks for the Congrats I think....

congrats. And now to appreciate the microsoft for your free 950XL, you can donate your british foreskin to bill and melinda gates foundation's forcefully and unethically run amputation aka circumcision programs. Happy loving the windows phone!

Thanks Bro, yes I'm also from London, is there really any other City worth living in, in England?? LOL

Hey bro, congrats! I'm from London. Where are you from in UK?

Congrats buddy, i will bought it when he get out but it would be nice to get it free !! Take care

Thanks Bro, yeah I think you should buy it when it comes out, Best phone on the market in my opinion!!!! :P

Ya, I saw someone from Pakistan win once, and I think he even commented

I'm always hoping the winner is someone who wouldn't be able to afford it otherwise, but is a true supporter of WP and not some random iPhone or galaxy user who entered just to get a free phone.

Yeah exactly, that's how it's intended to be and how the giveaway concept originated. But now it's like the Rich giving away to the rich...which ends up in their drawers..lol.

Trust me, I will be using this phone, there is no way it's going in the draws, in fact I think I will be using the 950XL as my phone but I will still use my 1020 as a stand alone camera, beause the battery will last a lot longer when it's not connected to anything aka 4G, BT, Wifi etc

Well I hope you would be glad to hear I am a true supporter of windows phone, I am leaving my 1020 for the 950 XL!!!! there is no iphone or android phone anywhere near me!!!! :P

Thank you so much.... Fizzy is not exist... Otherwise he could have replied Atleast one Thanks comment..

Hello, Fizzy Signal Here, I am exist.....that is all.....

Really? http://www.windowscentral.com/users/fizzysignal

Wow, I didn't even know this was possible, Thanks for showing evidence that I exist, I feel like Obama and the people saying I don't exist are TRUMP!!!!! :P

They do exist, as I am one of them. I won a 930 in the 'Hidden Gem' competition a while back. Still using it today with WP10 on it.

Hmmmmm Not too sure I can take that congratulations as sincere, I do comment on articles now and again, maybe not every article, but as far as I know the competition was to leave a comment in the comments section, I did, and as such I was chosen as a winner, this is the first thing I have won from Windows Central, so when other people have won the past competitions, I did not comment here as a bitter person, if you really want to congratulate me, go ahead and be sincere about it, don't belittle your own words.... BataBole, Pallav Chakraborty, kenzibit,

Ignore them buddy..u sound like a cool dude

Thanks Bro, I Agree with you 100%!!!! :P

@batabole Hey I won not too long ago. RodneyJ recognized me. :)

I stopped taking part in Such contest as I know what's happen. Its never for real users.

Thanks for not taking part, gave me more of a chance to win....

Im not lucky man as Fizzy.. Hahaha congrats buddy..

Found a new Cortana thing! If you say fallout 4 release date, she tells you the date! So cool! Works with halo 5, battlefront and star wars the film

Has fizzy replied yet?? Still has my finger crossed coz i desperately need it thats the perfect ohone for everyone.,, :)

Sorry Bro, I have haven't recieved an email yet, But I will surely reply to it!!!!! Going to check my junk mail as well just in Case!!!! :P

Aww man... So close... Even I've got that F in my name :P congrats Fizzy bro!

Hey Bro, If I can Win, then you can, Someone has to win at the end of the day, Thanks for the Thanks, I will do a full review!!!!! :P

Ha ha ha! I know something But let it be. Don't want to disappoint people here.

OMG, are you actually kidding me, there I was thinking, should I bother reading this article, because it's almost impossible for me to win one of these competitions, but lucky for me, I still read it and found out I was the lucky winner!!!!! What can I say, I'm actually in AWE of this prize, I didn't think I would get to own this phone, because it wasn't looking good for the 950XL in the UK, only the 950 is listed everywhere, so I'm actually overjoyed that I will actually be able to own and use this phone, I will become an Ambassador for Windows Phone, more than I am already with my 1020!!!! Which actually failed on me just before Comic Con, Nooooo!!!! But I still managed to take a few nice pictures, especially including the Master Chief!!!!
The only thing I can do right now is Thank the Windows Central Team so much, Thanks for choosing me as a winner first of all, and thanks for making these competitions international, thanks for still supporting windows phone, and thanks for giving me all my windows news, especially windows phone!!!! Thank you guys so much oh and the windows central community as well, because I love reading everyone's comments, there is at least one thing you can say about windows phone supporters, they are passionate about windows, windows phone and technology, thanks for giving us a place to vent, contribute and interact, I feel like I won an Oscar!!!! :P

@FizzySignal a 10,000 word comment! man, you do exist.

LOL, yes I do, I wrote the comment, before reading all the negative ones on here, otherwise it might have been 20,000 word comment!!! Hopefully people will stop thier hating.....

Oh and Thanks Wilson!!!! :P

I don't like it :D ugly phone

The 950 is ugly (though the white one is kind of okay) but the 950xl (the white one) is zo sexy! Cant wait to recieve my pre order ^^

I would gladly accept even if it were a dumb phone given away for free..

Lucky you didn't win the "Ugly" Phone then!!!!!

Congrats FizzySignal, rats some have all the luck.

Thanks Ian, and yes I consider myself very Lucky!!!! But there is always next time right!!!! :P

Thanks Whodaboss, Appreciate it!!!!! :P

One of these days this old WMExperts commenter will win something

I've been thinking the same. But I've never had that kind of luck either.

I consider myself very lucky guys!!!! Hopefully next time for you guys.....

Not today for me.... Bring on the next contest.

If the winner does not take it for some reason then reconsider others :P Btw, congrats to the winner. Bring on the 950 now ;)

No way I am saying not to this masterpiece of a Phone!!!! Thanks for the Congrats, I will do a review and put it somewhere!!!! :P

Congrats FizzySignal, well done. Take good care of it. Its pretty expensive.

Most Definitely will, I have Cases on all my windows Phone, this will be no different, I have considering that Moza brown leather and gold finish case, not forgetting the mandatory Screen Cover, or I might get the usual fosman plastic covers, they have always worked for me, 808, 1320 (Mom) 1020, 930 (Dad) and now the 950XL!!!! :P

Microsoft family ... Nice to see . Congratulations

Yeah most definitely, my parents are not too tech savvy, but as Windows Phones let you pin everything to the screen, it makes it easier for them to use, so they normally stick to Windows Phone, they might not use it to all its ability, but at least they are happy with something they can use and hey if it's a Windows Phone, All the Better Right!!!! :P

Nice trick FizzySignal xD

LOL, I'm a Magician Now!!!! :P

congrats Posted via the Windows Central App for Android

Thanks Ranoej!!!! Much Appreciated!!!! :P

Brilliant we handshake Posted via the Windows Central on Blackberry passport SE

LOL, Indeed the Singal was Fizzy!!!!! I live the UK, and I woke up late, not to mention I am restoring my windows phone, but after I saw how many comments there are I knew I had to reply on my latop, But HERE I am, alive and well, thanks for the concern Guys!!!! :P

Thanks, I agree 100%!!!! :P

You guys never spell my name correctly in these contests. Rude

Bro I know the Struggle, as my real name is not common, but Windos Central did well this time, and spelt my screen name to the T!!!!!

No congrats. I am furious.

If you're that furious over not winning an online contest, you should unplug your computer, shut down your phone/tablet, get outside for a bit, and make an appointment with an anger management counselor. Good luck to you, and I'll give twice the congrats to the contest winner to cover for your faux pas.

Thanks SpaceyO, I kind of understand, I get down sometimes when I see I haven't won, however get over it a few seconds later, 1 out of 6,000 is no joke, so I consider myself very lucky and promise to toally show off all the things my phone can do to wow the competition and those who are considering a new phone!!!!! :P

Congrats you lucky sob ;)

Congrats. Best prize to win

Come on Bro, there are better Prizes than this, Surface Pro 4, Surface Pro 3, Surface Book, Xbox One.....HOWEVER That doesn't diminish the value of this prize, I will cherish it and count myself lucky everytime I use this phone from checking the time to taking the next picture will be a memory I can appreciate for years to come!!!! :P

I love lumia 950xl because the camera style is very beautiful and the processor is very good
And I think this phone is very beautiful in life

Congratulations, FizzySignal ... make us proud by really enjoying this beautiful device ... and share some pictures with the amazing camera it has ... and remember... "with great power, comes with great responsability"!!! hahaha

Wow, Wise Words from a Wise Man, I will enjoy this device to all it's abilites, that's why I buy and use windows phones, they are so practical and they do so much more than make calls, or receive emails, it's a powerhouse, with amazing functionality, and hell yes to taking pictures, I Love taking pictures thats why I have a 1020 currently, so I will carry on my love of taking pictures....

Man your name shouldn't be allowed as a user name

I can always change it to SeemsFaster...

Congrats to the winner, you my friend is going to own and wonderful piece of tech irrespective of what Panos delivers in 2016. I'm hoping more UK carrier info comes out soon as om itching to get a 950XL.

Thnanks, I understand where you are coming from, I also am worried about the UK Carriers, It looks like Carphone Warhouse will be getting both phones as they have both as coming soon, which carriers they will be on who knows, but I'm sure they will be snapped up considering on what they can do, and what good reviews they have gotten so far!!!! I am hoping for a surface phone from Panos, but only time will tell, if they can keep secrets as big as the surface book under wraps for 2 years, who knows what they can keep in the secret!!!!! :P DreadVenom

:-( Congrats, I guess... ;-P

LOL. I will take it Thanks!!!! :P

Congrats champ!
Better Luck next time (for me) Posted via Windows Central app for iOS

LOL, Yep, There is always next time, if I can win, anyone Can!!!!! :P

Well done, #iamsuperjealous :-p

Thanks, there is always next time so it's all good!!!!! :P

Fizzy not found in comment section.

HEre I am, Thanks for your Concern....

Congratulations and enjoy your new phone!

Thanks, And oh I will, I will use every feature this phone has to offer!!!! :P

Thanks I will, I am very passionate about phones and Technology, so this is amazing for me!!!!! :P

Huge congrats; I am in no way* jealous! *every way.

Thanks a lot Madstock!!!!! There is always next time right!!!!! :P

Congratulations Fizzy! I am jealous as hell...

Thanks Paul!!!!! Ahhh, no need to be Jel, there is always next time.....

Congratulations! Fizzy still no where to be found. :P

I think I should change my name to Wally, people keep asking where I am!!!!! :P

Congrats buddy.
Why I am lucky never.

Thanks, Hey if I can win, so can you, so just keep entering, you never know.....someones gotta win!!!! :P

Congrats, and that's to the staff who put this on.

Thanks Sean and yes very big Thanks to Windows Central for giving us the Chance to win this (Probably) Piece of history which will be the start of the reboot of windows phone!!!!! :P

Congratulations Fizzy... ^_^

Thanks a Bunch Sandeep!!!! :P

Congrats Posted via the Windows Central App for Android

You sir.. Born super lucky... Congrats

Thanks, I really do consider myself super lucky!!!!! :P

I never win these things. :(( But congrats!

There is always a Chance, so you never know, hang in there, Thanks for the congrats!!!!! :P

You guys spelt my name wrong, again :P.

Are you two Related!!!!! :P

Thanks Arman, Appreciate it!!!! :P

Congratulations Bro :) have a lot of fun with your new Lumia 950 XL when it comes to you! :D

Oh I will, I will use every feature, and push it to it's limit, I use a phone for more than calls and texts, so I can't wait to use this mini computer!!!!! :P
Oh and Thanks for the Congrats!!!!! :P

I never seen fizzysignal in comment section. But anyway, congrats

Maybe you need to look a little harder.....

Thanks Bro, Comment PArty ------>>>> Woot Woot!!!! :P

What was the winning comment anyway...

I said I was most looking forward to the Iris Scanner, but of course explained why, if you want an example of how long it may have been, check out my acceptance speech above!!!! :P

Thanks dbam!!!!! Can I just say I have no affiliation with Uber!!!! :P FizzySignal© LOL

Lol, when you get the phone, mind doing a review of it sometime?

I would love to, I even suggested to Michelle that I would love to do a review of the phone as soon as I get it and then a week or month later just to show the point of view from a regular person, I'm a little camera shy so it will be a written review, if I can't get it on here, I will try to get it on the Nokia Conversations website, although they might say no since there is no more Nokia branding!!!! But I would happily do a review!!!

Yeeeeah fizzy you da man! Congrats ..

Thanks a lot Kilena, Appreciate it!!!!! :P

again lost. wtf windows central.

I wish my name was FizzySignal now.

There's only one FizzySignal© Bro!!!!! :P

lol.. I am happy for you mate. congrats. Don't forget to make a video and post in 950xl forum.

To be honest I'm a little camera shy, but I do plan to do a written review but I could always film the phone with music in the background....

Congrats FizzySignal! Very very jealous. Please enjoy the 950 xl for all of us jealous people in the comment section, lol.

LOL, I don't blame people for being Jealous!!!!! And I shall enjoy everything the 950XL has to offer!!!!! I will use everything it does!!!! :P

Congrats to the winner!! Hopefully the 950 or 950xl will be on Verizon!!

Thanks for the Congrats, but I don't think this phone will be on Verizon!!!! :P

LOL, I can only picture Mr. Burns here!!!!! Good Pun!!!! :P

Kinda sad. But good for you FizzySignal congratulations

There is always next time.....Thanks though!!!! :P

Indeed. Congrats to you, hope to see the photos you take with this device. If you dont mind me to answer do you have an instagram account?

I do have an instagram account but I post most of my pictures to Facebook!!!! However I will post more to instagram when I get this phone.... My user name is if you haven't guessed it....
FizzySignal

Now your making me peanut butter and jealous

Fizzy, Fizzy, where are you?
Fizzy, Fizzy, Congo to you!

I AM Here Trambak!!!!!
No, I Live in the UK, not the Congo!!!!!

Oh god I wanted it so bad

Hey no fizzysignal. I think he fucking lost his signals after reading this that he's a winner.. Lol congrats man just kidding unless you are a bot.

LOL, Thanks, No, my 4G is nice and strong Bro!!!!! And I'm no Bot!!!! I'm actually restoring my 1020, hence why no comments, but there are plenty now!!!!! :P

Congratulations Fizzysignal!

Thanks Guy whose name is Halloween REady!!!!! :P

That was probably the first and last time FizzySignal commented, because I don't see any of his comments here

There are loads of comments from myself in this thread and some others, I think Congratulations was the comment you were LOOKING For.....

Who the he'll is fizzy signal? Is it your man? You're hoax

I'm not her "Man"
This is not a Hoax
And for anyone who cares, I'm grateful to have one this prize....
Move On....

Wow, there are a lot of sore losers in these comments. Not that it's anyone's business, but the winner of the contest has been a member since 2013, has over 130 blog post comments, and does not live in the US or even North America. So please, stop making fools of yourselves for whining that you didn't win a contest, and have a little respect for the people (like me!) that put out a lot of effort to bring these contests to our readers.

Tell em Lady. Probably most of losers are part of the 950 is ugly crowd.

Thanks You So Much Michelle, I am currently replying to everyone's comments, as I am now awake and have a latptop to hand, I appreciate you running contests and so do a lot of people from the windows central community, I wrote a Thank you Speech, but I didn't know where to put it, here it is so I at least know you will get it, and if you want me to do a review, I will gladly do one for you, I know you will have loads of professional reviews and information from Danial etc, about the phone, but I can give it my point of view from a regular person.....Here is my acceptance Speech!!!! :P OMG, are you actually kidding me, there I was thinking, should I bother reading this article, because it's almost impossible for me to win one of these competitions, but lucky for me, I still read it and found out I was the lucky winner!!!!! What can I say, I'm actually in AWE of this prize, I didn't think I would get to own this phone, because it wasn't looking good for the 950XL in the UK, only the 950 is listed everywhere, so I'm actually overjoyed that I will actually be able to own and use this phone, I will become an Ambassador for Windows Phone, more than I am already with my 1020!!!! Which actually failed on me just before Comic Con, Nooooo!!!! But I still managed to take a few nice pictures, especially including the Master Chief!!!!
The only thing I can do right now is Thank the Windows Central Team so much, Thanks for choosing me as a winner first of all, and thanks for making these competitions international, thanks for still supporting windows phone, and thanks for giving me all my windows news, especially windows phone!!!! Thank you guys so much oh and the windows central community as well, because I love reading everyone's comments, there is at least one thing you can say about windows phone supporters, they are passionate about windows, windows phone and technology, thanks for giving us a place to vent, contribute and interact, I feel like I won an Oscar!!!! :P

You're awesome, I love it when the person chosen is so excited! Sometimes people win and other than sending me their address you never hear from them again. That's just how it goes I guess! Thanks for coming here and sharing your excitement with everyone!! :D I'll be sending you an email soon to get your info.

Thanks, I think this is the most excited I've been about a piece of Technology for a long time, finally Microsoft has a phone that I can be proud of and can battle it out with the competition and actually win this time around!!!!
I don't know how people could possible win this piece of technology and not actually follow through with an email, they must be crazy or... They used a random email and can't access it, either way I will not let this opportunity slip through my fingers!!!!
Oh I couldn't let all those negative commenters have all the fun and I hope they feel silly now with their trivial complaints or conspiracy theories!!!! And I had to thank the people who congratulated me, they took the time to congratulate me so it was the least I could do!!!!
I've just received your email so I will reply back shortly with my details, thank you again, it means a lot!!!!

Congrats Fizzysignal!!!! Feeling jealous..... but still good shot bro!!!!!!!!!

Thanks Raylz, Cool Name!!!! :P

Congrats and enjoy this amazing phone. I've wanted it because this week is my birthday. This could be a very special gift hehe.
Don't mind with the rude comments, some People don't know how to lose.

Thanks for the Congrats James, I will so enjoy this phone, I Love Windows Phone and everything it can do, people are in shocked when I show them what I can do with my 1020 and it's quite an old phone now, but the 950XL really pushes the boat out and then some!!!!! :P
Happy Birthday Bro, Sorry I can regift this, it's literally my next phone!!!!!
Thanks for the support, I am replying to those rude comments now.....there is no need for them, but some people just can't help themselves, so I have to show them that I exist, I do write comments, and I am very greateful for this GIFT!!!!

Congratulations to you, well done

Thanks Majic, Much Thanks!!!! :P

What's the winning comment ??

Go to the article and have a look in the comments section, I mentioned the Iris Scanner and explained why.....

Is there any fizzysignal or should I make a fake account named the same?

http://www.windowscentral.com/users/fizzysignal

You do whatever makes you feel Happy, but realise it takes time to reply to 141 comments, nice or not....

I need one of those, but nothing is free in this world... Lucky you

Thanks, I do consider myself very lucky, you are right nothing is free, because windows central had to pay for it, but it's free for me, so in that respect it is free!!!! Keep entereing, because if I can win, anyone can win!!!!! :P

Wow, congrats FizzySignal. Enjoy the phone mate, there are quite a number of us here wishing we are you right about now :-)

Thanks a lot Tropolite, Wow, I have never had people wanting to be me before, but I appreciate the comment!!!! :P

Damn, I need some peanut butter to go with all the jelly in these comments. Anyway, congratulations to the winner! Enjoy your new phone!

Thanks a lot Kreblon!!!!! I will so enjoy this phone, I Love Windows and windows phone and my 1020 was getting a little worse for wear!!!!! :P

Unfortunately not, but I have this thing called a Life, so....you know......

Thanks Much Varnit!!!! :P

Much Appreciated Adeel!!!!! :P

Congratulations to the winner.Microsoft should atleast give 10 phones because you can imagine you have 6371 great comments then 1 winner.Just looking forward to the Surface PRO 4 or Surface book competion I just won't give up.

Microsoft isn't supplying the prizes. Windows Central buys them, with the exception of the Hidden Gems contests.

Very Grateful to you and Windows Central Michelle!!!!! :P

Thanks Isaiah!!!!! Yes, just keep trying to win if I can, then anyone can!!!! :P

I never win things. Congrats, nonetheless!

Thanks, just keep trying, you never know it could be you.....

If FizzySignal holds his promise to become a true windows phone ambassador then Microsoft is the true winner here! Congrats to Fizzy and spread the Love for WP!

Trust me I already am, I have been telling people about windows phone ever since I got my 1020 (coming from an 808), they are absolutely gobsmacked, when they show me thier iphone I laugh and ask them if they can send me a picture via bluetooth, the answer is no, or androud phone, which I suppose ain't too bad, but they are so slow, it takes about 10 seconds for the camera app to open, when it takes my phone about 2 seconds dealing with a 41MP camera!!!!! :P
I try all the time to convince people to get windows phone, but I think with the 950/950XL, I can actually get people on board!!!!! I already convinced my parents, because they are such easy to use phones, and my parents aren't really tech saavy!!!! :P
I have gotten so much from Microsoft, they really value thier customers!!!!!

I think that wc should do give away a windows phone to those who are hard core fans not someone who will probably sell the phone and get another brand. Maybe perhaps wc should ask for some type of picture like who much u are into the wp just like those entries for image I think u get like 25 $ or 50$. My opinion but wc could do as they wish. I consider my self a lover of wp but I don't enter in this contests because I want some hard core fan to win and then show us later on all the beautiful images they capture with wp. Like places. River oceans and or objects and use those unique apps like cinemagraph to see gif images.

I think you are being a little unfair, everyone who enters the competition deserves to win, who is decide who is a true windows phone fan and who is not, if me having a windows 10 PC/laptop, a Nokia Lumia 1320, 1020, 930, Surface Pro 3, Xbox One makes me a true windows phone fan then I suppose to you I deserve to win, but I think if you start to pick and choose winners on someones opinions, it's no longer a contest, it's a prize for whoever the moderater likes, I'm glad you are not in charge or anything to do with windows central.....
And I have no plans to sell this phone, I am finally going to give my 1020 a rest, because as far as I can see it's good enough to replace it camera wise, I even offered to do a review of this phone, so I am def keeping it!!!!
I have replaced my camera with my 1020 and I plan to continue this with the 950XL, I have been to Trinidad & Tobago, North America, Guyana, France & Holland plus more, and have taken loads of lovely pictures, but to be honest, your opinion means nothing!!!!
To behonest, why are you even commenting on this if you didn't even enter, you are bitter with yourself I think......

We have photo contests twice a month for people to show off photos they take with their Windows phones. They're in the forums. :)

Spread the word my friend the winner...and impress some people.....out there....

I will continue with my Windows Phone Responsibilites!!!!! :P

Congrats FizzySignal! Enjoy it :D

Thanks a lot LennH!!!! I Will!!!! I know everything about the phone and what it can do, so I will use it to all it's abilities!!!!! :P

Nice job FizzySignal, I didn't enter so I can't complain but I actually just wanted to give a shout out to Windows Central for not only running these cool competitions but more importantly for making them open to everyone across the globe!! Microsoft, take note!

Thanks a lot Schikitar!!!! I appreciate it, and yes I agree, very big Thanks to Michelle, and all the windows central team, and yes the best part is that it's a global competition, that's quite rare these days!!!!!! :P
Microsoft runs a lot of global stuff too, so I can't complain about them to be honet.....

Yes you need to be fix-ed, because your Obviously Broken....

There a lot of haters/envious for FizzySignal, come on guys.. Stop hating. Think of it as it is really possible to win by just commenting. Be positive that you will be the next winner! Congrats to the winner and I will get mine soon

Thanks Jay, yes your right, when I haven't won one of these competitions, I don't really look in the comments section if I'm honest, but to purposely go into the comments section and put someone down or say something negative really speaks volumes about the kind of person they are, I mean I got the luck of the draw, but when I don't win I don't get angry because I never had it in the first place, some of those people are carrying on like I literally stole it from their pocket, I would hate to see the next winners comments!!!! It's just a shame because it doesn't encourage Microsoft (Hidden Gems) or Windows Central to run these competitions in the future!!!! I think the negative commenters need to take their twitter mentality out of this normally safe and Wonderful community and get over themselves!!!!!

Thanks Monigal2, much Appreciated!!!!

We get FizzySignal.
-
Somebody set him up the 950XL
-
950XL are belong to FizzySignal. 'grats!

Thanks Mr. Walker!!!! I think, LOL

Congrats FizzySignal! All the best!

Once that phone ships, we'll all be winners!

It's so hard to be happy for someone else when you just wish it was you...:( But congrats to the winner. You're getting one heck of a device.

Thanks RaRa, I know the feeling, but I was the chosen one this time around, I think you should just keep entering the contest and hopefully one day you will be the winner!!!!! If I can win, anyone can, so don't let it get you done!!!!!

Well.. talk about other country people winning, they all turn a blind eye because we are not looking like human beings to them..not yet. I see dark spirits consume those people soul's and making them assshole.

Oh, so close. But congrats Fiz!

Thanks Finn2, much Appreciated!!! :p

I decided to start commenting a lot from today

End of the day, we are all windows phone supporters..we need to tap each others shoulders

Of only more people felt like you Satish....

Didn't even know this contest exist. Haha

Congratulations FizzySignal, hope you enjoy the new phone :-)

Thanks Jerry!!!! Oh I know I will enjoy this phone!!!! What's not to love!!!! I can't wait to use it and retire my 1020!!!! :p

Gratz man. Feeling so jelly now :P

Thanks Kmin!!!!! Oh there is enough Jelly in this comments section to feed all the children in England!!!!! But at least you congratulated me and didn't write anything negative unlike some.....

Thanks Edboogie!!!!! Much Appreciated!!!!! :P