Hexage releases Reaper, an epic action RPG for Windows Phone 8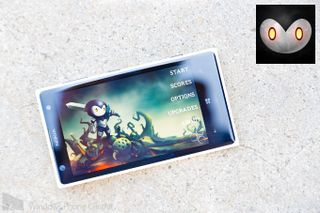 There are so many great games on Windows Phone, you'll probably never get the chance to play and beat them all. One developer who consistently makes some of our favorite games is Hexage. They've given us great games like Radiant, Radiant Defense, Robotek, Totemo, and more! So you know any new game they release is going to be good. Let's take look at their latest called Reaper.
Reaper is an epic action RPG where you play as the Black Swordsman who slays thousands of enemies. Best part? The game is free for the most part. Here's what you can look forward to in Reaper for Windows Phone:
Take countless quests and uncover the secrets of Wilderness
Level up your character with skills of your choice
Hundreds of swords, armor and accessories to equip
Play all sides and make your own decisions
The game is free up to character level 10. There are no micro-transactions! If you like the game, you can upgrade to a premium edition.
Gameplay is straight forward and the controls are superb. We had no trouble playing the first few levels of Reaper. The on screen instructions will have you destroying enemies in no time. Music and graphics are sharp as well, something we've come to expect from Hexage.
The game is free for Windows Phone 8. You can play up to level 10, then you can purchase the game if you're into it. We're not on level 10 yet, but we'll update this post when we do get there and find the price. If you're already there, sound off below with how much it goes to go higher.
We'll have a full review later this week. In the meantime, give it a try.
Grab it in the Windows Phone Store, use the QR codes below, or swipe to the right in our app.
Thanks for the tip everyone!
This looks interesting. Downloading now.

Its available on windows 8 also.

No Amber, and works for me.

No problems for me either.

I have Windows Blue and it works

Windows Phone Purple here, working fine too

Windows Phone Colorless is also working

Windows Phone Invisible may also be working if only I can see it.

I have Windows Rowesoft here, working fine to

Windows Red all clear to go.

Rainbow 7 Apple here, all system go, repeat all systems go.....

Windows BMW looking sharp

In Soviet Russia, Windows Phone Blue! I mean: ...you!

Windows phone blew me in Russia?

In Russia Windows Phone blew away

I used to play their games a ton on my old Android phone. Every game Hexage has made is great; very distinctive and fun. This is looking like their best one yet.

downloading it. Getting backloaded with games.

Downloaded. Awesome gameplay ans buttery smooth! I live hexage games!

I love this company. Download commencing . . .

Thanks for the great news sam!Almost every game from Hexage is awsome!
If WP8 only wasn't suffering from this annoying bug tha causes major overheating and battery consumption after 10-20 mins of playing every kind of game (even WP7.5 games) i would be happy 100% about my lumia 920 and WP8!!!

I don't think it's a bug in WP8, but rather unoptimal code in an individual game. My 925 doesn't overheat on the games I've played for more than an hour... The Sims FreePlay, Collapse, Turn N Run, Wordament, AE Bubble, Halo: Spartan Asslt., etc. One game that does have my phone looking for a block of ice is UNOFriends. Given that the game's graphics aren't that intensive and complicated compared to others, I chalk up the extra heat as from the CPU heavily churning away on server polling code that is used to keep the status of the other players in the game current on the phone.

I have changed 2 HTC 8x and a Lumia 920 i can assure you it's not a hardware issue neither a bad coding of a game!
Even with wordament and WP7.x games my Lumia 920 overheats!With every game and app after 10-20 mins as i described in my previous comment!
I want to buy Halo SA and reaper (in-app upgrade to support hexage) but will not because of the described issue! :(
Hope GDR3 will fix issues like this and will make the OS more stable before the 8.1 update!

I don't think it has to do with the games. I haven't played a game in a very long time and my L920 (AT&T) starts to over heat and the battery drains fast.

No Xbox LIVE , no time for this game

Can't disagree with you!Games like this could easily and proudly be Xbox branded!!!
Please support my suggestion!
http://windowsphone.uservoice.com/forums/101801-feature-suggestions/suggestions/4163745-windows-phone-xbox-live-more-something-like-gamece

MS has stated that they are working to ensure that xbl cerification on wp is either on parity or faster than iOS GC process. With the release of the X1, they are unifying the process across the platform. We just have to wait, it takes time to change a process that has been in place for so long. Plus MS isn't one to simply relinquish all the control they have ;-)

Didn't know that!Great news!Realy helpfull!
Thanks man!

Awesome, this will be great. Could this also open it up for Indie games to be Xbox certified?

If this happens then the WP platform would be the best platform for mobile gaming!!

Hexage, you supported webOS when no one else did so i will always support your work. Long may it continue.

+100
I loved playing hexage games on webOS

+822, Pre 2, Pre+, Touchpad...These guys brought the games to webOS when most others weren't.
I'm going to go crawl in a corner and pet my Pre 2 and Touchstone for a little while.


This game is awesome, just boght the Dark Legend Edition to support the devs. But I agree, it should be an Xbox game :/

£2.29 for full game, £2.99 for full game and some extra bits, £3.99 for full game and all extras

is there a video of the game that I can watch befire download. Cause I'm using a 520 and I'm very cautious about my storage.

I have a 520, too, the game works great.
EDIT: Sorry I misunderstood what you're asking. You should really download it and try it for yourself, it only weighs about 28 megs. It's really a fantastic game, fun, pretty graphics, etc.

Its a very awesome and fun game. Those screamers are annoying though lol

This game is great. Attention to detail in everything really shows

Downloading it... thanks!

How long does it take to get to level 10?

Just so everyone knows. It's $2.99 for the full game, they also have two higher versions that come with extra items and quests which run $3.99 & $4.99. All of the info is there to see from the upgrade selection in the main menu or in your inventory if you tap where it tells you you have the free version in the lower right of the screen.

Good catch. Thanks for sharing.

Damn good game, give it a try at least!!

It a good game and the best of all there is no in-app purchase for gold or anything after the u unlock full game. We are the second after android, cool but I got the android ver. Already. :|

This one is actually good..... no offense to the other devs.

Bummer! I'm still on 7

T.T

Dumb question.... Been playing this today and totally love it. I notice they have a Win8 version of this as well. Any idea whether purchasing premium version would unlock the extra content on both devices, even though they are not technically running the same app? I imagine since the unlock is an in-app thing, it would be tied to your live acct so it would work for both. Anybody tried this?

Well I cannot verify for certain with this game but I have Radiant Defense on my WP8 device as well as my Surface tablet When I purchased it to get the extra turrets on my phone, it did not allow me the same access on my tablet. I would assume since this is the same developer, it will not work on both device types.
Windows Central Newsletter
Get the best of Windows Central in in your inbox, every day!
Thank you for signing up to Windows Central. You will receive a verification email shortly.
There was a problem. Please refresh the page and try again.