Robotek is another beautiful game for Windows Phone 8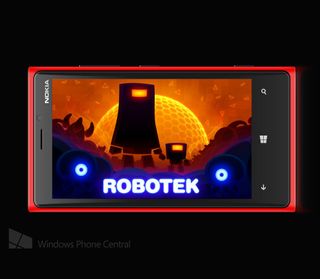 One benefit of Windows Phone 8 sharing the same NT kernel as its big brother Windows 8 is the ease at which apps and games can be made for the other. I remember hearing that about 70-80% of the code can be shared with the other (I'm sure one of you will correct me on this). So as one platform grows, the other will follow suit.
Here's another fun game that started out on Windows 8 and has now made the jump to Windows Phone 8 – Robotek.
Robotek comes from the dev studio Hexage, which has made popular games for both Windows Phone and Windows 8 like Radiant and Radiant Defense. Robotek follows a similar graphical and musical style to those games, but is a blend of strategy, action, and RPG. The game also offers free online multiplayer, which gives it an addictive play style. Here are some bulletin points to get you stoked for the game:
FREE online MULTIPLAYER.
Unique blend of strategy, action and RPG.
More than 200 levels spread all around the world.
Rewarding skill system with more than 30 levels.
9 upgradable slot symbols to fit your own style of play.
4 special abilities including the devastating Nuke.
Play thrilling hotseat duels with your friends!
Online hall of fame - Your scores can only grow.
Signature sound by Kubatko
First impression from the game is positive. The artistic style really is beautiful to look out. We're big fans of Radiant Defense and Robotek is tickling us in all the right ways. Be sure to check back in a week or two for our full review of the game.
The game is totally, 100% free with no advertisements. There are in-app purchases, but the developer assures us that you won't need them to enjoy and beat the game. You can download Robotek right here in the Windows Phone Store, use the QR code below, or if you're in the Windows Phone Central app by swiping to the right.
Thanks for the tip Jonathan D.
Get the Windows Central Newsletter
All the latest news, reviews, and guides for Windows and Xbox diehards.