Congratulations to our Hidden Gems winners and we're starting our second segment today!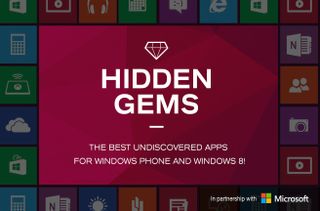 A few weeks ago, Windows Phone Central and Microsoft started a Hidden Gems campaign to highlight interesting and underappreciated apps for Windows and Windows Phone. The series also is also a chance to reward our community by letting users win prizes for their participation, namely giving constructive feedback about the game or app highlighted.
Today, we are announcing those winners and starting our second segment, which focuses on some new hardware and connected technologies. Once again, there is an opportunity for you to win if you leave a comment!
Winners
The contest was simple: leave a constructive comment about the app or game being discussed. The competition was open worldwide, and although we were not grading comments, we were verifying that they were substantive i.e. they at least had sentence structure.
What was the prize? Your choice of a new Lumia 930 or Dell Venue 8 Pro tablet.
The bonus? We upped the ante and decided to pick TWO winners from each article, bringing the total to 18. Therefore, without further ado, here is who won:
Mcheiron (TRAINR)
Gautam Kabiraj (TRAINR)
Diego Rico (Hotel Tonight)
Koen Geerts (Hotel Tonight)
WDavis4692 (How to Cook Everything)
Wizbit (How to Cook Everything)
Jason Papapanagiotakis (Super Why!)
vincelac (Super Why!)
KMF79 (Baby Connect)
Imranjazib (Baby Connect)
GelvinGSM (PicsArt)
Toan Le (PicsArt)
Elitelibra (Interactive Touch Books)
Carlosrdd (Interactive Touch Books)
yellowspark007 (Levitagram)
Lalith Prabhudev (Levitagram)
Orlando Grillo (Toca Kitchen and Hair Salon)
Ken Xia (Toca Kitchen and Hair Salon)
We will be in contact with the winners later today from our contest coordinator Michelle, so look for those emails later this afternoon!
Hidden Gems 2 – Hardware!
Today, we are starting a brief four-day focus on new hardware and connected technologies for Windows or Windows Phone. Some of these we have reported on but this time we have some high-quality video reviews to see the items in action.
First up later today is Insteon, the home automation system. Insteon has teamed up with Microsoft to sell the Insteon kits at their Microsoft Store, and there are apps for Windows and Windows Phone. We will show you how it all works and you can decide if it is something you want for your abode.
New contest, new chance to win!
For the next four days, we are bringing you new Hidden Gems starting with today's Insteon. The contest is the same: leave a comment about the gizmo we are reviewing. Comments do not need to praiseworthy; just tell us your honest thoughts about the item (we are not judging your opinions, just looking for something that took you some thought).
What can you win? How about the hardware we are reviewing! Hence, for Insteon, you can win yourself an Insteon Home Kit ($299 value). For the other contests, you have to wait and see.
We will once again pick TWO winners from each article, so make sure you participate!
Missed our previous Hidden Gems? Jump to our super page to catch up!
Get the Windows Central Newsletter
All the latest news, reviews, and guides for Windows and Xbox diehards.
Daniel Rubino is the Editor-in-chief of Windows Central, head reviewer, podcast co-host, and analyst. He has been covering Microsoft since 2007 when this site was called WMExperts (and later Windows Phone Central). His interests include Windows, laptops, next-gen computing, and for some reason, watches. Before all this tech stuff, he worked on a Ph.D. in linguistics, watched people sleep (for medical purposes!), and ran the projectors at movie theaters because it was fun.
Wow, your so lucky. Do enjoy the Lumia 930. I wish you the best. :)

Hey, quick question, how do I know which article are part of the hidden gems contest?

They say Hidden Gems in the title. They also have a badge plastered on them. We will also write Hidden Gems a bunch of times and reference the contest.

Great thanks! The badge doesn't show up when reading the article from the app or does it?

Weren't there more hidden gems? I thought there was.

Hey i have a problem.... I am using WPCENTRAL app to be alwasy in touch with it... and i have signed in with my TWITTER acc in wpcentral on desktop.... Now when i'm using Phone App, i cant coment as its not signing me in with my twitter acc.....is it must to sign up on WPCENTRAL? And now if i sign and play Hidden games then it will reduce my winning chances as my comments will be very less comparaing to my twitter acc one.. any suggestions? and sigining up here will be an add to chance of win or twitter acc is eough

I'm just suggesting for the sign-in and comment issue for WPC app. It's easy. If you remember correctly, you signed up to WPC on a desktop and you were not asked for a password as Twitter redirected you to the account. Now, all you need to do is, go to Mobile Nations Passport page (from Desktop for better experience), click "Change Password" and change the password. Remember your username and the new password. Login to WPC app for WP using it. Done! PS: I've had similar experience but the only thing different was, I had logged in via facebook.

So lucky.. I just want to win a freakin' Nokia Lumia 1520 to use with T-Stupid Mobile.

I don't see your name on the list?

I don't see MY name on the list.

I can't see your name in the list of winners.

Thanks to WPCentral, Microsoft, Nokia, WPC Editors and all my friends. And Congrats to all the other winners too :P A lil bit about myself (in case you want to know): I've been a big Microsoft fan ever since I entered the tech world. Lumia 520 had been my first WP smartphone. I used a Nokia C1-01 before that. I'm a student who's completed his 12th grade few months back and looking forward for higher studies. Till date, my laptop (Lenovo G580) has helped me a LOT in my studies, programming, research and little experiments. Not to forget my beloved Lumia 520, for which, most possibly I'm a part of WPC user base and the achievement I've got today. As a prize, I'm not sure whether to choose the Lumia 930 or Dell Venue 8 Pro. As a student, both are appealing to me :/ Again, thanks a ton, everyone! :) *Special thanks to Usama Jawad96 who inspired me to continue participate the contest while I was down, I wish he had won too but there are still chances, and more to come :)

Download Personality Development App exclusively for Windows Phone(Tip:It's free for the first 2,000 downloaders!!)

Thanks for the Ad! I'm little afraid about the placement though :P

Well atleast you read it!! So please download it and support the dev!! :P :P

Yeah, just supported myself :P

Congratulations dude. You are worthy to get that prize. I've read some of your reviews.. True efforts indeed. Once again congrats :)

Thanks brother, I'm feeling lack of words to express my emotions :'( Congrats to you too ;)

Haha, don't mention it.I told you that you would win ;) And yeah, we'll compete more in the future contests, our friendly rivalry is far from over :D And no, I'm not disappointed/jealous at all,I knew you deserved it more than me (y)

Right, more contests are coming. But after thinking a lot I decided not to participate in all of them (No, that doesn't mean I won't write reviews. I will do but only in Store reviews page not in the comments of WPC). This might increase other's chances of winning by only a small % but it will. I wish you much luck for the next contest!!!

Congrats to all the winners ! All of you are blessed with a lot of good luck. :)

Congrats to all of the winners!

This app is lookin better with the 1080p update can see alot more text

Congrats to all those who won. :D

I hope I win some insteon stuff

Hoping that a few winners won't see this article or check their e-mails from WPC so that they redraw and i may be the next winner.... Fingers crossed... Lol...

I want a recount! :)
Congratulations winners.

Hey Dan... When will you be re-drawing winners' list in case they don't respond in time??? Just being Optimistic... Lol...:)

Excellent question! I say redraw immediately!!

Nice question. I don't know if Daniel will redraw (or better re-list / update) it or not but I think Daniel might put this article to be displayed as the largest tile on the top of WPC homepage so that it can get everyone's (especially the winners's) traction. (its INSTEON in that place right now) in case they don't respond in time? Good point. I was informed by Aman2901 (a good friend of mine in WPC) at around 11:22 pm IST to be exact, through a call. I could have discovered otherwise too, but only in the morning when I wake up and check WPC app for articles. Later on, I checked for mail in live.com just for confirmation and it was not in the inbox. It was in the Junk, that was expected. Mail security sees words like "Congratulations", "You won!", "Lucky draw" as spam and fake and people often ignore that folder. I hope other winners check their Junk / Spam folders too in case they didn't catch up with the article.

Oh thank god I read this. I have been wondering where did the email go because I still haven't received the mail yet. Totally forgot about Junk folder. You just save my day man :)

No problem. Just check the Junk folder of the E-mail address you signed-up with when joined WPC, I'm pretty sure it should be there :)

Checked and the email was there. Thanks dude :)

That's strange I haven't received the email yet....

Not in Junk / Spam folder?

Nop no emails at all. I asked Daniel on twitter. I'll give it another day before I ask again.

Quite strange,... I received the first email, I replied and asked for some more info, and it has been more than half a day till now, and still no replies from them. Don't even know what they are doing. :|

Me neither (though I never will.... but still, me neither).

@SEKKDS: LOL! I saw what you did there ;) but you nailed it! :P

Perhaps you should wait a little more, they may get some work right now, if not, try to contact them.... I received the email, replied and ask for a few more info but still I've not received any other reply, almost half a day already... Strange silence....

@Toan Le: Its highly likely that its evening / night where you're residing right now. And I guess most of Mobile Nations staff belong to the States / West EU?. If so, the morning has just started in there, they might not be ready for work yet, have patience! :P

They are probably retesting the lab results for PEDs used by the winners of this contest.

@SEKKDS: You nailed it one more time! LOL!

@Gautam Kabiraj: Bingo! Perhaps I should wait (Windows Phone users always have to wait lol) :3
Btw, not related but when the results came out it was 3.00 a.m in my country and, well, I lost my whole night without sleeping :3 who can sleep when they win a contest for a first time in their life and that prize is ultra-big? :3

@Toan Le: LOL! Well it was 11:25 PM when I heard the results in my country :)
I couldn't sleep either. Reality was feeling better than the dreams after all! Same here, I've never been this lucky!

Honestly I'm still trying to believe that I won :p I hurt myself several times when I read the results and even needed someone to punch in my face just to check if it was only a sweet dream (or a nightmare) :p Luckily I didn't shout as my parents were sleeping *phew*

There is only one sure-fire way to find out if this is a dream or not. Climb to the roof of your house, and jump. Then and only then, will you know.

Yeah I tried ;) Wi-Fi up here is quite strong :) Just wondering if they can find a way to send my *prize* here, perhaps airmail? :)
*Sent from Heaven*

LOL!!! My dad was sleeping next to me when the results were announced. Aman2901 called me up (glad, my phone was on silent!). I queitly messaged him that I can't take the call, requested not to mind. Then he replied me back "You've won!" and I told him that "this is not a good time for joke!", then I checked the app myself and I was like... "It can't be!"

Yeah I read that in his comment and almost laughed (again, luckily) ;) Perhaps I will test my luck again (this is the first time I met my luck in my life, not bad lol) with some more Hidden Gems :) Who knows what can happen? ;)

Hahaha... Yeah it was funny. But I won't participate in hidden gems anymore. I won't comment on those articles either. I changed my mind about that. I'd rather write reviews for the apps in the Store :) But best of luck to you!!

Yeah, at first I joined this just for fun and hope I could help the devs somehow....and...Ta-da! ... Just feel sorry for not seeing your reviews anymore :/ Maybe someday you will be a reviewer for WPCentral, who knows? :)

I tried to help the developers in the best possible way I could, I'll continue writing reviews in the Store. In fact, I still write a lot ;) while I've time :D But working as an app reviewer in WPC is beyond my wildest dreams! :P I've some other goals though! ;)

Oh, then best wishes on your way to your goals and have fun reviewing apps bro :)

Has anyone who won not gotten the email or is it just me (sad face)

I got the mail in the Junk folder. Did you try to contact them? They may help on this. But make sure you're checking the same Email that you used to sign up WPC.

I did and nothing in spam. I did contact Daniel via twitter he said he would speak to whom ever is in charge. Still no word tho. I'll give it till tomorrow then I'll ask Daniel again.

Yeah you can wait, I'm sure Daniel will get back to you.

hahaha lucky too lucky u r....among all wineers u r luckiest it seems :) :D congrats buddy :)

Is that so? Thanks bro!!! ;) :D

Congratulations winners enjoy the new phone or tablet!

Oops... I won.... And I read it today

Congo Gautam ur the first indian to get the 930

Yepp..!!! U got a cool 930 !! To hangout with

Gautam, I think your really long reviews paid off in the end! :P

Looks like that! I hope the developers read them to, othwerwise they were of no use except this reward, obviously! :P

Gautam is very very active in every articles' comment section. He deserved it !

Thanks for the complement! The fact that you noticed it shows you're active too, may not comment but you read them :D

And think of it..I just called him up and said you won Gautam and all he said was "this is not a time to joke"!!

But you were right! You're the first to inform me, so one big THANKS to you!

Where is Gautam? Can't see his comments in this article. I think he is the most famous Indian user of WPC.

Sweet dreams with Lumia 930

He's having wifi problems!!

Honestly, its hard to sleep now :P

Now I'm here. I was having some network problems few hours back... It's fixed now. Thanks for the second remark ;)

Yeah he is the most worthy reviewer to take the prize here ;)

Glad, you feel that! Thanks, and Congrats on your winning too!!!

Yeah thanks :) Have fun with your prize! :)

Thanks Aashish! I'm still confused between 930 and Dell Venue 8 Pro though!

Congrats bro... You're one hell of a lucky guy... :)

Thanks bro!!! Its like a dream come true :)

Congrats Gautam..You are really lucky and well deserved..Waiting for a review of 930 from you..

Thank you again mate! :D Ha! I think Sam and Dan already wrote reviews on that but if I get my hands on it, sure, I will too!

Might be looking at another future wpc ambassador? ;)
Congrats man..you really must have put a lot of time to write them. Great effort there. :)

Nah, I just love to read articles and comment, that's all to it :P Thanks brother! I read two-three of your reviews too. You wrote very well as well, at least they were original ;) There are more contests to come, good luck for that!

Thanks man, home automation and hardware just not what I need for now..but yea more contests. :)

Congrats to all the winners...but feeling sad i didn't win

I dont quiet understand it yet

The very last line in the article should be of benefit to you then.

While I am sad that my name is not on the list....I sure did enjoy trying out the apps !! Congrats to the winners & kudos to the WP central team, keep up the good work : )

All the WP apps that were reviewed under Hidden Gems....minus the kids apps

Well don't loose hope mate...

Congrats Gautam Kabiraj! You are officially the first Indian to have a 930(Probably the first 930 in India lol)

Exactly what I was thinkin :) congrats again

Thanks Vaibhav! :D I'm still uncertain and confused between the prizes though!

Go for 930. U can still work on your laptop. 930 will b your small tablet. ;)

Now that I think of it, you're right. Whatever portabilty I need with documents, programs and games, 930 is more than enough for me :)

Where's Gautam??! He really really deserves it. He put so much effort in his reviews. Congrats to you and all the other winners! :)

I appreciate your expression Jonas, Thanks! :)

Congrats :D I didn't win but thanks anyway WPCentral for the opportunity!

Congrats Gautam bhai. what did you choose, Dell venue 8 pro or Lumia 930?

Thanks bro! Im confused ^_^!

I chose 930..... Don't know much about venue pro....

Congratulations to all the winners :)

Congratulations to you all lucky winners!

But still I never quit...

Well, you could put a spin on this! If you don't play, you'll never lose.

Congratulations to all the winners and specially Gautam,I told you on the first day that you'd win. And you beat me,nice competition though,not interested much in this hardware competition though but I'm sure we'll meet again in some other Microsoft contest next time ;) Congratulation once again and good luck for next time :D

Guess your "sixth sense" actually works. Yes, looking forward for next contest. Same feelings here... Thanks Usama! See you in next contest ;)

Thanx usama.... Its me (Praveen Negi)

Ah, too bad... Maybe next time :)

Ahh you're all stop lucky :(

HEY I WON.Daniel Rubino,What Am I Getting?????

Congrats dude.. You're lucky :)

We're up all night to get lucky,

I think I should have won. Posted via Windows Phone Central App

Is it your overconfidence speaking???

Me too.... and the other umpteen-thousand people too.

My heart is broken :(
Anyway congrats to the winners and thanks to WPCentral for the opportunity.Looking forward to next opportunities :)

Well take it as you're not getting rejected but being redirected to some other great prizes... :)

Congrats for the winner and i'm just sitting on the corner and crying.. :')

Here are my top 10 Hidden Gems:
1. MultiShare
2. Analog Clock Tile
3. Caffeine-o meter
4. ReAlarm
5. Drumkit X
6. Grantophone
7. Calculator (by J10)
8. Dual Browser
9. Yuki File Explorer
10. Video Compressor

Hers's your gift---A toffee ~=~

Congratulations to the winners!! I commented on one or two articles, but kind of got sidetracked with other stuff and never followed the proceeding articles. Oh well, I'll try my luck on hidden gems 2! :)

Congratulations to all the winners.

OH MY GOD I WON!! FOR THE FIRST TIME IN FOREVER! THANKS WINDOWS PHONE CENTRAL! (Sorry I just got too excited) *happily crying* *reads the article again* *heavy breathing, sweating* If the WPCentral crew didn't decide to pick 2 winners for each article, I wouldn't win.

Congrats dude... Have a good time with your prize... :)

Thanks man :) Honestly I never thought that I would win a contest like this. Until now I still can't even believe in my eyes :p I need someone to punch me in the face to check if this is only a dream lol :)

Congrats to the winners.
And better luck for the participants.

Congratulations to all the lucky winners! :-)

Where is me? I wrote 3 rap reviews :D congratulations to winners, especially to Gautam who's name I see in every article! Cheers bro!

Thanks dude! :P I remember, read your rap that you written on "Hidden Gems".. http://www.wpcentral.com/comment/1056356#comment-1056356 That was the best among all your three raps.

Yup, that's that rap.
Congrats you once again and see you in further contests. Enjoy in your prize ;)

Thanks buddy! Best wishes for you too! :)

Congratulations to all I must admit to being jealous,maybe I can do better on next contest as home control package would be darn nice that's for sure!

I HAVE WON .YESSSSSSSSSSSSSSSSSSSSSSSS.THANK YOU DANIEL RUBINO.THANK YOU WPCENTRAL.I LOVE YOU GUYS.

Don't be so emotional btw Congratulations for winning the contest.

Congrats dude :) I won too.. Wanna high five? ;) *raises hand*

Congrats man. Oh so want to high five:)

*High five* lol. Cheers! :)

@imranjazib @Toan Le So what are you guys taking? Phone or the tab? :3

iam getting a lumia 930 and you?

Surely I will pick the phone :3 A tablet isn't quite necessary for me. And you? Still confused? :) Btw, have any of you guys received the emails yet?

930, I think! :P Yes, check in your Junk / Spam folder NOT Inbox, it should be there. I just pointed out this thing here: http://www.wpcentral.com/comment/1129215#comment-1129215 in the second paragraph.

Don't forget to thank the Academy for voting for you, your parents, GOD, and all the people you worked with.......... before the exit orchestra cuts you off..

Congrats to the winners. I wonder what Microsoft plans are in getting deeper into this space.

Congrats to all the winners!

Congrats to all the winners! Enjoy your new shiny devices! Cheers guys! :D

Congrats to everyone who won! :D

Honestly, I think it's cool that Insteon is exclusive to Microdoft Stores, so that they may get higher profit but also because you can control on your Windows platform device I a lot better. Great job Insteon!

It's my birthday. Can I win something?? :P

Hope this lets me win a Lumia 930 too

Yeah gone to the insteon website...it is good technology and service but it doesn't available in India only in U.S...can control lights ,doors,car garage etc..,by Cortana with insteon app..Thanks for the opportunity in Hidden gems contest..

Kind of funny, Microsoft and WPC inspired me to get an Insteon automation setup, but i am leaving towards an ISY controller instead of the hub for which the pretty app works. Glad we also have snap switch app!!

Damnnit, damnnit, damnnit!

Copy-Barracuda Networks yes, the app's name is just "Copy" it gives you 15 gb free online storage, 20 if you click here (https://copy.com?r=3WQUgh). whats better in here is faster speed of servers, passcode protection of files and more importantly, if you have a big social circle, you can benefit by referring to them and each one wil give you 5 GB free and you can collect TBs of free storage.

Gautam...congrats..was a pleasant surprise..well now I think I can try my luck too..

Thanks Abhi! Best wishes for the next contest!!! :-)

Why am I always unlucky? Haven't won an online contest till now!

lucky them Congrats to all

I am speechless I always enter and never expect to win. Thanks so much WPCENTRAL and Congrats to all the winners!!! WOOT!!!!

Congrats guys you deserve your Lumia and Dell venue ,i didn't win today but will try more harder in the hidden gem second round

Wow, I won! I will probably pick the Lumia 930, but it's too bad that I can't use it on T-Mobile (USA)... maybe WPCentral can exchange the Lumia 930 for a Lumia 1520.3? What do you say Daniel R.? I believe the Lumia 1520.3 is your phone of choice maybe you can make it my phone of choice too?

No U can't exchange. You're disqualified now for not even considering the prize. Daniel give it to Me -_-

Argh I can't believe I missed all the chance to win Hidden Gems! I thought I still have time to write reviews. Did I miss the last chance to enter announcement too?

Congratz to lucky winners :)

I'll put all of my hopes into the next contest... again :/

Is it also for not US inhabitants?

Ah well. Congrats to the winners! Enjoy your new toys!

Wanted the hot potato 930 for my birthday , Microsoft might give me one

I still can't believe I won! Thats the first time I win something on this kind of 'contest'. Thank you so much WPCentral! I'm so happy to win, especially in this series of Hidden Gems that I liked very much. Hope it continues forever revealing those nice little gems. Here in Brazil it is almost invisible to buy good phones like this due to all the huge taxes that simple double the price of the devices... (yes... they literally duplicate the price...). It will be a very nice upgrade from the 720. Congratulations for all winners!

One question: any winner from outside usa or Europe ??

Yes, I'm from Brazil. And, from the comments, I think Gautam Kabiraj is from India. Don't know the others.

Yes, I am :) And going by the name, I think Lalith Prabhudev is from Asia too... Maybe India/Sri Lanka/Bangladesh... not sure

These connected technology needs to be mature first before we shell out our money

Eh? How did I win? I only commented on like one or two articles. Dang, that's lucky. Oh, this is fine. My dad's been looking upgrade his phone for some time.

Too bad I tried once!! N didn't win....

Too bad once again.. The next contest is giving away hardware not a Lumia!! :(

Wow that's super awesome. You don't know how much I appreciate this. Thank you WP Central!

Ohhhhh fa i didnt win :( wont ie but ya em lill disappointed :( but its ok congrats to all other winners :) Em heading for software Contest hope I get something from there.... :)

That's nice for new comers like me

I face when I realize that I don't win and the next prices are not lumia phones... http://i3.kym-cdn.com/entries/icons/original/000/014/782/Bad-Makeup-Britney-Spears.jpg

I guess i never have a chance for luck

Congrats to all winners! ^_^

YES!! thanks wpcentral :)

Congrats to all winners..sad to not being a part of it/ special congratulations to gautam.you truly deserve it

Thanks Ojaswi!!! I'm glad you think like that! :) There are more contests to come, my best wishes to you for that!

OK Hardware - Daniel any WP8 / W8 tips for Sonos systems? Are there good third party apps or workarounds?

Hey! I just found out I also won. I was hospitalized due to an accident occurred before the announcement of winners. I am discharged today and got the email. I want to inquire is the prize still claimable after 8 days of responding to the email regarding the information of my mailing address? Any quick response is highly appreciable because I am dying in excitement and happiness right now.

When are segment 2 winners announced?

To be frank windows phone is the best when compared to android .. Android even it is having more updating versions it is not providing secure apps when compared to windows. . Android phone hangs very often and doesnot provide security for banking and other secure applications but windows phone doesn't hang iam sure about that i bought windows lumia 710 it is one of the first windows phone of nokia even still i am using that but small disappointment is iam unable to upgrade it to wp 8 and 8.1 ya i know that it is made of windows mango version and even i have updated it to 7.8version. But bad thing is i cannot download more apps which are supportive to wp 8 and 8.1 .. But i love lumia have great hardware functioning than others .. Great gorilla glass and good ram capacity as well and zune which is for older versions of windows and xbox gaming with avatar fully speed access to any kind of apps ...proud to be a lumia user