Hide your email addresses on Facebook to prevent contacts from seeing them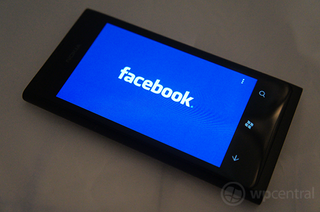 Did you know those using Facebook apps on their mobile devices can access your email address even if it's not displayed on your profile when checking the website? Most users of the social network don't.
Headlines have continuously attacked Facebook due to privacy concerns, confusing account settings and other monstrosities, but today we'll look at a quick tip on how to prevent your email address being available to contacts who can view your profile.
Just because your personal email address isn't viewable on the website when checking your profile via a web browser, don't be fooled into believing your friend's Windows Phone won't pull it down to his (or her) contact list. By default, it seems Facebook's settings are configured so email addresses are invisible to the 'timeline' but are still available and accessible by friends. So how does one configure email settings on Facebook to prevent them being accessed?
Covering up your tracks - configuring emails
To be able to prevent the social network from revealing email accounts tied to an account, we have to dive into the main profile and configure a few options - this is where it could confuse some users of the social network. We have a screenshot of where the settings are above, which can be located by hitting "About" on the main timeline page, then scrolling down to a box on the right-hand side - titled 'Contact info'.
The blue box represents the selectors to control the level of protection for each individual email address, while the box highlighted in red shows controls to toggle whether each address is displayed in this contact information box. Enabling all email addresses to be displayed in the box will do exactly as it says. This is dependent on the settings that are on the left, in our blue box. Should these be configured to 'only me', then no one will be able to see your email addresses. Make sense? Good.
Facebook's email privacy controls
We have a number of options representing the level of security that's desired (these are configurable for each email address associated with the Facebook account):
Public - email address is viewable by anyone.
Friends - restricted to accepted friends on your contacts list only.
Friends except acquaintances - restricted to friends only, though contacts labelled as acquaintances will not be able to see your email address.
Only me - email address is only viewable by yourself, this is the setting we'd choose to mask the ID from mobile devices.
By default (as far as we're aware) 'Friends' is selected and contacts will be able to see all added email addresses to a Facebook account. However, by selecting 'Only me' the email address is hidden from view on both the website and in supported applications / services. We tested the iOS and Windows Phone Facebook apps, as well as the integration Windows Phone boasts, and by choosing 'Only me' we were able to have our email addresses kept safe from view.
Personal email address pulled down by Windows Phone
It's a measure that can be taken to add a layer of security to your email address, should you be paranoid about others actively having access to it. A useful tip to know regardless. Just remember to configure the privacy settings accordingly, merely hiding the email address from the Facebook timeline will not prevent apps and services accessing the address.
Thanks, TschonDoe, for bringing this to our attention.
Windows Central Newsletter
Get the best of Windows Central in in your inbox, every day!
Rich Edmonds was formerly a Senior Editor of PC hardware at Windows Central, covering everything related to PC components and NAS. He's been involved in technology for more than a decade and knows a thing or two about the magic inside a PC chassis. You can follow him on Twitter at @RichEdmonds.
You are still confusing me. How do I get to that setting?

On your profile, select "About" (under your profile photo) and then scroll down to the contact info box.

Never knew that but I had my email addresses restricted to just myself for a long time now.

I dont get this, I add friends on facebook who i really know. So i have no problem showing my email address on my profile because i trust them and since i do use email. Thsi is the problem with so many teens adding and adding whoever they see. Based on my knowledge, the word "friend" means someone who you know personally and letting them to enter your life.

This. The default setting is actually quite useful. This is a great way to not have to share numbers or email addresses with those you care about, since it is already done for you. The only problem is that if you've been adding strangers as Facebook friends. If you don't know them, don't add them.

Yeah but its just email, its not like you have all your credit cards in there

i agree. if my friend is blocking their email or phone number through this method, i most likely won't email or call them ever. lol
however it is true is your friend's account is compromised then your info is available to the person that gained access to it. but then that's no different from unauthorized access to your outlook/google/yahoo contacts. same thing different platform. then to the point of facebook being what it is, what's the point of facebook if you can't contact your friends.

I've had this done for a while the only email visable is the facebook email for uploading pics.

all my other information I removed a long time ago from facebook. no phone numbers, addresses, work or school history. No searching for me on facebook either.

I have no problem showing my email.. Im really pushing my friends to email me instead of texting me... ITS FREE!!!!

HOW DO I TURN ON THE TIN FOIL HAT SETTING?! PLEASE HELP ME BEFORE THE BLACK HELICOPTERS COME AND TAKE ME AWAY PLEASE HELP

Would like to know why there hasn't been any updates in three months?

I suspect they're holding off for a big update on WP8.

I never trusted Facebook security anyway. One needs a PhD in Facebook settings to work it properly. They should have a Don't-Share-Unless-I-Say-So button somewhere.

this completely defeats the purpose of having integrated Facebook contacts in your people hub BTW.

I agree..i like the fact that my friends' email address is available without any issue. This could go a long way in times of need..plus it's just email.
But some people might find it invasive, hence the tip..

I dont get people who use their real emails on places like Facebook. I use a gmail address that I can forget totally if I decide to leave or whatever. I dont even think I have logged in to that address in 2012.

Thnx a lot for the tip, I didn't know and have corrected there wrong doings on me. I can't believe there doing this, so very rude.

Ahh, good ol' farcebook once again at their very best.. by best, I mean worst, of course
Windows Central Newsletter
Thank you for signing up to Windows Central. You will receive a verification email shortly.
There was a problem. Please refresh the page and try again.