HiLight for Windows Phone, a picturesque game of Simon Says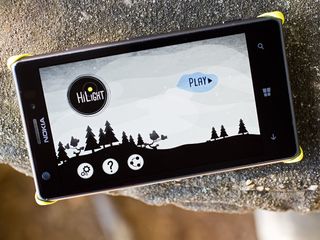 HiLight is a simple Windows Phone game where you have to retrace flashes of lights. The game's backdrop is a collection of wonderfully drawn up landscape images.
However, don't let the game's simple premise and good looks fool you. HiLight can drive you a little crazy trying to keep pace with and remembering the light's path. HiLight is a challenging, fun game to pass the time with and it's available for low-memory devices.
Plenty of memory challenging levels
HiLight's main menu isn't very complicated. You will find options to jump into game play, access the settings, view the about page and share the app with friends. Settings cover turning on/off sounds, choosing a language and resetting the game.
Game play is spread across five playgrounds, each with forty-five levels of play (that's 225 levels if my math is correct). The first few gaming levels aren't very difficult, giving you a feel for game play. It takes getting to level four to see the game become challenging.
Each level is played out in stages. You are presented with a collection of circles that will light up and you will need to mimic those flashes. Each stage builds upon the flash pattern and you only have three seconds to repeat the pattern.
The pattern can include a single flash of a circle, multiple flashes, connecting flashing circles or multiple circles being illuminated at the same time. Levels begin with four circles that light up and increases in number as you progress through the game.
A progress meter runs across the top of the game screen and as you complete the stages, the meter begins to fill. The meter will have three points to reach and your goal is to repeat the stages of lights and fill up all three points, completing the puzzle. However, if you reach the first point and fail to repeat the light pattern you will be able to advance to the next level. Another sign of your success is the background image. It begins as a black and white drawing but as you successfully complete each stage of the puzzle it comes to life with color. A nice touch by the developer.
Levels are re-playable and the additional playgrounds are unlocked as you complete the forty-five levels of the previous playground. HiLight does an exceptional job of testing your memory and reflexes.
Overall Impression
HiLight presents a challenging, fun game of Simon Says. The game is well drawn up from its picturesque backgrounds to the complexity of the light patterns you have to trace.
The gaming levels with four dots that light up are challenging enough, but when you get to levels with fifteen circles, it can drive you nuts.
I really cannot find anything to gripe about with HiLight. While the game is easy to pick up and start playing, it isn't as easy to master. While still new to the Windows Phone Store, HiLight is pulling down a 5 Star rating. A rating we won't argue with at all.
Windows Central Newsletter
Get the best of Windows Central in your inbox, every day!
George is the Reviews Editor at Windows Central, concentrating on Windows 10 PC and Mobile apps. He's been a supporter of the platform since the days of Windows CE and uses his current Windows 10 Mobile phone daily to keep up with life and enjoy a game during down time.
Another game not available here in Brazil. :( I am here developers: to help you make your game available here. The process is pretty simple.

Now they should make a banner .. "including Brazil" ..:D

Yes, I like this idea. :)

Does changing region fixes that?

Yes, many of these apps aren't available in my country but you don't see us complaining about it, because it's easier to change regions and be happy about it :)

Daniel, não faço isto por mim só, faço isso por um monte de usuários brasileiros tha não sei eles podem mudar as regiões, ou não quer. Homens "Normais", não o geek aqueles como nós. Já ajudei toneladas de desenvolvedores para obter seus jogos aqui no Brasil. O Brasil é o país adiante os números de downloads de apps na loja e tenho certeza que o que os desenvolvedores não estão publicando jogos aqui estão perdendo uma grande oportunidade.

A propósito Guilherme, tenho muita vontade de aprender a programar apps pra Windows Phone, e também adoraria ajudar nessas traduções. Pode me indicar por onde começo, rs?

Tem diversos cursos ensinando a programar para Windows Phone. Dá uma olhada no Channel9: http://channel9.msdn.com/WindowsPhone

Eu bem quero a sua ajuda :)

I think the point of GuilhermeManso is that easy publish a digital game in Brazil (using ESRB or PEGI rating), and common people don't know how or want to change reagion. http://www.vic.ms/uncategorized/publishing-digital-games-in-brazil/

Por incrível que pareça eu também ja ia comentar a respeito disso. Acredito que 80% dos jogos lançados nao estão disponíveis tanto aqui como em outros países. Minha duvida, ate porque nao sou developer, é se é realmente difícil lançar um app disponível globalmente ou se faz parte da politica da microsoft em nao permitir isso em primeira instância. Sorry for not translate.

Não. O processo foi simplificado há dois anos atrás. Antes precisavam enviar o jogo para análise no Mninistério da Justiça e o processo era todo em português. Não tinha quase nenhuma informação. Agora os desenvovledores podem usar os certificados PEGI ou ESRB pra publicarem aqui. E esses certificados são obtidos gratuitamente e instantaneamente pela internet. Só que a maioria dos desenvolvedores não sabem dessa possibilidade. É aí que eu entro.

Entendi, diz respeito então a classificação etária daqui. Acredito que todos (SO/dev/user) saem ganhando com esse seu trabalho.

Hi Guilherme ! Muito obrigado pela mensagem.
Nao consigo ter o certificado... Pode ajudar-me ? O meu mail é lpereira@infinitesquare.com

Hi. Just sent you an email. :) Thanks.

It's a fun game I just played it

That "512MB Supported" Banner made me happy :)
I Will definitely try this game ;)

Thanks Aniket :) Hope you like it !

A WP version of the game Simon from back in the day.

Thanks to Guilherme, HiLight is available in Brasil :) Enjoy amigos ! Outra vez muito obrigado Guilherme !