Honor Quest: Steam and Magic, an RPG adventure for Windows Phone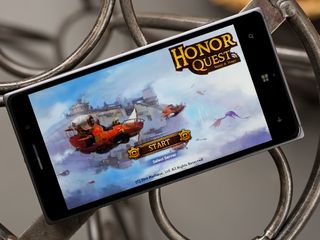 Honor Quest: Steam and Magic is a fantasy adventure game available in the Windows Phone Store where you have to help a band of heroes rid the land of evil forces. While the game does have role-playing features, your part in the game is more management than finding yourself in the middle of the fight.
The Windows Phone game has a boatload of battles to fight, a nice selection of heroes to recruit and plenty of gear to upgrade and enhance. You also have Guilds that you can create or join to give the game a social touch. Honor Quest: Steam and Magic is not available for low-memory Windows Phones and while it takes a little time to discover all the gaming features, it's not a bad time waster of a title to have tucked away in your Windows Phone gaming library.
There are a ton of elements to Honor Quest: Steam and Magic where game play can be a little overwhelming. The game will start you out with an exhaustive tutorial that can easily consume twenty minutes (maybe more) worth of gaming. If you have questions about what something is, give it a few more minutes of gaming and the tutorial should deliver the answer.
In a nutshell, you are helping a band of heroes travel the countryside and defeat the evil forces. Your take more of a management role with Honor Quest in that you are responsible for hero development, potion creation, equipment forging and enhancement and other actions to better prepare your team for combat.
You do have a very limited role during combat, but, for the most part, your heroes do their thing without hesitation. During combat, you can place your team members, tap a Captain and release potions (when available) to attack the enemy or heal your heroes.
Game play centers around a map of your country with various navigational controls lining the edges. Your current quest and daily bonuses are accessible from the magnifying glass and balloon buttons in the upper left side of the map screen. Just below these buttons, you will find your gaming inbox and chatroom for your Guilds (more on this in a second). Your mailbox will only become visible if you have new mail.
Moving to the other side of the map screen you will find your resource stats that include gems and soul shards. Both of these items are used to enhance, upgrade and advance your heroes and their gear. You earn these items and gold coins during combat.
In the lower right corner is a player icon. Tapping this icon will pull up an extensive menu of management options. These options include and cover the following:
Roles: View skills and attributes of each team member
Skills: Here you can teach skills to your heroes and move them up in rank
Enhance: Enhance your heroes gear with soul shards that will increase their attack or defensive strengths
Potions: Here you can brew powerful potions that can be used in battle. These potions include recovering/healing potions, attack potions and specialized potions to increase your team's attack. You can also train and increase your potion making abilities with this option.
Guild: This option gives you the ability to create or join a guild. You can play Honor Quest without joining a guild but in doing so you can fight with your guild mates and bid for rare items.
Fragments: This is your hero roster. It will show the fragments you have recruited and those that you can search for to recruit.
Gems: Equip gems for heroes
Items: Your inventory of equipment, potions and ingredients
Mail: Another way to access your gaming inbox
Friends: A means to message your friends
Settings: Settings are basic with options to show tips, mute sound/music and view the FAQ. You can also contact the developer, change your language support and view the gaming credits from the settings.
Keep in mind that not all of the menu items will be available from the beginning of game play. As you advance in the game, menu items will become available with a brief tutorial on each. Honor Quest has a rather extensive menu and navigation can get a little frustrating in that when you exit a menu option, you end up back to the map screen. If you have additional business with menu items, you will have to re-open things. It ends up resulting in a lot of back and forth.
Battle opportunities will be displayed on the map as crossed swords and in tapping the sword, you'll find the details on your opponent. If you feel the need to enter the fray, tap the fight button to transition to the battle screen. Keep in mind that it may take several rounds of combat to clear an area on the map of evil forces. Also, each battle will cost you an attack point (the meter is sitting in the bottom right corner of the map screen). Honor Quest starts you out with plenty of points to use and you will regenerate the points at a rate of one every five minutes.
The combat screen isn't overly complicated. You have a green button in the upper left corner to select your team members and available positions will be highlighted in green. You can move team members around as desired and set one as the team captain. When you are ready to start the fight, tap the green cross-swords button in the lower right corner of the screen.
Battles are turn-based but in automated style. Your team members will choose their best attack or defense. Your role in battles is to unleash potions as needed and a potion wheel is in the lower left corner that gives you access to your available potions. Battles are in waves with the last wave involving a boss to fight. Fallen enemy troops will yield you soul chards and gold that can in turn be used to enhance gear and buy supplies.
As your team is victorious in battle, they will advance in experience and increase their abilities. You will also receive rewards for being victorious that range from supplies to upgrade gear or create potions, gold or other items that will help you in your journey.
Along with the battles and menu options to explore, you do have a few towns to visit with Honor Quest: Steam and Magic. In these towns, you will have a forge to create stronger weapons and armor, a Store to buy/sell ingredients for potions and a Goblin's Treasure where you can spend crystals to win gear or discover heroes to recruit. The forge will let you take the raw materials you earn in battle and upgrade your hero's gear. If you are lacking materials, you can always revisit battlefields to collect the additional resources.
Overall Impression
In playing Honor Quest for the past few days, it comes across as an entertaining Windows Phone game that does grow on you. The number of gaming aspects you need to stay on top of away from the battlefield can be a little overwhelming, though. At first I wasn't too keen on not having the ability to control the heroes during combat, but the strategy rests with how you develop your characters.
Using your enhancements increases their equipment's abilities and when the Forge becomes available, you can create stronger weapons and armor. Honor Quest provides you with a few potions from the start, but you need to use them wisely. If you run out of potions, it takes a while before you gain the ability to create potions and even then, you may not have all the necessary ingredients.
Graphics and animations are nicely drawn-up with Honor Quest and while the number of gaming features can be a little overwhelming once you get the hang of things it turns out to be a fun game.
It is a free Windows Phone game and at last check, nails a 5 Star rating in the Store. I'd dial the rating back a bit to the 4 to 4.5 Star range. While I enjoyed playing Honor Quest, at times the game felt a little too busy at times with all the tasks you have to juggle to manage your team. If you try Honor Quest: Steam and Magic, let us know what you think of things in the comments below.
Download Honor Quest: Steam and Magic from the Windows Phone Store (Free)
Windows Central Newsletter
Get the best of Windows Central in in your inbox, every day!
George is the Reviews Editor at Windows Central, concentrating on Windows 10 PC and Mobile apps. He's been a supporter of the platform since the days of Windows CE and uses his current Windows 10 Mobile phone daily to keep up with life and enjoy a game during down time.
No 512MB support. I know we are a dieing breed of device owners but I did only get my Lumia 630 in 2014...

That's almost 2 years...pretty good lifespan, I'd say

I got my lumia 830 1 gig not even 1 year ago and I feel it is out dated. Welcome to technology. 512MB is not much to work with for a lot of things. The OS takes up a bunch of the memory too. So now you have to work with even less. Sure games can be super optimized but the development effort would be way too great for something that will not have much of a future. It's like old consoles a lot of games just can't be made for them due to memory limitations and processing speed.

Do you guys remember when game consoles came w/ 512MB of External storage? lol, man those were the days...now even 1GB is not enough! =p

U can get a new 640 for the price of a new Xbox or PlayStation game.

Nice rpg, will give a go.

Downloading on my new Lumia 640! Loving this phone

Anyone having trouble downloading this game over WiFi? I am using a 640xl and the game is stuck in"pending".

This should keep me busy til the 950XL drops. Thanks for the review!
Windows Central Newsletter
Thank you for signing up to Windows Central. You will receive a verification email shortly.
There was a problem. Please refresh the page and try again.