Hope Calendar for Windows 10 PC and Mobile adds transparent Live Tile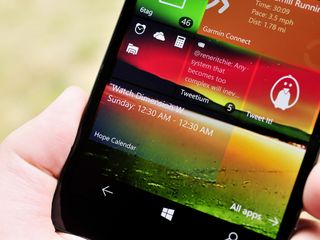 Version 3.1 of the Hope Calendar app for Windows 10 PC and Mobile is now available. It adds the much requested transparent Live Tile feature to the app.
The change log for the 3.1 version shows that the transparent tile was supposed to be included in the earlier 3.0 version but a bug prevented it from showing the transparent background. In addition, the 3.1 version fixed a bug where the week view in the calendar was showing the wrong days for some cultures.
Download Hope Calendar from Windows Store (opens in new tab)
That's great! Lack of a transparent tile is one of the primary reasons I stopped using it.

Just use Chronos+. The best!!!

False. Chronos+ is not a UWP app and I refuse to use non-UWP apps on my phone. Also, Chronos+ is 100% useless on my Surface, laptop, and PC unlike Hope Calendar. Seriously, 8.1 apps are dead to me. Devs need to get on board because I do not touch those old apps. And I say that as someone who likes Chronos. If/when it becomes UWP, different story.

I still use a couple but only really through necessity where I'd miss out on my main social group (Things like messenger apps) Thankfully Skype will be replaced soon too, the side-loaded Preview is running well so far. Most of my apps are now UWP and I dislike using WP8.1 apps for a few reasons.

Yeah, I mean...something like WhatsApp you have no choice. However, when it comes to apps where I do have options, I always go for UWP now. Performance is just better and I like some of the hooks into the OS. I really like the new Skype UWP, so much more fluid and nicer looking.

Definitely, I have a WP 8.1 app and a W10M app so far and definitely want to do a UWP re-write of the WP8.1 app soon as I get the time, there's numerous things I wanted to do with it in WP8.1 that I couldn't. Any new project I start now I won't build a WP8.1 version at all - I know there's still people using it but it's not worth the investment when UWP is the present and future.

It's not like those on 8.1 have a choice unless they know about the insider program or if their phone got the update to windows 10 m Posted from Windows Central for Windows 10

True, it's not the users fault. It's not like you have to build the WP8.1 version from scratch, but at the same time it's still extra effort which is harder to justify with a free app when it's a brand new project.

Ok, thanx for the opinion. The dev is working on uwp version, but because of the os component bugs still, this is at hold..

We'll give it a very warm welcome when it arrives ;)

That's right...Crhonos Calendar+ is the Best ;-)

That's right.Chonos Calendar+ is the Best ;-)

Really nice app. Loving the Agenda view and the new transparent tile.

We Lumia 520 people have no future in windows central.. You never consider us anymore. Have you forgotten we don't have a choice other than remain on win8.1?

Your choices are to use the Insider Program to move to 10 or buy a phone with more powerful hardware. 512 MB of ram is just too low by today's standards.

What is the weather app shown?

Ditto, what's the weather app?

FYI - App is called Weather BETA - https://www.microsoft.com/en-us/store/apps/weather-beta/9nblggh168w5

This just tells me one thing. Why can't microsoft pull this off with their outlook calendar app. I think I'm going to ask this feature for my Chronos+ calendar app for windows.

So if I don't own either Chronos or Hope which do I buy?

Is it available in Spanish? If that is the case, I'll buy it and support the dev in no time! :D

Keep any eye out for v4, we are *planning* to localize the app for the top used languages in that release (including Spanish). Although you can use the app today and dates and times should work correctly.

This is off topic has anyone who has weather Beta app is your live tile updating?

More off topic. Is that the weather app for the live tile that I am seeing? -- Never mind. Found it in the store and it is it! They do have a wonderful live tile. I will reply once I see my live tile update.
Windows Central Newsletter
Get the best of Windows Central in in your inbox, every day!
Thank you for signing up to Windows Central. You will receive a verification email shortly.
There was a problem. Please refresh the page and try again.