Horns, crazy wigs, team jersey, beer, and your Windows Phone… All you need for the 2014 FIFA World Cup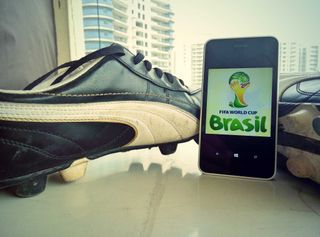 Arguably the biggest sporting event in the world, the 2014 FIFA World Cup, kicked off today. Although some of my colleagues here from the US would shrug their shoulders at this 'soccer' extravaganza, the 20th edition of the FIFA World Cup in Brazil will see 32 countries participate from June 12 to July 13, 2014 for the greatest glory in the game.
While you'd be planning football parties with your friends or hit the pubs to watch the matches with other fans, you could use the following tips and the Windows Phone apps to follow the World Cup on your Windows Phone device. Whether it's live updates, post-match reports, or the table standings, these are all the ways to get set for the World Cup apart from your usual sports apps like ESPN, Forza Football, or Goal.com.
Onefootball Brasil
The Onefootball Brasil app not only offers play-by-play match commentary and latest news but also allows you to chat with other fans from around the world live during a match and have your opinion on all the latest news.
The comprehensive World Cup planner allows you to customize your experience and follow your favorite team, and get breaking news and latest videos of press-conferences and interviews in 15 languages. You can also check out comprehensive statistics for your favorite players.
When a match is on, you can get up-to-the-minute live commentary, highlights, and statistics with a Live Ticker. You can also set up personalized push notifications for a specific match or your favorite team
Download the Onefootball Brasil app for free for Windows Phone 8 devices from the Windows Phone Store.
Football: Brazil 2014
The Football: Brazil 2014 app does not have any bells or whistles but a useful companion for the tournament. The app offers information about teams, groups, matches, and stadiums and the complete itinerary of the World Cup.
The app includes team lineups and statistics, as well as games schedule. You can create Live Tiles for specific matches or groups or your favorite teams. Additionally, you can create a reminder for the matches of a team or in a group. For each match, you can predict the score of the match, and see how you fare through the tournament.
Download the Football: Brazil 2014 app for free for Windows Phone 8 devices from the Windows Phone Store.
ESPN FC World Cup Essentials
Microsoft recently announced that they've partnered with ESPN to bring the ESPN FC World Cup Essentials sports hub to the Web as part of the Rethink IE initiative.
While the site works well across all modern browsers and devices, it's perfect for touch in Internet Explorer 11 – on Windows 8 and Windows Phone 8 devices.
ESPN FC World Cup Essentials (essentials.espnfc.com) brings you exclusive content that helps keep you informed and in top form for the 2014 World Cup. Whether you're a true fan who wants the latest sports news or a rookie who wants the lowdown on your favorite team, the ESPN FC World Cup Essentials hub has you covered.
Choose among headlines, match schedules, teams and history to read curated content from ESPN including everything from featured articles, to video highlights, to polls and predictions. Circle the 3D globe to swipe through the best of the past to relive your favorite moments in sporting history.
You can also browse exclusive player and team artwork created by ESPN specifically for the 2014 event. Additionally, fans can download their favorite artwork through seamless integration with OneDrive on the World Cup Essentials site.
The site features a fast, fluid touch navigation along with responsive web design to auto-fit any device you have.
Bonus tip: Pin the site to your Start screen, and get a nice colorful tile for a quick access to the hub.
Cortana: 2014 FIFA World Cup
Of course, when you need to follow the World Cup, your personal digital assistant Cortana would be happy to help. Just set up Cortana's interests and she'll keep you updated.
To stay updated on the news about the World Cup, add a few news topics like 'FIFA World Cup' to Cortana's interests. Exploring more news would get you updates from the Bing News app.
To follow score and schedule updates of your favorite team, add the team from the sports category in Cortana's interests. You also can set it up to notify you of these updates.
These are some useful ways that I could dig to follow the 2014 FIFA World Cup. Know more such apps or Cortana tips to help you follow all the World Cup excitement? Let us know in the comments!
Windows Central Newsletter
Get the best of Windows Central in your inbox, every day!
It's 2:20 in the night.... No sleep today eh? :)

But I think it's 0:00 now, isn't it?

Cortana needs a lifting. Informative but not pretty :)

Two useful links for football fans: > http://www.bing.com/search?q=fifa+score (make sure your region is English US :S....) > http://forums.wpcentral.com/off-topic-lounge/288830-get-fifa-2014-word-cup-fixtures-wp-calendar.html

The last one is great man! Thanxs!

One more thing: If you say "Fifa score" to conrtana, she will show the outstanding score view (almost similar to the aforementioned Bing result).

Portugal!!!! We have the best worldwide player!

Thanks. :) All eyes are on us now. Lets see how further our team goes. :). Place on your Cortana's phone Portugal Team and you'll find up to date news.

Ya he is the best in this world as the player who plays in Argentina belongs to another planet

Which app shows the result of live match? Forza football only shows which match is up next..Which app shows the statistics and group standings? Edit- I found it :)

Here ... It's amazing! Great to see this event around my "home"! The energy ... Terrific :)

Where is the Official Fifa app?

It will be released in 4 weeks. Lol :/

Bing Sports is amazing. I'm using it now.

Agreed. Bing Sports is great.

Second that, using it now during the WC2104

Nice I have the one football Brazil and I love it.

Built in solution is the best

Proudly watching Pakistani footballs used during FIFA. Brazil-Croatia 1-1 atm.

SofaScore has a special World Cup section, all you nees. I've tried the new apps, not even close.

Same for the regular OneFootball app. I just don't like the ads in SofaScore.

Watching the match on my phone while walking the E3 floor writing stuff down and watching a 5 sec masterchief gone crazy again from halo 5 video. And posting this now on this forum. Multitasking my eyes off :P

And my vuvuzela!!! Oh we're not doing that anymore...? Sorry... never mind...

Wish we had ESPN Watch App to watch the games on our WP devices

You can also pin the World Cup section in the Bing Sports app as a live tile on your start screen.

Yep that is exactly what I did and it works like a charm in a leprechauns butt.

Cortana not providing notifications even though they're enabled, Sofascore so far is spot on.

I use Cortana/Bing Sports. :)

"arguably the biggest sporting event in the world" pretty sure there is no argument here. It is by far the biggest sporting event in the world.

No, I'd say the Olympics is bigger. Much more countries participate in the Olympics. World cup is definitely second biggest though.

Olympics have more sports and countries but still the football world cup is the biggest event. Look it up.

Having more countries doesn't mean bigger. The amount of Total attendees and viewers do. And that's where World cup is taking the top spot.
Nobody in my country really pay attention to Olympics, but when World cup is taking place, you can see the hype and passion, even women dress up using team jerseys.

Olympics have more countries, but don't forget that World Cup was a qualification stage with a lot is countries as well, but still Olympics have more. World Cup definitely the biggest sport event.

Another think don't work in Cortana, I don't know how to resolve this problem

Is it the World Cup already, I never knew, it's not like it's been mentioned everywhere! (PS as someone who dislikes football, any mention of the World Cup anywhere gets on my nerves now since it is impossible to not hear anything about unless I shut myself off from the world for the next however many weeks it goes on, and I certainly ain't doing that!)

I can understand not being into football, but "disliking it" and having it "get on your nerves" is a bit strange. Posted via Windows Phone Central App

Try to watch the best team play. I suggest Barcelona and Brazil. Or if you do like speed, try English football. If you like complicated management, see Italian ones.

Barcelona??? With Tata Martino, your joking... And I was at Camp Nou this season to watch one of their few goods games. The best League is definitely the English, followed by the Spanish and German League. Best teams, Real and Bayern. There are other that played great football last season such as Atletico, Dortmund, Juventos, Benfica, PSG, and obviously the English ones, Man City, Arsenal and Liverpool. This is my top 10 from last season.

Can I ask you which sport you are into? Cricket, by any chance? In that case, we're on the same boat. ;)

I have Onefootball Brasil and Sofa LiveScore, simply the best score app for WP!!

ESPN really screwed up. Was a perfect opportunity to roll out Watch ESPN app for us, but they didn't even bother updating their current lame app.

Need live video app. Planning to carry my old iPhone 3.5". hate to do it. Depressing that I can't watch in 1520.

There's no way to watch live video of the game on WP? Posted via Windows Phone Central App

Not in US. ESPN has exclusivity, which is fine because they have great commentators. But ESPN refuses to give us watchESPN app.

Euuurgh....the World Cup. What a let down of a sports event.
Give me the Olympics or the Rugby World Cup...proper sportsmen & proper sporting values.

Yes, but wait .... nobody cares at the moment. ;-)

Bing sport also great app, why they didn't add it to the collection?

The final four: Argentina Spain Brazil Germany. I have to see how they play in their groups to make a call :)

I think France and Italia will give some surprises. And Portugal, don't see them half eye. England might be a good opponent.
And wish some Asian teams would take some spotlights..

You probably wont see Argentina at the final four... Their football isn't very good tactically. Belgium, Netherlands or Portugal are better then Argentina.

Well, we probably won't see Argentina or Spain at the semi finals, what a game from Netherlands!! Lol

Brasil ganhou contra a Croácia, mas foi um jogo muito bom!!!!

E com roubo de igreja a mistura. Lol

I didn't have to use any app to see the match AS IS IS IN MY CITY!!!! GO BRAZIL!

For live sport and especially Brazil world cup search for "football channel" from the developer "iGame Studios" in the Windows phone store. It's working great

There should be an app to make people aware of the disgusting and immoral methods of the Fifa organisation instead.

Never watch soccer untill the world cup comes around! Then I watch as much as I can! Last nights opening match was awesome :)

How to enable push notifications for matches in OF Brasil?

VIVA BRAZIL!!! WORLD CUP WINNER!!!

VIVA BRAZIL!!! WORLD CUP WINNER!!!

Let's face it: the BIGGEST Sporting event on this globe are still the Olympic Games!!! Gee!

Also try out the Bing Sports app on WP, I think it's great. Just go into app, swipe to "my sports", hit the "+", search for "World Cup 2014", select it and you'll be all set. Pro Tip: you can pin "World Cup 2014" as a tile on your start screen as well.

SofaScore app is neat and clean to stay update!