How to annotate EPUB files in Microsoft Edge
The Fall Creators Update brings annotation to EPUB files in Microsoft Edge.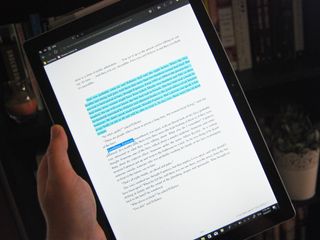 The Windows 10 Creators Update gave Microsoft Edge the ability to open EPUB files stored on your PC. It immediately became easier to read your favorite books without having to download a separate app. The Windows 10 Fall Creators Update is on its way, and it adds an annotation feature to Edge's EPUB reader, effectively allowing you to mark up your books. Let's get annotating your favorite books with this handy guide.
How to open an EPUB file in Microsoft Edge
Edge should be the default program that's used to launch EPUB files. If you have used EPUBs on your PC in the past and have a different app set as default, you can still set Edge to be the default viewer.
Right-click the Start button.
Click Settings.
Click Apps.
Click Default apps.
Click Choose default apps by file type. You might have to scroll down to find it.
Click the app next to .epub. You'll have to scroll down to find it. In this case, Edge is our default app, but you might see a different app in this spot.
Click Microsoft Edge.
When you open EPUB files from now on, Edge will launch and you'll be able to use the new features.
How to annotate an EPUB file in Microsoft Edge
The biggest addition to Edge's EPUB mode in the Fall Creators Update is the ability to highlight and underline words or chunks of text and add notes to certain sections. When you close Edge and the EPUB file, any annotations will remain and will be visible the next time you open the file in Edge. Nice! Here's how to use the different annotations methods.
How to highlight text in EPUB files
Launch an EPUB file with Microsoft Edge.
Click and drag your cursor over text to select it. A small box of tools will appear above your selection.
Click the Highlight button. It looks like the tip of a marker with an uppercase A next to it.
Click a color to highlight with. Continue the steps to remove the highlighted portion.
Click the highlighted text to select it. You don't have to click and drag.
Click the Highlight button.
Click the None option. It is located below the color options.
How to underline text in EPUB files
If highlighting feels a bit too aggressive, you can simply underline words or blocks of text.
Launch an EPUB file with Microsoft Edge.
Click and drag your cursor over text to select it. A small box of tools will appear above your selection.
Click the Underline button. It looks like an uppercase U with a line below it. Continue the steps to remove the underlined portion.
Click the underlined text. There's no need to click and drag to select it.
Click the Underline button.
How to add a note in EPUB files
Reading often inspires thought. While working your way through the prose of your favorite author, you might be inspired to jot down a note based on some text in a book. This features also works very well when studying if you happen to have your textbooks in EPUB format.
Launch an EPUB file with Microsoft Edge.
Click and drag your cursor over text to select it. A small box of tools will appear above your selection.
Click the Add a note button. It looks like a speech bubble. A box with a blinking cursor within will appear.
Type your note.
Click the Save button in the top-right corner of the note window. It looks like a checkmark. Continue the steps to remove the note.
Click the text with a note attached to it. It will have a light yellow highlight and a miniature speech bubble next to it.
Click the Add a note button.
Click the Delete button in the bottom-right corner of the note window. It looks like a trash can.
More resources
For more information about Microsoft Edge, be sure to check out our hub, as well as some other guides to using new Fall Creators Update features.
Windows Central Newsletter
Get the best of Windows Central in in your inbox, every day!
Senior Editor, Laptop Reviews
Cale Hunt is formerly a Senior Editor at Windows Central. He focuses mainly on laptop reviews, news, and accessory coverage. He's been reviewing laptops and accessories full-time since 2016, with hundreds of reviews published for Windows Central. He is an avid PC gamer and multi-platform user, and spends most of his time either tinkering with or writing about tech.
If I could uninstall Edge, I would... When it comes to expectations of how a browser should operate, Edge hasn't even caught up to IE4. It's only redeeming qualities are it's PDF and EPUB support... wait! aren't there already other apps that can do that? Why does a user care about EPUB support, when as a browser, it barely functions satisfactorily?

EXACTLY! I still have to use IE11 for many sites because, as a BROWSER, Edge just doesn't function correctly. I don't need my BROWSER to read PDF files, I don't need my BROWSER to read or mark up EPUB files. I just need it to be a great BROWSER. Right now, IE11 is my primary, Edge is secondary. And there's no universe where I use Chrome.

So, I just tested this and it works nice. However, I notice that that file doesn't change. So, where are the annotations being saved? If I annotate an ePub and save it to OneDrive, will it have those annotations when I open it on another computer or tablet?

That's exactly what I was thinking, and that's for me the key: are the annotations stored in the cloud? If so, it should be stated clearly, as it is in Google Books, where there's an option in settings informing that all annotations are saved in Google Drive. I presume that annotations of local files are stored locally, which is wrong because you won't be able to access them once you use a different computer or format your PC. The first time you make an annotation, Edge should ask you to save your ebooks in Onedrive, together with your annotations.

Is there an app for android that will let me read my Microsoft books?

While I appreciate the built-in ability to read and annotate EPUB files, why isn't it a standalone app? A document viewer, that handles both PDFs and EPUBs? I understand that Edge needs to be able to open PDFs as well, since many websites have on-site PDF files, but I don't want to fire up Edge with my tens of tabs to read a single locally stored document or book.

Why do I like the whole experience of Edge and that many features, such as ePub's and PDF's, are centralised within this browser? Why do I prefer it above IE (which I haven't used in years) and all other browsers, including Chrome? I'm excited by the oppportunity to try something new, and a new way of working that gives me a new approach to a technological world that is growing and then simplifying that growth to adopt and adapt to future steps. Some people do prefer a course purely solipsistic, that is their prerogative, but I hope they are never in the majority in matters that decide a next step for positive change. Edge's ePub move is one of the many brilliant features to land on Windows. Before now the only practical ePub viewer anywhere was Google's Play Books, but that was only available to Android. An ePub being one tab away isn't such a big difference to it being another app away for those that are concerned about this. It's being within the same environment as all the other reading/studying/researching I'm doing is enormously beneficial. Microsoft are a blazing light in hardware and software innovation at the moment and I don't see much from other vendors as inspiring as these developments in the realms of browsers. In fact, it would be an injustice to say that this is just an update for a browser, this is an update opportunity to re-examine how we extract information from a vast web of burgeoning ideas and creativity. Composing that information into a channel that is adaptable to our preferred way of extrapolation is a tremendous acheivement. Somewhere out there on the 'net is my first ever self-made website along with it's self-made flickering gif's and midi music. I don't care whether or not Edge could handle a site like that these days, I've moved on and so should other web designers. This update is thinking about the future, as shown by what's being done in the background of this release in that archaic features are also being removed. In with the new, out with the old where necessary.
Windows Central Newsletter
Thank you for signing up to Windows Central. You will receive a verification email shortly.
There was a problem. Please refresh the page and try again.