How to change DPI settings for 'classic' apps on Windows 10 April 2018 Update
You can fix blurry text and stretched elements on a per-app basis using these settings on the Windows 10 April 2018 Update.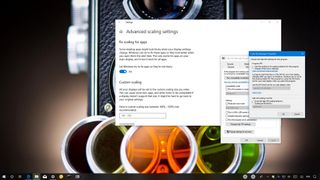 On Windows 10, some classic desktop applications might become blurry during certain scenarios, such as when you're running a remote session, dock or undock, or display settings change. Usually, you need to sign-out and in again to fix the problem.
In order to ease this issue, starting with the April 2018 Update (version 1803), Windows 10 introduces a new option in the "Advanced scaling settings" page that detects and tries to fix blurry apps automatically the next time you open them. However, if the feature isn't working as expected, you can also choose the high DPI settings a particular app should use to override the global settings.
In this Windows 10 guide, we walk you through the steps to change the high DPI settings for classic desktop (win32) apps to allow Windows to automatically fix blurry text and elements with new options available in the April 2018 Update.
How to change scaling settings for classic desktop apps
If you're using a classic desktop app that doesn't render correctly on a high pixel density display, you can fix scaling problems to make it look better using the following steps:
Open the app you want to fix.
Right-click the app in the taskbar.
Right-click the name of the app and select Properties.
Click on the Compatibility tab.
Under "Settings," click the Change high DPI settings button.Quick Tip: If you want to apply the settings for all accounts configured on your computer, click the Change settings for all users button, and then click the Change high DPI settings button.
Under "Program DPI," check the Use this setting to fix scaling problems for this program instead of the one in Settings option.
Using the available drop-down menu, specify whether an app should use the display DPI settings when you sign in to Windows 10 or when opening the app. (Usually, you want to use the default option.)
Click OK.
Click Apply.
Click OK.
Once you complete these steps, relaunch the app to start using the changes. In the future, if the app becomes blurry, Windows 10 will use the settings you specified to render the app correctly the next time you open it.
Default scaling settings override
It's worth noting that in step No. 5, you can also use the High DPI scaling override options to change the default scaling behavior for a program that is blurry from the very beginning.
After enabling the option, select the System (Enhanced) option using the drop-down menu to make the text and interface look crisper, and resize elements correctly. (Some parts of the app may continue to look a little blurry, but it's still a significant improvement.)
If the "System (Enhanced)" option isn't working on a particular app, you can also try two additional options, including:
Application — Forces the app to run on a per-monitor DPI awareness.
System — Stretches the interface, bitmap elements, and text will be blurry. This is how Windows handles scaling by default.
These settings are only available for classic desktop applications, as Microsoft Store apps are already designed to handle high pixel density displays. Also, these new improvements work for apps running on your primary monitor. If you have a multi-monitor setup using different scaling settings and using the extended mode, applications may still look blurry on the other monitors.
More Windows 10 resources
For more helpful articles, coverage, and answers to common questions about Windows 10, visit the following resources:
Windows 10 help, tips, and tricks
Windows Central Newsletter
Get the best of Windows Central in in your inbox, every day!
Mauro Huculak is technical writer for WindowsCentral.com. His primary focus is to write comprehensive how-tos to help users get the most out of Windows 10 and its many related technologies. He has an IT background with professional certifications from Microsoft, Cisco, and CompTIA, and he's a recognized member of the Microsoft MVP community.
Just tried this on the Dashlane desktop app (Win32), but no difference...still blurry!!! 🤔🤔🤔

I did it for Quicken and while the menu bar is still blurry, the rest of the app looks a lot sharper.

This should be helpful. I bought the renewed Star Wars Podracer on GOG, and when I launched it my whole desktop got super large and I couldn't do anything until I signed out. Pretty annoying that it didn't auto adjust

It's not under "Settings", it's under "Compatibility".

I keep getting these messages in Windows 10 about fixing blurry apps. Why do you have to bother me? Just fix your crappy scaling and let me get to work!

It's not Windows. It's the apps themselves. MS is doing this as too many devs are too lazy to fix it themselves.

As someone said, this issue is caused by the application. To fix all, it must be revised by its developer, not by Microsoft.

Bit off topic, I like the wallpaper on that header pic. Can someone help a brother out and let me know where I can find it? Much appreciated.

https://wall.alphacoders.com/big.php?i=409435 I hope it works! Let me know, ok?

A bit of a mistake in the instructions. In a dialog you never have to click apply and then ok.
Apply = make the changes and leave the dialog open.
Ok = makes the changes and close the dialog.

More solutions for this issue are welcome, but if the issue is caused by docking / undocking, then the simplest and quickest fix will probably still be to just log off and back on again.
Windows Central Newsletter
Thank you for signing up to Windows Central. You will receive a verification email shortly.
There was a problem. Please refresh the page and try again.