How Continuum for Windows 10 Mobile works on Lumia 950 & Lumia 950 XL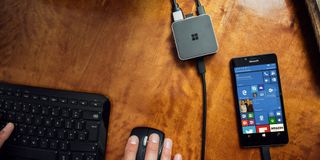 It has been an exciting week for Windows fans, as Microsoft unveiled one of the best hardware lineups in the company's history. During the Windows 10 devices event in New York City, Microsoft surprised everyone with the Surface Book, and as expected the company announced the Surface Pro 4 and Microsoft Band 2. However, one of the most important highlights of the event was the announcement of the new Lumia phones.
During the media briefing, Microsoft introduced the new Lumia 950 and Lumia 950 XL. These new devices are very sleek with very powerful hardware. Both phones have similar hardware, but the big difference between the two is the screen size and processor. The Lumia 950 features a 5.2-inch display with a Qualcomm Snapdragon 808 and 3000 mAh battery while the Lumia 950 XL features a 5.7-inch display, Qualcomm Snapdragon 810 and 3340 mAh battery.
These two phones run Windows 10 Mobile, and because there are very capable handsets, they also come with support for Continuum. Let's take a closer look at how this new feature works on the Lumia 950 and 950 XL.
What's Continuum
Continuum is a new feature was first introduced for the desktop version of Windows 10, and now Microsoft is also bringing the feature to the phone. Continuum for phones lets you turn your phone into a PC-like experience by connecting an external display, keyboard, and mouse using the new Microsoft Display Dock.
Continuum is a perfect feature for those moments you need to get work done right away, but you are not close to a computer.
How does it work
So, how does Continuum work? Well, you first need a Microsoft Display Dock. It's an optional accessory that includes an HDMI, DisplayPort, three USB 3.0 ports, and USB Type-C port that connects your phone to the dock.
Getting started is very simple, you plug in your external monitor, keyboard and mouse to the Display Dock, and then connect your phone to the only USB Type-C port on the dock.
The phone will detect automatically and switch to Continuum mode. Once the feature is enabled, you'll see a similar desktop environment found on the version of Windows 10 for desktops. However, it is a little different, as you will see many mobile elements such as the mobile signal bars on the top-left and the battery status and date on the top-right corner of the screen.
Another important difference is the Start menu. When you click the Start button, you will notice immediately that the menu is similar, but not the same as the version on PCs. Instead, you will see the Start screen for Windows 10 Mobile with all your Live Tiles.
If you need to open a Windows app, simply go to the Start menu and click on an app, just like you would do on a regular computer.
The taskbar also houses all your running apps icons like you would expect from a regular computer experience. If you're running multiple apps, click the icon in the taskbar to jump to a particular app.
It's also important to note that apps on the bigger screen will look and work identically to the Windows 10 PC apps because they are the same universal apps. When you are moving from the smaller screen (phone) to the bigger screen, the app is only responding to the canvas. This app design concept is very similar to what you see today on responsive design for websites, where no matter if you are using a desktop, tablet or phone the web page will respond to the size of the screen and format the content accordingly.
Everything works just like a regular PC. If you received an email from your boss with a few attachments for a presentation, double-clicking the attachment automatically opens it with the default app.
If you need to go back to the previous app, simply click the icon on the taskbar. You can also click the Task View button to view all the running apps and jump to the app you want.
Alternatively, Continuum on Windows 10 Mobile also supports the keyboard shortcuts you'll find on Windows 10. As such, you could also switch between apps using the Ctrl + Tab shortcut. If you're working on a document, you can easily select some text and use the Ctrl + C or Ctrl + X to copy or cut, and Ctrl + V to paste the content from the clipboard.
The most interesting part about Continuum is that you can be doing a lot of productive work on the big screen, and you can still use your phone as a phone. In the smaller screen you can continue to make calls, reply to SMS messages, watch a video, play a game, you name it.
As Microsoft said: "Each experience is independent and uninterrupted."
When you're using Continuum on a Lumia 950, Lumia 950 XL, or another phone that supports the feature, you're not mirroring or expanding the phone screen to the secondary display. You cannot drag with the mouse an app and move it from the big screen to the phone or vice versa.
The way it works is that whatever app you need, you have to launch it from the Start menu (Start screen). For example, if you want to open the Mail app on the big screen, go to the big screen and launch the app from Start. If you need to use the Mail app on the phone, go to the Start on the phone and tap on the Mail tile.
I asked Microsoft if you can have multiple apps running on the big screen using Snap view, and their answer was no. You can't use Snap view with Continuum. In fact, you can only run up to two apps at a time: one app on your phone and another app in the big screen.
Even more impressive is that through the Microsoft Display Dock, you can also connect USB removable media such as a standard USB flash drive.
It's worth pointing out that your USB storage needs to be supported by your phone. It all comes down to drivers. Most USB flash drives will work, but if it requires some sort of drivers, you may not be able to connect it to your phone.
Wrapping things app
Continuum truly brings the PC experience to the phone like no other platform in the market. If you want to be productive and you want to have the best Windows 10 Mobile experience, then the new Lumia 950 and Lumia 950 XL are the handsets you need to pick.
You can also enable Continuum using Miracast on supported devices, but using the wired Microsoft Display Dock is the best solution as there is no compression like with Miracast. Your phone will also continue to charge while plugged into the dock.
What do you think about Continuum for phones? Let us know in the comments below.
Windows Central Newsletter
Get the best of Windows Central in in your inbox, every day!
Mauro Huculak is technical writer for WindowsCentral.com. His primary focus is to write comprehensive how-tos to help users get the most out of Windows 10 and its many related technologies. He has an IT background with professional certifications from Microsoft, Cisco, and CompTIA, and he's a recognized member of the Microsoft MVP community.
Hopefully they'll add snap as power increases. Totally understandable limitation for now

I just hope for some more media capable apps now. This would not only be awesome for productivity, but also for entertainment. Plus it into my TV and boom, run Kodi or Plex in a "desktop" fashion

Plug it into a dumb TV and turn it into a Smart TV instantly. It would keep getting smarter with more and more UW apps arrive. Netflix is coming soon and that is a start. Watch your Continuum TV with family and friends while laying in the couch. Hello, L950XL!

So we can't do Continuum using Miracast?.. Ahem .. I hope we can do it using next generation of Lumias ...

The article clearly says it can

Sorry.. I missed the last part.. Re-read it.. Thanks... But I wonder why didn't MS show it off during the event.. Miracast continuum is much more cooler than connecting the phone to dock.. My thoughts though..

I'm sure the lag is much worst using miracast plus you're limited to standard hd on the tv.

Cooler but less reliable, less performance and less picture quality. No dual screen mode and would have to use separate charging cable and BT mouse/keyboard. If you want to do serious work, forget about Miracast.

These events are full of a crowd of people with Wifi enabled devices. There is a ton of interference and one guy with a signal jammer can make your whole show go off the rails. Miracast works with very little delay in my experience. I use it all the time for presentations at work and watching movies at home. I normally can't tell the difference between Miracast and wired in those use cases, but I wouldn't count on it for a demo that is being broadcast around the world.

Plus they are trying to sell a new device.

It would be interesting to see how it would cope with the miracast lag (of the order of few hundred miliseconds)

Wireless connectivity will eventually come, and while Miracast works, it is not the best experience due to lag and other factors. As faster WiFi comes down the pipe like WiGig which can push up to 7GB/s of data, the experience I'm sure will change.

Bring on the baytrails and cherrytrails! I'm pretty sure intel atoms can handle this!

No, we need the CherryTrail successor, but it's not out yet. If worry about CherryTrail trying to power a high-res phone and monitor. I can't help but wonder if Continuum separates the ARM chip, with the big cores powering the monitor and such and the LITTLE cores handling phone duties (which makes me wonder how gaming on the phone with Continuum running would actually work). If Continuum DOES split the cores like that, then Intel will need to produce a chip capable of similar task scheduling.

People have doubts about use cases of this tech. I think if you can get enough universal apps in the store to use this, it could be a great feature. Starbucks, libraries, family room etc

Who is going to carry a monitor, mouse, and keyboard to Starbucks or a library?

Of course, theoretically they would have those, but almost all offices of resonable size have spair monitors lying around.

As someone who works in IT at an office, we have a bunch of spare monitors. Not so much on the mice and keyboards, but with the way my coworkers' desks are covered in paperwork and other stuff, that's really not that proactival a solution. Instead, you'd likely aim to just put the dock into a second input from the first monitor and change inputs to the dock.

What I could see happening for cases like this is a device similar to the notebook dock the Motorola Atrix could be used with being created. Instead of a dock, however, the phone would plug into the dock using the USB-C connector. Economically, of course, instead of massively producing them to turn into a flop like the Atrix, they could produce them in limited quantities similar to the original Band. Now that the techonology is ready for it, they could actually be successful with this.

That'd be pretty interesting to see happen. I guess your idea is in the vein of the PadFone, with the difference being that the phone remains functional and connects via a cable, rather than snapping into the tablet display. A full-on PadFone idea might be even better though (or as another option), letting you turn the phone into a tablet, or even a Surface Mini.

He means there is supposed to be a docking station there where anyone can plug in their phones and use them full PC...

I'm sure Starbucks is going to team up to shell out a bunch of money for a niche product to work with a niche device.

It's a long play...if the OS gets popular in the long run, continuum will too and so will such services...
Continuum is the future...but yeah, the future could have been here right now if the tech was carried by iphones...because then everyone would scramble to set up docking stations to help iPhones provide PC experiences...
You know, in a way...iphones and other popular brands are actually blocking the future from happening now...hope Microsoft finds a solid path to connect with the common consumer...

Im thinking of it more as a security feature,,,,do all your work on your phone at work and when your done unplug your phone and take it with you. No physical way for anyone to snoop on your pc when your away from the office. Posted via the Windows Central App for Android

That would be nice, also getting to hide it behind the ARM architecture that won't run an x86-based piece of malware.

Who's going to bring a big ass monitor, keyboard and mouse to a Starbucks or a library? At this point, why not just carry a laptop? Wouldn't it be lighter?

If this kind of thing becomes popular (it wont right away), I could see coffee shops, airports, hotel lobbies, havin a few docks around people could plug into. Its cheap to provide and no risk since you arent providing the data or having people log in to your own machines.

It still requires a significant capital outlay, probably in the Millions of Dollars, for any organization, whether Starbucks or a city library system. For people who use Lumia phones? That's.....a very, very small niche. No offense, but that's not very likely to occur. Now, if *all* the mobile OS' gained this ability, that's a possibility. But, say, a Marriott isn't going to put those in every location in all their Marriotts, only for Windows phone users.

A single Starbucks needs to spend just $10K on capital outlay for something like this.

No, but I've gone to many client places with my Surface where I need to hook up to their boardroom screens and there is always a plug interface problem. With this I could have my presentation on my phone and bring the continuum device with me and plug it using HDMI. In a pinch all you need is your phone and this.

Or have your presentation in the cloud and still present it on your phone!

The only problem here is that the Surface doesn't have an HDMI out port. If it did, you wouldn't be having these "plug-interface problems", since your resolution seems to be using a Continuum device and plugging it in using an HDMI cable.

I was thinking exactly the same. It's a very nice feature but the limitation of 1 app running on the big screen could be a problem. Maybe they can also add this feature when W10m will be really optimized (for sure not in November/December).
I'm thinking this just because is Continuum itself that, looking like a PC, pushes the user to do even more.

You can have more than 1 app running, but only one app on the screen. Basically its full screen only with no snap.

It seems hardly an understandable limitation. My galaxy note 5 can easily run two apps side by side, or even more in individual windows. Windows phone needed this multitasking thing down a loooonngg time ago, especially considering how windows is THE multitasking platform Posted via the Windows Central App for Android

Yea im not sure why windows phone hasn't done this yet. Cant you run 3 or 4 apps at once on the same screen/side by side?

Maybe it has to do something with the way wp handles multitasking, Sandboxing the background apps to not use any ram..

not really, the surface RT with a tegra 3 chip can handle snap view and multiple monitors, tegra 4 does it twice as fast and SD810 is even faster if I'm not wrong, they just didn't have the time to code it :P

I wonder if it's only a software limitation that can be added in a future date.

One of these things is not like the other: "You can also click the Task View button to view all the running apps and jump to the app you want.​" "In fact, you can only run up to two apps at a time: one app on your phone and another app in the big screen."

What I take from that: like on the phone, you can have several apps suspended on the background, but only one of them is active on the screen at a time. Alt-tab should work similar to long pressing the back button on the phone

Any app you have open that is not displayed is suspended. That's why you can't snap. Limit of one active app on phone, one active on monitor.

They mean viewing it at the same time. Since you can't snap in either the big or the small screen, you can only have one app displayed in each. You can of course have several other in the background and switch between them, but not using them all at the same time.

well, technically then, that IS two apps running at once...just not on both on either screen, right? lol its mobile essentially...only on W8 desktops could you do more than 2 anyway... =p

There is also a mistake in this article or the display dock specs article. In the display dock specs article it says there are USB 2.0 ports and NOT USB 3.0. What's the right one?

This must be the usp for Lumias now.

I was under the impression early on that this could be ussed wirelessy, with a bluetooth mouse and key, and miracast setup? Is this no longer the case with the dock being required for contiuum functionality, or is the dock just for extra power user functionality.

Did you read the article? It was stated in there .

In bro's defense, the article buries it at the very end and doesn't go into the topic at all, which was disappointing.

if I'm not wrong. Miracast for Display and built-in-bluetooth keyboard and mouse for interaction.


The article mentions Miracast (great news for me as I did not notice it was supported), but regarding the keyboard and mouse it's a good question... Hope it will work.

It does, it already works with current lumias, even in 8.1 since update 2

You can use Miracast and Windows 10 Mobile fully supports HID over Bluetooth, including keyboard and mouse. So it should indeed work. And if you don't have a keyboard and/or mouse: It is possible to use your phone's display as a digital touchpad and a virtual keyboard.

you can use miracast capable displays to do continnum. But there is a delay and performace draw because miracast compresses the stream.

I can see this being usefull in my school, as I'm usually in many different classrooms in a given day. If all I'm using is PowerPoint I can just carry this dock around instead of my laptop. Question: Do a keyboard and mouse HAVE to be plugged in to activate Continuum, or can I just use the phone and the dock?

you can only use the dock, in fact, you can use your phone as a touchpad for mouse.

While a keyboard and mouse is preferable: You can use your phone as a digital trackpad and virtual keyboard. It knows wassup.

Awesome, thanks! One more question, is the cable just for charging while using it so you can also use it wirelessly?

It can be used wirelessly with miracast, though as people pointed it out, there will be a minor lag and compression of the quality of stream

The Dock is NOT wireless: It connects via USB Type-C only. Wireless will require Miracast and, optionally, a Bluetooth mouse/keyboard. This will make things lag ever-so-slightly, and perhaps a decrease in the quality since the phone will be required to compress and transmit that image data (Also a taxing process, so depending on how well optimized these CPUs are: Could be potentially hazardous for batter life. But the removable battery and Qualcomm quick charging standard means swapping in a fresh one or topping off your device real quick isn't a HUGE deal). So the phone does indeed support wireless displaying via Miracast, but the Dock does *not*.

Is it possible to enter a tablet mode similar to the Windows 10 desktop OS?

It's already a tablet mode... But if you are asking I it would work with a touchscreen, I wonder the same.

On Desktop an app is full screen by default. In this it is full screen always. You cannot snap apps. And no touch screen screens are supported that we know, although in theory a USB HID touchscreen might work I guess as that is basically a mouse input.

Is the display dock powered through the monitor via hdmi?

HDMI or Display port, you can choose.

Why do people start with the dock? Isnt this thing capable of working using Miracast and Bluetooth keyboard and mouse? Why not release a continuum box which connects to the phone wirelessly using these protocols and then to the display and keyboard using wires or not. Way more cleaner. And try enabling snap view and add some animations when the start menu comes up.

The problem is you get lag via miracast wired you do not. Adding in a wireless continuum box would make it worse.

Miracast isn't perfect. Sometimes you get lag and latency, and, sure, sometimes you don't, but it's unpredictable. Imagine trying to type a document, and words show up even a milisecond off; it would drive you crazy.

Totally agree. IMHO the dock should act like the Nokia HD-10, but include wireless charging too. Put your phone on it and it'll automatically pair and mirror the screen, and begin charging the phone.

That could be cool...totally get word to them anyway you can for Gen 2 Munchkin! =D

Watch how it works here.
https://www.youtube.com/watch?v=pty67ks7obM

I feel that it is a great idea . but im not going to carry around a dock in my pocket to use when im not near a PC. And usually where there are sceens, keyboards, and mice there is usually already a PC there. However I do see the benift for emerging markets and I could use this at work to accessmy personal data on a full scrren instead of my phone.

the point isnt to carry the dock, its to have a dock connected to your various work stations so that you can just drop your phone in and use it.

Yeah, that would be a lot more practical if this could run the apps as windows so you could actually multitask. The surface rt devices were way less powerful than these phones, so I don't think it is a hardware limitation.

@remc86007. Suspended and active apps are displayed on the taskbar like on the desktop. So you can switch between them. Brian Roper demoed this at the event.

Hopefully those rumors of an intel x86 powered windows10 phone come true. It would literally be a pocket-sized PC, that you could plug into your monitor and do real work on.

Where would this fantasy land exist of dockable stations everywhere? Libraries and airports? They're going to spend Millions of Dollars for dockable screens for people who Lumia 950s?

Yeah, only institutions and organizations should actually front like that...I didn't think they were really pushing this for the rabble, robble robble

Maybe the dock in the backpack for when traveling to a remote office.

You would still need a keyboard, mouse and monitor.

All of that would be at the office.

I am envisioning have a small TV setup in my kitchen, probably hooked up to a cable box (unless we can get Fios to release a universal Fios TV app), and have the dock attached too.

I'm envisioning a dock connected to the tv in the bedroom to watch xbox movies, netflix viewing and listening to groove music.

"usually where there are sceens, keyboards, and mice there is usually already a PC there.​" Of course that's how it is now, there's nothing to hook up. If this kind of thing becomes more popular, I could see guest docks in public places. ​I could even imagine not replacing my 2nd desktop when it dies and just let everyone dock their phone instead.

That's what i'm thinking too. I love the idea, but "perfect feature for those moments you need to get work done right away, but you're not close to a computer." Why would i be near a keyboard, mouse, and monitor if i wasn't already near a computer?

I want an app that will let me plug my phone into my PC and give me the window display of my phone on my monitor. This way I can interact with my phone, make speaker phone calls and respond to texts using my PC keyboard and mouse. This way I never have to pick up my phone while working at my desk, but I don't need to be limited to what my phone can do as a PC.

They're pretty close to that with the "project my screen" program, but you can't do important things such as calling.

In "Project My Screen" you still have to use mouse as a "touch". You can't use the keyboard of a notebook to write a message, you need to click with a mouse every letter on the WP keyboard or slide, whats very dificult to do with mouse :(

You could do that with MirrorLink since the days of the good ol' Nokia N8.

This already exists. I can't remember the name but Microsoft have a desktop app that displays the phone screen and allows you to operate the phone with a mouse.
EDIT: Soypan beat me to it, it's called 'project my screen'

We had this in the old Windows Mobile - actually, we had it before that when they were Pocket PCs connected by USB sync cables.

I don't know how useful it will be for me personally, but I'll be damned if I'm not excited about it.

Good article... answered my question about Miracast and Continuum. Watching the demo during the event I'm thinking.. Why couldnt this be done wirelessly with bluetooth mouse/keyboard and Miracast.

Before someone asks if you can use it to play Star Wars Battlefront.....no...no you can't.

Unless it becomes a universal app

@AntiAB, lol no. Unless you want to melt your phone in the process.

Yeah, PC gaming on Continuum is probably many, many, many, many, MANY moons away. Probably at least six or seven years at the earliest. The hardware is nowhere near there yet.

Dan do you know if you can run a full RDP session on this? So therefore you could RDP to a server or PC etc and then effectively run a full desktop and apps etc like normal?

You can currently rdp from within the Citrix receiver app ( assuming your company allows this ) so I assume this will all just work normally

Yes. a Universal Remote Desktop Client is in the store so you can use it to remote in for support or to a workstation elsewhere.

This guy is right. And the client is pretty good.

You don't use ctrl+tab to bring up the app switcher, you use alt+tab

I wonder if the Windows + Tab would also work...

Continuum sounds like a nifty feature that you can show off to your friends but it's real cases is very limited. First you'll need a screen, a keyboard and mouse. The only two place you might have it worse and home (school if you're a student). In both places you'll already have a fully functionally computer which will negate the need for Continuum. The only reason this will be useful is if MS starts putting monitors and keyboards at airports, libraries, Starbucks etc.

The big use will be business situations on the road.

and where will they get a monitor, keyboard and mouse ?

I thought you can use the phone as a mouse and keyboard if you wanted..

If the business desires to take this mobile route, it'll set up the docks with monitors, keyboards and mouses for employees' use. Most businesses already have keyboard and mouse provided in conference rooms for customer or vendor presentations. All they need to do now is to hook up a dock to the projector.

From those businesses. Most businesses have monitors, keyboards and mice lying around.

Why not making it like Internet-Cafe, some shops will have Continuum Stations so people who are in the street can use it, for free of course, the owner will gain by that customers are going inside his shop...

Or any corporation's satelite offices for guests and travelling employees; existing workstations setup for portable PCs.

Any company that goes through the pain to do this might as well get their a employee a laptop which they can use anywhere.

LOL, how much pain is it to do this? Have you run a business before? Following your logic, why go through the pain of providing laptop. Why not just have fixed PCs (or terminals to their computing resource) for employees to login and do their work. A phone is more portable than a laptop. The real question is if a business takes this paradigm shift of mobility to increase its productivity.

My company has tons of extra monitors, keyboards, and mice. Most companies do.

Same here, due to replacing computers before we replace monitors, keyboards and mice and the new computers come with 2 out of 3 of those all of the time.

dock connected to TV with wireles mouse and keyboard. In the living room , hotel room etc etc

Of course its limited. Its a brand new thing and there arent a lot of universal apps to really support it yet. It will become more and more valuable as the software and hardware continue to develop. This is just the very beginning.

So does the dock have to be plugged into external power source? I still don't see why I would get this. I could buy a $150 hdmi pc stick with windows if I wanted a cheap computer todo basic work on.

There are advantages to both. A thorough comparison of real world use and cost of all required hardware would be a good read.

You could do that. Would be more powerful too. But less cool factor. :)

But that stick wouldn't have your local storage, your sms files and texts for copying and pasting to other apps and it doesn't have the same state as your phone with you're using anyway.

Yeah but then you could only use it plugged in...

I wish this became a standard and oems started implementing it right into monitors imagine that!

After all the suggestions, this one makes sense

Yep, that would be very easy. My monitors at work already have USB hubs built in. It would be simple.

Very interested in trying this.

What is this Lumia 950? I'll never see it on my carrier. #LookingAtYouVerizon

Why 2 apps limitation?? Really it will be a deal breaker for many!!

As you can ALT-TAB between apps that are sleeping it won't really feel like 2 running. That is 2 active really. Also background apps will still run. So you can still have Groove playing while typing in Word and flip to browsing to find that next bit of info to include in your document.

Hardware. just how powerful do you think the Qualcomm processors are? the phones are alreay using liquid cooling just to accomplish this much

I think the dock only supplies USB 2.0 (not 3.0 as described) ports based on the product page. http://www.microsoft.com/en-us/mobile/accessory/hd-500/

That's what I thought, thiss is the first mention of it having USB 3.0... All other sources say 2.0

? does this work with monitors that have USB 3 docks built in ? I have a 24 inch dell touch screen with usb 3 dock built in. All I would have to do is get the right usb -c cable for it. Would it work?

I would say unlikely, Depends on the HMDI....If it is set up to receive data into the dock through it then maybe.. But I doubt it.

The phones support displayport over usb. It would be interesting if you could actually plug it straight into a display port.

Hey I wonder if being able to add applications to the taskbar will be available? I'm sure Continuum like everything else will evolve.

Active and suspended apps are displayed on the task bar as on a desktop pc, this was demoed by Brian Roper at the announcement.

I think he meant if we would be able to pin apps to the task bar.

Ah right, that is totally doable.

Not possible on an 1520 or 930 because of the hardware missing something right?

The absolute most important question: can i use an xbox controller with windows phone in continuum?

I expected that in the presentation. That would be a lot more impacting that showing a video and waiting for a great response for the sound of the speakers....

Urmm, I don't find this really useful. How often will you find a monitor and keyboard lying around with no computer?

My plan is to connect the dock to my TV. Then with a Bluetooth keyboard and mouse I have no need for a pc and can control the big screen from my sofa.

At most offices actually.

I like what I see but I was somehow hoping for... more. I would kinda like the "desktop" to be a seperate user session with full explorer and multi-tasking ability that automatically logs out (or suspends completely to "disk") upon disconnection of the USB-C cable. A way to get the full Win10 desktop functionality with snap and all without impacting battery life when not connected to a charger.

Sounds good, but who has a monitor, keyboard and mouse laying around without the PC tower attached.

Keep in mind the monitor could be a TV.

Like apocacrux said it could be a TV. Think of a hotel room and Netflix app...

And you can use a portable bluetooth keyboard and mini mouse.

This is a new thing. Of course people dont have the harware laying around for it now. You do have TVs in hotel rooms, public computers in hotels, etc. They could save money and just pull out the PC when they're old and just provide a dock. Monitors are cheap. When this gets to the point where a sales person or executive can do all their work on this, you could really stop buying office PCs and let people use the phone you've issued them.

For what we're getting with Continuum Gen 1, it's understandable. One can always use the 950/XL as a thin client and utilize Remote Desktop App.

Hoping continuum is treated like an app and can be updated to include new features without us having to buy the latest hardware to get new features

@Mauro What happens when you open an app from the Start Screen which is not a Windows 10 Universal App? Will it also run on the monitor, or will it stay on the Phone?

I dig up more on that your question, but as far as I know it only works with universal apps, because they are the only once that can adapt to different screens. Thanks,

So, in order for Continuum for Windows 10 Mobile to become really usefull, the developers need to step up their game and update their current apps to Universal Apps, right? Right now it only works with Office, Calendar and Mail, which are native Windows Universal apps. ​But just imagine that all of your apps on your phone will work and scale to any monitor and resolution once connected to the Display Dock... I'm excited to see when that will become reality.

I think I rem seeing the non universal apps disabled on the start screen during one of the demos.

I'm guessing it opens on your phone

Continuum will only work universal apps. Thanks,

That's a ridiculous statement, "perfect feature for those moments you need to get work done right away, but you're not close to a computer". First of all, if I need to get work done right away, nothing is stopping me from doing it right on the phone. This is evidently the argument most use for having THE FLIPPING HUGE PHONES IN THE FIRST PLACE. Second, in what realm would I be near a keyboard, mouse and monitors and NOT be near a COMPUTER? The entire premise behind Continuum is laughable.

maybe that computer is not YOUR computer and you don't have an account you can use with it.

Non-issue. I use the cloud. All my info is available everywhere. Right now I'm able to get to my data easily on any device. What are you going to do? "Hey, can I disconnect your keyboard, mouse and monitors so I can plug them into my Continuum dock? Yeah, right.

This is a futuristic feature..i think MS is going for the long play...in the hope that their phones will eventually get popular, the future may hold docking stations where people jst plug in their phone and do their thing...
If apple were to do this, all kinds of vendors and establishments would scramble to set up such docking stations at various locations to connect the iphones. But lumias will unfortunately take their time in catching up and so will the convenience of using continuum.

Is a portable bluetooth or usb/wireless with mouse/pad keyboard and a tv monitor good enough for you Sir?

Ever been to a hotel room or conference room with a TV? Dont you think if people start carrying these around more that people will start providing docking stations? You're thinking about something completely new and how the world isnt built for it yet. Well, of course there are monitors in places, no one has anything to hook to them. I for one, would much rather connect my phone to the monitor than use the public PC in a hotel. I can use my data connection and my device to check my bank balance instead of some public PC.

That would have to entail VERY significant takeup of Windows phones for that to happen. Do you realistically see that happening?

premise behind iphone is laughable. Look where it is now.

It would be more impressive if you only needed a C-type to HDMI cable then connected the mouse and keyboard by Bluetooth.

Well the phones support displayport over usb so why not?

From what I read the dock is optional so you will possibly be able to do that.

As far as I uderstood Continuum needs a docking station ony with old hardware; if you have Bluetooth KB and mouse and a new SmartTV with connectivity either via a WiFi router or on a direct-WiFi connection, or a HDMI TV with a Miracast stick you don't need that dockig station. Correct me if I am wrong.

I can no longer be excited about these phones. I have been looking forward to upgrading to one of these master pieces for months, just to find out Verizon will not carry them. How long do I have to be stuck with my Icon now?

Just buy it and get a SIM for it. Hopefully there are SIM only contracts in the US that are better than Verizon. That's a solution that you should consider.

But carriers offer plans that make the phone more affordable. Buying it unlocked means he would have to pay full price right off the bat

"Continuum is a perfect feature for those moments you need to get work done right away, but you're not close to a computer" Therein lies the problem. The scenario is that you have your phone, a big screen, a full size keyboard and mouse and also the dock itself, but no computer to hand. That seems unlikely. Let's face it, for most people, if they have a screen to hand, it's because they have a PC plugged into it.

You can get a portable Bluetooth mini mouse and key board.

I know the BT mouse already works with Windows 10 Mobile. I've not tried it with a BT keyboard, but I have no reason to believe it wouldn't work as well. But, other than the novelty of it. I have found zero value to actually using a mouse or keyboard w/my phone.

I believe the dock is optional.

now you have foldable keyboards, and u can use the phone as trackpad. just a 4inch foldable keyboard and small continuum dock. thats all you need to carry.if you want an optional small bt mouse. it doesn't take up any more room than your folded towel in your bag. who knows in the near future we will have foldable screen to. so just 6inch stick can be spread open into a 13inch screen and connect your phone and have a touch experience to. that will be great.

Probably one of the best ideas Microsoft has ever come up with! And it even charges your phone! How convenient is that?!

It's a cool feature, no question but what is the point if no carriers are going to have one of these phones besides AT&T ?

No one is going to break contracts, pay fees and, have potentially worse coverage.....for a Lumia 950.

so my company and I imagine others are going through this whole open workspace thing. and no one has real home cubes any more. just monitors where you dock send emails, do stuff then leave. a munchkin would be a great add on to these workspaces.

That approach saves money in terms of PCs as less licenses needed etc. If work is predominantly based on email, word and a cloud based crm. Furthermore IT can simply use policies to lock down the phones when enrolled. Beyond that it will take awhile as continuum relies on universal apps. Plus you really can't replace the PC completely :P. No way any body is going to be running adobe premier off their phones, maybe in several years.

Funny they praised the surface so much why use my phone if I have a surface. My xperia can do this year's ago with mhl out and wireless keyboard and mouse. Was hoping for more features guess 2017, maybe. Posted via the Windows Central App for Android

Wow, I had no idea your Xperia had a store with phone apps that would resize into desktop apps and allow you to connect a vast array of USB enabled tools to your phone and still use your phone simultaneously as a phone while running it as a desktop. You learn something new everyday.

M10M should also have gestures to open the task view just like W10 PC does instead of holding the back button. or a auto hiding taskbar to quickly swich between apps.

Apps active or suspended are displayed on the task bar as well just like on the desktop. Check out Brian Roper's demo at the event. Edit: And it's mentioned in the article.

I meant on Phone not while connected to a monitor. I just suggested it would be great ON W10M(Phone) to have gestures to bring up the task view instead of just holding down the back putton.Of cours when we connect to an external monitor you get task bar and taskview buttons. but something similar could be interesting on phone as well. may be they could includ a talk switcher button along the onscreen button to quicly navigate between apps.

"Continuum is a perfect feature for those moments you need to get work done right away, but you're not close to a computer." But you are close to a monitor, keyboard and mouse. 'nuff said.

Like a hotel room and you brought a keyboard and mouse in your bag. Just plug into the TV and go. or a projector in a conference room...

My question: How does it treat apps that aren't Universal yet? I know there's an option to just mirror your phone's display (Like how Miracast and Project My Screen already works on WP8.1), but how does it treat non-universal apps? Does it just blow up the phone versions, or just refuse to let them run on the external display? And if it's just blowing up phone apps, can we get that on Windows 10 desktop/tablets too please?

I think it would reject them.

I'm guessing they just open on your phone screen.

With cost of new phone and dock it might as well buy a surface instead. Running more apps at once will burn that 810 that's why only 2 can run I bet. Posted via the Windows Central App for Android

Hardware. just how powerful do you think the Qualcomm processors are? the phones are alreay using liquid cooling just to accomplish this much

I don't see this mentioned anywhere but I noticed that the dock is called a "Display Dock". Does that mean that while connected, the phone is not being charged?

Can you get that style of Continuum using Miracast though?

"Can you just send the Powerpoint file over to my email?" - "Just wait 5 minutes! I'll just unplug your PC, plug in this little box, then unplug your keyboard and mouse, plugin them into that box, connect it to my phone and then show you the presentation!". Yeah. Your business partners will love you! /s

Or you can plug your phone into their PC and drag and drop the files? Different use cases are different. This is about moving a computer with you when you don't have a workstation available and having the flexibility to use your phone in different ways in different scenarios. It's just giving us the option to use our phones in new ways in addition to the old.

Why wouldnt they just have a dock ready for you to plug into? Of course, if you're the first one to have this brand new thing, there may not be a lot of support setup, but just as a lot of people have added AppleTVs to conference rooms for AirPlay, they may start supporting this with docks ready to go (which is much cheaper). Its going to be a while before this is a real value, but you've got to start with something. If Apple had skipped AirPlay becuase no one had an Apple TV, where would they be now?

1) Are those specs in the picture from an upcoming Lumia 1050? 2) They should have made the start menu more like W10 desktop, with the all apps list on the left and the pinned tiles on the right.

If it would support network printers (not only some WI-FI) it would be perfect solution for small ofices who are using web applications for their daily work.


does this feature work with miracast instead of dock

any word on multi-monitor support? Seems doubtful if it has to tombstone one app while the other runs. Still, if you have two display connections on that thing (HDMI and DisplayPort), it's basically an invitation to plug in two and see what happens...

Excellent Greetings from Portugal

You started off by saying 'when your not close to a computer' - where are you going to find a screen keyboard and mouse. In Hotels, nowehere else. Continuum is for the road warriors, in case you dont have a screen then the only use case is for someone to take a keyboard, mouse, dock and screen with them.....in which case....why not take a surface Pro and be done with it!! In my opinion Continuum for phone is a gimick and for the road warriers, they have laptops anyway, i just dont get what Microsoft are trying to sell. I love everything else about the launch and will be getting a SB, Band, perhaps I will wait until next year for a Surface branded phone.

Microsoft swlls a foldable Bluetooth keyboard with pad for like $40, some of us canf afford another $700 minimum for a surface

I would love to see a continuum dock or monitor that has Qi Charging, NFC, and Bluetooth. This way you can just set your phone down on the dock, the NFC is detected and switches to continuum mode, connects to the Bluetooth, and starts to charge it. That is, if continuum really does support wireless connectivity instead of a cable which I thought it was going to or does.

I wonder how normal, not universal apps work

Hey guys! Check this out: https://windows.uservoice.com/forums/265757-windows-feature-suggestions/... A really cool feature suggestion for Windows 10. Do vote up if you agree!!

Next step....wireless continuum

Can you using the sms messaging app on the large screen?

I'm really considering getting a 950 XL to use basically as my computer and phone. I don't use a computer to do much, just take notes, browse the web and the like and if the 950 XL with contiuum will meet those needs, then I might just ditch my laptop and grab one of these. I'ove to get a surface pro 4 too, but this would be the most budget-friendly option right now.

I can be productive like a boss wherever I am!

Like a Boss indeed. Posted via the Windows Central App for Android

I completely understand all the "I don't get it" responses because it doesn't likely apply to many folks. YET I constantly change locations during the day. Constantly. I will absolutly have some monitors strategically placed at these spots. I can leave my Surface and\or 2520 in my backpack, or in the car, when I get to work now. Crazy powerful tool for those that it applies. Insane. RDP will be my best friend too! Cup of coffee in one hand and a 950 in my pocket. Traveling light ALL day.

Is the dock used in Continuum demo same as the one for SP4? or let me refrace that; Will the continuum dock work with SP4? or are they totally different...... Please someone tell what I would like to hear and that it is So..

Personally i see great use for this, as a student. Instead of using my laptop i could use my 950XL with: the Microsoft Universal Foldable Keyboard: http://www.microsoftstore.com/store/msusa/en_US/pdp/Microsoft-Universal-... A portable monitor like this one: https://www.asus.com/us/Monitors/MB169BPlus/ and maybe a mouse like: http://www.microsoftstore.com/store/msusa/en_US/pdp/Arc-Touch-Mouse-Surf... or this 1: http://www.microsoftstore.com/store/msusa/en_US/pdp/Wedge-Touch-Mouse-Su... All easy stuff to cary with you. in my oppinion at least.

Has anyone else noticed Microsoft is using an older model Arc mouse in their promo photos? They have a newer touch enabled version, so I wonder why show the older model. I have the old Arc mouse, and it's amazing. 10 years later and it still works.

It's possible to expand game to big screen? I mean, i want to play mobile games on bigger screen, with game controller, conntected to the dock, and for some games, the possibility to use the phone as extend screen, like a map or weapon bag

I want to see a game or the edge browser in continuum. Video streaming via edge. They only showed mail and office. I saw a video from carphone warehouse where they showed that you can connect your phone wirelessly.

miracast sounds a lot more practical than carrying around a dock, and they should give some publicity to that too not just using cables and docks, people don't want another thing in their pocket

Let's say I'm using Continuum for an extended period and possibly using some power gobbling apps. How do I keep my phone charged without breaking my Continuum connection?

Your phone gets charged simultaneously.

How? The dock isnt plugged into anything outputting a current.

do we really need the display dock? Can't we use HML or miracast?

Welcome back Windows RT !?

Does tablet mode work? I would rather have a fullscreen start menu.

If your carrier doesnt allow Tethering, would using the PC Experiecne constitute tethering?

No. 'It's your phone!' :)

Is continuum only supported by the 950 series or will older devices, the 1520 in my case, be able to run it too? Posted via the Windows Central App for Android

I think I would prefer responding to text messages with the full size keyboard :)

Hey guys look at the the fist picture in the article.... Where it says featers and then it says something about a 36.3 MP and all the framerates.... Hidden message form microsoft about a 1020 successor lol?

A good example of a real usage case for me would be editing the amazing photos from one of these phones on the big screen... I switched from wp to android this year and the thing I miss most (besides the UI) is the camera and the amazing photo editor fhotoroom. And that's an app that will for sure go universal.

The most likely use case I see for this is using miracast rather than the display dock, and beaming video via, for example, the netflix app to the tv whilst still using the phone screen for other things. With non-continuum windows phones you have to either mirror your screen, thus rendering the phone screen useless for other tasks, OR use play-to, which obviously only works with video files, not netflix or xbox video. So for me I see continuum as a significant value-add in this respect. I just don't see the value in the dock.

"In fact, you can only run up to two apps at a time: one app on your phone and another app in the big screen" this doesn't sound right. during the demo, the guy had outlook and powerpoint open at the same time while using continumm.

I think for some people, like me, it's gonna be very useful. I have a Surface 2 and I'm happy with what it can give me. I use it to book my travel appointments via IE, etc., and it's fairly easier to use than my phones' Internet Explorer. Now, in my small apartment (which is far from my home where I have everything), I don't have a PC but I have a huge monitor. If I have continuum on my fone, all I have to do is get the continuum dock and a mouse and keyboard and I'm all set. Even without a lot of universal apps, IE is very much capable to do a lot of things that would be otherwise a bit challenging when using your phone or even a phablet (I'm using 1520). At home, I can also have a dock and my family would each have a continuum enabled fone, then we can all use the living room TV to do tasks when they need something bigger than their phones. For most, 950 and 950 XL are pretty much expensive, but eventually, the plan is to make cheaper phones that are capable of continuum. Now most techies aren't gonna benefit more from it, but I'm pretty sure that a lot of people will actually welcome the feature. :)

I agree turning a dumb tv into a smart one is a great use case. So then you have long cables or a remote control.... hmmmm thinking band 2 could provide that remote control...

No doubt is this really exciting but enterprise sectors must early adopt continuum in mass scale to push MS in right and successful direction. Sathya mentioned this is for developing countries to treat it as PC or mobile PC but I highly doubt if people from developing countries could afford smartphones with such internals required for continuum. Also tablets with LTE make lot of sense for continuum rather than smartphones. I am still not relieved from the shocker how Panos distanced himself from Lumia team during the introduction of 950/XL, and it is brewing to smell the inevitable life form given to SURFACE PHONE with special silicon from Intel or Qualcomm SD 810. Liquid cooling is precursor to Intel SoC in the next Lumia or surface phone, IMHO. Since smartphones market is reaching to high water mark, and PC OEMs are forced to equate their decline they are compelled to bring Mobile PC phones not mobile phones. Intel must play major role in this initiative and Lenovo, Acer,Asus, Sony can help building mobile PC phones where as Samsung and LG, TSMC must take lead in display and silicon, memory, SSD departments. Fingers crossed for new phone from Surface Team. A bold statement.

Awesome. Microsoft is following through. Posted via the Windows Central App for Android

I would like to see a continuum monitor, which has a slot for the phone built in.

I was hoping it would come in such a way that the phone stands upright with its USB port resting on the dock directly, eliminating the need for a cable between them. This would make the phone easier to use without having to strain your neck looking down on the desk. I hope the next model would have this feature. All the same, fantasic concept.

Continuum works wirelessly too .

great stuff! The question for me is weather I can open many windows, like mail client, calendar, a few word documents and excel sheets, maybe a remote desktop client and have it all on a bar? If the switching is done right, the problem of running two apps side by side is a small one and probably possible to overcome with update. The physical form of this device is very disapointing. I mean why the hell this is not a docking station, a stand for my phone? Using bluetooth headset with phone on a stand whould be awsome experience for office use. I'm curious doest this box have miracast built in? And how does the switching from cable to miracast look like: is it seamless and instant or works as bad as every miracast receiver ;-)

Personally I see thus really coming into it's own in the developing countries where smartphones are the preferred connected device. If you are a farmer in an African nation a smartphone is a more useful device than a PC. With this technology those users now have the option to expand that experience to be closer to that of a full PC later.

I think that when canonical announced that you should be able to do this on their phones, everyone was so excited about it. When microsoft actually goes ahead and does it, everyone is like, "I don't see how this is useful." Truth is, these guys have valid points. Remember how we scoffed when the iPhone came out, it was just a screen, hard to type on, severely limited etc. Yes, it generated a "want". Thats the thing with continuum, I WANT IT IN MY LIFE. I already got the space set aside and an old monitor and keyboard to go with it in my room. Businesses may want this as well. Deployment would be easier and they can just create specialized apps for their workflow. I used to work for a call center and I can see that this technology can really fit in there. OEMs may need to start making "dumb screens" for this. Actually there is an app for iOS that could allow my discarded ipad to be used as a second monitor for the desktop. With a few tweaks to that app, it can become a second screen for my Lumia. My ipad would be useful again! I can also see cheap android tablets being used this way. Lots of them available cheap nowadays.

I don't remember a date of release for the dock. Has one been announced?

An powerful browser thats a Universal Windows App will really make sense on this thing. People use browsers all the time when they are on a computer. I wonder if Edge on windows 10 mobile is close to the desktop version.

Is it possilbe to run Visual Studio (or VS Online) on the Phones? That would be something!!

I would have a pc or lap top for more serous things, but often I dont need it at home, so I would have the dock attached to my TV (or a spare monitor) and a BT keyboard and mouse (which I already have). Then when I get up or in form work I just plug in the phone and deal with e-mails, online shopping etc. and then just carry on my life; no start up, log in, shut down time and no frustrating halfbaked mobile experiance apps for e-mail etc. Seems to me this is an ideal solution for people that dont need daily heavy PC use but are fed up with rubish mobile experiance. Even the "glorious" iOS experiance leaves me exaparated. So Continuum looks perfect for me. Additionaly I could just have a stupid TV and use the phone to turn it into a smart TV. The more I think about this, the more I see really good potential for continuium. I will still need a full PC for some of the stuff I do, but the phone will handle lots of it.

This seems pretty gimicky to me as the Surface Pro 3 (and now 4), "Will replace your laptop." I like it a lot but I doubt anyone will be walking around with with a display adapter and the cables in their pocket. I'm sure most will have these items in something like a backpack or brief case. If that is the case I am sure their SP3 or 4 will be in there as well so why not just use the SP then and no need for all the cables and adapter? Personally I wish Continuum would let me connect my phone to another PC and it would kick in as long as that PC had any version of Windows. Then I can see the usefulness for things like giving PowerPoint demonstrations, or viewing Word or Excel documents without having to load them onto the PC (would really help in things like client presentations). It would also allows us to use the phone functions so we can do things like send text messages from the PC.

Continuum seems like a really great feature. especially for people in sales and other presentation type positions. With just their phone they could make presentations on a big screen. or work on complex spreadsheets while out of the office. My reservation with continuum is I don't see why they didn't just implement it using Miracast for the screen and Bluetooth for the keyboard and mouse. Why have to carry another piece of hardware around? I suppose it's good to have USB plugs but with cloud and Bluetooth I'm not sure it's needed. Just my thoughts.

Will whatsapp work in a big screen??

Is it possible to connect a Kinect 2 to the microsoft display box usb 3 port and have a program working on the lumina 950 based on kinect sdk ?

Okay I get the fact that you could be productive, whereever you are, but how am I supposed to have a Monitor, Mouse and Keyboard where ever I am?
If there is a Monitor, than there is mostly a PC or MAC near to it. So I do have this Setup of monitor, mouse, keybord and dock somwhere in my house, so why should I use it? Don't get me wrong, I really like the idea, but it seems I do not get the benefits of this tech : /

Okay I get the fact that you could be productive, whereever you are, but how am I supposed to have a Monitor, Mouse and Keyboard where ever I am?
If there is a Monitor, than there is mostly a PC or MAC near to it. So I do have this Setup of monitor, mouse, keybord and dock somwhere in my house, so why should I use it? Don't get me wrong, I really like the idea, but it seems I do not get the benefits of this tech : /

I have a Lumia 950 and a microsoft wireless display adapter. In short, Continuum is a great idea but its very, very buggy and very few apps (< 10) work on it. I'd recommed waiting it out unless you want to be a beta tester. Hopefully things will improve by the next release of Win 10 mobile.

I have a Lumia 950 and Microsoft wireless display adapter. Continuum is very, very buggy and has very few apps (less than 10) that work on it. I'd recommend folks wait until the software and apps mature.
Windows Central Newsletter
Thank you for signing up to Windows Central. You will receive a verification email shortly.
There was a problem. Please refresh the page and try again.