Microsoft Display Dock specs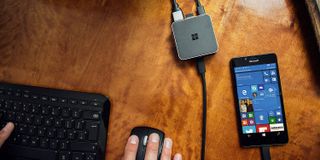 Alongside the new Lumia hardware announcements, Microsoft also announced a new Display Dock as well. With the Microsoft Display Dock, you will be able to utilize the Continuum feature of Windows 10 Mobile to have your phone display like a desktop PC. The small black box has a number of ports for connecting your phone to a keyboard and mouse, an external display, and even allowing you to grab files from a USB thumb drive.
Unfortunately, Microsoft did not announce pricing or availability for the Display Dock, but here is everything that is known.
Swipe to scroll horizontally
| Category | Specification |
| --- | --- |
| Charging connector | USB Type-C |
| AV Connectors | DisplayPort, HDMI |
| System Connectors | DisplayPort over USB Type-C |
| Other Connectors | 2 USB 2.0, USB 2.0 high current charging port |
| Video Resolution | Up to 1080p |
| Content Protection | High-Bandwidth Digital Content Protection (HDCP) 1.3 / 1.4 |
| User Interface | Gadgets app |
| Power | 5 V charger output, 3000mAh charger input, 2000mAh charger output |
| Dimensions | 64.1 mm wide, 25.6 mm long, 64.1 mm thick |
| Weight | 230 g |
| Cable Length | 100 cm |
Windows Central Newsletter
Get the best of Windows Central in your inbox, every day!
Jared started off writing about mobile phones back when BlackBerry ruled the market, and Windows Mobile was kinda cool. Now, with a family, mortgage and other responsibilities he has no choice but to look for the best deals, and he's here to share them with you.
will it work with wireless combos that have a bluetooth usb dongle? think it can handle drivers for it and what not?

Wouldn't need it for BT keyboard and mouse. The phone handles that directly. I would bet a Logitech Unifying dongle would likely work, as it looks like plugging in a USB keyboard/mouse. I wouldn't expect any of the logitech setpoint stuff, special buttons features to work, though

Very appreciated gadget that could turn ur phone into desktop, looking forward to use it.

Smaller than I thought it would be too. Looks nice.

Would be interesting to know if it can work without the power supply. If just using it to display on vga

I really wish they had thought to include some version of Windows IoT on this device and allowed it to be used as a media streaming box when there was no phone connected.

Very good specs. If I get a 950 or my choice: 950 XL, I hope to get this, with a keyboard and mouse.

and monitor. Don't forget the monitor.

don't worry, he will forget it and then blame us

If this dock can output 5.1 surround, it will truly replace my lappy. Currently i hook my lappy up to a 1080p projector and 5.1 surround system and watch movies and tv that way.

Would have future proofed it a bit wouldn't it.

Maybe you should look up USB-C. This is most certainly using USB 3.1 on the USB-C connector, given what they are running on it. https://en.wikipedia.org/wiki/USB_Type-C

what he meant was the USB ports on the Continuum dock itself. It only has USB 2.0 ports

Do the 950/950XL need this device to use continuum? Or can I use the Microsoft wireless display adapter and a Bluetooth mouse and keyboard?

U can only use device which supports continuum and currently only those devices supports continuum

Yes you are correct; you can use this dock [OR] wireless display adapter + bluetooth keyboard/mouse

One thing that would be much better is that the #Lumia handset should plug into an adjustable Cradle base and then the Cradle Base plugs into the #Continuum Dock. This would give you the ability to insert the phone into a base that would look nice and could be angled to utilize #WindowsHello and all of the phone features such as mic and front facing Camera. Everything would essentially be the same as above with the addition of the cradle base. The cradle base would need to be flexible enough to adjust and allow for various cases on the #Lumia device.

Nothing says someone can't build that. The new iPhone dock looks like just what you describe. It would just be a pass-through.

Whichever car manufacturer integrates this first will have a huge advantage

Yea, I gota see pricing before even thinking about this. If this is $49.99, OMG must own, $99 priced perfect, $399, wont even buy, could get a full laptop for $200-400.... It would be pointless if it's over $100 at retail....

Yes has to be hit that accessory price point, otherwise its doa for me anyway

this continuum dock is designed for countries where people cannot afford to buy a computer so I suspect this dock will be priced around $50-$80

https://en.wikipedia.org/wiki/USB_Type-C

I am curious to know if this will work with a USB Displaylink docking station to connect a second monitor. I will be the first thing I try when I get it.

Highly doubt it. You need to load the DisplayLink drivers even on a Win10 laptop. Never know though.

Will it be possible to use the Lumia 950/XL with a wired cat5e->usb->micro-usb converter combination, either on its own or in the dock? I am interested in the second sim card for my work, which prohibits the use of wifi.

I'm wondering about an Ethernet connection also. That will be one of the first things management asks about when I show them the capability of using a phone as a desktop so folks can connect to the Corp network (no wireless allowed in the office).

Theoretically, it should work especially once phone is connected to the dock

so no support for 4k displays?

Yes it will support 4K display but only 1 monitor/TV. If you want more than 1 monitor, you have to have 1080p or lower resolution

That would be great, but that's not what the article shows. It says max 1080p resolution. If that's wrong, can you provide a link to the correct data? I think 1080p max resolution is the only flaw, so I really hope you're right. I'd like to at least get to 1920x1200, and 4k or at least 2520x1600 (standard cinema display) would be great.

It actually lists 1920x1200 as an additional available resolution, see footnote 4 here: http://www.microsoft.com/en/mobile/accessory/hd-500/specifications/

Great point. Funny that's only as a footnote to the listed lower resolution. Why not just put the max resolution in the core specs?

my question is - do we even need it? afaik it is possible to connect to some type of monitors wirelessly (or maybe usb-c from the new phones), you can use BT keyboard and BT mouse. So is there any "technology" in this box or is it "just" a port extender / docking station?

Yes...its a best option instead of computer/laptop
Suppose u don't have laptop/computer
But u hav a 950/950xl and this device and mouse and keyboard then u could able to use ur phone as computer
U will be able to use shortcuts like ctrl+c/v for copy paste
This is most important feature according to the business point of view

His point is that you can already hook wirelessly to BT keybaord/mouse and WiDi to a TV/monitor... so what is the point of this box other than an expensive port replicator? Answer... a bit less delay on the video feed, and a power connection. Not much to see here folks. The phone can do almost all of this without the need for a break-out box.

I think the difference is going to be screen scaling, and independent use. You can already screen mirror using Miracast, along with BT keyboard and mouse, but it is mirroring, not driving a monitor at it's native resolution while still having the phone fully functional. Depends on what you need.

It's so typical of Microsoft to dangle gadgets in front of us and not tell us the release date or price.

Was it me, or did the guy who demonstrated Continuum remind you of Paul Rudd's sidekick in Ant Man. He needed to slow down a bit. Talked way to fast.

My father would love, he doesn't want to use a computer, but sometimes he needs it to have some work done... I hope Microsoft bring to Brazil. =}

How are those dimensions?

Laptop form factor
1080p display
Nice, high quality keyboard
Premium glass trackpad
Freaking huge battery
Spot to plug this phone in
$3-400 Somebody make it happen!

This is really exciting. BUT, Why doesn't it suppose Bluetooth? Seems I actually need to plug in a BT dangle to make it work (thus wasting a USB port). A rather strange omission.