How to control Spotify for Xbox One from your iOS or Android device
By Matt Brown last updated
Spotify is finally here for Xbox One – here's how to control music playback through your mobile device.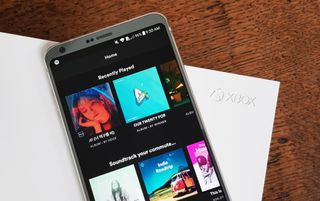 After a lengthy wait, Spotify, one of the world's leading music streaming services, is finally available on Xbox One consoles. Initially rolling out in 34 markets, the new application provides access to the entire Spotify catalog, within the comfort of your living room. Aside from basic playback functionality, the Xbox One will also leverage the console's background audio playback, offer all Spotify Premium services, and most importantly, Spotify Connect handoff.
Taking advantage of Spotify Connect, music can be cast to Xbox One consoles, with full control of playback via mobile devices. Using the apps available for iOS and Android (sorry Windows 10 Mobile), users manage all aspects of their music, including playback settings, volume levels, and upcoming tracks. Here's how to hook up a phone or tablet to your Xbox One, and wirelessly control your music.
Before getting started, make sure you've set up the Spotify app on your Xbox One console. To do so, search for "Spotify Music - for Xbox" on the Xbox Store, or remotely trigger the download via the web-based Xbox storefront (opens in new tab). Spotify Connect is also restricted to Spotify Premium subscribers, so you'll need to sign into an account with an active subscription to the service. After setting up your console, complete the following steps to connect your mobile device to your Xbox One console.
Ensure your Xbox One is connected the same network as your iOS or Android device.
Open Spotify on your mobile device.
Start playing a song on your mobile device.
Tap Devices Available at the bottom of the screen. A screen will appear with available devices to connect to.
Select your Xbox One. Your music should now start playing through your Xbox One console. If your Xbox One console isn't shown among the available devices, open the Spotify app on your console and restart the mobile app.
Your music should now be handed off to your Xbox One. While connected, you can continue to tweak playback settings or upcoming tracks from your phone, without navigating back to the Spotify app on your Xbox One console.
Have you been using Spotify on your Xbox One? What do you think of Spotify Connect on Xbox One? Make sure to let us know your thoughts on the app so far, in the comments section.
Matt Brown is Windows Central's Senior Games Editor, Xbox & PC, at Future. Following over seven years of professional consumer technology and gaming coverage, he's focused on the world of Microsoft's gaming efforts. You can follow him on Twitter @mattjbrown.
Same platform and we have the need to use an android or iOS device to control our music :/.

Love that they are on the Xbox now, but still hoping for a native uwp app!..

I mean. At this point, if the Xbox version gets a lot of adoption, they might realize it's in their best interest to migrate to UWP.

There's already a huge market on PC, surely, and all they did was put their desktop app in the store. Spotify is lazy with its apps, it always has been.

Hopefully down the line they will. Thing is, it is easier for them it seems since they really only maintain existing platforms they currently use. The Spotify on Xbox One is same thing they used on PS4 and others, which means the UWP only acts the container of the same app (or web app). Spotify on desktop is also built from Electron platform which is cross-platform that is available on Windows, macOS, various Linux distros and on smart TVs. It is as if they only maintain "single" app on all those platforms. Then they have their iOS app and Android app. Lastly, the outdated seemingly abandoned Silverlight app for Windows Mobile/Phone OS. We wish and I think too that it is smart to just switch to complete native UWP. Thing is for them to justify that, Windows 10 on smartphones must be strong which is sadly we know at the moment is not. Even on tablets, which is quite strong but oddly not emphasized too much by Microsoft themselves, especially the lack of proper competition on small 8 to 7-inch tablets, which is only dominant by cheap ones. HoloLens is not yet a consumer product, and mixed reality push on Windows 10 is not yet a thing. There is lastly another big factor is that a lot of users are not yet on Windows 10, thus the current desktop version built from Electron which is used cross-platform is the reason why they haven't pushed all-in UWP. Spotify on Windows Store under the UWP container is a good start, which hopefully Spotify will promote to Windows users heavily with encouragement from Microsoft. While Microsoft will continue to improve Windows Store experience to be delightful to users and marketing campaign to promote and educate users.

Windows isn't strong on tablets at all. There are very few Windows devices used as tablets.

There seems to be a third mobile platform missing as an option.... Oh wait, that's Nutella's fiasco.

I am quite sure Windows phone is Balmer's fiasco. Balmer didn't create a successful platform and didn't reboot it sufficiently. Nadella just cut off dead weight. There is nothing that can be done to save Windows phones. If Microsoft releases new phones in the future, that will be Nadella's baby.

You don't 'need' a mobile device to control or use Spotify in Xbox. Spotify 'prefer' you to use a mobile device using their Spotify Connect which requires you to have a Spotify Premium subscription so they make money. Scroll right in the sign in page and use username or email and password and away you go FOR FREE.

It's an option, but an option that's not available for W10M devices. If I'm a premium user and I pay for that, why can't I enjoy the same functionality? What I mean is that it would be great if Spotify developed a UWP with the same functionality of the android and iOS versions.

Amazing!!! This I been waiting since the beginning of times!! Now my Xbox entertainment console​ is complete 😀

Not sure what the big deal is here. I'd rather use Xbox smart glass to control my Xbox and use Spotify than stream from my phone. Doesn't make sense to have Spotify on the Xbox and then stream from your phone. Unless I'm missing something.

Using the app on a supported device (ios or android) has 2 main features: 1) To simplify the login process on your xbox - follow the steps above using the device connect option on the app to automatically login to the xbox app without having to manually enter your accoutn details. 2) You can then use your device as a remote control to choose playlists/music using your device and "throw" the content to your xbox. It's not mirroring or routing the audio via your phone - it's more like using a remote control to tell the xbox what to do. Try turning your device off after setting the xbox to play something - the stream will continue perfectly

1) using a phone to log on isn't the hugest of benefits if you ask me.
2) using xbox smartglass on windows mobile is exactly that, a remote for your Xbox. You can then also turn off your phone and the Xbox will still stream. So again see no difference.

The biggest benefit is that you can tweak stuff without navigating the Xbox One UI (And interrupting your game)

Ok that's an ok benefit but not sure it's worth it if you have to go premium. That sounds like a feature that should just come with the app. Free shuffle play has always been good enough for me so not really missing out here being on win mob.

Yeah, I'll admit it's a definitely not worth buying Premium for - but for those out there, it's a nice little tip (:
Windows Central Newsletter
Get the best of Windows Central in in your inbox, every day!
Thank you for signing up to Windows Central. You will receive a verification email shortly.
There was a problem. Please refresh the page and try again.