How to Cook Everything with a Windows Phone (Hidden Gems)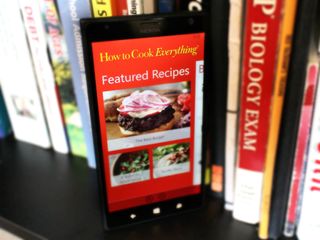 It's time to grow up and start cooking like an adult. No more microwavable meals. No more take-out from that Chinese place down the road. And please stop ordering Domino's twice a week. You don't need to become Thomas Keller or Gordon Ramsay, but you need to at least be able to make a week's worth of meals without breaking down.
Thankfully for you, there's an app in the Windows Phone Store that's going to help you discover the rewards of simple cooking. How to Cook Everything is a bestselling cookbook from New York Times columnist Mark Bittman. The cookbook features more than 2,000 simple recipes and has been helping folks learn how to cook for over a decade. That book is now an app for Windows Phone.
Let's take a look. And remember, if you leave a comment, you enter into our daily Hidden Gems contest to win a new tablet or phone!
What it is
How to Cook Everything ( howtocookeverything.com) is the app of a very popular cookbook. You're getting over 2,000 recipes that are aimed to be simple and require minimal cooking skills or knowledge. In addition to all those different recipes, you get 400 how-to illustrations and a ton of other info throughout the app. The cookbook itself came out in 1998 and quickly went on to become a favorite in kitchens across the country. Praises have been given out to the book from celebrities and folks like you and me. Just check the ratings and reviews on Amazon or check out what singer/songwriter Lisa Loeb says about How to Cook Everything:
Endorsements run high for the cookbook. So how's the Windows Phone app hold up?
The app
Head into the Windows Phone Store and you'll find the digital version of this popular cookbook. In our time using it we've noticed a few things that you'll want to know about. It's a simple app, but does achieve its goal of being a digital cookbook. It lacks a ton of photos, but the information is straight to the point that you don't really miss them.
Here are the highlights of How to Cook Everything for Windows Phone:
From this award-winning book: Mark Bittman's 2,000 recipes and recipe variations—as well as his no-nonsense cooking guidance, including hundreds of how-to illustrations; equipment, technique, and ingredient information; and meal-planning ideas.
Easy-to-use and flexible search capabilities, as well as the ability to browse recipes and reference information.
Cooking inspiration: Bittman's Picks, Featured Recipe, Quick Dinners, and Favorites, which provide quick access to selected recipes.
All recipe and reference content is embedded in the app, which means that you can use the app even if you don't have a network connection.
This app is the perfect complement to the book and an invaluable reference.
When you go into a recipe you'll get an overview of what you're about to make, an ingredients list, the steps and variations you can make to a recipe.
The overview page is a summary of the meal you're going to make. On this page you'll find information like the number of servings it makes, the time it takes to prepare/cook and related content. The related content are how-tos within the app that will help you make a given dish. For example, you'll find the best way to prepare onions if you're making an onion soup.
The ingredients page is straight forward and just lists everything you'll need to make a recipe. While the steps page contains all the required moves you'll make to actually be eating. We'd really like to see additional photos in this section, but that would add to the install size of the app.
The amount of content you get with this How to Cook Everything is huge. Everything is contained within the app when you first install it, so no internet connection is required to use it. That has its pros and cons. We'd really like to see more photos in the app, even if it required data. The download size is just 27 MB.
How to Cook Everything for Windows Phone will cost you $2.99 in the Windows Phone Store. You can trial the app, fully-featured, for three days. So we suggest you guys download it and take it for a spin.
You'll really want to trial the How to Cook Everything for Windows Phone since it is part of our Hidden Gems collection. Leave a constructive comment below and you can win a new phone or tablet!
Get the Windows Central Newsletter
All the latest news, reviews, and guides for Windows and Xbox diehards.