This is how Cortana's Concert Watch feature works on Windows Phone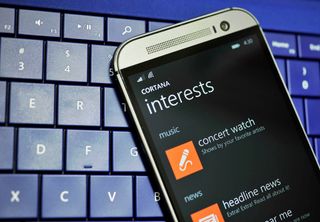 A few weeks ago, the Cortana team introduced a new concert-tracking feature listed under Interests. By enabling Concert Watch, Cortana can show you when your favorite artists are playing in your area and how to get tickets. It is an ingenious addition to the personal assistant as keeping track of your favorite artists is getting more and more difficult with our increasingly complex lives.
As cool as the concert-tracking feature is, we had a few questions about how it all worked. Luckily, we were able to ask Limor Lahiani, Principal Development Lead and Hadas Bitran, Principal Program Management Lead at Microsoft about how Cortana does what she does.
How does Cortana pick your favorite artists? I assume it is tied into Xbox Music, but even there is it based on your collection or something more sophisticated?
How far out does it notify the user that a concert is coming up e.g. two weeks, two days, 24 hours, etc.?
Will there be a way to add manually artists to this Interest?
Any thoughts about letting users pin it to their Start screen?
Is it possible to expand it to just genres? This way the user can explore new artists in their area that may overlaps with their musical tastes.
I know you probably can't talk roadmaps, but just want to throw it out there a top request, which is also somewhat logical: Let Cortana scan your Xbox Music collection and have Cortana tell you when a new album or single is out. There is already a nice universal app called 'Album Releases' that does this, but obviously, it would be super cool for Cortana to do it natively.
Concert Watch is certainly one of the more innovative uses of Cortana so far and it is great to have some light shed on how it all works. For those using Cortana today, have any of you used Concert Watch yet?
Special thanks to Sandeep Paruchuri at Microsoft for facilitating this article and to Limor Lahiani and Hadas Bitran for taking the time to answer our questions!
Daniel Rubino is the Editor-in-chief of Windows Central, head reviewer, podcast co-host, and analyst. He has been here covering Microsoft since 2007 when this site was called WMExperts (and later Windows Phone Central). His interests include Windows, Microsoft Surface, laptops, next-gen computing, and for some reason, watches. Before all this tech stuff, he worked on a Ph.D. in linguistics and ran the projectors at movie theaters, which has done absolutely nothing for his career.
I'm sure Cortana would work a treat on a shiny new 1530, or at least 1525 if such device was coming out soon...

On my old 1520 (black) works exactly the same as my wife's new 1520 (green) it'll maybe work exactly the same on the 2520 next year and with the newer 15xx next year it'll probably work exactly the same has all the rest of Lumia family.

It works better on my 620 ;)

How bout if they bring back the heart that they let die! Love that heart it made it so easy to save what you liked and get rid of what you didn't.

Zune/Xbox Music Team ≠ Cortana team

All Zune features have been banned. The UI and UX were too good and made other services look bad.

Integration with Spotify? Sounds feasible?

Would be up to Spotify to add that. WP 8.1 U1 has a voiceXML interface to allow app devs to announce grammar to cortana which gets ingested into cortana the first time. I suspect the level of integration will become more bidirectional and elaborate during the Win 10 timeframe.

New single or album release notification for current artists in Xbox Music I would like most.

Have you tried the app Album Releases?

I have just downloaded the app and will set if up today. Brilliant, thank you very much.

Integration with its own Mix Radio. Mix radio identifies ones favorite artist and all. So...

Mix radio is Nokia, not apart of Microsoft.

MixRadio app is a "Microsoft Mobile" app now.

Haven't had it installed for awhile. There was an article awhile back that talked about Nokia willing to sale the service. This was after Microsoft's acquisition. Anyway, thx

I use Spotify and Pandora, so I'm not sure if it'll pick up on my favorite artists...

Cortana can't do much anything outside USA! Try Siri vs Cortana - Siri is better, esp outside USA.

The concert watch feature isn't showing in my phone yet (USA). Hopefully when it does it will make things better.

Nive feature i like it they should also introduce the same feature for sports specialy soccer games....nice work cortana team keep it up

Oh God! South Africans and soccer.

Any idea where the gig data comes from - yet to get any information about gigs for the UK

"From the product perspective..." DRINK!

Scrolled through the comments just to see if people were making jokes about this. How many perspectives are there, from a product perspective of course.

Yeah, well, now that MS is going to start charging for XBOX music streaming, I wont be using it anymore

The feature is slick but they need to give you an option to say "I'm not going to this concert" to get rid of it. Currently your options are to turn off the feature, or hide that artist completely. I don't want to do either of those.

Just needs an option to automatically buy tickets.

what??? you want cortana with unlimited access to your card?

Not available in Canada. We get two things here. News and weather. Cortana barely does anything else.

It's pretty lame. My 830s Cortana doesn't really do anything I need

You are joking right? the calendar integration alone is worth the price of an 830. Then there is the remind me, when I speak to ..... Or, how about ask it to give you directions to... The here maps integration works so well, and while you are driving you can get cortana to initiate a call, play music, or tell you a joke to lift your weary spirits. It us pleasantly surprising what cortana can do if you choose to use it.

TellMe did half of those things anyways. Open up the "interests" menu and you get two choices. In the US region you get like 10.

Perhaps Microsoft should concentrate on making Cortana available and relevant internationally instead .

Yeah, screw adding features. /s How about they do what they have been doing: focusing on expanding and adding new features? There is no "instead" as they are capable of many things at once. Case in point, there are different teams that do different things on Cortana.

Its hard to use on my phone because T-MOBILE HASN'T RELEASED CORTANA YET!

Cortana is affected by carriers..??

Yes..T-Mobile and Verizon in the United States have not released Cyan/8.1. so anyone not on DP will not have Cortana.

But if you do have Verizon or T-Mobile, I highly recommend gretting the developers preview and update. It may be all we get. (Icon Usres) DP 8.1.1 is SO much better than WP8.

This guy needs to stop saying "from the product perspective".

It seems to me that the Cortana team is wasting time on useless and complicate features while they should focus on basic and more useful things. Aside that outside USA it doesn't work, which is weird as voice recognition works already good in several countries, like mine Italy. But instead of concert watch which affects only those of us that go to concerts, why don't give us features like email reading and on it (search etc), message search etc, Bing results reading or notifications reading? I used Cortana quite a lot having changed region, but eventually I found the normal voice recognition in my mother tongue more useful if compared to features I gain with Cortana in English. I miss geofencing it is true, but I don't have to explain to my friend why I am sending messages in English to them while I am in motorbike :D . I understand this concert watch must be related to something commercial but it looks to me a loss of precious time while others run far away. So far, a disappointment

Would be great if Bing / Cortana music search and Xbox music store would correctly identify and them correctly find newer EDM music genres. This could be a great feature to appeal to younger phone buyers. How about making a deal with Beatport so all the music they have is available via Xbox music, too? :)

Neither Cortana nor the album releases app can find my favourite artists... ​

Add the same feature to book tickets on online..it will be more fabulous feature...so we can sit at ease ...so Cortana can find available tickets on theatres...

Surprisingly my cortana shows the music feature but doesn't have music symbol in the top right position....

when will Cortana available in Malaysia?

Be nice that some thing would come to Canada. I am tempted to go American again...
Windows Central Newsletter
Thank you for signing up to Windows Central. You will receive a verification email shortly.
There was a problem. Please refresh the page and try again.