How to create and manage Xbox Music playlists on Windows Phone and Windows 8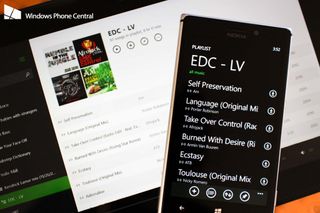 The Windows Phone Store has nearly every major music platform available, with the obvious exception of official iTunes or Google Play apps. You'll find Xbox Music, Beats Music, Songza, Spotify, and more available to you as a Windows Phone (and probable Windows 8) user.
However odds are a lot of you are rocking out to Xbox Music on Windows Phone. It is of course the native music application available and built-in to Windows Phone 8. If you're a power user you probably know the ins and outs of how Xbox Music works on both Windows Phone and Windows 8. If you're not a power user, then this article is for you. Here's how to create and manage playlists with Xbox Music on Windows Phone 8 and Windows 8.
Why use playlists?
Playlists are an important part of any music listening experience. That statement holds true with Xbox Music. With Xbox Music you can create, edit and save playlists for quick and easy access to your favorite songs. Rocking an Xbox Music Pass? Those playlists will follow you in Xbox Music from device to device and sync.
From a listening point of view they're extremely helpful too. Planning on a long cardio workout session? Pick a bunch of songs that can help keep you motivated while you run your quarter marathon. Lifting heavy in the gym? Throw together the songs that help you get your Bruce Wayne on.
Whether it's a long summer road trip or a night at home reading your favorite book, playlists can be curated to elevate the experience.
Playlists with Xbox Music on Windows 8
We'll say this up front. Creating Xbox Music playlists is probably easier on your tablet, ultrabook or desktop in Windows 8. The device you have with Windows 8 probably has a larger display compared to the Windows Phone in your life. This makes for a generally more pleasant experience when first creating and curating a large playlist.
Here's how you'll make playlists for Xbox Music with the Windows 8 app.
Tap (or click) new playlist on the left menu
Name the playlist you're creating
Now you're going to need to add songs to the playlist. There are a handful of ways to do this. You can add individual songs or entire albums to a given playlist. Songs or albums can come from either your music collection or the Xbox Music store/catalog.
Adding an individual song from either your collection or the Xbox Music song isn't hard at all.
Select the song or album (touch - tap or swipe left, mouse - click)
Click 'Add to' (+ sign) and select the playlist you want the song to go
Congratulations. You've made a playlist. It might only have one song at the moment, but you'll keep adding more and more until you've got a collection of the smoothest jams to entertain your guests or lady friend.
Of course your taste change and you might want to modify a playlist over time, which is completely normal. Modifying and adjusting your playlist is how you take it from a decent to exceptional. When changing your playlist you can do things like delete songs, rearrange the order of songs and of course add more.
Deleting a song is easy. Just select it by either tapping/clicking it or swiping/right-clicking. If you just tap/click the song, you'll see a negative sign (−) pop up next to the song name. Hitting that will remove the song from that playlist. Selecting the song by swiping to the left or right-clicking will bring up a menu bar on the bottom where you can delete the song, but do a lot more too.
In playlists if you select a song by swiping to the left or right-clicking you'll see a plethora of options to manage that song in the playlist. Select a song that way and you can:
Play selected
Add to (collection or another playlist)
Remove from playlist
Move up
Move down
Move to top
Move to bottom
Start radio (will start playing a collection of songs similar to the selected one)
Explore artist (head into the Xbox Music store to find more albums and songs from the artist)
Download (if you don't already have that particular song downloaded)
Pin to Start
Properties (view things like song length, year released, etc.)
You're now a pro and creating and managing playlists in Xbox Music on Windows 8. If you have any questions don't hesitate to ask below in the comments. Now we're going to check out how playlists for Xbox Music work on Windows Phone.
Playlists with Xbox Music on Windows Phone 8
On Windows Phone 8 you have two applications for interacting with Xbox Music. There's the native, built-in Music+Videos hub that integrates Xbox Music. That's the default application you get with Windows Phone 8 for managing and playing music from Xbox Music. The other, more recent, application is the standalone Xbox Music app that was released a few months ago.
If you're wanting to create and manage playlists, the newer standalone Xbox Music app is the way to go on Windows Phone. The integrated Xbox Music experience in the Music+Videos hub is fine, but it's lacking in flexibility and options that you'd get in the app.
We'd recommend just creating/managing playlists on either your PC with Xbox Music for Windows 8 or the standalone Xbox Music app on Windows Phone. The native playlist support in Windows Phone is fine for listening to those playlists you created, but it's not useful as creating or managing.
Don't have the newer Xbox Music app on Windows Phone 8? The download is at the end of the post. In the meantime, here's how you can creating and manage Xbox Music playlists on Windows Phone.
Head into the playlist section inside the app
Tap the add (+) button in the app bar on the bottom
Name the playlist
Select whether or not you want songs added to that playlist to automatically download
After doing that you'll be dropped into a view where you see all songs in your Xbox Music collection. This can be a ridiculously long list if you have a huge collection. You can hit the back button on your Windows Phone to exit this view if you have some other songs in mind that you want to add.
Like the Xbox Music app on Windows 8, you can add any song to a playlist from most anywhere in the app. Head into your collection of the Xbox Music store to get going. Though you'll be using a lot of long presses to get the options you want.
Adding songs to a playlist is easy on Windows Phone.
Long press a song to select it and see a menu option
Click 'add to'
Select the playlist you want the song to go
Don't forget you can also select bring up the app menu (bottom bar) and select 'add to' for adding entire albums to a given playlist.
Managing playlists isn't hard at all either. Just head into a given playlist and you'll be able to do manage it like the music guru you are. In the app bar you'll see the ability to
Add (bring in more songs to the playlist)
Select (select multiple songs to either download them for offline playback or delete them)
Reorder (move the order of songs to make everything flow just right)
Pin to Start
Creating and managing playlists for Xbox Music on Windows Phone and Windows 8 isn't hard once you know the basics. We prefer creating the initial playlist and adding the bulk of the songs on Windows 8. Since the playlist will sync with Xbox Music on Windows Phone we'll then listen there and make minor adjustments, nothing major.
Have any other tips, tricks or general observations about playlists for Xbox Music on Windows Phone and Windows 8? Share them below in the comments. Don't be afraid to ask any questions either. We'll do our best to answer them. You can also reach me directly on Twitter (@samsabri) and I'll help out as much as I can.
Be sure to grab Xbox Music in both the Windows Phone Store or Windows Store (opens in new tab). For Windows Phone you can also use the QR code below.
Windows Central Newsletter
Get the best of Windows Central in in your inbox, every day!
Good article Sam! Prepare for the "Well, duh" comments. ;)

This article isn't for them. They can instead forward this article when their mom gets a new Windows Phone and they get tired of playing tech support and would rather play Titanfall ;)

Hahaha, I just forwarded this to my mom right before reading these comments!

I've been using playlists for a while now with Xbox Music on both WP and Windows 8. The problem I have is that the playlists do not sync reliably or do so very slowly (hours?). It also seems it is not related to the size of the playlist. Is anyone one else having trouble syncing playlists between WP and the Windows 8 metro app?

YES.! None of my Xbox Music playlists from PC or Surface sync with the new Xbox Music app on phones. Playlists created on the phone sync back but without the songs... It's either INCREDIBLY slow or not working properly at all... Really hope it's fixed soon.

My playlists don't sync at ALL. When I use the wp8 app, both the desktop and metro, neither of them syncs my playlists to my phone. It is extremely infuriating.

I just fought with this myself. The problem is Xbox Music on metro doesnt communicate with the Music/Video app preinstalled on the windows phone. You will have to download the Xbox Music app on your phone to get them to sync. Why they have both I dont know, but in my opinion if they are going to make the phones "easy" to work with you desktop then the apps should be the same. Anyways, I hope this helps.

Actually I recently found out that the Music/Video app is going away with 8.1, that's why there's now separate xbox music apps. Those are what we'll get in 8.1 so our sync problems should be a thing of the past next week... it's still shameful that this has been the situation for more than a year.

It's worth noting that you can do this online as well. I have to use the web version on my Windows 7 Work/Home Desktops. I wish they would release an Desktop App and I wish I could sync the Xbox playlists to my ZuneHD.

Yeah good article. I read lots on here but didn't know there this new app existed. Prefer to make playlists on my Surface and sync the phone, but great to know this option exists, yeah.

Or simply, make a playlist on Xbox music, then play it, go to native music player on phone, three dot menu in now playing, then "save as playlist", congratulations, you now have made a playlist in the music hub, a headache for many ! What d'yall say ?

Exactly. Hopefully it will be updated so people can use it without a pass.

a better way to create good playlist auto updates is to first create an autoplaylist (or a smartdj mix then you could save the mix as a playlist) that suits ur mood with the zune software... then import the playlist to xbox music... the drawback is that u would have to delete the current imported playlist to re-import updated playlist...however its less painless if u consider always having to edit the playlist... plus the smartdj version on xbox music would work only with data and not your collection.

So still no smart playlist? I cant believe two years later we are still playing the"two steps forward, three steps back" game. If it was in Zune, it should be in this by now. We should be ahead of where we were with the Zune... Not still scratching our heads as to what the hell they are doing.

I noticed something weird. Shuffle wouldn't work on the newer Xbox Music App and the playlist I made using that App won't play on the older Xbox & Music App. :/ I assume the shuffle issue is isolated, but I don't know...

What's still missing?
A real way to add your playlists to to your phone that are from music owned in your collection, not from Xbox Music.

YEEESSSSSS!!!!!!!!!! That is EXACTLY what's missing!!!

That's absolutely correct!

It's probably my GFs biggest complaint about her phone. She is annoyed she can't just sync a playlist from Win 8 to WP8.... Zune allowed us to do it with WP7 but that feature seems to have been dropped. I understand that everyone is trying to promote the streaming music services and hook us into another monthly bill but I listen to a lot of music that isn't well represented on those services and I'd much rather just click in W8 and "sync playlist to device" instead of copying the individual songs one by one to my phone and then creating a new playlist there.

One of the things Sam missed in this article is Syncing, rather transferring Playlists, Albums, Artists or Songs vai the XBox Music App and the Charms Bar. You will need the Windows Phone Metro App for Windows 8 (http://apps.microsoft.com/webpdp/app/0e0fbaf6-fd99-4046-b494-9ce469ae3009). Once installed, and as long as you have the current Xbox Music App, select something in your collection, then swipe to the Charms, then select the Share icon. Windows Phone will be an option. Plug it in, and watch it transfer. Now, this is NOT syncing like we had with Zune. But it is CERTAINLY better than where it was. Oh, and the transfer happens in the background, so no need to watch the transfer complete. You'll get a Toast Notification when the transfer is finished.

Another thing missing is advance sorting to make auto playlists, with features like recently added, ratings, sub-genres, keywords, etc.

Precisely. I mean, iTunes has done this since v.1, right? 1. Make playlist on Win8 PC
2. Plug in phone
3. Sync playlist to phone Seriously, I can't do that? Insane.

You can from Windows Media Player.

Doesn't work for me, just puts blank playlists on my phone.

If the music is protected Xbox Music Pass content, then that is correct. However, if it's MP3's, it should work.

also being able to sync music that Xbox Music hasn't recognised fom your collection, it might be on XBM but if it's in your collection but not recognised then you're out of luck.

Android kills WP at music hands down. Sad but true

I currently use Windows Media Player, it has worked for me.... I can actually use my old playlist made throught zune desktop :D

Windows Media Player is the way to go. The WP8 "Xbox Music" app requires Xbox Music Pass, rediculous! I use Nokia Music MixRadio as my music app, but still no playlist creation abilities. that boggles my mind, I can buy music on line from them but I cannot arrange it into a playlist!?

Then just use the music hub rather than the Xbox Music app that is in beta, you need to download and tells you on the descrption that XBM pass is needed. Not really very ridiculous.

What's ridiculous is that I can't make a playlist while on my phone. Not using Music Hub, Not using Nokia MixRadio. What if I only had a phone, no computer?

I still miss being able to favourite a song with a ❤ and for a playlist of those songs to be automatically created. I also can't get playlists to sync between my PC/Surface and my phone with the new Windows Phone Xbox Music app, and my old Xbox Music playlists don't appear in that app either. It's still a broken experience for me compared to Windows Phone 7 and Zune, which I cannot get my head around.. :(

Hey, you can get similar experience with Windows Media Player you also can create automatic playlist with ie song with more than 4 stars, I loved that feature of zune btw.

That's messy though. I just manually add tracks to a "Favourites" playlist... It won't sync with the new WP Xbox Music app (but does with the built in one). Frustrating!

Am I missing something, or is there a way to use the Xbox Music app without a Music Pass subscription?

Pressing the back button will eascape the subscription prompt, but it is a clumbsy workaround. Here's hoping the final version doesn't have this issue.

The Xbox Music app is only for use with an Xbox Music Pass subscription. For everything else there's the Music & Videos Hub. This will obviously change with WP8.1 though*. I don't really understand the upset/confusion about it, do people install the Spotify app and complain it only works with a Spotify account? *Or I hope so, at least. WP8 music sync has been a mess since launch so I'm expecting some major updates and improvements with 8.1 next month. Fingers crossed!

I just want to play my music in playlists that I set up. I have no interest streaming music as I don't have the internet capability where I live and travel to have an always on connection. So why would I pay for the privalege of playing music I already own and can load onto my device

Is the standalone app better than the native app? Is it updated frequently? I remember when it came out, the live tile wasn't working.

I couldn't get the stand alone app to work with my collection of 12,000 mp3s, but the built in app works fine.

This. I have about 7000 and the standalone app says "updating" everytime and is constantly redoing it too. It sucks the battery and heats the phone up like crazy. I hope they fix that in the next release....

My #1 complaint about XBM is that there's no simple way to clear "Now Playing". As far as I can tell, you have to individually select songs and remove them.

Download "Stop the Music!" from the Windows Phone store.

Or download WPTools app. It has option to clear the now playing too.

Couple things I noticed about Xbox Music that I'm hoping someone can clarify for me: 1. There's amazingly no genere-based radio (country, alternative, etc.) 2. Radio by artist is actually just a small (sometimes as small as 10-12 songs) playlist and NOT like you'd find on other streaming services where it will play for a long time duration. (Or put another way, artist radio gives you maybe an hour of music, tops). 3. Playlists are limited to 99 songs. Try to add more and it will not do anything. No error message, but also nothing gets added. Anyone else notice/verify this is true?

My biggest gripe with XBM, I need to use another service to "find" music. I wish it had genre based radio... I found Nokia Mix Radio, terrible. Slacker isn't bad. Spotify on WP seems to lack the radio feature. Ugh.

99 songs? Maybe just for ones synced online - i don't have an xbox music pass but my playlist cap is 1000 on windows 8 and seemingly unlimited on wp8 (I have a playlist with ~6000 songs just for syncing with my ipod)

Does Xbox music play locally stored content or does it rely on the music pass exclusively?

I so hope Windows Phone 8.1 improves the music interface for your own collections. I so want to dump my iPod and get rid of iTunes.

They tricked me into dumping Apple with the Zune, then in turn dumped that, and left me with this mess. So many of us want a music app to manage and use our own collection and this one sucks for that.

I'm in same boat, had a Zune then got Windows Phone and went to an iPod for music because the phone stinks for music. With the new 128gb micro SD cards that are out I wouldn't need the iPod anymore if Microsoft gets their act together.

Xbox music used to mess up my mp3 tags, so I've been disconnected from the service for ages to avoid that. I have a giant collection i manage manually and occasionally move some music around between my Lumia and the collection my NAS via my PC/tablet. Thus, i cant create playlists on my phone. Has the problem of tags getting messed up been solved in updates to the music hub in the last year? If yes, i think id like to try reconnecting again...

Yeah, just turn off Media Info in preferences. Simple.

"The native playlist support in Windows Phone is fine for listening to those playlists you created, but it's useful as creating or managing." Wat?

Xbox Music blows. The standalone app is the only reasonable way to make a playlist as trying to do so in the native app is a miserable experience in my opinion. Cloud collection is a joke as it links up explicit versions of your music with the edited (clean) version. You can't turn off the cloud collection sync with the standalone Xbox Music app (unless I'm missing it somewhere). Why the hell can't MS come up with a solution that is at least half as good as the competition? At least half as good. And this is coming from an Xbox Music subscriber...

Wait, are you saying that if you own the explicit version in your collection, the cloud collection serves you the clean version if you stream it? LAME!

Most of the time, it plays edited ones on the radio/smartdj thong

Is there an article either recent or planned that compares the different music apps available on WP? I'm a Zune pass user but I'm intrigued by Beats and Spotify, it'd be cool to read a comparison article.

This would be nice if Microsoft made the stand alone music app open to non subscription based customers. They tend to not want to deal with the people who actually buy music outright instead of renting it from month to month. Its baffling.

I want to use the Xbox Music app, bit it requires a Music Pass, which I have no use for...

Sign in then press Back when it prompts you to get a pass.

I wish I could just tell Xbox music what mood I'm in and have it create a playlist for me.

Yeah, that would be a cool option. I know Sony has that. Tried their service as well, but for now, I still prefer XBOX MUSIC.

Ummm... I'm not sure about everyone else but I've had no trouble creating playlists on Music+Videos native app. Start with no music playing, find the songs you want to add and hardpress them>add to now playing. Keep doing this and then save as a playlist. I personally don't think it's too bothersome. Managing them, however is a different story.

What happens when you decide to remove the last song you added? You can't remove it so you have to start again or if its already saves you have to DELETE the song. It sucks, plain and simple.

Good article! I was suffering with playlist with the built-in app! thanks!! PD: Under the "Playlist with Xbox Music Windows Phone" part, you say: We'd recommend just creating/managing playlists on either your PC with Xbox Music for Windows 8 or the standalone Xbox Music app on Windows Phone. The native playlist support in Windows Phone is fine for listening to those playlists you created, but it's useful as creating or managing. That word Shouldn't be "useless" ? Because useless is what it is jaja.

They need to make it so that my music that I sync can be played from the cloud or stored on my phone. It shouldn't require a music pass subscription for what I own...if they can do that I would be happy

Loving all these tutorials and other How-To's you're posting! I personally know about all these, but if Windows Phone 8.1 brings in the new users we hope it does: great to have all these guides, so I don't have to keep explaining the most mundane things to my potential converts (especially since the built in How-To for Windows Phone and Windows 8.1 seems to fly over people's heads... -_-).

I am so lazy I miss the ability to snag playlists created by others, this was and still is the thing I miss from Zune.

Xbox music sucks. That's the only thing this article should have said instead of pretending like its a good service.

Then, you should have skipped the article...

Xbox music is pretty bad. I would love to use playlists, but because my music isnt in their store the list doesn't sync. Wasn't a problem on WP7/iOS/Android. Too much cloud in this one.

Bruce Wayne? More like the Terminator.

Hmmm...I really should just start using XBOX MUSIC from now on. there's really no use for Zune anymore, besides being a good companion for my ZUNE HD, the sole reason I still use it. But I find myself using this app on my XBOX ONE more than anything especially since we now get Music Videos. MS, if you're reading this, please provide a way of linking the songs to Music Videos. Some songs have two, and I want to be able to select which one I'd prefer. Also, some Music Videos aren't linked to a song, I'd like the option to link it to a song as well. Thank You!

The article doesnt mention the major flaws in XBox Music which are: 1. It lacks basic functionality like sorting a playlist by the artist name, song name, genre, album name. Hellooooo??? Do I have to remember all 400 songs in my playlist to keep from adding duplicates? 2. I dont even know what to say about managing the "Now Playing" list. Can it be cleared without selecting and removing each song individualy? Even in full blown W8 I cant clear it out or select multiple songs. 3. Syncing playlists across an XBox console, laptop and phone leaves a lot to the imagination. 4. Gold membership plus a music pass seems like a bit much not to mention I pay for all of this and cant stream music on my console and phone or laptop at the same time. Dont even bring up Smart Glass, its awful and doesnt come close to solving that problem I have been waiting over 2 years for some improvements but I'm losing hope. Hate to say it but it may be time to go back to iTunes, getting tired of it.

Trying XBox Music just now and it's slow as hell. The playlist only allow me to add song using title. For me, it's more convenient if I can browse artist->album->song for a better filtering. Full song list can be acceptable IF there are search function which sadly unavailable. But still prefer artist browser though. There is no way I can remember every song titles. Specially the BGM OST one which don't regularly exposed anywhere. So for me, Music+Video Hub is the way to go. I can clear the new playing, add any music I want to listen using artist browser, and go to now playing view to save them as playlist. Done. This has two major limitation though. I cannot remove or reorder the saved playlist. Other than that, everything works just fine.

Of course this Xbox music app is not available in India. No wonder people prefer Google over MS here..

not available for me and for my phone (INDIA)...

"Making more babies w/ strangers" OH MY GOD

I still don't get it why it is hard for WP to make it easier for us, users, to create playlists in our handsets. Whenever I want to modify something in my playlists, I always need to connect my phone to my laptop and do the changes there, which is not convenient in any way. My old BlackBerry 9300 can manage playlists better, smh.

I agree. I like to create playlists on the go depending on my mood I also like to add to or remove songs from playlists. Simple things like when you are listening to a rarely played song that you like the ability to easily add it to a playlist would be so 2008. I have to carry around a 6 year old phone for my music because carrying two phones is less hassle than managing music on WP

Great article. I can be a stubborn mule at the best of times and I haven't stopped sulking since the demise of Zune, along with it's functionality.

If I make a playlist on win 8 from my personal collection, and if I don't have those files on my phone, will it automatically transfer them or do they have to already be there? For the record, I don't have a subscription to Xbox music. Transferring music to WP has been a crappy experience on Xbox music desktop and metro apps (I miss Zune). This may have changed with an update after 8.1, but I haven't tried since 8.1 came out. The fact that I was unable to transfer one song at a time (had to transfer all songs from an album or artist) was very disappointing; adding songs directly to the phone via file manager didn't get recognized properly in the music app on my phone. Anyone?

Bought an Icon as a first smartphone and am largely impressed with everything except the emminently assinine way WP does music. This article acts as passive apologist for the castrated functionality of the included xBox Music & Videos app. It also (as far as I can see) fails to mention that the upgraded app (xBox Music) which allows for playlist creation requires a paid subscription! Say what?! I've got to pay to organize my music? This article shouldn't have to exist. Astonishing that this capability isn't included. I like the platform, but if they can't get something as simple as playlists right, the future may not be kind to WP.

I agree ,it is amacing that Microssoft does not understand what people need and want. On my desktop and on my windows pad I use itunes.They work great and are easy to use. Unfortunately I can not use it on my windows phone.

Hi.I use a windows 8 laptop.My xbox music app cannot stream songs.Whenevr I click on a song to play from the store,it does not start.How to solve the problem?plzzzzz helpppppp

I have weird problem with music app. I had downloaded sound tracks from nokia music. And gor back up i took copy to my PC and now i switched to new SD Card and added songs from my computer.
Now many of the songs shows on the list more than once (4 times), even in the albums as well.
Name of some songs have benn changed.
Any solution for this.....

I don't have a '+' button to add to playlists. I can't even create a playlist... how can MS get this so wrong? Media player is easier to navigate and customize than this mess.

I'm a long time MS music subscriber. I loved my Zune HD, and used to proudly show all my friends what I could do with my music pass and my Zune. I even got a few of them interested in buying MS music passes. Now I'm embarrassed by the complete and utter fustercluck that MS has managed to turn the Music experience into. I could never recommend the current mess to anyone. I couldn't even recommend buying a Windows Phone if music matters to them. I was willing to cut them some slack for a while, but it's been well over a while. Years later and we're STILL missing functionality that we had with the Zune software. If they don't have this sorted by renewal time for my Music pass I'll probably go with another service.
Windows Central Newsletter
Thank you for signing up to Windows Central. You will receive a verification email shortly.
There was a problem. Please refresh the page and try again.