How to create a System Restore Point in Windows 10 with a simple double-click
In this guide, we'll show you the quickest way to create a System Restore Point on your Windows 10 PC with a simple script.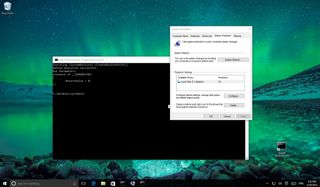 Windows 10 ships with many recovery features that can help you to fix most problems you may come across. One of these functions includes System Restore Point, which allows you to take your PC back to a point in time where everything correctly worked if there are problems due to a recently installed update, driver, or app.
Typically the operating system will create a new restore point before changes are made to your computer, and you can also create restore points manually. However, in this Windows 10 guide, we'll walk you through the steps to create a desktop shortcut with a special script, which it'll allow you to create new restore points with a simple double-click.
How to check if System Restore Point is enabled in your PC
Before diving in, you first need to make sure that System Restore Point is enabled on your PC:
Open the Start menu, do a search for Create a restore point, and press Enter.
On System Protection, under Protections Settings, verify whether the setting is turned On or Off. If the system drive's protection is On, then no further actions are required, and you can jump to "How to create a System Restore Point shortcut script" below.If it's the system protection is Off, select your PC system drive, and click the Configure button.
Select the Turn on system protection option.
Click Apply.
Click OK.
How to create a System Restore Point Shortcut script
To create a restore point with a double-click follow the steps below:
Right-click on the desktop, select New, and click Shortcut.
On the Create Shortcut wizard, type the this command:cmd.exe /k "wmic.exe /Namespace:\\root\default Path SystemRestore Call CreateRestorePoint "My Shortcut Restore Point", 100, 7", and click Next.Note: The command basically tells the operating system to open Command Prompt and use Windows Management Instrumentation Command-line (WMIC) tool to create a system restore point of your Windows 10 PC.
Enter a descriptive name for the shortcut, and click Finish.
Right-click the newly created shortcut, and select Properties.
If you want to add a more appropriate icon, click the Change icon button.
In the field type the following path C:\Windows\System32\imageres.dll and press Enter.
Select the icon you want and click OK.
Click the Advanced button.
Select Run as administrator.
Click OK.
Click Apply.
Click OK to complete the task.
Finally, double-click the desktop shortcut to test if a system restore point can be created. If you get a Command Prompt with the output identical to the screenshot below, then everything is working correctly.
Now the next time you're about to install a new app, driver, or you're planning to modify anything on your PC, you can quickly double-click the shortcut to create a new restore point, instead of going through a number of other steps.
Note that we're focusing this guide for Windows 10, but these steps will also work on Windows 8.1 and Windows 7 PCs. Also, it's important to point out that on Windows 8.1 and newer versions, the script will run, but it won't create a new restore point if there are earlier points created in the past 24 hours. If this is the case, you'll need to delete previous restore points for the script to work:
Open the Start menu, do a search for Create a restore point, and press Enter.
Select the hard disk you want to create a new restore point.
Click the Configure button.
Click the Delete button.
Click Continue to confirm deletion.
More on Windows 10
For more tips, coverage, and answers on Windows 10, you can visit the following resources:
Windows 10 help, tips, and tricks
Mauro Huculak is technical writer for WindowsCentral.com. His primary focus is to write comprehensive how-tos to help users get the most out of Windows 10 and its many related technologies. He has an IT background with professional certifications from Microsoft, Cisco, and CompTIA, and he's a recognized member of the Microsoft MVP community.
Yeah, this is a super cool tip. Very good for Insiders too.

How do you create something like a system restore point on an external drive, for when your HD gets wiped by error/accident?

Have anyone ever solved a problem with System Restore? In over 10 years, I have never. In Windows 10, they have even disabled it by default. Tells how useful it is.

Yes, many times. In Windows 10 its disabled by default because they want people to use their Refresh options which conveniently reinstall all the bundled crapware like Sports, News, Money, Travel, etc; reset default applications to crap like Groove; and reset a bunch of other user-configurable settings to what MS wants them to be.

That is not correct and a common misconception. It is only disabled by default if the storage device is 128GB or less.

I always use this and it was always useful. Posted with all the power my fingers have, 1520.

Lol, I agree to an extent. It has never fixed really serious problems for me. Posted via the Windows Central App for Android

System Restore has been the biggest blessing when it comes to major computer woes in my household. Taking the time to create your own extra restore points can be another boon.

It's saved my PC and fixed issues quite a few times, actually.

System restore definitely solved quite the major problem I had on Windows 8.1 a couple months back. After restarting my computer from an automatic update and reboot, my USB ports ceased to function right after the Windows logo showed. They worked fine before it. No mouse or keyboard input. I tried everything I could think of. Finally, I did a system restore back to a point I know it was working (had to use the special options available with F8 at boot), and it worked perfectly. I resolved to upgrade to Windows 10 right after that Posted via the Windows Central App for Android

Yes, system restore works for me. In fact, it's it's one of the best feature. And my files doesn't even get affected! But its my hardware that causes the deadlock. Windows 10 beats it. Buy overall, system restore is a masterpiece.

I certainly like the concept, but it should allow / promt the user to include a description, just as if it was ran from System Properties. David

It seems overdone for me to delete all restore points in order to make a new one

Can I know that what is system restore point? Is it like system image or file history? Posted via the Windows Central App for Android

I replaced Windows System Restore with an alternative program, Rollback Rx. I've found it quite good considering that I needed something that was extremely user friendly for my end users. While I'm still unsure of WSR as a whole (I don't trust the stability/health of the states) I may give it a try once again and implement this cool little trick :) Thanks for providing this.

Has anyone ever tried it on Windows 10? I heard that System restore comes disabled in 10 (yes, I refuse to leave Windows 7). Why would anyone use it still? Don't get me wrong, its a great feature and tool to have, if it were to work that is. There are tons of better options out there not from Windows like Shadow Defender, Rollback Rx and Comodo Time Machine.

Wish I knew more about this tip a week ago. The latest Windows 10 update totally crapped out something in my HP Envy Phoenix desktop, and I had to System Restore it to factory, back to Windows 8, just the other day. It had me pulling my hair out, trying to back up my HD (I lost a lot of stuff), and was getting pretty sick of Windows 10 and its instability (in my case only, yeah, yeah, I know...). Leading up to that, Windows 10 would spit out weird error messages every so often, and I had to do more to manage it than I ever had to do under 8 or 8.1. The UI in 8 sucked, but it was as rock solid stable as Windows 7 Pro. Never gave me a problem. Thank goodness I also had a few years' old Macbook Air, that's always been reliable through many updates up to the current el Capitan, that I could use to research how to semi-fix my HP desktop. Edit: After looking around, I see that W10 has System Restore disabled, so I'm assuming what I used was an HP System Restore application that comes bundled with their hardware.

This article is handy. Here I want to share my experience of restoring system. I used AOMEI Backupper to make system restore on my Windows 8 operating system, and I keep the software even when I upgrade my Windows 7 to Windows 10. I create a system backup image so that I can restore my Windows when I need.


I created this shortcut and although it works and runs the script properly as shown in these instructions, when I go to run System Restore, the restore points that were supposed to be created by running this script are not showing up as available. Even if I select "Show more restore points" none that were supposed to have been be created show up. Have run several time with "success" in running the script however it seems no restore points were actually created. Any suggestions?

I have the same problem that dentwell wrote of. I got a new laptop with Win 10 , and this was exactly what I'd been looking for. I created the shortcut and successfully tested it. Today, however, I cannot create a new restore point. The command executes as it should and indicates it worked properly, but no new restore point is available in system restore,although yesterday's test one is. I did try "show more restore points", but today's attempt isn't listed. What might be the problem? Thanks for any help!

Windows Central Newsletter
Get the best of Windows Central in in your inbox, every day!
Thank you for signing up to Windows Central. You will receive a verification email shortly.
There was a problem. Please refresh the page and try again.