How to customize app notifications on Microsoft Band 2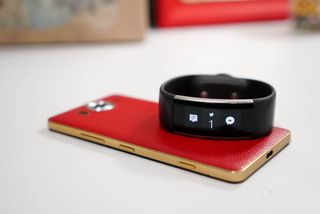 The Microsoft Band 2 keeps getting better even after several months since its release date. The latest update that was released earlier this month added a social aspect to the Band, but there was another feature that was quietly added that we're equally happy about.
The Microsoft Band 2, in conjunction with the Microsoft Health mobile app, now lets you choose which apps send you notifications. You get notifications from only the apps you care about most. We'll show you how to set it up.
Make sure you have the latest version of the Microsoft Health app

(opens in new tab)

on your phone. Check the Windows Store for updates.
Open the Microsoft Health app on your phone, scroll down, and tap Add and Manage tiles at the bottom.
Enable the Notification Center tile and tap the pencil icon next to it.
Take a look at the list and enable the apps you would like to show up in the Notification Tile on your Microsoft Band.
When you're done, tap the back button and tap Confirm.
That's it! Previously, all the notifications on your Windows Phone get forwarded the Band. This new feature gives you more control.
This feature also fixes an annoying bug on Windows 10 Mobile that displayed my Outlook emails on both the Mail and Notification icons on my Microsoft Band 2. Now I can stop it from showing up in the Notification Tile, while still visible in the Mail tile.
The customizable app notifications is just one of the recently added features to the Microsoft Band 2, and we look forward to seeing more in the future. What would you like to see on the next update? Let us know in the comments!
Download Microsoft Health from the Windows Store (opens in new tab)
Where to buy Microsoft Band 2
I hated that repeated email notification as well. Great news! Posted from Windows Central for Windows 10 Mobile

Mark. I used to get call notification on my band 2 but no longer see that as an option. How can you get incoming notification with this update?

Call notifications should still be within the Phone tile on Microsoft Band. Make sure that's enabled.

This is also available for Band 1. Posted from Windows Central for Windows 10

I'm only getting "Oops An unknown error occured with your Band" :(

You could try rebooting your Band and if that doesn't work, try a full reset of your Band (through the settings app on the band itself) and set it up with the Health app again from scratch. If you've customized the look and feel, you might want to make a backup of your theme using Backup My Band or another similar app. Then, after you've reset it and you want your theme back, just tap on the backup in Backup My Band. Posted from Windows Central for Windows 10

This didn't work for me, sadly.

So sorry to hear you're having this trouble. Perhaps try also uninstalling the Microsoft Health App and reinstalling it? Other than my previous suggestion and this one, I'm out of ideas. Have you contacted Microsoft Support?

I was wondering if anyone already found a solution for this. I have the same unfortunate issue.

I have the same problem and resetting the Band doesn't work for me either :(

Same here. I resetted my Band 2 and installed the Microsoft Health app again. Tryed it with the language settings on my Band in Englisch and my native language.

Jessica, Is this the one you meant, or are there better apps now? https://filedir.com/windows-phone-apps/toolsandproductivity/backup-my-ba... https://www.microsoft.com/en-au/store/apps/backup-my-band/9nblggh3mlmj Thank-you!

Yes, that's the one. Honestly, I think its simplicity makes it better than most others. Extremely useful after adding new tiles or making other minor changes in the Health app and finding your colors and/or background image changed back to default. Posted from Windows Central for Windows 10

Is there a fix for this annoying issue. Got my first Band yesterday. Band 2 of course.. and it starts with an issue...

It's fixed here, with the latest Release build. Made a reset and it's working.

I just got a replacement Band 2 as the band itself ripped right after the screen.
I got replaced at a MSFT store no questions asked.
They told me MSFT's aware of the problem. But I bet they won't fix it until the Band 3 comes along.
Now I'll go change some notifications especially the one that keeps telling me and my wife were moving around enough.
Thanks Mark never noticed the icon next to the each name. Posted Via Win Central App for Win 10.
Posted from my Lumina 950 on AT&T.

did this on friday and SOOOOOOO much better! On my band, the only notifications I wanted were pretty much communications from others (txts, missed calls, random messaging apps, etc) Also noticed it forwards more text with the notifications as well.

Why no security features on the band for times it's not on your body?

I could not agree more... it would be good to have an option to require a PIN on the first use when putting it on. Posted from Windows Central for Windows 10

Sweet I'm glad I picked one up when they were on sale for $175! I sold my Gen 1 band on eBay. Worked out nicely. Keep those improvements coming!

I'm glad I picked mine up for that price too.

I would say its getting worse and worse.. I stopped getting mail notifications, after a reset of the band the mail tile isnt even showing on my band or health app.. The sync is bugging out, sometimes my workouts dont get synced.. Dunno wtf microsoft is doind

are you on insider build?

Exactly what I was thinking... there are known issues in the Insider builds with the Band... if you're a Band owner, you're best off sticking to the main production ring or the release preview ring. Posted from Windows Central for Windows 10

Yeah, a day ago notifications worked perfectly. I got everything. I didn't change a single thing and now they stopped working. I only get text message notifications, which are useful, but Cortana is broken so I can't reply.

Cortana and using the built in keyboard hasn't worked in some time on mine. Yes, I'm using the insider build, but this shouldn't be such a long standing issue. I've managed to fix it, albeit temporally, by resetting and re-pairing it to my phone. I've mentioned this in another post, but I think it's an issue with the type of device the Band wants to pair with. If you un-pair and re-pair the Band, without uninstalling and reinstalling the MS Health app, it only gives you an option to pair with iPhone. I'm no expert in this, but I think some parts of the Bluetooth connection gets confused or something. I've mentioned this in the feedback. So, I hope this is fixed sooner than later.

I'm not even on Insider ATM. The problem still exists. I wonder what changed from 8.1 to 10 that causes this.

I was having constant keyboard/cortana issues when I was using my 920 with my Band 2. I had the troubles with 8.1 and 10. After an OS update I found I would have to reset the band and then sometimes the phone and band again just to get the notifictions and possiblity of the keyboard to work again. Picked up a 950 the other week and it has been solid since, I haven't lost connection once. I'm not a programer and just taking a guess but is it a possibility that the chipsets used in the older phones have bluetooth issues with newer devices?

Ya my keyboard won't connect on my 950.
And I just got a replacement Band for a broken Ripped Band.

Maybe? I had the Band 1 before when I had 8.1 and it worked flawlessly, but when I put 10 on my 1520, it went south really quickly. I just hope they can fix it.

I'd like to be able to disable mail notifications per account. I only want to see work email notifications, not personal.

Still not getting Messaging notifications when someone sends a Skype text.

I don't even have notificaion center in my tile list. It's the same with Facebook (FB messenger is there) and Twitter. Could that have something t wth me not using english as language? Has anyone an idea how I coud get it?

After this update notifications on my Band 2 stopped working. Work only a notification of incoming calls and SMS. How to fix?

You need to select which applications' notifications to allow. By default, all are turned off, so you have to opt in. Posted from Windows Central for Windows 10

I would like respond a whatsaap messages or sms with voice and vice versa

OH MY WORD, THANK GOODNESS!!!!! It is about freakin' time there was a resolution to the EVER SO ANNOYING DOUBLE NOTIFICATIONS of e-mail and text alerts. That was always annoying. I would have eventually come across this change, but thanks WC for writing about this.

tell me how tt rid of the connect with friends pane in the health app. bad enough i never would use it, they put it in the most prominent spot on the screen.

When Microsoft Band 2 will be available in Singapore????

Now that they have added a configuration option to choose your preferred Asian Font, I would hope that they would start selling them in Thailand and other Asian countries soon. This option was only added a couple of weeks ago, so they might first wait for feedback from a smaller user base to make sure they get it right before going mass market in Asia. Posted from Windows Central for Windows 10

God I'd love a WhatsApp tile, with ability to reply. Also, the twitter tile doesn't work for me, I'd love to have a Tweetium tile.

Notifications are still unreliable on my band 2. It used to work flawlessly with WP8.1 but is very unreliable with WP10. Sometimes i get the notifications right away and sometimes it takes hours. And sometimes it won't notify at all even though I can see the notifications on the phone.

What I would like to see next is more support from smartwatch makers on windows, not everyone can purchase the band very hard to find, and not everyone would prefer a band over a watch, for me I hate bands i like watches on my wrist and windows phone users we have very very limited choices

Wow! Thanks for this post! I noticed the latest update mentioned this but could not figure out how to modify the settings, it would simply take me to the main tile list manager and I felt something was missing. I always forget to check the "pencil" edit button so I would have taken a long time to figure this out, thanks!

This update ruined all my notification now nothing works thanks Microsoft,,,,alot :(

Also for Band 1, dont forget

Hi, new band 2 owner just a week ago and loving it. My question is how can i get the other tiles (instagram, edge, onedrive & news) like in the pics
Windows Central Newsletter
Get the best of Windows Central in in your inbox, every day!
Thank you for signing up to Windows Central. You will receive a verification email shortly.
There was a problem. Please refresh the page and try again.