How to customize the Halo Keyboard on the Lenovo Yoga Book with Windows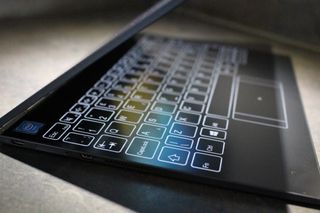 The Lenovo Yoga Book features a pretty interesting keyboard, and that's because it doesn't have one. Well, it does, but it's not a physical one. The Yoga Book is rocking a "Halo Keyboard" that lights up and can transform into a dedicated inking environment for drawing on Android or Windows, and it looks like something from the future. Lenovo offer a few customization options for the Halo Keyboard on the Windows edition of the Yoga Book, here's what you can do.
Open the Halo Keyboard settings
Click the Start Button found in the bottom left of your screen.
Type "Control Panel"
Select the Control Panel option, this will open a new window
Select Appearance and Personalization in the Control Panel window
Select the Halo Keyboard option
This will open the Halo Keyboards settings window
How to enable or disable the touch-tone
To enable, check the touch tone checkbox
To disable, uncheck the touch tone checkbox
How to enable or disable typing vibrations
To enable, tick the vibrate on keypress checkbox
To disable, untick the vibrate on keypress checkbox.
How to adjust the timeout for the Halo Keyboard light
Select the Sleep drop-down menu
Select a time from the drop-down menu
How to adjust the brightness of the Halo Keyboard
Select the slider next to the "Brightness adjustment" option

To lower the brightness, slide left on the slider
To raise the brightness, slide right on the slider
To save or discard your changes
Select OK to save changes
Select Cancel to discard changes
Windows Central Newsletter
Get the best of Windows Central in in your inbox, every day!
Zac Bowden is a Senior Editor at Windows Central. Bringing you exclusive coverage into the world of Windows on PCs, tablets, phones, and more. Also an avid collector of rare Microsoft prototype devices! Keep in touch on Twitter: @zacbowden.
Is that even comfortable to type on? o.O

Apparently yes from reviews I've read..
Think I would prefer keys though..

I'm pretty sure I wouldn't really like it compared to a good, normal keyboard. The fact that it turns into a drawing pad when the keyboard isn't lit sounds neat though.

For a touch typist, I suspect the keyboard is bad. However, I'm sure it is better than those virtual, screen based keyboards. Considered as a tablet, it should enable a superior user experience in that the keyboard is in the screen "cover", and doesn't consume a large chunk of the screen estate. As an Intel based "PC", it can also run standard Windows applications. I'm just curious as to how "slow" the x5 processor is... can it, e.g., run Adobe Lightroom for basic photo editing?

This product is somewhat of an improvement to the Touch Cover Keyboards for Surface Pro 1 and Surface RT models.

I guess yes and no, it seems to be too flat, instead of the touch cover's semi extruded keys.

Lenovo had to give a better processor with that thing. I don't know exactly, but it my lag when working with the drawing pad in photo applications like Photoshop or Corel Draw.

It must be terrible for gaming

Well this tablet is not made for gaming.
Mind blowing fact

It is terrible to cut with a fork as well. Because its jot made to cut.

It's running on a Intel Atom CPU so it's only good for some light web browsing, word/powerpoint, and maybe Bejeweled/Candy Crush type games.

Can the edge of a key be felt by our finger? If not, this makes typing little less comfortable compared to the touch cover of surface.

Sorry buddy, there's no surface difference between edge and key. This would prevent it working as a writing/drawing suface.

Can the QWERTY keyboard be switched into an AZERTY layout?

Great question, I thought also whether the keyboard can change it's layout according to language. I don't think it can though, I think it's just painted on and lights up.

Pretty sure the layout can change as that's one of the reasons to have it.

Nope, you can't. Although it may look like a fully virtual keyboard, it isn't. The keys are visible, even with the laptop turned off. So no swapping the Fn and Ctrl keys either. Which I've found a little disapoointing.

Without even touching it, I can tell you that it will be a big time reject for people who type a lot, like translators and DTP guys. Nothing can replace a good quality physical keyboard. For those who are not into heavy typing, well they dont need a keyboard. A USB keyboard fulfils the occasional need...

True, but this is not aimed at heavy productivity, it's more of a light portable, companion device.

In the U.S., I believe only Lenovo.com and Walmart carries it. I haven't managed to find any other retailers.

Pretty sure it's a sound played when you press a key. Like the fake clicking sounds on a smartphone on screen keyboard. A way to let you know that you pressed a key, since there won't be any other sound.

So the halo keyboard is a backlit surface with the keys drawn on, isn't it? Not a screen.
In any case, I wonder if they could do things like lightning up just some keys, which would be great for game shortcuts. Probably not.

You may think this is a futuristic keyboard, but if I exclude the new technology, it reminds me of a retro Atari 400 keyboard

They need to add that "Extras" section to Settings (Like on Phones), and allow devs to integrate their custom settings there, otherwise I don't see how they expect to replace CP.

Hi, i have the Lenovo Yoga Book and it is great, also the keyboard is fine. Now i have the following issues (nothing is perfect): The keyboard setting i have found here, but my keyboard, after i had played around on the device manager and updated the firmware, do not make any fibrations anymore, if i activate or not, maybe i would not like to use, but i would like to have the chance to do. At the disk manager last to was a vibration thing (two), i let it look for update, it just say is up to date. Then i deleted the driver, i thoght they will install after a reboot. But nothing, not i have two unknown devices. Someone, know how to solve the problem, to activate the driver and the vibrations again? A second trouble is the micro SD 64 GB, doenst matters how i format will not work, it is Sandisk TF. My 8GB other brand works fine, but is much to small? A third trouble is that sometimes the machine, do not want to wake up from sleep mode, specially after a longer sleep. No idea why? So when i know i do not use next longer time, i put it off! But the Yoga book is great, light weight, beauty design, runs smooth, good screen. I like it. Thanks in advance for every help with the issues!
Windows Central Newsletter
Thank you for signing up to Windows Central. You will receive a verification email shortly.
There was a problem. Please refresh the page and try again.