How to enable screen savers on Windows 10
Yes, you can still use screen savers on Windows 10, and in this guide, we show you how.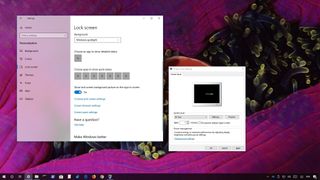 On Windows, the screen saver used to be one those features that you had to enable and configure to protect your cathode ray tube (CRT) monitor against burn-in when showing the same image for an extended period. Then LCD displays came along with new technologies that made monitors insusceptible to burn-in while offering superior image quality, turning screen savers into a thing of the past.
Although it's no longer required to use this feature, if you happen to be using a display susceptible to burn-in, such as a CTR or an older plasma display, or you want to create a different look and feel when you're not actively using your PC, you can still configure screen savers on Windows 10. You just need to know where to find the settings.
In this Windows 10 guide, we walk you through the steps to set up the old screen saver feature on your device.
How to set up screen savers on Windows 10
If you want to use the screen saver feature on Windows 10, use these steps:
Open Settings.
Click on Personalization.
Click on Lock screen.
Click the Screen saver settings link.
Under "Screen saver," use the drop-down menu, and select the screen saver you want to use.Note: Depending on the screen saver you choose, you can click the Settings button to customize different options. For example, selecting "Photos", you get options to specify the collection of pictures to show when your PC is idle. Or selecting the "3D Text" option, you can show custom text or the current time.
Using the Wait option, you can set the number of minutes of inactivity before the screen saver turns on.
You can also check the On resume, display the logon screen option to lock your device automatically when the screen saver turns on.
Click the Apply button.
Click the OK button.
Once you complete these steps, Windows 10 will activate the screen saver using the settings you specified.
Xbox One includes a similar feature that allows the console to dim the screen and act as a screen saver to prevent burn-in on OLED and other display technologies. Check this guide to learn how to configure this feature.
More Windows 10 resources
For more helpful articles, coverage, and answers to common questions about Windows 10, visit the following resources:
Windows 10 help, tips, and tricks
Windows Central Newsletter
Get the best of Windows Central in in your inbox, every day!
Mauro Huculak is technical writer for WindowsCentral.com. His primary focus is to write comprehensive how-tos to help users get the most out of Windows 10 and its many related technologies. He has an IT background with professional certifications from Microsoft, Cisco, and CompTIA, and he's a recognized member of the Microsoft MVP community.
Thanks for the tip! Also good to know that LCDs no longer are susceptible to burn-in issues.

I don't care if screens are no longer susceptible to these issues. I think screen savers are fun. It makes me mad that Microsoft isn't supporting them.

How do you mean Microsoft isn't supporting them????

A long time ago Microsoft said they were done supporting screen savers since they want users to use the lock screen instead. Look it up. https://support.microsoft.com/en-us/help/4034825/features-that-are-remov...

The reason they want people to use the lock screen is so MS can make use of it to send info to people or to have Cortana running I hate the lock screen.

You quote a list of December 12, 2017 while at this moment in time, screensavers are still part of Windows 10, even in the skip-ahead insiders ring.

You don't seem to have read the page thoroughly. They didn't remove it. It says the screen savers are deprecated. Meaning they will no longer be updated and removed in future builds.

Wait When did they ever stop supporting them?

Many months ago. They will no longer develop the feature. https://support.microsoft.com/en-us/help/4034825/features-that-are-remov...

That list is dated 12 December 2017. And guess what? Screensavers are still present in Windows 10!

There's a difference between present and supported.

Ah reminds me of yesteryears! Electric Sheep was awesome, might well reinstall it too!

flying toasters, Had that on the Amiga.

Sure, let's all waste electricity.

Windows 10 is the most popular Operating system because it adds important features compare to the others version of windows. You can change the Screen Savers in window 10 by using the Screen Saver Setting in the Personalization. For Instant Support related to the Windows 10 please visit https://www.windowstechnicalsupportnumbers.com/windows-10-technical-supp...

A long time ago Microsoft said they were done supporting screen savers since they want users to use the lock screen instead. Look it up....99logic.com

If only I could install the old After Dark screensavers. Then I could really party like it's 1999.

Running the Fliqlo Screensaver on my 75" Gaming/HTPC across the room...
Would also on my Main PC but apparently, there the Screensaver only displays on 2 of my 4 monitors which... Kinda sucks.
Windows Central Newsletter
Thank you for signing up to Windows Central. You will receive a verification email shortly.
There was a problem. Please refresh the page and try again.