How to fix Hey Cortana on the Lumia 1520 and Lumia 930 with Windows 10 Mobile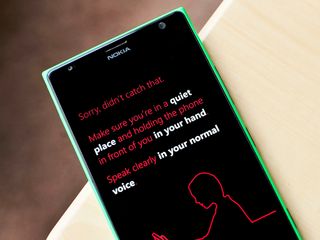 Over the last few Insider builds of Windows 10 Mobile, many users with higher spec'd phones saw the return of Hey Cortana – the hands-free, voice-activated personal assistant. However, for many users, including on our Lumia 1520 we had the feature but could not get it to recognize our voice during training.
We now have a fix in place the returns the full Hey Cortana feature to build 10586 of Windows 10 Mobile. Remember, only phones with a Snapdragon 800 and higher processor can use the feature as it is hardware dependent.
Here is how to fix Hey Cortana if the training does not recognize your voice. The solution takes no more than a few minutes.
Fix Hey Cortana on Lumia 1520 and Lumia 930
1. Settings
Go into Settings > Time & language > Language
2. Add
Use the + Add Languages function to add English (United Kingdom). Hit the checkmark at the bottom and yes to the download prompt.
3. Remove
On the main Languages page long press on English (United States) and choose Remove. Now, select the Restart phone button and let the phone reboot
4. Add Part II
For these steps, we are reversing what we did above. Use the + Add Languages function to add English (United States). Hit the checkmark at the bottom and yes to the download prompt.
5. Remove Part II
On the main Languages page long press on English (United Kingdom) and choose Remove. Now, select the Restart phone button and let the phone reboot
6. Train Cortana
Once the phone has restarted with the correct English (United States) language you can go back to Settings > Extras > Hey Cortana and begin to train Cortana again to use your voice when the display is off.
*Obviously, if you are a UK users and cannot use Hey Cortana even though you have the feature, you will need to reverse Steps 2 and 3.
Long story short, it appears the language pack with Windows 10 Mobile build 10586 is not recognized as the correct one when using Hey Cortana. All this trick does is reset the language pack and lets the OS recognize it has the right one installed. Hey Cortana and Cortana are dependent on a having the correct region, keyboard and language packs installed. If just one of those are off, it will disrupt Cortana functionality.
We did confirm this worked on our Lumia 1520, so it should work on your phone as well.
Special thanks to NOLATechy, for bringing the solution to our attention
Windows Central Newsletter
Get the best of Windows Central in in your inbox, every day!
Daniel Rubino is the Editor-in-chief of Windows Central, head reviewer, podcast co-host, and analyst. He has been covering Microsoft since 2007 when this site was called WMExperts (and later Windows Phone Central). His interests include Windows, laptops, next-gen computing, and for some reason, watches. Before all this tech stuff, he worked on a Ph.D. in linguistics, watched people sleep (for medical purposes!), and ran the projectors at movie theaters because it was fun.
Hell yeah. Been waiting on Microsoft themselves to fix this but I think this will do for now.+1520

I know this is an insider build but to me it's even worst than the previous build. When I'm in the dialer I can't even select my contacts to call who I want without it crashing. Plus I've been experiencing constant freezing. Just for information I did do a reset. (Lumia 625).

Working nicely on my Lumia 525,only few issue with wm10 tp

Nice going to try the slow ring this time on my Lumia 625

This is great...so happy its working again on my 1520... The only issue on my phone now is periodic crashing when attaching items to text messages... Or messages opening or sending really slowly...other than that.. Very happy with this build

It did work. However, you can actually use hey Cortana with all the UK language packs. Nice tut though ;)

Lol nice. Never had a problem. But thanks :)

hey cortana just shows a stretched cog and doesn't work

Thaaaaaaaaank you .. I have been trying for ever thinking there is something wrong with my 1520 ..

Hey Cortana doesn't show up for me in extras Lumia 1520... :(

Yeah same here.... It sks

Have you tried using SysApp Pusher to see if it is installed?

I downloaded and didn't see any mention of hey Cortana in there....does that mean it's not?

Mine too! Don't tell me to hard reset my phone.

Link is available in windows central itself

Ok what's the fix for Verizon icon? Have hard reset totally 3 time through the preview twice rolling back to 8.1 denim .. Have not had hey Cortana in the win 10 preview.. I upgraded from 581 to 586 then hard reset. Hey Cortana now shows under extras. Click on it and I see a very blurry gear icon then goes to a screen that says this feature is not available for your phone.. Is there a fix..

Get a cold glass of water (must be cold, electricity conducts better in the cold). Add 1 tablespoon of salt (more electrical conduction) Submerge phone while powering down five times. Leave in the cup for thirty seconds on fifth submersion. Place phone in cup of rice and microwave until dry. Hope that helps!

Thanks, worked like a charm!

Not! the 950 does not work on verizon / it wasnt me A humor tag would help.. I hope thats humor

This fix worked on my Verizon Icon. Plus I didn't need to retrain. It just worked after restart.

Hey Charles Brown8, I also have the Lumia Icon. This is the fix for the Lumia Icon as well. If you are still having problems getting this to work, you may benefit from trying this other suggestion which worked for me. I was having a lot of other issues with Windows 10 Build 10581 and 10586, so I used the Windows Device Recovery Tool to revert back to 8.1, but after it finished reverting back to 8.1, I re-ran it and reverted back to 8.1 from 8.1 again, basically overwriting it twice. Then, I let all the apps update in the store, then updated to 8.1 update 1, and updated apps from store again. Then I upgraded to Windows 10 Mobile 10586. I did not do ANY restores at any point. Not sure why this helped, but now I am running Win10 Mobile Build 10586.11 with no problems, Hey Cortana is working (with the above fix), I'm not having any battery drain issues, nor "loading" issues, etc. and my Icon is rocking Win10. I hope this helps you and others. NOLATechy

My steps offered much less work. Your choice, but the results and user reviews speak for themselves.

dam dude i thought it humor at first.. why would you want to destroy someones phone? I dont get that. You suck..

Didn't work on my 1520. Still tells me that this feature is not available for my device. (Obviously, I've had this feature before.)

Yea me too see above post lol

I have had it for at least the last two builds, but only "started her up" recently, no problems.

dude u suck, I'm sorry i replied to you to begin with.. your posts above are not humorous..

What is the matter with you cleft pallet? You know you can delete any post instead of acting like a whore who didn't get paid. Perhaps your mom took you to work too much and you learned this undesirable trait.

Doesn't work on my 930 although it did work at some time through the Insider updates. I don't see "Hey Cortana" in my Settings,

Speech input doesnt even work on my 920

Will it work in other regions where cortana is available? So far, hey cortana couldn't be activated in italy, even though I have a lumia 930 and cortana is available here.

So does this work in reverse for us Brits?

I'm sure there was something about that in the article.....but can't really be bothered reading it :)

You're cracking me up!! Did read it but missed that bit :P

Never had the issue on my Icon

Cortana and glance screen are still a problem on my 1520 , glance settings just disappear and hey Cortana is still the stretched icon, now just saving up for my 950xl

Same two problems for me on my 1520. I made a post in the forums, I was starting to think it was just me!

Glance Screen appeared when I installed the app update, missing before. I still don't have Hey Cortana, missing it badly.

Me too on my 1520.3. This fix for Hey Cortana didn't work (but maybe I'll keep fiddling with it) . Meanwhile, Motion, Motion Data, Glance do not work. Maybe it's because a 1520.3 is "special."

My 1520 also just gives me the stretched gear screen and then tells me that "this feature is not available for your phone." it used to work in my 1520 untill one of the updates and then just stopped. Sure would like to have it back. Thanks,

Hey Cortana feature returned to menu list only a few builds ago on 929/930. Then with either build 10.0.10586.11 or 572, Hey Cortana teased us with the option to Train Cortana to our voices. Fear not the Hard Reset or a WDRT wipe back to 8.1 and then a jump to 10.0.10586.11.

Lumia 930. "Hey Cortana" is not working with English (India). But works with English (UK). Any fix?

Working again using this method on my L930, thanks!

Coprtana works on my 930 on build 586.11 without doing this - Lucky :)

Thank you fort the fix, Working on Icon. Should have tried this ages ago when I first discovered the voice used for playing the sample "Hey CortanA" Sounded like ESL. Love it when after a reboot the digitizer is non responsive and requires a second reboot.

Hey Cortana doesnt even show up for me. I have the Icon, latest build.

Settings -> extras -> hey Cortana. Not there on your icon?

I didn't have it until I did Settings > Device > About > Reset (back up what you want to pc and don't restore). However, the fix didn't work for me as after switching languages back and forth, I still get blurry cog followed by not available error. May have to try recovery tool.

Try using Windows Device Recovery Tool and reverting to 8.1, but when it finished, do it a second time, basicly overwriting the drive twice. Then update all apps in the store, upgrade to Win8.1 update 1, update apps again and upgrade to Win10 latest build. DO NOT do any restores. This worked for me on all the issues I was having, and with the fix from above, I have Hey Cortana working again on my Icon. Not sure why this worked, but it def made my Icon run greate. Hope this helps. NOLATechy

Thanks. Followed your steps with the exception that I reset my phone to 8.1 only once. Although Hey Cortana isn't working in India with India centric settings in language and region but Cortana works just fine. Won't hard reset the phone after this otherwise like the last time the speech settings don't work as expected.

Is this a fix for where you try and train her and she can't hear you?

Daniel: To be doubly clear. This fix is not for those of us (1520.3?) who get the "This feature is not available on this device." Correct?

Still missing the Hey Cortana feature on my 1520, along with Glance screen settings. Any way to re-enable these features?

Glance screen came today :D but no hey cortana on my 1520 either... I think its a 1520 thing

Yeah, just got the updated versions of glance and motion data. So happy I can access those settings again. Now just need to fix the Hey Cortana issue and I'll be 100% satisfied.

This hasn't worked on my UK 930. Broken, stretched old settings for Hey Cortana eventually loads and says she's not available with my device. I also have no motion data available within the MS Health app and my battery is still terrible (half a day). If this is the "ready" version of Windows for mobile, I'm starting to have serious reservations about continuing with it. :(

The motion function on my L930 was updated today but required a reboot to take effect

Still don't have Hey Cortana in my Lumia 1520. And I have the latest built. I don't know why..m

Still not working on my Lumia 1520 India(bought in MEA). It says "To use Cortana region and speech language should match your display language." Tried changing all combinations.. Still no hopes..

The language pack for English - Canada installs English - UK. Very frustrating

I have been using Lumia 930 for last 11 months and I haven't seen the Hey Cortana feature on my phone since i have brought it. It didn't show up on 8.1 neither on build 10586. But Cortana works on my phone...dont know how.
Region: India

Same, cortana on its own works, but no hey cortana settings for me on win10 either

I tried it. It's still not working.

It works fine on my Icon. I'm still having trouble with selecting a picture for mms. I touch one and a completely different one lights up.

Not working still on my 930 :(

Lol .. This is not a fix.. It's a work around ..come on Microsoft don't you know the difference between fix and work around... Fix should make things easy... The usage should not deviate.. This is just a work around to over come the issue... Lol....

The issue is with the upgrade not the OS. A new Lumia shipping with Windows 10 Mobile does not have this problem, so this is a bug in the Insider upgrade. Regardless, the difference between "fix" and "workaround" for the average user is non-existent and you are just pedantic here for the sake of it.

As hard as we try Daniel, we can't seem to please everyone. I'm at least glad my solution was able to help a lot of others. Thanks for publishing the article.

Never had a problem on my 930 in the UK

Haha i dont even have the hey cortana settings dafuq

Thanks man, works perfect

Worked on my Lumia Icon. Thank you!

Posted the last two screenshots form the Windows Phone 8.1?

My main problem with Cortana on W10M on my Lumia Icon is that it intermittently turns itself off. No idea why but it's pretty annoying to say "hey Cortana" a few times and then having to go in and check if it's turned on. If it's not reliable it becomes fairly useless.

Passing by, nothing to see here( lumia 925 user)

Awesome, that fixed it for me and my 1520!

Hi all
This fix worked for me. I upgraded from WP 8.1 Update 2 to 10581 and the 10586. Since the update to 10581 "Hey Cortana" worked but the training did not work.
After the following the fix in this article I was able to clear the training and retrain it and it is working fine now.

Hey Cortana, for people having problems not having this feature, I had that problem too, I do not have hey cortana in the newest cortana settings page, but instead you can find it in settings: 1 configure all language to US. soft reset.
2 activate cortana directly by clicking on the icon in the apps list page
click on cortana>cortana hamburger menu>notebook>settings>cortana switch "on"
3 go to apps list > settings > in the search bar look for cortana> click on Hey cortana > you'll see the weird gear for a second and then you will be able to activate hey cortana from there. what was missing for me was that "hey cortana" was not in the cortana settings, but in the main phone setttings.


Thanks but it didnt work on my 1520.3

Didn't work on my 1520.3, so maybe 1520.3's are "special." Still says "Cortana not available on this device." But maybe this fix was to solve "training" problem only. But I really appreciate the effort.

My 1520.3 (using in US English) stopped showing the "not available on this device" as of this build or the prior build. If you're still at that stage and it's not a region limitation you may want to check your build version, fast/slow ring settings, or consider restoring. Fix on this article is for a subsequent issue where the mic disables during trying to train Cortana.

Heres a great way to enable Hey Cortana,,,keep using 8.1 until MS gets this piece of crap OS (WM10) FULLY FUNCTONAL

Hey Cortana has never worked on my Lumia 1520 :(

On a Lumia 930 with region - India and language - india. With latest updates of WP10.586.11 but i cant find Hey Cortana setting anywhere. How to fix it?? I followed the steps mentioned here with no luck. Thanks!!

A strange side affect it's that Groove music is completely bare now, adding playlists and albums back in now.

Thanks. I could train Cortana on my 1520 without the workaround, but it was a lot easier after applying your workaround.

Thanks for the tip - this worked on my Lumia Icon. Similar to NOLATechy I found that my best results did not result from loading the latest 10586 build and hard resetting. Somewhat contrary with my past experience with Windows (where loading a fresh install usually provides more stability), I found that loading the latest version of 8.1 via the Windows Device Recovery Tool and upgrading to Windows 10 via Windows Insider worked the best. Before upgrading I did ensure all the apps were updated, and I had loaded all of the updates for the system via Developer's Preview as well. Other than the missing Glance feature and Xenon flash, I don't miss my shattered 928 anymore. There are some features I still miss from 8.1 (and 8), but Windows 10 is very fluid for me and anything prior seems antiuqated - I can't go back. It even runs well on my Lumia 635, especially after I loaded the Denim firmware through the Windows Phone Image Designer (AT&T only provided Denim and GDR2 to the non-GoPhone 635).

I can confirm that it also works for UK users although reading the instructions backwards and upside down is confusing has hell. So finally I get Hey Cortana up and running again and on my phone she said "I didn't catch that" but my PC at the same time knows to remind me to get milk ;-)

I doubt it's related, but have others run into symptoms with all alarms deleting and/or Edge failing to launch, within 48 hours or so of implementing this fix? Seems like I noticed that after the first time I used Hey Cortana to set an alarm, now that's the only alarm retained. Edge just seems to have coincidentally developed an issue at same time.

I'm not having either of these issues on my Lumia Icon, so it may be related to another app or two that you have installed. Do you have any other browser apps, alarm apps or appointment/calendar apps installed?

Hi. Does anyone know what the windows 10's last build number for 1520 is? Mine was 10166. It was horrible. So I've downgraded it. And I won't be back to that build number. (Sorry for my poor English language.)

So it still won't work if I live in Germany and do not have set english as my mainlanguage right? At least the Voiceactivation say "This function is not available for your language or region right now"
Last update it said not available for you phone Waiting and hoping... waiting and hoping

Thanks for the instruction. It worked perfectly on Nokia 1520 following the instructions. I went via Language (Not Time and language) but I guess the results are same. Hey Cortana working fine now.

Just enabled on my 1520 runnin preview build 10.0.13065.29. It works great using your instructions. Thank you! I asked Cortana to call someone from my contacts by their name and it worked right away. Awesome! ;)

It doesn't work for me, Samsun Ativ Se Windows 10.010586.164

This issue exists on the official windows 10 as well not just the insider preview. I upgraded my lumia 930 to Windows 10 and "hey cortana" no longer works. Pretty slack considering this was fixed on the insider preview a while back. I have been very disapointed with the number of bugs/issues in Windows Phone 10, and was rather hoping that they would be fixed once the offcial upgrade was available, but it seems not. I recently tried out Android with a Windows Phone theme/launcher, and it was just having a Windows phone but without all the bugs.


I have Lumia Icon and build 10586.494. This fix does not work for me. Hey Cortana still not showing up under Extras. I used this all the time with 8.1, hoping for a fix soon.

Windows Central Newsletter
Thank you for signing up to Windows Central. You will receive a verification email shortly.
There was a problem. Please refresh the page and try again.