How to force the Surface Pro 4 and Surface Book to hibernate to save your battery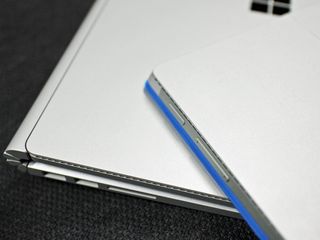 The Surface Pro 4 and Surface Book from Microsoft have a lot going for them, but new hardware does not come without new bugs. One of the biggest is the occasional inability of both devices to go into deep sleep states and stay there. Some device events can wake the Surface when in standby causing the processor to ramp up, create heat and drain the battery.
Microsoft is working on a solution reportedly aimed for early next year, and you can read the details here. Until then, here is what you can do to as a temporary workaround and what Microsoft recommends. (It should be mentioned that this tip works for the Surface Pro 3 too for users also experiencing battery drainage).
How to force Hibernate instead of Sleep
1. Power Options
In the Cortana search box type in Power Options and select the second choice listed for Control Panel
2. Function
There are two options that can be changed: 'Choose what the power buttons do' and 'Choose what closing the lid does' (they both go to the same section)
3. Change to Hibernate
Under When I close the lid instead of Sleep choose Hibernate for both Battery and Plugged In; for Surface Pro 4 owners, you can also make this change for 'When I press the power button' if you are operating the Surface without a keyboard. Make sure to hit Save Changes before exiting.
TIP: It is also recommended to change all the settings to Hibernate including When I press the power button. This will maximize battery in all scenerios.
Effect: What happens now is when you close the lid the PC will go to pure Hibernate, which is the lowest power level. You should have near 0% battery depletion, and the Surface will no longer get warm.
Also check Times
You should also make sure that your settings for 'Put the computer to sleep' are not set for Never and instead for a more reasonable time e.g. 10 minutes on battery and 20 minutes when plugged in. If set to Never when plugged in your Surface will never go into the necessary Hibernate mode by itself. Here is how to change those settings;
1. Power Options
Right-click on the battery icon and choose Power Options
2. Change
Choose Change plan settings to the right of the current Balanced power plan
3. Set time
Now choose the times you want the Surface to go into the hibernate power state. At the very least, make sure Plugged in is not set to Never.
The downside is it takes a few seconds longer when you power on the PC as it is waking from a deeper sleep state. However, with the new Skylake processors and SSD drives this is still relatively fast and is not much of a nuisance. The Surface naturally goes to Hibernate after two hours by default, so this change just makes it quicker.
Hibernate is very effective and should drain no more than 1% an hour in the most extreme case, but in theory, the device is just off and no battery drain will occur.
More resources
Not sold on either device yet? Check out our Surface Pro 4 review and our Surface Book impressions or jump into our forums.
Daniel Rubino is the Executive Editor of Windows Central, head reviewer, podcast co-host, and analyst. He has been covering Microsoft here since 2007, back when this site was called WMExperts (and later Windows Phone Central). His interests include Windows, Microsoft Surface, laptops, next-gen computing, and arguing with people on the internet.
The hibernate feature is useful not just for those who have battery drains - it is for those who have relatively good battery life, but who might be travelling, and want the computer to "sleep" without losing their place at the same time, not utilizing the battery to keep everything loaded.

Intel Driver 520 the biggest culprit for me. I'm mostly plugged in so I've have set the lid to go to seep and the power button to hibernate. So if I'll off the desk for a few minutes, it sleeps and if it's longer it hibernates. I'm not getting ANYWHERE near the 9 hour mark though, don't know where MS got that figure from.

With 50% brightness and video playback without touching anything else, mine works for more than 8.5 hours; but with hard work (typing, taking notes, reading PDFS, browsing, opening and closing apps frequently) it gives me barely more than 5.5 hours.

If those tasks are "hard work", I fear what kind of battery life I might expect running anything that touches the dGPU or requires constant read off the SSD! Perhaps the Surface line just sadly is not a feasible option for me :/. Too many flights!

Where did this information come from: "Hibernate is very effective and should drain no more than 1% an hour in the most extreme case" In Hibernate mode I would expect no more than 1% per day drain.

Since everything is still buggy I am being generous.

If i am not wrong it wont even drop that cause technically it off and the data is stored on hdd or ssd

Downside is that big chunk of hard drive is reserved for hibernation. But hey OneDrive to save the day..

Daniel! My screen freezes randomly! any solution?

I have been just running the command below from the cortana seach box when I know I am not going to be using my surface for a while and want to hibernate. shutdown -h

I like this better since I don't want it to hibernate everytime.

What if I don't want my machine to hibernate or sleep when it's plugged in? Will it still properly go into hibernate when not connected to external power as long as the battery setting is set correctly? The arcticle makes it seem as though for it to work properly you have to have both settings set identically.

You don't have to have them set identically.

I don't have an SP4 or SurfaceBook yet, just an SP3. What I notice is with every Windows upgrade (e.g. 8->8.1, 8.1->10, 10->1511), my power settings are reset and suddenly things like my network card and mouse can wake the computer. I have gotten in the habit of running powercfg.exe from an elevated command prompt to see what is allowed to wake the computer, and disable everything except the lid. e.g. c:\> powercfg /devicequery wake_armed c:\>powercfg /devicedisablewake <devicename> where <devicename> is each device I don't want to wake the computer. Often there are phantom devices enabled (like "PS/2 Compatible Mouse") that I don't have and have never had installed. BTW didn't this happen last year around Christmas with the SP3 and power issues?

I just show the surface pen. I wonder if that is keeping the radio alive.

How do I stop Windows Hello from constantly looking for me, after im already logged in??

That Cortana, she can't keep her eye off you. Maybe if you explain that her staring at you makes you uncomfortable...

This is by far my biggest issue with my Surface Pro 3. I would think one of the fixes for this would be a no brainer, one of the thing Apple got right with version 1 of the IPAD. Surface Pro 3 and 4: If the type cover is closed and not plugged into power, the device is in Sleep or Hibernate, it cannot wake up. Surface Book: If the lid is closed and not plugged into power, the device is in Sleep or Hibernate, it cannot wake up. I cannot tell you how many times I have pulled my Surface Pro 3 out of my backpack to find what was a full battery, completely dead, or find it hot and running. This one is a very basic issue and I'm surprised after 18 months Microsoft has still not fixed it.

You mean when you open type cover it doesn't wake up? I have not seen any issues starting up from hibernate. That's not normal. Regarding drain issues just use hibernate as described here and I haven't not seen any issues with that especially if you get the close lid to 'hibernate'.

So MS brought this feature to SP lines. I have SP1 (2012 made) and flipping down the Type Cover does not wake the computer. When did this feature start?

Just to clarify.... The Surface logo appears when it's resuming from Hibernate, right? Also, I'm used to pressing the power button to turn off the screen while in tablet mode (like I do on my Android phone). Does this mean I probably shouldn't enable hibernate mode with the power button, since it would be entering hibernation mode each time which would add up quickly, causing lots of unnecessary writes to the SSD) Posted via the Windows Central App for Android

When using sleep and you notice it boots up again: Go to device manager (press windows key and type device manager and it finds it) Expand 'Keyboards' and double click 'Surface Type Cover Filter Device'. Click on tab 'Power Management' and uncheck 'Allow this device to wake the computer' Expand 'Mice and other pointing devices' and double click first 'HID-compliant mouse' (if there's a 2nd check that as well). Click on tab 'Power Management' and uncheck 'Allow this device to wake the computer' But as mentioned if you assign 'Hibernate' to power button you don't need this so I'd prefer hibernate also because there's virtually no drain. You can confirm it hibernated by opening cover and pressing several keys. Keys backlight should not come on anymore (hibernate will take about 30 sec or so).

I wonder, what's the battery drain with Hybrid Sleep?

wow same problem as my surface pro, surface pro 2, surface pro 3....at some point you have to see the pattern here: the windows driver team needs to be using their own trash.

What a horrible bug...i had my surface plugged in and ready to go for a road trip, when I went to go for it it was drained to 15%
Windows Central Newsletter
Get the best of Windows Central in in your inbox, every day!
Thank you for signing up to Windows Central. You will receive a verification email shortly.
There was a problem. Please refresh the page and try again.