Unboxing the Core i7 Microsoft Surface Book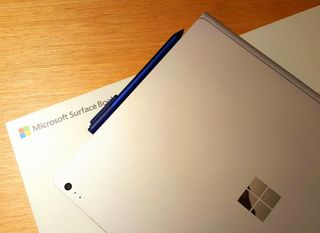 Last week we reviewed the Surface Pro 4 in-depth. Unfortunately, we were not given a Surface Book review due to limited quantities. We know you folks demand more from us so what else to do but buy one on day one at a Microsoft Store?
Luckily, we were able to walk into the New York City flagship location around 3PM and still pick up the hard-to-find Core i7 version with 512 GB of storage and a nice heaping 16 GB of RAM. Plus, yeah, it has that nifty Nvidia GPU on board too. Cost before tax? $2,699.99. Yowza!
We roll hard.
Although we plan on reviewing this impressive hardware next week, for now we'll do a quick unboxing and hands-on of the latest Surface. Have you pre-orderd? Still deciding which Surface to get? Sound off in comments and let us know what you think!
Order the Surface Book from $1499 at Microsoft (opens in new tab)
Swipe to scroll horizontally
Category
Specification
Display
13.5-inch Pixel Sense display
Contrast Ratio: 1800:1
Display Resolution
3000 x 2000 at 267ppi
Aspect Ratio: 3:2
Software
Windows 10 Pro
Processor
6th Gen Intel Core i7 dual-core
Storage
512GB Solid State Drive (SSD)
Memory
16GB RAM
Graphics
NVIDIA GeForce custom graphics (GPU)
Rear Camera
8MP with autofocus, 1080P recording
Front Camera
5MP
Full HD (1920 x 1080)
Windows Hello face-authentication
Speakers
Front-facing stereo speakers with Dolby audio
Ports
Two full-size USB 3.0, Full-size SD card reader, Surface Connect, Headset jack, Mini DisplayPort
Sensors
Sensors, Ambient light sensor, Accelerometer, Gyroscope, Magnetometer
Security
TPM chip for enterprise security
Battery Life
12 hours of use
Pen
Surface Pen
1,024 levels of pressure sensitivity
Magnetic storage
Power Supply
36W power supply with USB chargin port
65W power supply with USB charging power (discrete GPU SKU)
Weight
1.6lbs (tablet)
3.48lbs (full)
Dimensions
Laptop: 9.14 x 12.30 x 0.51- 0.90 in ( 232.1 x 312.3 x 13 -22.8 mm)
Clipboard: 8.67 x 12.30 x 0.30 in (220.2 x 312.3 x 7.7 mm)
Windows Central Newsletter
Get the best of Windows Central in in your inbox, every day!
Daniel Rubino is the Editor-in-chief of Windows Central, head reviewer, podcast co-host, and analyst. He has been covering Microsoft since 2007 when this site was called WMExperts (and later Windows Phone Central). His interests include Windows, laptops, next-gen computing, and for some reason, watches. Before all this tech stuff, he worked on a Ph.D. in linguistics, watched people sleep (for medical purposes!), and ran the projectors at movie theaters because it was fun.
36W power supply? Damn that thing is efficient! :p

36W without a discrete GPU. 65W with. Still, quite efficient for the power and punch it has.

I don't understand why they have power supply so low. I have a laptop manufactured in 2013 and it came with a 90W power supply. Heck some of my friends have 130W (and all these laptops are the average enterprise / multimedia laptops)

@RohanRonQM, the power supply is smaller because this uses less power. A smaller power supply is evidence of a superior system, as long as it's big enough that it doesn't overheat or burn out powering its associated computer.

Ok I understand. What I am curious about is my brothers laptop (bought a few months ago) takes about 3 hours to charge with the 45W power supply but when he uses my 90W power supply it takes his laptop only 30 minutes. I can agree with power efficiency and the newer motherboards/ CPUs needing less power, but I suspect that manufacturers are shipping smaller power supplies to increase profits / save money?

Mmmm, no. Its just more efficient design. I guess if you want to look at it that way I can't tell you no, but it's not that its 'less material=less cost' and ultimately more profit, because it does cost money to design and research such a design. Its not a cheap knockoff that its made to maximize profit. It's just not.

It's like when you charge your phone with a more powerfull charger. The amps are higher, ence the lower charging times. There's a downside, though: the battery takes a hit

A number of things affect the power supply and charge times, but the main three are Battery size, CPU power efficiency, and screen size/efficiency. If the battery is a 9000 mah battery it will take longer to charge than a 7000 mah battery if both computers have the same CPU/GPU/screen and power supply. Newer CPUs have tech built in to make them more power efficient giving more extra power to charge the battery. So if a CPU/GPU/screen requires a total of 45 watts and a power supply is only 65 watts, the battery won't charge as fast as a CPU/GPU/screen requiring only 25 watts. Because it has an extra 40 watts to give to the battery. Big bright screens, touch screens, HD, IPS screens, non led backlit screens can suck a lot of power. It's an inedible feet that Microsoft can get such great battery life considering the power going into its screen for touch, pressure, hello, brightness. Battery tech is also changed to where batteries can charge faster if given enough power. Older battery tech can only handle a trickle charge regardless the power supply. So why the big supply? To power the CPU/GPU during heavy load and charge the battery and USB peripherals. Posted via the Windows Central App for Android

i would pay 10USD just to SMELL the box of it

i will pay 50 dollars plus shipping charge for the box. I will build a glass box with candle sticks around it. Daniel can you ship the box to me?

thats called a sniff test.... Reference: Froknowsphoto

Give me the $10 + gratuity and I'll let you smell my SB box. I'll even give you a WC fan/follower discount.

i have things you can smell for free!

You guys didn't get the review unit, but Gizmodo, hater of all Microsoft did?

Probably Microsoft knows Windows Central was more likely to just go ahead and splurge money on this while others probably wouldn't.

Yeah better to try to bribe the enemies ;)

Precisely ;) They know they don't need to convince Windows Central of these devices. They have to convince the publications that are likely to outright desmiss them. So the logical thing to do is send those the devices quicker.

But also, people who want to buy this computer are here, not there... The fastest it comes here the more microsft gets traffic and sales....

To be fair, I don´t see how MS would have given WPC a review unit this powerful. Just a thought!

Exactly, MS wasn't giving out the top spec Surface Book to be reviewed to anyone. Everyone probably got the midrange i5 model. But since WC is awesome, they delivered what no one else can and the one model I wanted to hear about. Posted via the Windows Central App for Android

Readership numbers are probably a big factor too. Posted via the Windows Central App for Android

..kudos Microsoft.....iphone killer Is next.

Oh you just missed it, Microsoft already released the Lumia 950 and 950 XL! Haha.

Those phones, as good as they are, are not gonna kill anything

I don't know you could probably hit someone over the head with them. If someone tried to swallow one that probably wouldn't work. Maybe the navigation will make someone drive off a cliff or into the middle of a gang war. Maybe the phone won't work in an emergency. I think there's plenty of opportunities for these phones to kill something.

It would kill a burglar trying to rob my house if i threw it at his head.

"It would kill a burglar trying to rob my house if i threw it at his head." I'm pretty sure I could do that with my Lumia 920. I saw this at my secret weapon. Just take it in my hand with the corner out, and try to hit his face. Luckily, I never have to try it that way.

Microsoft/nokia already built the iphone killer, it's the Lumia 520. Just that they never marketed it correctly.

So true. They have never stood up and marketed Nokie/Microsoft phones.

The killed Nokia. Or at least they're designed by the same people who engineered the biggest fail in technology history. I'll wait for Microsoft designed Surface Phone - maybe May.

I've said it better... The surface killed the iPad and all the little creepy Android tablets

Nope because they not available worldwide but iPad did

The surface did not kill anything. The ipad and those creeepy little Android tablets are very much alive and kicking!!!

For now... unlike the surface they're declining YoY

With windows os no way ios is popular for a reason. Posted via the Windows Central App for Android

And this, children, is why we use commas.

So they did have them at the 5th ave store. Between the crowds and having to get back to work I didn't have time to see if they had them for sale. Hopefully they'll have them tomorrow but I doubt it. The 6 week shipping window will be the death of me.

Best Buy seems to have them. I ordered a 256 GB I7 late last night. Free shipping gets it here on 11/2. Stupidly I couldn't wait and paid extra to have it for the weekend.

Tried getting one in Boston at MSFT Store, but employees were beyond bored and not even remotely interesting in selling them. Waited for a while, left because nobody was interested in selling. Microsoft retail stores suck so much compared to Apple. Hell, they make Best Buy look very professional.

The Boston store is really bad...

hmm, ive had good luck there

Couldn't be worse than the one at the Eaton's Centre, downtown Toronto. No stock of anything, and their display units are broken or missing.

Try yorkdale mall or square one... Way cool... Good experience for me.

If that's true it's horrible, I've only been to the phyisical store once but it was a "magical" experience. I had multiple people helping me out depending on what I was asking about and ended up buying a few extra things just because it was so pleasant I wanted to buy more stuff (Santa Monica). On the other hand, I pre-ordered from Best Buy online and got a text this morning saying my order was delayed, then got an email with a November 20th ship date (to which I screamed WTF!) then checked the site a couple of times during the day and it eventually said my order had been shipped and was waiting for UPS pickup.... ALL OVER THE PLACE but one place it isn't is in my hands on launch day....

Interesting that I went to the Burbank, CA Best Buy just to look at the Surface Book and Surface Pro 4. I used the Book for about 10 min. and no one so much as asked me if I had any questions. I didn't have any, but it would have been nice if they acted as if they wanted to actually sell something. How else do they make money? My original Surface Pro is more than 2 years old and I want a new computer. Surface Book or a nice Ultra Book from Samsung or Lenovo are all in the running. One more note of appreciation for Daniel Rubino. Very nice, informative, well thought out videos. Looking forward to a full review.

Yeah, best buy stinks. They don't have any Windows phones in stores either, only online. Their other laptops come with bloatware while the ones at MS store don't.

I went up to the Dell Experience dept......if the XPS had a flip / yoga hinge on it, it would be my laptop of choice.....that infinity display is gorgeous, and the chassis seems rock solid. It can be had for a half the price of the Surface Book. I just wish the Surface Book was actually the Surface Pro 4 with a rigid keyboard base, the SB is lacking in tablet mode without a kickstand.

If the XPS had a Yoga-like hinge i'm sure it would no longer be half the price of the Surface Book.

I have had better luck at the burlington mall store

I'll go to Burlington tomorrow or Natick, just a shame that a store in Boston would have such horrible service.

Microsoft Stores all across Canada are way more awesome than Bestbuy/Futureshop and Apple stores

Microsoft store in Denver has a great sales force, and managers willing to help and get involved when needed.

do you buy stuff by how much the seller is interested in selling it? thats a weird tactic. hey i am really intereted in selling my car, seems that your luck is striking this day sir.

No, but I'm not going to run around flagging down a sales guy, than convincing them to sell me a laptop. This also shows you a bigger problem. If Microsoft Store employees are bored beyond belief to sell their own products such as Surface Book or Surface Pro, imagine how interested they will be to sell a phone. No wonder sales are down.

Your logic is flawed. I would purchase a similar product elsewhere if customer service is bad.

Did you actually approach anyone or did you wait for them to speak to you? Personally I prefer sales people to leave me alone until I WANT to speak with them.

1) it really does annoy me that WC couldn't get a review unit. Ridiculous. 2) i lol'ed at "we roll hard". Love me some dry humour. 3) Excellent unboxing. Including the windows hello sign in was awesome, these small details really set WC apart from the pack.

I see someone else appreciated the "We roll hard" joke!

Daniel, you advised the i5 xps over the i7 due to battery life. Is the same true here?

Yes, i5 has a longer battery life.

So with the i5 XPS it is mostly due to the display that saves the battery. All things being equal, the core i7 and i5 should get the same battery life unless you're running them bother at 100% peak usage indefinitely. Even the Core m3 does not get better battery - in theory - on the SP4 without a fan. But with the Dells the difference between driving a full HD display vs QHD+ is rather big for battery usage.

Actually, the m3 would get better life. Its power rating is 4.5 W, versus 15 W on the low-end for the i5 and i7 options (not sure which versions of those chips Surface devices use). 3 times the power consumption and 2-3 times the clock speed on the i5/i7 options, versus the m3, means the m3 iteration will draw less power. Theoretically, things could run at similar wattages for similar workloads, but the m3 seems to carry a greater level efficiency, and it can probably downclock much better than the i-series stuff. If the battery life weren't better, I don't think Intel would bother offering the m3, given they have an i3 as well.

is your avatar showing that exact moment?

How do i apply at Windows Central for a job Dan? I am soo envious that you guys get to take a crack at all of thes amazing devices, all in the name of reviewing them and sharing your opinion. I always get jealous anytime I see one of these unboxing videos, lol.

To work at Windows Central, you must have enough money and dedication to go to a Microsoft Store grand opening and purchase a $3,000 laptop on Day One without question from your own pocket.

That's something I'd be willing to do, just for the record, lol.

why not go do it then :S i dont understand.

Pretty sure mobile nations foots the bill .

Pretty sure even Daniel didn't poney up the money from his own pockets, unless this is his own personal device. Usually when a reviewer uses "we" that means company money :)

This would be highly dependent on how much Windows Central pays. No?

Well that's probably not a good reason they give you a job. Maybe you should have said something about how you're gonna help them

Picked mine up this morning, I was able to use my company discount for 10% off if you can believe it. 1889.09 for the I7/256gb version...score!!!!

I played with one of these at my local store... I love the keyboard. I always hate laptop keyboards. I definitely know what laptop I'm getting next!

I so jelly right now... Looking forward to the review.

Omg...! This is the ultimate nerdgasm, geekgasm, etc I wish I could have one... :/ (but to have this in my country probably cost like 3500 USD with shipping, import plus taxes). And I have to say that you guys should be the first ones to get one from Microsoft to make the review, I mean, it's ridiculous that you work so hard in "all things Microsoft" and they just sent this units to sites like engadget and the verge!!! I mean, WTFF!

THIS!! Why would MS not support this site

Eliminate the backlit key issue by turning the back lighting OFF. It's like night and day. Turn it on when your in the dark.

I don't know if I would've preferred black keys. No I like the silver.

I would prefer if it was red light on black keys, that HP Star Wars laptop is epic give me a Surface Book with that finish any day!

And pay the low, low price of $14,000!

Or learn to type without looking. Blank keys on my desktop keyboard is one of the best choices I've ever made. Posted via the Windows Central App for Android

Well, then the lit up keys is sort of pointless, isn't it.

They'd be good at night when you can't see the lettering very well and your fingers can't find the anchors.

True. And I love lit up keys, don't get me wrong. They look so pretty. And they're nice for typing passwords in the dark, because nothing is more annoying than trying to remember all the special symbols on the number row in the dark with no letters for passwords. Since you have no idea which one you got wrong. But for general writing, like essays and emails and coding, it's so nice and fast not to bother looking down.
For learning to type, sort of necessary though. Posted via the Windows Central App for Android

This. I don't understand the complaints about the keys being hard to see. Anyone paying to buy THIS laptop should be able to type without looking at the keyboard.

This response reminds me of Apple's solution of showing people the correct way to hold their iphones.

Great coverage of the opening and now the unboxing. Thanks for your efforts to spread the word around surface book and microsoft stuff in general. Much appreciated. Feel bad for you that you have to buy a unit to make a review. Microsoft should refund you your money and let you keep the unit. For all the things you do for them, almost for free, I'd say they owe you a lot. Thanks again and looking forward to your full review.

Daniel would more than likely purchase one anyways. Microsoft would never do this as review units are usually returned to them anyways.

Awesome. Just out of curiosity, Surface Book, Surface Pro 4 Type Keyboard, Surface Dock, Blue Surface Pen... how much did WC spend today? :D

You can do the math. Over $3,000.

Dan can always sell the unit to iFixit for a tear down after his review of course!

No wonder you didn't review the surface book yet.

Love Windows Central unboxing and reviews. You people pay attention to details of the device while filming and show it in a great light. And great job on buying it on day one. And lucky ones too. Thumbs up.

First time ever that I had a device in hands before Dan could do an unboxing. Thank you, Microsoft! :)
This device simply rocks! Can't wait to show it off at work tomorrow.

The i7, 16GB, 512GB unit. The same Daniel unboxed.

That's awesome, but yikes, dropping nearly 3k on first Gen hardware.

You share my thinking. I can understand why Dan / WC did it but for most of the normal (or not) consumers i can't. After Surface RT gen 1, i promise I'll never do it again.

Edit: forgot to mention, updating is important from moment of first login, it will bring windows hello.... Received mine today (i7/512/16) from Microsoft pre-ordering and I LOVE it. I totally agree with your trackpad remarks in the video. It feels so smooth and precise. Need to play with it a lot more to make a final judgement but for now it feels just GREAT, smooth, fast and ready for the future :).

Looks great. Thanks, Dan.

Question. Do you know how much battery you have on each part of the SurfaceBook? (I mean, when you deatach it shows how much just the Clipboard has?). When you are charging, it charges the Clipboard part first and then the Base part? When you plug the Clipboard to the Base, it will be charged by the Base?

Yeah it shows just what the Clipboard has when it's detached. I'm not sure about the charging but I imagine it charges the base first since that's where the main power outlet is.

Also you can charge the clipboard separately via the connector to keyboard. Good when using clipboard for a longer time. In essence, if you have 2 chargers ( i.e. SP3 charger + SB charger) you can charge both keyboard batt and clipboard batt simultaneously thus faster charging time.

Charging is shared between batteries, you'll see two batteries connected when both are docked. I'm seeing 9 hours on the low end after a day of playing around with higher everyday usage, but nothing too taxing. Up around 11-14 depending on brightness/backlit settings. Tablet mode seems to get anywhere from 2.5-3.5 by itself. It also drains from both batteries evenly unfortunately, so there's no chance of disengaging while the base charges elsewhere for a few hours.

Sliver backlit keys are actually more legible if you turn the backlight completely off -- ran into the same issue on a Dell laptop that had them. The lighting made the key characters blend in with the silver surface, at least that doesn't happen when they're not lit. A shade somewhere between silver and dark gray would be better.

Daniel if you take a look at the connector edge of the CLipboard you'll see the power port in the middle. its the same as the regular Surface power/docking port and you can charge the Clipboard by itself with the Surface Book/Pro3&4 charger

You did spend a lot of $!

Just picked up my surface book i7 with only 8 gb of ram. It was kind of cool, Danny Woodhead of the San Diego Chargers was there promoting Halo 5. I also got a free surface shirt and a case as well from the store! The Book really isn an amazing product it just feels so well thought out and high end.

Has no one else considered that the reason there is a gap near the hinge is because the fan for the base unit is at the back end of the keyboard and it would make sense to have the base unit breathe when the screen is laying flat in tablet mode?

I doubt the base has a fan...Where in the intake for this fan?! All the holes are around the screen with fan(s) inside.

The base does have an opening towards the back of the keyboard though, so the thought that the gap might help to let heat from the GPU get out of the base when the screen is put into tablet mode makes sense.

Passive convection cooling is possible for the base with the gaps around the keyboard keys as air intake...and/or conduction cooling via thermal liguid cooling pad at the bottom of the base similar to SP4

Well that's another reason of the gap, but they can put the vents at the bottom so still its not the biggest factor. I think the biggest factor here why the gap is there is because of the keyboard, which many people almost get it but there is another big thing why. Its because the base is already thin enough to have similar key travel with that keyboard. That is why the keyboard isn't sinked in the base just like any other laptops out there, its exposed and chiclet keys they used isn't slim. So because of that, the gap is necessary so the screen won't touch the keyboard. There is a solution they can do to eliminate the gap, by making the keys slimmer and sink it on the base rather than expose it, use similar tech as Type Cover but that sacrifice from traditional laptop keyboards. Still doable but not an easy solution. Also I think its also the Fulcrum Hinge which is not as flexible enought at the moment. Lastly the gap have actually a great use when used as a Drawing Mode, the angle makes it more ergonomic when laying flat on the table.

Dan, please don't forget to publish the SSD Atto bench when you review the unit. Thanks

I couldn't help myself. This and the giddyness I felt inside the 5th avenue store made me cancel my 512GB order and order the 1TB model. I really need some self control.

I think it is a welcome bonus that the keyboard does not touch the screen because of "the gap". I have owned several laptops in the past that keyboards have marked up and even created a permanent etched line on the screen.

This. It's either that or put bumpers on the edges of the screen

Is the battery on the Surface Pen replaceable? If so, what kind of battery does it take?

Yes. It has a AAAA battery inside that lasts for a year.. :)

They were buying the surface books in baybrook mall like hot cakes....i even met a Mac user that purchased the surface book and was getting rid of his MacBook.

Well that's what I'll be doing with a surface pro 4. But my Mac is 5.5 years old, do might not count Posted via the Windows Central App for Android

So...Yeah I need one of those. Not going to happen, but damn it's sexy.

Excellent review, Dan! That is one BEAUTIFUL device. As soon as you opened that box, my eyes sparkled, even the packaging is beautiful. The Surface Book is definitely a top-notch game-changer design. I can't wait to get one of these bad boys.

From experience, fans are always quiet on the first day... The logo fits perfectly, so shiny... Fcuk the fruit!

i am actually pissed off with microsoft. the way they treat you guys is not acceptable. you guys are the biggest base and news source for windows enthusiasts and you should be amongst the first getting the review units. the verge of all people got their review unit before you guys. that is insane, their surface pro 4 review guy dint even know what to do with it and docked points for that. Daniel i remember you telling us that you guys buy mst of the products that you review with your own money. so i just want to put it out there that we really appreciate all the stuff you guys do for us

Agreed! That is quite a bill to foot (and in general) but you all do so much for us, and you're (all of you) are awesome for it.

I think you guys should tone down the love and hate a bit.

Sincerely hope that Mobile Nations pays you well enough.

WTF Daniel?! Do you not live in London haha? XD

I was expecting 1440p, but overall, I love this device, well played Microsoft.

My i7/256/8gb/dGPU is a disaster, major driver issues and flickering even after the firmware updates. Pretty heartbroken

???
Maybe a defective unit???

a lot of people are saying there is firmware and driver issues.

Have you enabled HyperV? Seems to cause problems, according to another article here on windows Central. If you don't know what hyper V is, then you probably haven't enabled it, since it's disabled by default and you need to install a VM (or visual studio) for it to be useful. Posted via the Windows Central App for Android

I have the exact same model and I'm slowly building up towards processes which will engage the dGPU further. So far however, I've only had limited issues. All items that will get addressed by more firmware updates over time and are not stopping me from loving it right now.

Don't cry check for updates get them and restart your computer after installation. if that does no good send it back fora replacement or if a MS store is near take it back for replacement or get your cash back. microsoft's exec says the orders are coming in faster than they can make them. there are bond to be assembly line screw ups in a situation like this.

I purchased 2 sp4's today and those thing are sweet and this new keyboard are great along with the tracks pads. I still want a surface book but I got $400 for each of my surface pro 3's for a total of $800 off of the SP4's.

Looking at the comments here, it's clear we all want to ensure MS reserve a review unit for WC in the future. We can start helping by sharing the link of WC Youtube videos to increase their view counts.

@daniel is there any chance you get bored and want to sell? I'd like to bid though :D

Got my i7/512/16GB/dGPU this morning via FedEx. Dock arived later via UPS. Pretty sweet machine...

Can we get more specs on that GPU?

It reportedly is a custom Nvidia GeForce 950M, more or less same specs than a Nvidia GeForce 860M which comes on 2015 early gaming laptops.

US only?????????????????????????

The fingerprint thing (forgot what it is called) is US only, not the Surface Book to my knowledge.

Microsoft is weird, thurrot got twondevices and they didn't give dan one. :S I thought windows central is way more preferable than thurrotts messy website. I don't get them.

Keep your friends close and your enemies closer?

Outrageous to see hater websites like the verge, gizmodo etc getting review units but not windowscentral which is the largest windows enthusiast website.

Awesome - can't wait for the review - thanks guys

"We know you folks demand more from us". This is a false reason :-P you guys bought it because you cannot resist surface book :-P

Can you choose what surface pen colour you get?

For now, silver comes with either the pro or the book and you need to buy another color separately as extra. Posted via the Windows Central App for Android

Are the specs of the nvidia gpu somewhere? Or do we have to wait for the review

W O W.... Microsoft N.1 !!!! Panos is the man, f#### genius !!!!!

Waiting for mine to ship overseas from amazon

Will you guys be reviewing the i7 surface pro 4 when it comes out next month?

Really wanna see how it stacks up in the battery life and graphics departments.

If I can get that answer and it happens to be a class 1 GPU, then I will pull the trigger on this device.

That was pretty amazing, Daniel, does mobile nations finance ur purchases or u spend from ur own wallet for such an expensive device like this???

Really bang bang from Microsoft

Best unboxing of a Microsoft product ever. Great job guys, for 1 second I thought this was an Apple device, but to be honest this is a MacBook Pro 15" Retina display + iPad Pro killer device in 1.

Simple Q. Has anyone actually received their Surface Book yet? (any flavor) I pre-ordered with a "Ship by October 26th" guaranteed..... still nothing. Not even a shipping date. I called MS and the rep said. "I really have no idea when it will actually ship"... Just want to know if anyone ordered, and actually received one. Thanks

Registered, book marked the site and downloaded the app just off the strength of this article. Can't wait for the proper review! Please share your thoughts as well for those in the surface pro 4 camp, why this might be a better choice instead. Cheers

It's going to come down to how much you need a tablet versus how much you need a laptop. For all the similarities between them, there is a clear and well defined line right there. If you need more than 2-3 hours of regular use out of the tablet portion, you're getting a Pro. If you need the superior laptop experience (keyboard, trackpad, processing) and the tablet part is a bonus, you're getting a Book.

Why do I torture myself by watching things like this?

I really want to know what GPU its using, I know its custom but how many cuda cores are in it?

When you test the dock, check how many monitors you can conect to itj with both the SFP4 and SFB. 3x 2560x1440 should be ok if you daisy chaine one, but nice if you test it. Also interesting to hear how the fans behaves with external monitors conected.

2x 1920x1080 monitors w/ the Surface as the 3rd monitor all work when daisy chained out of the miniDP. I don't have any higher resolutions to test with.

amazeballs. Im eyeing this one real bad

The Surface book unattached looks heavy to hold. I imagine it won't be comfortable for say sketching while standing, holding it with one arm.

Can you let us know what GPU is installed? I cant find the models anywhere. Is it the same GPU in all of the models?

Hey Dan
Can you share your wallpaper, which is on your surface book review ?

a smaller version would be aweeeeeeeeeeeeeeeeeesome

Beautiful device but overpowered and overpriced for most people. Only people using CAD or Professional video or photo editing software need this much horsepower. Even then, there are cheaper options. I don't say that to sound mean, this is a gorgeous device and who wouldn't want one?, but I'm worried that Microsoft is going the Apple route in selling overpriced hardware. This thing costs way more than the sum of it's parts. One of the great things about pc's vs mac's is that pc's have always been affordable for everyone, whereas mac's were always price for the elite. It's sad to see Microsoft doing the same. And also, Windows Central is probably the most dedicated Windows site out there yet Microsoft couldn't bother to get you a review unit - talk about a slap in the face. That's seriously disappointing and shows you they have absolutely no regard for this site and all your efforts to fly the Microsoft flag, even in the face of years of crap phones. All the abuse and scepticism you've probably had to endure from people on the internet, as well as from colleagues at Android Central and iMore because you still supported Windows Phone when everyone was saying its dead in the water, and this is the thanks you get from Microsoft.... But kudos to you for buying on for us to see man!! Thank you Dan. Just be sure to take it back for a refund within the return window. That might teach them a lesson.

I've been wanting to see it just for the sake of curiosity. I like that Microsoft is finally finding its path, that seems like a very good one. Kudos!
Windows Central Newsletter
Thank you for signing up to Windows Central. You will receive a verification email shortly.
There was a problem. Please refresh the page and try again.