How to get the new Windows 10 Skype app without joining the Insider Program Fast Ring
Here's how to quickly get the all-new Skype app for Windows 10.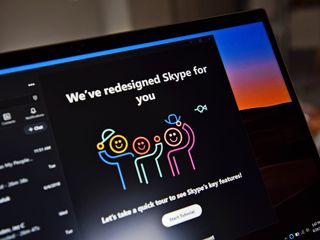 (Image credit: Windows Central)
The Skype team is at it again, with another attempt at making Skype a great experience on Windows 10. The app has been rewritten using React Native and Microsoft's Universal Windows Platform (UWP).
You can read more about the new Skype app, what's new, and some behind the scenes info here, but if you want the app now and are not a fan of early "Redstone 5" Windows Insider Program builds, here is how to get it officially.
Join the Skype Preview Program to get the app
Microsoft has individual preview programs for many of its apps, including Skype. Users can opt-in to the preview program and download the latest version even if they're not a Windows Insider or on Redstone 5 (which is currently how most users are getting it).
Update: Turns out, you must at least be a part of "Release Preview" for the Insider Program, which is just new apps and drivers but never touches the OS.
Signing up for the program is super easy, as it just a click of a button. Here is what you need to do:
Open the Skype UWP app on your Windows 10 PC.
Open Settings in the app.
Scroll down to Skype App Preview.
Push Join preview.
Agree to the terms and select Join now.
Hit Ok on the dialog screen.
Go to the Microsoft Store and check for app updates.
The latest version of Skype Preview should download.
On one of our PCs, our app jumped to version 12.x, which is not the latest re-built version. However, when we checked the Microsoft Store for app updates again we immediately saw version 14.25.22.0, which is the one you want. (The current public release that this replaces is 8.25.76.22).
While you usually can leave the Skype Preview Program within the app, so far we have not found a way to do so in this version. Uninstalling it will not revert to the older public release, either. While the app is working well for us, there are some missing features, especially in the My People hub. But for the most part, it should be OK across Windows 10 PCs and laptops, including Windows 10 on ARM.
Let us know what you think about the new app in comments, and don't forget to report bugs and share feedback with the official Feedback Hub (linked in the app's settings) to help improve things.
Thanks, reportered, for the tip!
Windows Central Newsletter
Get the best of Windows Central in in your inbox, every day!
Daniel Rubino is the Editor-in-chief of Windows Central, head reviewer, podcast co-host, and analyst. He has been covering Microsoft since 2007 when this site was called WMExperts (and later Windows Phone Central). His interests include Windows, laptops, next-gen computing, and for some reason, watches. Before all this tech stuff, he worked on a Ph.D. in linguistics, watched people sleep (for medical purposes!), and ran the projectors at movie theaters because it was fun.
So is it available for W10M as well?

Windows 10 Mobile will not get the update as it has reached End of Life (EOL)

Wrong 👎 it's not EOL yet.
Right 👉 it's not getting this update but because W10M is not a part of the insider program.

Currently on build 1803 and am unable to see this "Join preview" button in the settings. Checked for update in the Microsoft Store but still nothing. Also deleted and reinstalled Skype, still nothing.

Agreed. Nothing is showing for me. I wonder if this only works for people who have joined the program on another device or something.

Huh, I wonder...must be because I'm on Release Preview. I'll add that. Release Preview is super safe. You just get UWP apps early, Surface firmware a week ahead, and preview apps like this...the OS is never touched except right before the public release of a new Redstone branch. Zero reason to not join RP.

I'm currently on Release Preview and don't have the Skype "join preview" button either. Maybe it's only available to some?

Damn. Yeah, maybe. Yeesh, or maybe it's because I'm on the Skype beta for Android? This is getting...complicated.

I'm not on Release Preview and had the Join Preview Button, and have just updated to v14...

Well, that's Skype in a nutshell. Not knowing whether they are coming or going. Have they resolved the petty office politics or is that still ongoing?
Personally to me it looks like it is as they are so disjointed, nothing is on message let alone following design guidelines (fluent design) .

To make it even more complicated...I was able to do this on my PC, but not my Surface Pro 3. The option simply isn't there on the Surface.

i'm not on Release Preview, just followed steps and i'm on the new Skype!

I'm not on release preview and I have it. Production 1803.

I just noticed this web post ,followed instructions and I'm on the new skype,I'm not on Release Preview,on 1803

To slow for me, really.
I have a Surface Book 2, and i don't know why this new skype is a lot slower.

Slower to use or slower to launch initially? I can see the first part but seems fine when just using the app. I'm even using it on ARM.

I think it was slower on launch. But on the message it self was a lot better. Just hope for fluent design now and keep improving on speed :)
Thanks for answering, Dan. Awesome info on WC.

that's normale when an app switch from native to stupid js frameworks running in a browser

Any idea if it fixes the old problem in which messages are not delivered? Is it overall more reliable? Have you tried Share screen / System Audio? Noticed any difference in performance or stability? I'd assume we won't see reliability improvements before all users in a conversation are running the same version.

Damn it, I just switched. I'm not going back. It's really a lot better. For starters, I don't think it takes longer to boot up. Quite the opposite, in my experience. Image quality on video calls has increased A LOT. My contact, who didn't know I had switched, told me right in the beginning how crispier it was. He sent me a screenshot and it really is, with no changes to connection, camera, lighting or anything else. My contacts and I were having problems with video delay as high as 5 seconds after the voice. It's too early to tell, but it might be fixed. Everything is faster than the previous UWP which was on v12 if I'm not wrong. The only exception is that animations are still a bit broken or there are no animations on some places where you'd expect. All messages were quickly delivered to contacts I'd had problems with before. Video calls are awesome, you can fluently drag participants to expand or minimize their video to a tray. You can even expand your own video to full screen and see how it looks. Sharing my profile link to join a conversation, which never worked before, is now fully functional. It used to be a button, which never pasted anything to the clipboard. It's now a text link, always there, which you can select and manually copy. Audio and video settings look more polished. Screen and system audio sharing too, but I haven't tested them enough. Silly, but the classic call tone got a much needed remake. The only problem I noticed so far is that I can't see my contact on the ongoing call pop-up window when I minimise Skype. I just get my contact's profile picture.

That sounds alot better actually, the thing that impacts me personally the most is the presence controls everything else I can tolerate. What I won't tolerate is the short sightedness of developers affecting people's personal lives. The amount of issues the removal of granular presence controls has caused is insane. I know alot of people who have stopped using Skype because of it - after all why would they need skype if they can video call through whatsapp and fb messenger? The granular presence controls is what stopped them from moving but now Skype no longer has any USP at all.

I have no idea what you mean by presence controls.

The status colouring, away is yellow, busy is red etc. No other IM client has that (The Skype team call these "presence controls", I suggest using the Win32 client so you can familiarise yourself with them). Windows Live messenger had that along with games you could play with other people. The benefit of WLM was that it tied into Rooms in Windows Phone 8.x as it use the same backend. The current implementation of presence controls means if I set myself as away or busy on the desktop app it shows me as offline in the UWP / mobile apps unless I open the app then I'm shown as online. Here is a real world example: So if your in a relationship and your GF signs in, you say hello with the desktop app - it makes it look like you were appearing offline (as she's using the mobile app) and sort of waiting on her to get online which can be interpreted by people as being "clingy or needy". Happens once, it's passable but if it happens on a regular basis then well it puts a massive dampner on your relationship. Also if you don't message her when she's online and wait for an "offline message" it gives the impression you're ignoring her or not too plussed/don't care. You see the problem? On the business side of things it makes you look extremely unprofessional. As Skype for business on WM10 is more disgusting than rotting tripe left out for several years.

I am on Envy X2 (Arm) and I am not seeing it yet.

Since it's following the ios and android apps I'm guessing we still have the limited presence controls?

Honestly had high hopes when MS bought Skype. I'm finding it diffucult to find people still uisng skype and use cases for myself. It is really going to take a lot of effort to get their user base back again.

Agree. It's one thing for readers here to get the new stuff, but it takes (at least) 2 to tango and many others have moved on from Skype.

Any idea if this update stops Satay from diddling liddle uns?

it appears to have removed the sms sync which is really all I use it for so I can sms from my pc through my phone. although it worked poorly it did work and was very useful. I'm not seeing it in the settings anywhere but perhaps i'm missing it...

It now looks like I need to pay to send an SMS message on my desktop via Skype. Previously SMS was sent by Bluetooth connection to my Win 10 phone, this no longer appears to work. As MS Messenger no longer has this function desktop messaging has disappeared, a step backwards.

I'm on build 1803 and got the preview. It's even in local language. New UI is not impressive. I'm trying to hold on with Skype, but they are doing everything they can to make me run from it.

Camera not working on Lenovo Yoga 2 Pro Laptop. It was working perfectly before the upgrade to Skype Preview version. And now cannot opt out of the Preview program either. :(
Windows Central Newsletter
Thank you for signing up to Windows Central. You will receive a verification email shortly.
There was a problem. Please refresh the page and try again.