How to get Tentacles: Enter the Mind for Windows Phone right now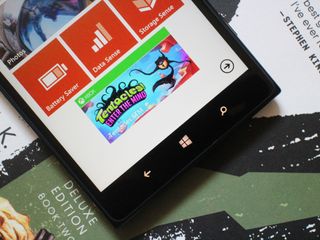 Tentacles: Enter the Mind was released for Windows Phone. Like the Windows 8.1 release, it's limited to specific regions until wider availability coincides with an official launch. On Windows Phone you can grab Tentacles: Enter the Mind by switching up your region to Denmark.
Did you watch the trailer above? Now you're itching to play the game on your Windows Phone. Just switch your region to Denmark, restart the phone and you'll be able to install Tentacles: Enter the Mind. Here's that sentence in bullet form for you skimmers:
Go to settings
Scroll to and tap region
Change country/region to Denmark
Tap 'restart phone' in region setting after selecting Denmark
Download Tentacles: Enter the Mind
Change region back to your original location
That's it. A few taps and a few minutes and you can enjoy Microsoft's latest Windows Phone game with Xbox support. Tentacles: Enter the Mind is a free game for Windows Phone with optional in-app purchases. There is 512 MB support available as well!
What about Cortana , it'll. Be gone .....

after you download the game go back to US/UK or whatever you were using...

I breath then I smile, thanks dude!

Joe, is that you buddy ? :O
you're welcome :)

//after you download the game go back to US/UK or whatever you were using...// I read it as U SUK.. lol..

I'll wait for the official launch am also waiting Cortana on Europe for official

I can't wait for Cortana on Colombia XD I want to hear her say "Pues" or "Parcero" XD

Jajajaj pides demasiado, me la imagino diciendo: Que mas ve?

Jajajaja, y te contesta si le dices "Chimba!".

XD desde que no se enoje y diga más de ahí... noooooo es mejor en inglés... parecería una novia... no una suegra!
-Yo: Cortana indicame como llegar a Cinermak.
-Cortana: Eso mijo, otra vez allá, estas pillao...

Jajajajaja, con un fuerte acento colombiano, como de mamá enojada! Estaría buenísimo! Jajaja. En vez de Jen Taylor, Sofía Vergara, con la entonación a lo "Modern Family"! O_O

jajajaja.... pero eso no será... quizas una app Indie que imite a Cortana, como:
Natatalia Paris Voice Asistant v.0.1.0.0 download for free!

jajajajajajajajajajajajaja

Ok, esta conversación me desconcentró, de hecho siento raro estar escribiendo en español aquí en WPC. LOL

De vez en cuando un poco de spanish no hace daño, jajaja.

That's right, then let's leave this to one side and keep on Tentacles before get banned! ¬¬

Lol. Roger! Time to play by the rules. The game is pretty good I just install it, it's my new favorite (after Chickens Can't Fly).

Right now Manuganu 2 is my favorite, I actually bought it.

Yes it's really interesting, I hope to keep my eyes in before eating all creatures' eyes! But, I think unless this app gets officially launched on US, there`s no posibility to be completely connected to Xbox, because it says offline but signed in as: Me!

Yup, it's the only downside. But the game has a certain charm, maybe because of the cel shaded cartoon look.

You're right!
It's like to be inside of my designer-crazy mind!
uhmmp, my head, my head!

Hahaha already downloading

I always wanted to go to Denmark.

We need Cortana in Germany!

This is not a post about Cortana.

Who asked you to be an ass hole?

They're not being an asshole. They're just stating out the obvious. :|

It doesnt run on my lumia 1520, device not compatible. Running WP 8.1 Update 1

How to get Verizon to release 8.1???

By posting in the forums and not on a completed unrelated article.

Storming their HQ and demanding they release it or you will release an army of flesh-eating unicorns on them. It has a 89% of success anyway

And how to get AT&T to allow Qi wireless charging! LOL!

By wearing superman underwear

But if I change my region after installing, I can keep using Tentacles?

ok intalled. Excuse me I must enjoy this tittle!

Of course. I immediately played it after changing back to US region. Still on my way home, though. I'll continue with it once I get home. :D

Anyone problems with achievements?
When one my profile, there is one added, but when I make them sync it says trouble connecting to Xbox stuff..?

Denmark. You obviously didn't read the article.

What region? I didnt read this comment...

Pancakes or Waffles? Totally unrelated to this article...

Does this not contravene some MS rule?

No, of course. We are and will be still loyal to them.

Yeah don't do it. MS banned a ton of people about a year ago for switching to different regions to get content that was not available in their own or cheaper. People were doing it for years before MS started banning for it, so the "We've been doing it forever and haven't been banned" argument doesn't work.

Do it. Don't give in to this mindless evil. You know you want the game so you will have it. Do not be subjected to these fiendish enemies that are warning you not to. Do it. Let it flow within you.

But I think MS knows how loyal we are. We change our region just for... know... how interesting could be our device in other regions, that's all!
Mine on Denmark is great, here I can play Tentacles: Enter the Mind

Indonesia, too. Time to change region.

Sincerely, I liked first Tentacles more.

Thats what every Japanese girl says. Initially.

I SO agree with you!!!!!!!!!

I can't download, not to my región :'(

The solution to your issue is contained within the article above. Strangely enough you had to click on it to get to this comment section.

Read the article you idiot.

"Not very impressive" if you can't read an article explaining "how to..."

Awesome game, great graphics!

Oh really? I thought it would take them like forever to release it for WP..

I did this for another game, and ever since then my Microsoft account has been hokey for billing:/

The problem with switching region on Windows Phone is that afterwards if you want to download the app again in a couple of months you'll have to switch your region again or you'll get an error message. It's like that for all the apps I've installed while testing the US Cortana. It's a pain.

Just did the Denmark trick here in the U.S. Everything seems normal... and I played the game smoothly on my AT&T 1520.
Was wondering though, isn't this supposed to be a "universal app"? I guess I shouldn't be surprised not to see it in the windows store on my Surface 2 (RT) yet, especially since it's "limited release" status... eh?

I know a website where you can get songs for 0.02¢. The only thing is that they are in Russian.

Shame this app doesnt have Denmark as an option :/ http://forums.wpcentral.com/developer-spotlight/249152-change-your-count...

Very much like the game, nice graphics, smooth flow, and cloud sync!

Ha! I had a problem with updating ProShot but while I was in"Denmark" I was finally able to update that app.

While playing on NL925 it gets so hot that you can fry the eggs on it LOL

Did not like this one.. biggest WP disappointment next to my still not having Cyan on my ATT Lumia 1020 - in Mid August. MS made this game completely up to date; better graphics, soft, white and pink colors, cuteness abounding and nifty 3D play.. and in my opinion destroyed the soul of the original game. The harsh colors and lines and shockingly gross shapes made the game FUN. The 2D increased my empathy for the little disease thing I was controlling. Now the game has a cute, sterile feel to it and I have uninstalled it. Too bad too - I can't remember how many hours I spent on the original game and I was really looking forward to this. And MS is really being rotten about this. Rovio lets you choose between ALL Angry Birds games. MS could have updated the original for WP8 months ago.But no - you HAVE to get the new version or nothing at all! Jerks.. Keep this in mind before downloading - sometimes newer isn't better, sometimes newer is simply.. newer. FAIL

My 520 (running 8.1 update1) now won't change region. Same with language and time. After resetting it keeps everything the same eg still in UK. Anyone else have this?

Couldn't it be that Cortana forgets what she has learned if I switch region?

Hi everyone. I am Thomas from Press Play, working on this game. The game is only out in Denmark at the moment to test that everything works as expected and is set up properly so you all can get the best experience. We will launch world wide soon, so be patient. The Windows 8 version will also go worldwide alongside the WP edition so you can enjoy playing with the same save game across devices and platforms. Keep an eye out for updates on Facebook (https://www.facebook.com/pressplaygames) or Twitter (https://twitter.com/pressplay_games). Thanks for your patience and support!

About Cortana: After I switched region, Cortana's tile disappeared from the start screen...I installed this game and switched region back to united states... Cortana's tile was back, and she remembered all of my staff :-)

Game with tremendous potential on Windows devices (lets hope it will stay a windows exclusive) if developers continue to optimize it more and more to run faster and become even smoother + adding new features and levels with frequent update.We haven't seen a AAA quality mobile phone game like this since 2013 when rovio begun to port angry birds series on WP8!
P.S The most important thing is that MS continue to support Xbox branding on WP with top quality games like this so XBOX is still alive on WP.Hopefully something has begun to move in the game department of WP!

I got the game, but when I change back to my region (argentina), the sound was gone. Someone is experiencing the same issue?
Windows Central Newsletter
Thank you for signing up to Windows Central. You will receive a verification email shortly.
There was a problem. Please refresh the page and try again.