How Insiders can stop receiving new builds after Windows 10 launches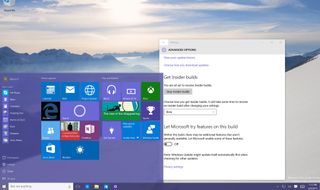 On July 29, 2015, Microsoft will finally ship the desktop version of Windows 10 for PCs, tablets, and laptops. However, this doesn't mean that the work will be over; it's just the beginning. The new version of the operating system is the start of "Windows as a Service". That means there will be ongoing updates with security patches and new features as soon as they become available, instead of big releases like previous version of Windows.
Also, the Windows Insider program will continue to exist, and new builds will become available on a regular basis.
So, here is the thing. As soon Microsoft releases the final version of Windows 10, chances are that many Windows Insiders will want to stay parked for a while on the stable build. Non-public beta releases will keep on coming, but they will continue to include a few bugs here and there. For this reason, the software maker is adding a new functionality inside the advanced options of Windows Update to give the control to Insiders on how to continue to get new builds.
Follow the steps below
Starting on Windows 10 build 10134 and later, users can launch the Settings app, and navigate to Update & security, Windows Update, and inside Advanced options, click the Stop Insider builds under "Get Insider builds".
Please note that at the time of the writing, there is an additional dialog box that will pop up indicating that you will need to follow a few extra steps to opt your device out of the Insider builds. However, it's likely that this behavior will change once Windows 10 launches on July 29, to only clicking the single button stop to receiving new builds.
Trying new features
Also, there is a new advanced option in Windows Update called Let Microsoft try features on this build. As the title implies, it will allow users to download and test new features that are under heavy development and are not quite ready for the public (refer to the previous image). It's also worth pointing out that enabling the option will not guarantee that all users will get the same new features currently on development. That is because Microsoft will also be doing A/B testing to see how everything works.
Ultimately, you can always leave the Windows Insider program by visiting this support page, sign-in with your Microsoft account, and clicking the "Leave the Windows Insider Program" link. Also, keep in mind that leaving the program will only remove your account as a Windows Insider, it doesn't automatically restore your computer back to Windows 10 or previous versions of the operating system.
If your computer has a newer version than the public release of Windows 10, you may have to roll back using the installation media that came with your device. Alternatively you could use the ISO file from the current stable version of the OS.
After Windows 10 launches in July, will you continue in the Windows Insider program? Or you are planning to opt out in favor of a stable version, instead of getting new features faster, but with more bugs? Don't forget to let us know in the comments below.
Windows Central Newsletter
Get the best of Windows Central in in your inbox, every day!
Mauro Huculak is technical writer for WindowsCentral.com. His primary focus is to write comprehensive how-tos to help users get the most out of Windows 10 and its many related technologies. He has an IT background with professional certifications from Microsoft, Cisco, and CompTIA, and he's a recognized member of the Microsoft MVP community.
Actually i did not expect that there will be builds, after THE final build is out. i though the rest will be done in updates and thats it.... at least thats what i understood from this whole windows 10 is the last windows thing.

That's what I thought too from other readings...

"i though the rest will be done in updates and thats it...."
I though that the updates will need insiders to test. It's really better to have more people testing your software like their doing now. But let's wait :)

Updates are builds. A build is just a version of a piece of software. And you can expect that updates after the official release will continue to get the same magnitude of changes that insider builds have been getting.

of course it is, but moving between builds is almost as equivilant as moving from xp to 7. i mean its a complete new system each time, not patches.

I wonder what advantage there is installing a new build over just using Windows update. I much prefer the WUpdate model and don't care to try out the in-development stuff after the official release, so I'll turn off builds.

We all know normally after it goes gold on msdn/vl this is usually the time they use to fine tune for consumers

They said that Windows Insider Preview will continue since there will be no any windows again.

"Updates" are new builds that are officially released to the public!

Release early = forever beta test... Think Windows Vista take 2...

Will continue without a shadow of doubt!

Hi. Is Windows spotlight the lock screen feature region locked? Have any of you installed it?

It have been on for a while. You enable it under Settings / Personalisation / Lock screen: Background. For now though, I only get questions if I like or dislike the current lock screen background image.

Wont leave, at least desktop

So more reboots, normally after each update. I presume we as users after all win10 is made with us in mind will allow monthly updates.

I'm glad to get new update after the final build as long as it does not take me ages to install like previous builds.

I'll continue... Windows for life :D

I have 2 partitions for just this

If I " Leave the windows Insider Program "..
Will it effect on Phone too..
Because I use Same Account for Both
Pc and Mobile ..?

I will likely just change it to slow ring so I can see any new changes prior to an official rollout. I would assume the slow ring would have builds that MS has tested throughly and feels is ready for public release. Give Slow ring users 1-2 weeks to try out the build for as a last line of defense.

Will I be able to turn receiving insider builds, if I turned it off?

I'll definitely be staying on. It's more fun testing out new stuff.

I'm addicted to receive new updates so I can't quit the insider program.

Hmm, the problem is that that button is disabled ....

Maybe it'll be enabled on the stable build and at the moment it's just a placeholder, I dunno...

Can we have one machine on test 'insider' and another 'production' machine for the public 'stabilized' release?

Yep, even if same MS account linked to both. Just choose the appropriate settings for each device. Just make sure you turn off settings sync to avoid getting preview builds where you wanted stable, which would be the only limitation I could think of

I'll continue, provided it isn't a new build every week or two. If the builds come too often I may just put myself in the slow ring.

I'll probably be on the slow ring when Windows 10 RTMs, so it's not too buggy but I still get to test and give feedback about new features and changes. Currently I'm on the fast ring whilst the stable version of Windows 10 is being finished off.

That's exactly my point, been an insider since Windows 95 - yup, a really old timer. Thanks

I will, I have it installed on another drive, I probably won't use it all that much though... but it'll be there

Hope the Insider Preview only gets the normal updates a non insider would get instead of preview builds after enabling this option.

What happens is that the insider preview will be pushed to the RTM version, then you can decide whehter to remain on insider preview or just stay on stable.

But if you opt put will you have a full license for windows 10? and will you end up with the home or pro version?

I'll try dual booting.... One stable and other for insider preview

That's my plan too, however I was hoping some articles would have surfaced by now in regards to the analytics being used in Windows 10. They currently incredibly invasive and understandably so as it is preview so they want to see how people use it so they can optimise it. However for the public release, they will really need to tone it down otherwise they will have another mess (akin the x1 launch fiasco) on there hands.

What invasive analytics exactly?

"The purpose of the Program is to ... provide Microsoft with feedback and detailed usage data about all activities occurring on those devices so that Microsoft and its partners can improve their products and services." "your name, email address, preferences and interests; browsing, search and file history; phone call and SMS data; device configuration and sensor data; and application usage." http://www.theregister.co.uk/2014/10/07/windows_10_data_collection/

you do realize that these "invasive" analytics are called the Customer Experience Improvement Program, and that it's been in Windows for nearly 10 years now?

@wunderbar Well yeah I'm aware of that, but I guess I'll have to spell it out for you :P. They need to expressly state in the TOS when you install the o/s and not bear it in some paragraph under some vague heading. I can understand they would need certain data if one was to link their Microsoft account - that should be expressly stated, whereas if one was using a "local account" and had signed just into the store for apps then Microsoft doesn't the "other" information, just the information for billing and app usage (otherwise how would their app spot light work). In addition to this not everyone signs up to the "Customer Experience Improvement Program". However with Windows 10 preview it goes much deeper than what is "indicated" in the Customer Experience Improvement Program. Never the less as the insider programme will continue, such analytics are no longer required in the the public or commercial release.

Hmm, what about the analytics? Are they going to tone down it from incredibly invasive to Windows 8.x / 7 levels in the public release?

Will likely continue, but will switch to slow ring

My PC says it cannot be restored because it's missing system files and I should insert my installation media... Could that be solved through the update to windows 10?

If you install from an ISO.

I for sure will continue in the program.

What about win 10 for phones Microsoft? Please bring the opt-out feature to the wp10TP insider at the same time.

I think I'll just swich to slow ring, but it'l come down to if they change the pace of updates within the rings....

Wish they could get a better build on windows phone. The 10080 is a piece of crap, can't even class it as an alpha code. Most apps will not even start.

All in good time, my friend...

I'll probably have the Insider builds in a VM or spare conputer like I do now, but on my main computers I'll stick with the regular versions. I don't want the feeling of using a half-baked product all the time. ​

This is a really smooth transition.

Windows central must create a poll for this!

Interesting.... I think my best course of action here is to install Windows 10 to get the free code, then from there, opt in to updates after a few more stable builds have come out. I'm still using 8.1 just to keep up that, but then once 10 comes in July, I'll be doing a fresh install. :)

Want to be a part of windows insider program forever......

Sorry for the slight-offtopic but trying to counter a MS-hater in another blog: 1) can you turn off automatic OS and app updates in Windows 10 (for PCs) 2) same questio for Windows 10 Mobile? He is claiming W10 will always push updates and the user cannot decline. Sounds like BS and the screen shot in this story seems to indicate you can control updates, but since I am not suing previews of either W10 version, thought to shoot a question here.

Yes I will continue in the program

Why would anybody stop being an Insider???

I might stay in it but switch to the slow ring rather than the fast ring!

I'm still on build 10047 ... Because I'm thiking to install the final release leter ... So please hlp me about how can I'll go directly to the final version form the build10047

at least i will keep windows 10 as i would not get free up grade as only got xp paid ver.

As I have what I consider an odd computer (XPS 27 touch), and where I use my RT tablet so much, I'll keep it on the insider in hopes of making sure things will work with my computer. Since I will be gone for work for weeks on end, I am thinking about upgrading my mother's computer to Win 10 preview slow ring while I am home. Then Win 10 will land while I am gone, and when I get home I'll turn it off. Or I'll just leave it on 7 and upgrade it when I get home.

I plan on using my laptop as the testing device after Windows 10 launches and use my desktop to run the stable ones. When I get a secondary Windows Phone, I will use the old one to partake in the Insider Preview for Mobile. But for now, just Windows 10 Home/Pro device testing after release :)
Windows Central Newsletter
Thank you for signing up to Windows Central. You will receive a verification email shortly.
There was a problem. Please refresh the page and try again.