How to join the Windows Insider Program
Here are the steps to quickly enroll your PC in the Windows Insider Program to get all the latest builds for the next version of Windows 10.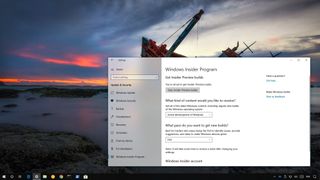 The Windows Insider Program has been designed to allow developers and enthusiasts to get early access to upcoming features and improvements to provide feedback to help shape the future of Windows 10.
The program includes three levels of readiness known as "rings," including Fast, Slow, and Release Preview. Usually, the Fast ring is the readiness level you want to use when planning to test new features as soon as they're ready (roughly every two weeks). However, preview builds available in this ring are known to include significant bugs and problems.
On the other hand, the Slow ring also offers early access to the latest features, but with previews that are less risky. The only caveat using this readiness level is that builds are not available as frequent as in the Fast ring.
The Release Preview is the third ring designed to get only the latest fixes, drivers, and apps, but because every new version of Windows 10 has to pass through every ring, as soon as a new release is complete and stable, it'll also be available in this ring. Typically, pre-releases will be available in this ring several days before the final version becomes available to the public.
In this Windows 10 guide, we'll walk you through the steps to join the Windows Insider Program to test upcoming features and improvements. Also, we even show you the steps to opt-out of the program.
How to join the Windows Insider Program
The process to join your device in the Windows Insider Program is simple, follow these steps:
Warning: This is a friendly reminder that during an upgrade things can always go wrong. It's recommended to make a full backup of your PC before making significant changes to your installation in case you need to rollback.
Open Settings.
Click on Update & security.
Click on Windows Insider program.
Click the Get started button.
Click the Link an account option.
Select your Microsoft account, and click the Continue button.
On the "What kind of content would you like to receive?" page, use the drop-down menu, and select one of the following:

Just fixes, apps, and drivers: Enrolls your device in the Release preview ring without getting preview builds. However, pre-releases will be available in this ring as soon as the new version is considered complete.
Active development of Windows: (Recommended) Enrolls your device in the program to get preview builds regularly depending on the pace you want to receive them. (See step No. 9.)
Click the Confirm button.
On the "What pace do you want to receive preview builds?" page, use the drop-down menu, and select:

Slow: Gets preview builds with the latest features and changes with minimal risks of coming across bugs and significant problems.
Fast: (Recommended) Gets preview builds with the latest features and changes but using these updates you're likely to come across bugs, errors, features may not work, and other issues.
Click the Confirm button.
Click the Confirm button again to agree to the terms.
Click the Restart Now button.
Once you've completed the steps, your device will be enrolled in the Windows Insider Program, and it'll start receiving preview builds as soon as they become available depending on the cadence you have selected.
After joining the program, new builds will download and install automatically, but you can always go to Settings > Update & Security > Windows Update, and click the Check for Updates button to force the download, just note that it could take up to 24 hours before you can start downloading builds.
How to opt-out of the Windows Insider Program
If you no longer want to participate in the Windows Insider Program, you can unenroll your device using the following steps:
Open Settings.
Click on Update & Security.
Click on Windows Insider Program.
Click the Stop Insider Preview builds button.
Select the option that you want to use to opt-out of the program:

Roll me back to the latest Windows release: Opens the Settings app on the Recovery page to use the rollback option to go back to the previous version. However, this option is only available within the first ten days you installed the first test preview of Windows 10.
Keep giving me builds until the next Windows release: (Recommended) This is the option to gracefully opt-out of the program without having to reinstall Windows 10. You'll continue to receive test previews but until the new version becomes available. Once the final version releases, it'll download and install automatically, and then your device will no longer download pre-releases of Windows 10.
Click the Confirm button.
After completing the steps, you'll no longer be able to test upcoming features, but your device will be back to the most stable release.
If you're looking to opt-out of the program immediately, and the option to rollback isn't available in the Settings app, you can either use the full backup that you created before joining the Windows Insider Program to restore your device. Or you can wipe out your computer's hard drive and start fresh with a clean installation with the latest public release of Windows 10.
More Windows 10 resources
For more helpful articles, coverage, and answers to common questions about Windows 10, visit the following resources:
Windows 10 help, tips, and tricks
Windows Central Newsletter
Get the best of Windows Central in in your inbox, every day!
Mauro Huculak is technical writer for WindowsCentral.com. His primary focus is to write comprehensive how-tos to help users get the most out of Windows 10 and its many related technologies. He has an IT background with professional certifications from Microsoft, Cisco, and CompTIA, and he's a recognized member of the Microsoft MVP community.
Is it risky to use your standard MS account for insider builds, been thinking of this for a while. I'm not keen of creating another account, since I got my services already,(xbox gold, office365)

No risk at all using your standard MS account. Installing an Insider release affects only that one device you enroll, nothing else.

Hi Daniel, I'm on the build 14372 slow ring, and this build works great for me. How l can stop reviving me build because I'm afraid to something going wrong. In this new build is changed stop new build, it want to back me to earlier good build, but I want to stay on 1

If you are afraid of something going wrong dont enroll into the insider program.

I have had a generally good time with my fast mobile builds. Current one is very good, but I'm on single SIM, so be aware that your mileage may vary. Edge seems to improve each build.

Ummm.. I've managed to miss the way rings are configured with anniversary update and it seems, for some reason, I'm not on fast ring anymore. Tried binging for instructions but found nothing relevant. So how do I change rings now? (I'm on 14372)

Settings > Update & Security > Windows Insider Program > Choose your Insider level

*facepalm*
Thanks! Apparently I'm also blind for not noticing... Time for bed =)

So a release preview ring will be added soon?? O.o . Only fast and slow options.

Will I keep all my files (on PC and mobile)?

if you back it up on one drive for phone but on pc its by default unless you go back to an earlier build

Removed post for being sarcastic and silly.

lol, oh man, almost took that seriously until I figured out you forgot the /s at the end.

Yeah sorry my apologies Daniel for even posting that on your article won't happen again. And yeah I forgot the /s

For some reason I'm not able to install W10M (Fast ring) from WP8.1 (8.10.14234.375) on my Lumia 920 anymore.. Anyone know why??? I have enrolled, the device restart but when I search for updates it says there is not update

Give it some time. I have one computer (XPS 15) that gets the updates but only like days later for some reason, no idea why that is.

If it still doesn't work after a day, try the release preview ring, i'm not entirely sure that the 920 works on the latest fast ring builds. Release preview ring will at least get you into W10M and then try swapping rings from there.

Win10M is not released for that device. And while it did recieve insider builds to begin with, it was cut from the Win10M branch.

I think L920 needs the registry hack for the Insider builds...

It looks like he did install the build on Lumia 620, and I own one. Will it be stable for this model?

Is the Anniversary update coming to insiders on RP and PR also are only for FR and SR.And if RP and PR what would be the new features.

A week ago I setup my PC to get insider builds, but still there is no update. When I try to access ISOs download page there is a message: "To access this page, you need to be a member of the Windows Insider program". I click on Learn more and than insider.windows.com opens with message: "Welcome back Insider". I have insider preview on my Lumia, also I receive app updates for fast ring on my PC, like new Store. Anyone with same problem?

That's because Microsoft ain't releasing them as iso,s all the time anymore there made available via windows update now or via the windows media creation tool as an iso but that's once a blue moon.

Still not available via Windows Update. I receive only app updates for insiders.

Once you start on the Slow or Fast ring, is there a way to back out and return to the production release?

Maybe after the first build you download, but not after the second build you download and install for sure.

Ok, so I was having problems with the Slow ring so I reverted back to Windows 8.1 however when I enrolled again and checked for updates I was told that I had the latest updates, despite being in the fast ring now! I am in the UK if that is needed, please can someone help as I am stuck on windows 8.1!

Can't install on my L620. Plz help Posted via the Windows Central App for Android

WoW
After a very long time I see the"Download App" button in the WP8 version WC app
Thanks Daniel for that, your mind is awesome Btw, I use the WP8 version cuz of offline list feature. I really love it

Guys i need help, can i change from release preview to fast ring? If so how would i do that?

To move from the Slow Ring to the Fast Ring, on the Start Menu click Settings, then select Update & Recovery -->Windows Update -->Advanced Options. Scroll down to the section titled "Choose how preview builds are installed" and select "Fast" if you want to move to the Fast Ring.

I don't see the option for the Preview under windows update, advance settings. Is there some other requirment than the user being a Microsoft account? Maybe must be an admin user type or something?

Does this really apply to Windows Mobile?
Windows Central Newsletter
Thank you for signing up to Windows Central. You will receive a verification email shortly.
There was a problem. Please refresh the page and try again.