How Microsoft's Immersive Reader tackles Dyslexia head on — and wins
Dyslexia is a language-based learning disability that makes reading, interpreting words, letters, and other symbols difficult. See how Microsoft is helping those who suffer from it.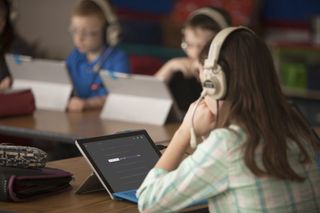 Image Credit: Microsoft
Dyslexia affects five to 10-percent of the world's population with more than an estimated one in five children affected in the U.S. Dyslexia does not affect intelligence. Renowned physicist Albert Einstein had dyslexia. Pop culture also addressed the stigma of Dyslexia when fictional character Theo Huxtable from the popular 80's sitcom The Cosby Show was diagnosed with the condition.
Dyslexia impacts men and women equally and is found among all demographics and across all social-economic levels. It has a more profound impact, however, in low social-economic communities resulting in higher reading failure rates due to insufficient support. Many school districts don't have the resources or (in my experience as a special education advocate) prefer not to tackle Dyslexia due to the cost of supporting students if the disability is acknowledged.
Microsoft's Immersive Reader, which is incorporated in Microsoft's products and services and found on other platforms, gives school systems and parents the support they need for students with dyslexia without the costs traditional methods would incur.
What is Immersive Reader?
Microsoft's Principal Product Manager for Education, Mike Tholfsen is passionate about education and embraces Microsoft's inclusive design ethos. He believes products should be designed from conception forward with all users in mind, not provided with tacked-on solutions to serve an initially neglected demographic.
Immersive Reader was born from a 2015 Microsoft hackathon project that focused on bringing a dyslexia-focused extension to OneNote. It has since been interwoven into the online, universal, Mac, iPad and desktop versions of OneNote, the online, desktop, Mac, iPad and iPhone versions of Word and the online and desktop versions of Outlook.
Today, Microsoft Learning Tools and Immersive Reader are being used by more than 13 million people around the globe, a substantial increase on the 100,000 just last year. It is being used in over 40 languages and has been embraced by eager teachers and students.
Immersive Reader has improved reader fluency, boosted readers confidence and provided text-decoding solutions for people with dyslexia. It has also improved the skills of readers who don't have the challenges students with Dyslexia or other attention disabilities face.
Microsoft's Immersive Reader advocates for parents
Microsoft Principal Product Manager for Education, Mike Tholfsen, Right Image Credit: Microsoft
Every year millions of students with dyslexia have needs that are not directly addressed as cash-strapped school systems create accommodation plans that show that they're doing "something" while not doing exactly what is needed for the student. More appropriate and costly supports, like an Orton Gillingham tutor (trained to help students with Dyslexia) and other methods are often bypassed ultimately resulting in schools failing to give these students a free and appropriate education (FAPE).
Many parents, after leaving a Planning and Team Meeting (PPT) where support for their child are discussed with teachers and school administrators, feel powerless when unyielding administrators don't provide the tools their child needs.
Microsoft with Immersive Reader plays the role of an advocate, or mediator, between families and schools by providing a cost-effective solution that is also effective in addressing the needs of students with Dyslexia.
With Immersive Reader everyone wins
The profound impact of the intersection of technology and life that Immersive Reader has on students, families and school systems cannot be overstated. It's a solution where all parties, to some extent, win.
By being integrated into a range of Microsoft and cross-platform tools school districts can, without incurring additional costs, use it seamlessly with solutions they may already be using. Parent's can support their child easily at home with the same tools. And students with learning challenges can use the same tools their peers are using, but with integrated support, without enduring the stigma of using a tool that makes them stand out in class.
Immersive Reader immerses everyone involved in the process of teaching young people of all levels not only how to read, but to love reading. The millions of readers around the world that this tool has impacted testify to this fact.
Related
Get the Windows Central Newsletter
All the latest news, reviews, and guides for Windows and Xbox diehards.
Jason L Ward is a columnist at Windows Central. He provides unique big picture analysis of the complex world of Microsoft. Jason takes the small clues and gives you an insightful big picture perspective through storytelling that you won't find *anywhere* else. Seriously, this dude thinks outside the box. Follow him on Twitter at @JLTechWord. He's doing the "write" thing!