How Microsoft's Africa Fellowships shape the way it develops Windows 10
You may wonder why you should care about small programs like Microsoft's #Insiders4Good Fellowships. The answer is simple: they're changing the way Microsoft develops all its products.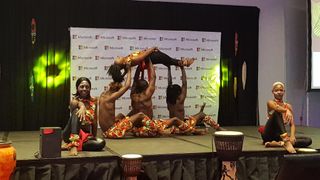 Today, Microsoft held the graduation ceremony for its Windows #Insiders4Good East Africa Fellowship program. The graduation of the 18 Fellows comes after months of guidance and support from Microsoft to help them build and develop businesses in their communities.
There's no denying that the Fellowship programs – this was the second, after the Nigeria Fellowship in 2016 – are small-scale for a corporation of Microsoft's size. But these programs are having a much wider impact at Microsoft, and they're directly influencing changes in the way it develops products for its two billion customers worldwide.
It would be easy to dismiss the Fellowship as little more than Microsoft trying to win points for its charitable works. But Windows Insider Program Architect Jeremiah Marble told Windows Central this week that the reality is quite different.
"The Fellowship is not a philanthropic activity," he said. "This is us learning how to better engage with the next five billion customers. We're actively looking for ways to build for them, but that's also helping us to improve the product for those already using it."
Marble and his colleague, Windows Insider Program chief Dona Sarkar, both say that their experiences working on the Fellowship have taught them a great deal in this regard.
Related: Microsoft's #Insiders4Good Fellowship sparks genuine excitement for the future
Battery life is life
Both Marble and Sarkar often tell the story of how, during the Nigeria Fellowship, they were working with a bunch of Fellows at an office in Lagos when the power suddenly dropped out. Such blackouts are common there, much more so than in the U.S. Both Sarkar and Marble were taken by surprise by the blackout, but all of the Fellows simply ignored it and carried on working as best they could.
They went on to experience multiple blackouts, sometimes lasting for hours at a time, and observed how the Nigerians worked through the inconvenience. It quickly became clear that the only way for them to stay productive was with plenty of battery life.
"People were telling us, and we were seeing, how much they relied on their devices," Sarkar told Windows Central this week. "Battery life is life."
That also obviously applies to users in more developed markets, but Sarkar said witnessing the dependence of users in Africa on their mobile devices was a powerful motivator to see what Microsoft could do in this area. As a result, better battery life in Windows 10 has become a top priority – in fact, Microsoft delivered major improvements in that regard with the Creators Update last year, followed by new battery life optimization tools in the Fall Creators Update in October.
The occasionally-connected world
For those who live in places with high-speed home broadband and ultra-fast 4G connectivity, it can be quite a shock to visit other parts of the globe where connectivity is slower and less consistent.
"Most of the world is 'occasionally-connected'," Sarkar said. Understanding that reality, she explained, is essential when you're building products that are intended to work as well in rural Rwanda as they do in New York City. The Microsoft teams that visited Africa for the Fellowships experienced first-hand how limiting patchy and slow connectivity can be.
As a direct result, Microsoft built its own 2G cellular network on campus at its headquarters in Redmond, Wash. The company already started to integrate 2G testing as part of its development process, to ensure that its products work reliably over slower networks, as well as on the fastest connections available in many markets. It's also focusing more heavily on ensuring that its products work well offline.
"Everything we build has to be able to work everywhere," Sarkar said.
Downloads and updates
With the needs of occasionally-connected users in mind, Microsoft has also been making significant changes to Windows 10, with the aim of reducing data consumption. Last year, it introduced the Unified Update Platform to the OS, and among the improvements it delivered, it says it reduced the size of major updates by a staggering 35 percent.
This week, Sarkar exclusively revealed to Windows Central that Microsoft plans to do even more on this front. Again, directly influenced by its teams' experiences on the Fellowship programs, she said, Microsoft is now working to allow users to resume interrupted downloads of Windows 10 updates at a later time. Currently, users whose downloads are unexpectedly severed must start again from scratch – a huge burden for those on slow connections, or with data caps.
Listen and learn
One of Microsoft's key goals with its African Fellowships – as it stated at its NexTech Africa conference last year – was to "listen and learn" from those living on the continent, to gain a deeper understanding of how they actually use technology in their everyday lives. From speaking with Sarkar, Marble, and many others from Microsoft who visited Africa for the Fellowship programs, it's clear that the company is working hard to honor that commitment.
There's a lot more work to do, especially if it's to deliver on its mission statement of "empowering every person and organization on the planet to achieve more." But by listening to those the company has been working with in Africa, Sarkar and Marble say they've been able to learn a lot about the customers they're bringing their products to, and what they've learned is changing the way that those products are developed.
Ultimately, those changes should lead to improvements in Microsoft's products, for the two billion customers it already serves, and the billions more it hopes to reach.
Get the Windows Central Newsletter
All the latest news, reviews, and guides for Windows and Xbox diehards.