How to play Sea of Thieves early with Xbox Game Pass
Just change some settings and play the game early.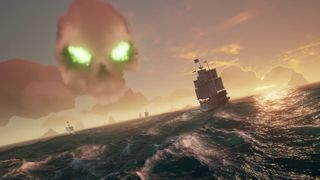 Sea of Thieves is almost here and those who preordered the game will be able to access it at midnight in their respective regions. However, what about Xbox Game Pass subscribers? If you're willing to change some settings on your Xbox One, then those with an Xbox Game Pass membership can download and play the game early.
Related: Get Sea of Thieves free with the Xbox One X and other limited treasures
Xbox Game Pass costs $9.99 each month so be sure to check it out if you want a Netflix-style subscription for games. Sea of Thieves is already out in New Zealand so if you go to "Settings" on your console and change the "Location" to New Zealand in the "System" menu, you should see the option to "Install" Sea of Thieves if you go to the Microsoft Store on your Xbox One. We were able to test this out and play the game early. The download comes in at roughly 18 GB on Xbox One X so you might have to wait a while.
You will have to keep your region as New Zealand until the game launches in the country where you reside. If you change it back then you will get a prompt asking if you own the game. Changing regions might be against certain terms and conditions so be mindful of that.
Sea of Thieves is an exploration-based pirate game from Rare. The developer is known for many famous franchises including Banjo-Kazooie, Conker, and GoldenEye. However, in recent years, the team focused on developing Kinect games for Xbox One and Xbox 360. This was a curious decision, so when Phil Spencer became Head of Xbox in 2014, he assigned Rare a new project. Sea of Thieves is a shift for the developer and a concept the team hasn't tackled before.
The game supports Xbox Play Anywhere and native 4K resolution on Xbox One X.
Keep an eye on WindowsCentral.com/Gaming for all the latest in Xbox and Windows 10 gaming, accessories, news, and reviews!
Asher Madan handles gaming news for Windows Central. Before joining Windows Central in 2017, Asher worked for a number of different gaming outlets. He has a background in medical science and is passionate about all forms of entertainment, cooking, and antiquing.
Does Xbox Game Pass allow the Xbox Play Anywhere feature so that I can install it on my PC as well? Or is that only with the full purchase?

Yes.. Game Pass Allows It

My download was only 9 GB

Same here, though I just realized that I downloaded on my S and not X, so, I assume I have another big update waiting for me.

I've downloaded it on Xbox One.. Maybe the 18 GB is for the 4K version or we just didn't receive an update yet

The 18 GB might be only for Xbox One X.

Heads up. Rare is specifically asking people not to do this as it violates the Microsoft Service Agreement. If you do this you are opening yourself up to having your account banned. This is an insanely irresponsible article.

Thanks but what if I played for around 5 minutes

No one is getting banned, the console is "region free" and it's just a setting. Plus, it would look really bad for Microsoft in terms of PR if they banned people for a setting that they've provided on the console.

Banned for changing a setting on your console? That sounds like a stretch, but who knows? If you're worried about that, just don't change that setting ....

It does seem unlikely, especially if you have the game pass subscription.. But with Microsoft, you'll never know

I think they just meant their forums. You can't get banned for changing a setting on your console!

I would also like to believe, that if it was true you could be banned.. Microsoft would've sent out notifications across consoles warning about that.

I've been playing for like 7 hours non-stop during the New Zealand thing. I'm still good.

I would advise not following the advice in the article... very good chance you will be banned.

Thanks for the heads up... I can wait until tomorrow

I played the whole day like this and didn't get banned.

I know this is off topic... But why is it that Windows Central doesn't have an Xbox app?

"Changing regions might be against certain terms and conditions so be mindful of that." Yeah so is cheating, selling live account and piracy. Sorry but this is a stupid article, encouraging people to go against terms and conditions just to play a game few hours early. Can't you have few hours of patience and self control?? Are you 5?

You won't get banned for changing regions. Plus, I've been playing for hours upon hours now with the same method.
Windows Central Newsletter
Thank you for signing up to Windows Central. You will receive a verification email shortly.
There was a problem. Please refresh the page and try again.