How to reinstall Windows 10 on your Surface Laptop or Surface Laptop 2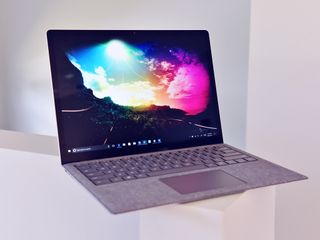 Microsoft provides Surface customers with recovery images that allow you to reset your Surface as if it was just new out of the box. This requires a USB drive, some time, and an internet connection. If you're planning to sell your Surface Laptop, or are having technical difficulties, recovering the Surface Laptop is recommended. Here's how to do it.
Products Used in This Guide
Download the recovery image
Before we get started, you have to acquire the files necessary for recovery. To do that, you're going to need your Surface Laptop or Surface Laptop 2 serial number and some time to allow the download to complete. (You can find the 12-digit serial number on the bottom of your device.) The download is around 9GB, so it may take a while depending on your internet connection.
Also, depending on whether your device is a Surface Laptop or Surface Laptop 2, you will either be recovering to Windows 10 Pro in S mode, or Windows 10 Home. The Surface Laptop 2 recovery image is Windows 10 Home, whereas the original Surface Laptop recovery image is Windows 10 Pro in S mode.
Select Surface Laptop or Surface Laptop 2 in the drop-down menu.
Enter your Surface Laptop serial number.
Select Download recovery image on the latest version available. The download will take some time depending on your internet connection.
Create a USB recovery drive
Now that you have the necessary files, you need to set up a USB drive for recovery. We'll be using the USB drive to recover the Surface Laptop. Make sure the USB drive is at least 16GB in size, and that you backed up all the data on it first.
Press Start.
Search for "Create a recovery drive".
Deselect Backup system files to the recovery drive.
Press Next.
Select the USB drive you'll be using as the recovery drive.
Press Next.
Select Create drive.
Extract recovery files
Once your USB recovery drive is created, you need to transfer all of the recovery files you downloaded earlier.
Right click on the downloaded recovery file.
Select Extract All.
Select Extract. This will create a folder in the same directory as your downloaded recovery file, into which the contents will be extracted.
Open the extracted contents folder. It will have a name along the lines of "SurfaceLaptop_BMR_151_12.761.0" (the specific name may vary depending on the recovery version you download).
Copy all the files in the extracted folder into your newly created USB recovery drive.
You can press CTRL + A to select all of the files in the folder and drag-and-drop them into the drive labeled "RECOVERY" in the left sidebar.
You may be prompted to replace already existing files in the destination. If so, select Replace files in destination.
Recover Surface Laptop
Now that you've created the USB recovery drive and loaded all the necessary files onto it, you can finally get to recovering the Surface Laptop. Make sure you backed up all your data first, as this process will remove all your apps, documents and settings.
Power off your device.
Insert the USB recovery drive we just created into the USB port on the Surface Laptop or Surface Laptop 2.
Hold the volume-down and power button at the same time.
When the Surface logo appears, let go of the buttons. A blue screen with language selection options will appear.
Select your language and keyboard settings.
Select Troubleshoot.
Select Recover from a drive.
If prompted for a recovery key, select Skip this drive.
Select Just remove my files.

If you're parting ways with your device, I recommend selecting Fully clean the drive to thoroughly erase your old files.
Select Recover. This will restart your Surface Laptop and take some time, but when it's done, Windows 10 S will be back on your Surface Laptop.
That's it. Your Surface Laptop should now be recovered and running Windows 10 S.
The right Surface Laptop
To complete this guide, you'll need to be using a 1st generation Surface Laptop or a Surface Laptop 2.
High class laptop
A beautiful laptop for Windows users

The Surface Laptop is a premium laptop device from Microsoft that comes with Windows 10 out of the box.
Stylish computing
The same great laptop, but now with more power.

The Surface Laptop 2 continues the premium design of the first one, but now with more power.
Additional Equipment
You'll also need an extrernal USB flash drive to complete this how-to. Here's what we used.
SanDisk USB 3.0 32GB flash drive ($8 at Amazon)
This all purpose USB-A flash drive is perfect for transferring files, reinstalling an OS, and storing content.
Our favorite accessories
Now you've got Windows 10 S back up and running, here's some of our favorite accessories you might also find useful.
Anker Ultra Slim 4-Port USB 3.0 hub ($10 at Amazon)
Need more USB ports for your Surface Laptop? This USB hub should help! Turn one port into four.
Surface Pen ($99 at Amazon)
Enhance your Surface Laptop with the Microsoft Surface Pen, which allows you to interact with the touchscreen easily.
Surface Dial ($99 at Amazon)
Twist into action with the Surface Dial Bluetooth accessory. You can play with gestures and make certain actions easier.
Get the Windows Central Newsletter
All the latest news, reviews, and guides for Windows and Xbox diehards.