How to remove personal information from pictures on Windows 10
You're probably sharing personal information every time you upload a picture online. In this guide will show you the steps to remove EXIF metadata properties from image files on Windows 10.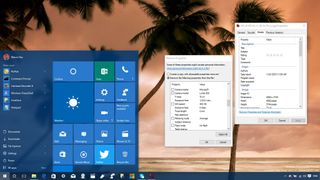 You probably didn't know this, but every time you take pictures with your digital camera or using the camera on your smartphone, pieces of information, such as the location where the picture was taken, date and time, and camera settings are saved into the file along with the image you captured.
This kind of information is typically stored as EXIF (Exchangeable Image File Format) metadata which is part of the image file — typically for JPEG format files. Properties that can be stored as EXIF metadata will vary on the features supported by your camera, but usually, it will include GPS location coordinates, date and time, the application used to create or edit the file, and camera settings like make and model, aperture, ISO speed, and focal length.
If you're a photographer, EXIF metadata can be valuable information, but for the average user, it can be a privacy concern as few simple clicks can potentially reveal personal information to strangers.
In this Windows 10 guide, we'll show you some easy steps to remove sensitive personal information in your pictures and how to stop your camera from saving location data in the future.
How to remove personal information from pictures
Right-click the file and select Properties. (Alternatively, if you're editing a single file, you can just press and hold the Alt key and double-click the image file to access its properties.)
Click Details.
On this section, you can examine EXIF metadata available for the particular file. Click the Remove Properties and Personal Information link.
On the Remove Properties section, select the Remove the following properties from this file option.Note: You'll notice that there is also a Create a copy with all the possible properties removed option, but a bug makes this option unusable in Windows 10. However, the option works with the latest Insider preview of the operating system.
Check each box for the properties you want to remove or click the Select All to remove all potential properties.
Click OK to remove the selected information from the image's EXIF metadata
It's important to note that you can remove information embedded in one or multiple pictures at the same time. If you want to delete the same properties on multiple files, just select the files you want to edit, right-click on them, click Properties, and continue with the steps listed above.
How to stop your Windows 10 Mobile camera from saving GPS location on new pictures
While it's almost unlikely to be able to stop cameras from storing all EXIF metadata, you can prevent GPS location from being included in future images — an important step in protecting your privacy online.
If you own a Windows 10 Mobile phone, you can use the following steps to turn off location on your camera:
Open the Settings app on your phone.
Tap Privacy.
Tap Location.
Scroll down and under "Choose apps that can use your location" tap the switch under Camera to turn off location logging.
On digital cameras with built-in GPS, you can also open the configuration section to disable the location feature. Keep in mind that almost every manufacturer has its own way of implementing settings, as such make sure to check your device's support website for more information.
Furthermore, every bit counts when you need to save disk space and bandwidth. If you have a large collection of pictures, you can remove EXIF metadata to make images a little smaller without having to sacrifice quality, instead of using compression.
More resources
For more tips and tricks on Windows 10, and get the latest news, you can visit the following resources:
Windows 10 help, tips, and tricks
Do you usually remove personal information from pictures? Let us know in the comments the techniques you use.
Mauro Huculak is technical writer for WindowsCentral.com. His primary focus is to write comprehensive how-tos to help users get the most out of Windows 10 and its many related technologies. He has an IT background with professional certifications from Microsoft, Cisco, and CompTIA, and he's a recognized member of the Microsoft MVP community.
Sites like Facebook automatically remove this information when you post a picture.

Very interesting.. Thanks for the info! Increased some knowledge of course! :-)

This app does removes personal data on your phone. Picture Info https://www.windowscentral.com/e?link=https2F%2Fclick.linksynergy.co...

Picture Info, Windows phone app, can really remove all exif data from the picture, and you can do it easily. Sometimes you need to hide all data.

In my case.. I prefer to keep the GPS on so that I can see where it was taken on the map of OneDrive Albuns.

Just remember to remove meta info when sharing with public. That is if you want to keep that info private. In some cases it is better to leave the data in it.

Always is better to leave the data in.

But in windows phone 8.1 Lumia storyteller is an interesting app that uses photos location.

Is this how they were able to track that ISIS guy who uploaded a picture to Twitter?

Twitter erases meta data, or at least doesn't share it.

"You probably didn't know this ..." Way to assume your readers are idiots.

I knew about this. Assuming is dumb. On your phone, use this app to remove personal data. Picture Info https://www.windowscentral.com/e?link=https2F%2Fclick.linksynergy.co...

It's just a typical W10, you stray away from the main street and what do you find there? A bug.

The COM surrogate error seems to be related to the entwined nature of Photos App with the W10 OS. I noticed Photos throwing lots of unresolved Com surrogate processes on my PC. They never resolve. Additionally the relentless crawling of Photos App all over my C:/ made me weary. I uninstalled it (along with some others). http://forums.windowscentral.com/windows-10-how-guides/400173-how-remove... This does not resolve the "Create a copy with all the possible properties removed" error (which is an unresolved COM surrogate), but it makes me happier with my W10 PC. :D Meanwhile, I'm fine cherry picking what meta-data I remove from shared pics. I prefer it actually. And I've yet to find anything I enjoy more for Pic browsing and management than Office Picture Manager. You can still get that free out of SharePoint Designer 2007. Works great on W10. https://www.microsoft.com/en-us/download/details.aspx?id=21581

I have noticed that the COM surrogate error is no longer happening in the latest Insider preview of Windows 10. Hopefully, Redstone will fix this issue. Thanks,

Let's hope it gets fixed way before redstone. The com surrogate doesn't seem to be just restricted to jpegs either. I've noticed it with mp3s. http://forums.windowscentral.com/windows-10/397324-i-can%92t-remove-properties-personal-information-jpegs-windows-10-why.html

Interesting but I want the data attached :)

"Remote Properties and Personal Information" there's no such thing. I realize english may not be your first language, which is why proofreading is especially important.

Sh it happens. Get a grip.

Some real bad windows 10 privacy stuff in the news today

You've said that repeatedly. The amount of elaboration and your eloquence will sway many. Also your persistence on expounding your viewpoint is highly attractive.

Another advantage of keeping the GPS data on (and auto upload photos also) is if your phone is stolen and the thieves are not so smart.
Windows Central Newsletter
Thank you for signing up to Windows Central. You will receive a verification email shortly.
There was a problem. Please refresh the page and try again.